After we won the game, there were fireworks going on on the top of Magnolia (who knew) people in my hood were yelling and banging a cow bell. For my end of Magnolia that's pretty lively. Of course over at Melrose, they were going crazy and once again all went down to Pioneer Square to get in on the celebratory action. We saved that energy for Wednesday when we braved the cold and went to the parade.
Raye being the big Seahawks fan I did want to spend some of the celebration of this event for our city with her, so I'm glad she was able to come and meet Andy, my dad and me at the new theatre space and go see the parade. We watched in Belltown where the crowd was not as thick as it looked to be further south toward the stadium or over at Westlake, but where we had place to go, the theatre, to warm up before & afterwards. Man it was cold I'm not sure what the exact temperature was but it was in the 20s and the parade ran over an hour late. We were out there at 11 (as advised, when it was supposed to start) and we're guessing they didn't start until 12:12 When it went by we watched the players go by and cheered, it was pretty short and once we saw all the players and the trophy we booked it back to the theatre to warm up. It wasn't easy being that patient in that temperature, but it was fun I'm really glad we went, we were four of the 700,000 estimated folks out there to celebrate in the streets of Seattle and I think that's pretty neat. (Seeing the pictures though I'm really glad we stuck to Belltown where everything was super easy, having a place to go to the bathroom, have free coffee, and close to bus stops, made the day cheap and convenient).
Like I said in my previous blog about being a fair weather fan, I think this excitement is great for the city (and region). There are a lot of jokes about
#HowSeattleRiots
(the video of people at the
crosswalk in Ballard
is my favorite) and I think even that is great. It's good for us to enjoy this win and laugh at ourselves a bit. The 30+ years of repressed disappointment have finally shifted into an eruption of joy and pride and I'm all for that, man. Also, yesterday's parade went off with all those people without a single arrest, there were port-a-potties provided for people and I'm certain downtown businesses did really well (how Seattle there was even a
coffee shop map
provided for out of towners). Really there's nothing but win about the whole thing, was glad to be a part of it.
Dani brought Super Bowl arts and crafts from the Seattle Times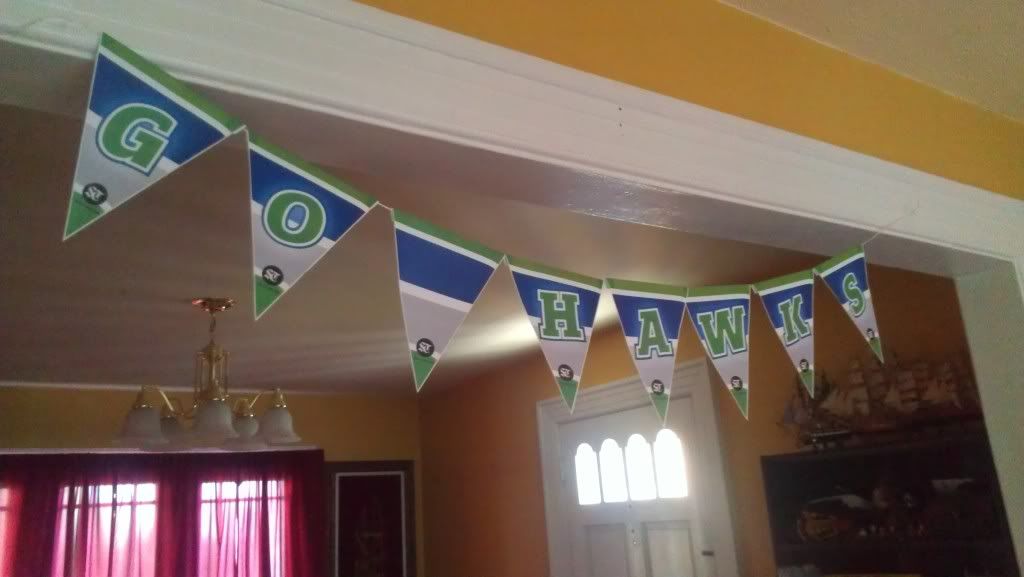 The arts and craft bring out the spirit in the house
Celebratory cupcake after the win and fireworks on the top of Magnolia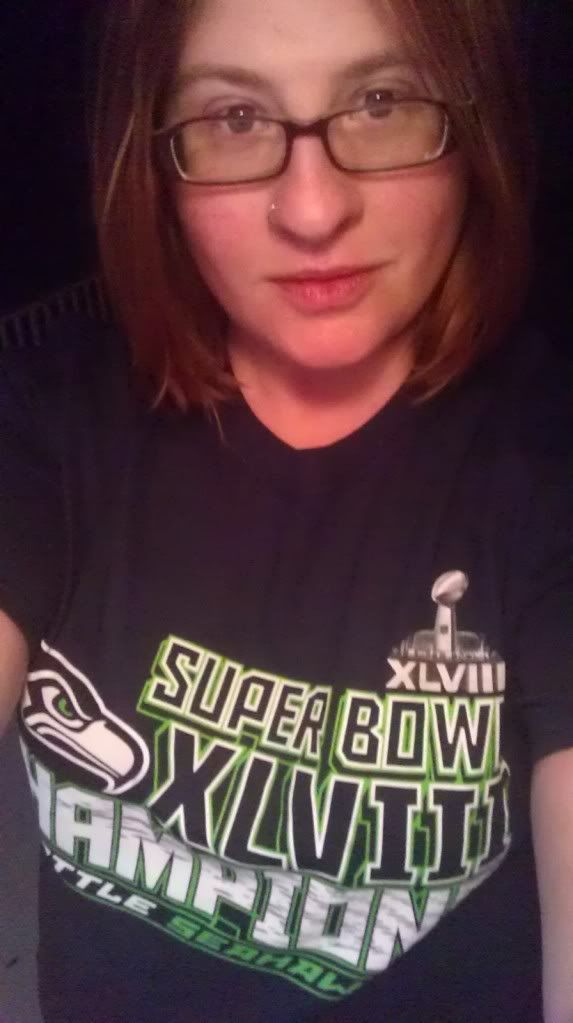 The championship shirt Andy got. I was sporting it for the parade but under a wool sweater and a wool coat so it didn't get much play.
Andy, me and Raye waiting for the parade. It was so freaking cold!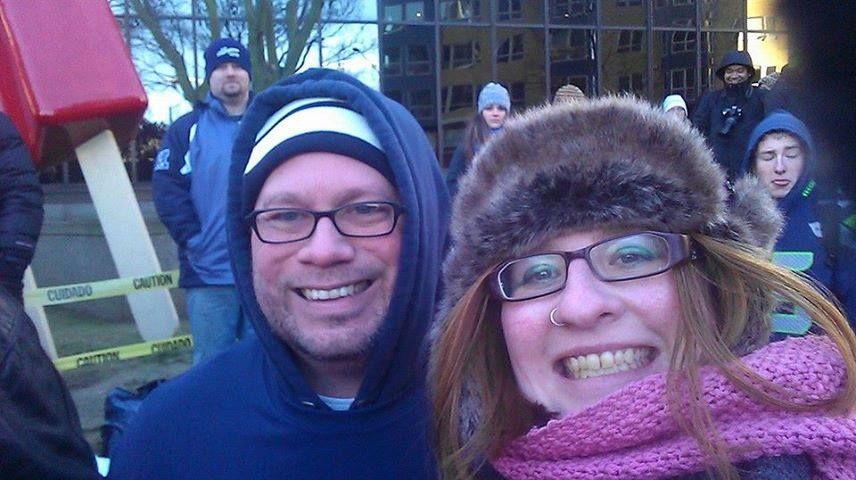 Waiting for the parade to start in Belltown. The Popsicle seemed an appropriate back drop in that cold
Lynch and the SeaGals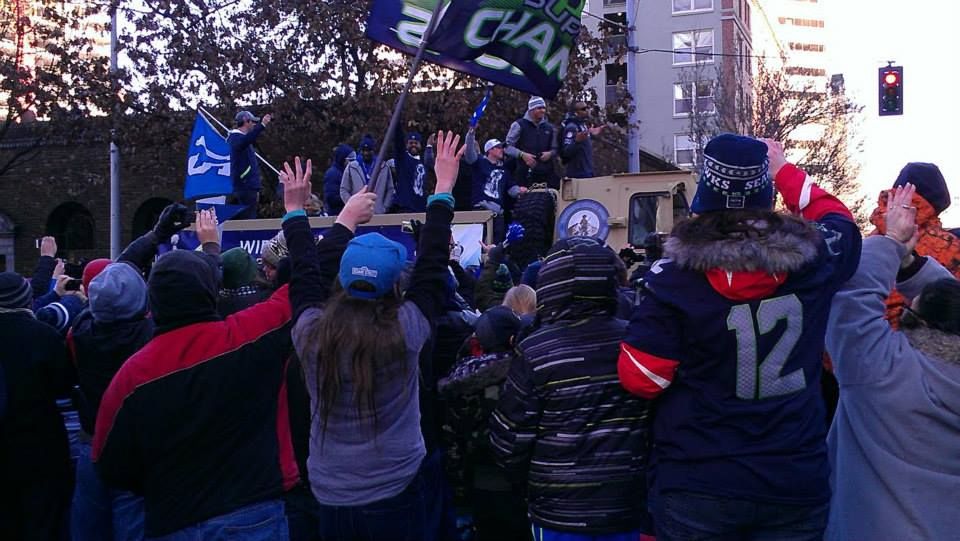 Wide receivers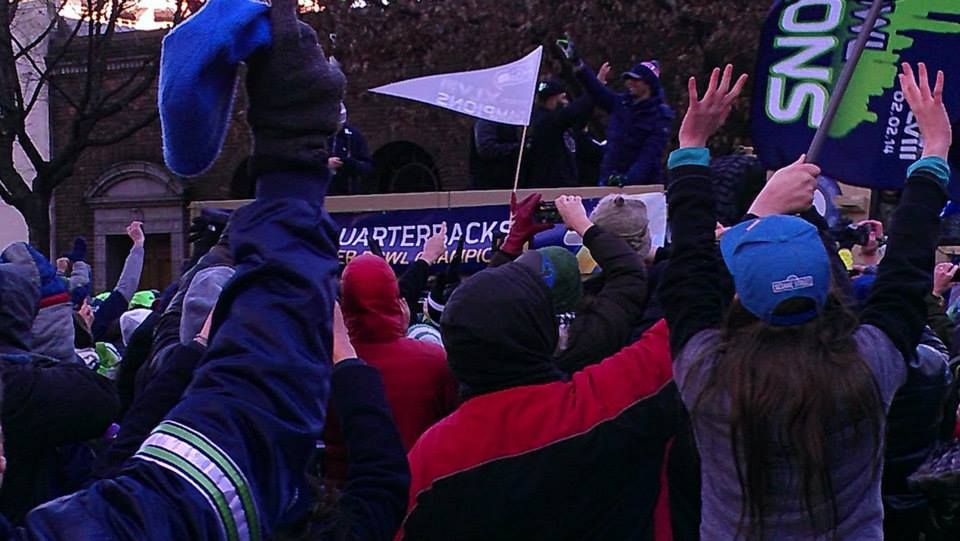 Russel Wison
The trophy!
Sunday was the Super Bowl game of our Seattle Seahawks facing off against the Denver Broncos. We had a small gathering at our place, my folks, Dani and Sam & David came over and we ordered pizza. Very low key. Dani brought some of the crafts that the Seattle Times put out and we played with those during the pre-game. Andy was nervous, afraid we were going to face a defeat because the weather in New Jersey was in the Bronco's favor. In fact, the Broncos were the favorites in Vegas. But the game started the first play by the Broncos was a safety...well I'm not going into all of it. Needless to say there was a lot of cheering going on in our front room. I was looking forward to doing some trash talking to family in Colorado but the score was sooooo lop-sided it felt too mean (there was a little trash talking via social media but I felt too bad for Denver's embarrassment.) Another reason I'm glad I got to watch the game with Sam, he's also from Colorado with family there so even if we didn't have the heart to trash talk to our families too much we could still talk trash in private.