That night we had a surprise birthday & graduation party for Dorothy. Christine and Cory had pulled a plan together to surprise Dorothy for her at the Mercury. Last week there were a couple of crafting parties to put together the deco-pauged graduation caps and the such and Tara and Aaron set up the decorations in the Merc before the doors opened. The Merc being a private club there was the issue of getting everyone guested in but it went incredibly smoothly, I thought. I hadn't been to the Merc since before I left for school in London. It was really fun to be back and enjoy the people watching there. It was good to be social and see my friends, including some folks I haven't seen for a while. Most importantly it was great to see the look of surprise on Dorothy's face when she showed up. Christine and Cory were saying she was suspicious and probably knew, but as it turns out, she was none the wiser and shocked to see us all when she walked into the Merc and saw all of us with our graduation caps on, yelling "surprise!" I had a blast at the party. I'm bummed that I didn't get a chance to dance or to witness the b-day spankings. We had to take off around midnight because we had to get up early the next morning to go out and go car shopping. However, now having that taste of the Merc again means I'd like to go back again soon and get my dance on.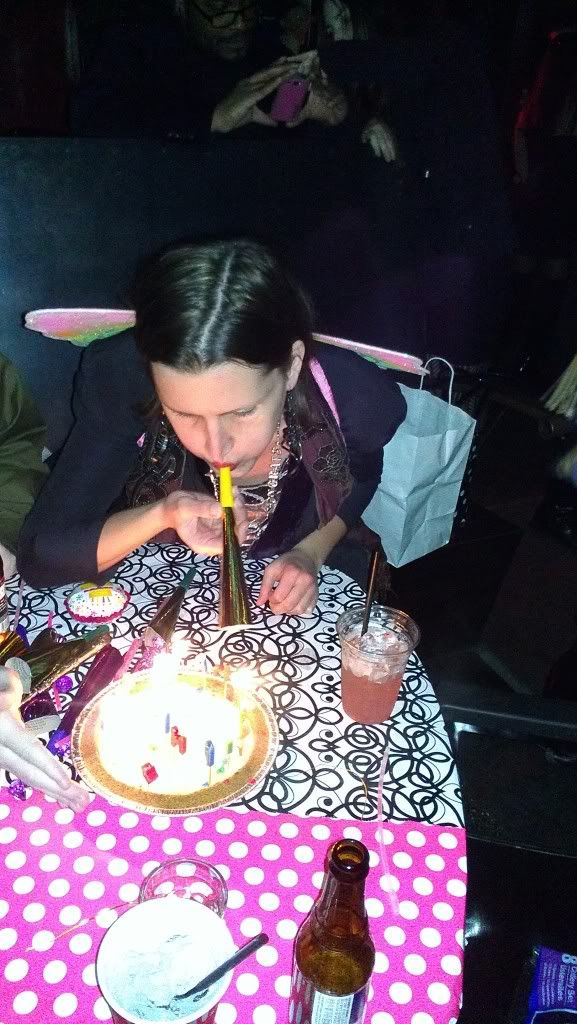 It was freaking amazing that I woke up early Saturday morning and didn't feel like death. Usually the day after the Merc were my worst ever hangovers back in the day but I was careful this time (and avoided the hairspray well whiskey all together). This is especially remarkable since my hangovers have gotten a lot worse as I've gotten older, which sucks. I actually woke up pretty full of energy to help out with this car trade thing. We cleaned out Andy's truck and took it to Brown Bear for a full-on vacuuming and car wash. It was raining and cold as hell for this undertaking but that's living in Seattle for you. We picked up my pops and headed up to car lot where Andy had picked up his current truck.
A quick bit of back story, when I was in London and Andy was here, still looking for work and down on his luck, he had to get out from under his high car payments on his Nissan that he drove out here with. He really loved that car and it crushed him to have to trade it in. The place he ended up trading it took took good care of him and got him a pretty reliable truck but It was still a downgrade, though and he never felt any affinity to it. Now that it was paid off and before the tabs are due next month, Andy wanted to trade it in for something else. Andy has been looking online for months. He had one car he saw online picked out to look at, over at the place he had gone to before and luckily when we got there it was still available.
Growing up, my dad always bought cars from individuals and the car he got for me to learn on (which I never did and it just kept being his car until his friend blew it up) was from a police auction. So this whole car shopping, dealing with a dealer thing was a completely new experience for me. The truck Andy wanted to look at was there and we all went on a test drive. So that was a first. He had my dad look and the engine and stuff to make sure all that seems in order. Then, thankfully out of the gross rain mixed with snow outside, and in the office the nitty gritty got hashed out. I found this whole thing dreadfully boring and stressful at the same time. My intention was to just keep my mouth shut so as to not undermine the negotiating Andy was doing because I'm the kind of person who is automatically like "Oh that's the price you're offering, oh well I guess, if you say so." The haggling of the last $250 dollars was particularly painful to me with a couple of "let me ask the owner" and more and more waiting. Ultimately, though, Andy got a really good deal paying what he wanted a month, including a service agreement, and an amazing 3% interest on the financing. He got what he wanted in trade in for the old truck and there was no tearful good bye for him this time around. (Though we damn near sold it to them with my dad's iPhone under the passenger's seat, ha ha). Andy's now a very happy to have a car that he likes again, the one he picked out, it's a 2007 Nissan Xterra. He loves his new truck and is in a pretty good mood about it, despite our teasing him about how big it is. Now that we've got a car Andy is confident about and has a bunch of room...ROAD TRIP!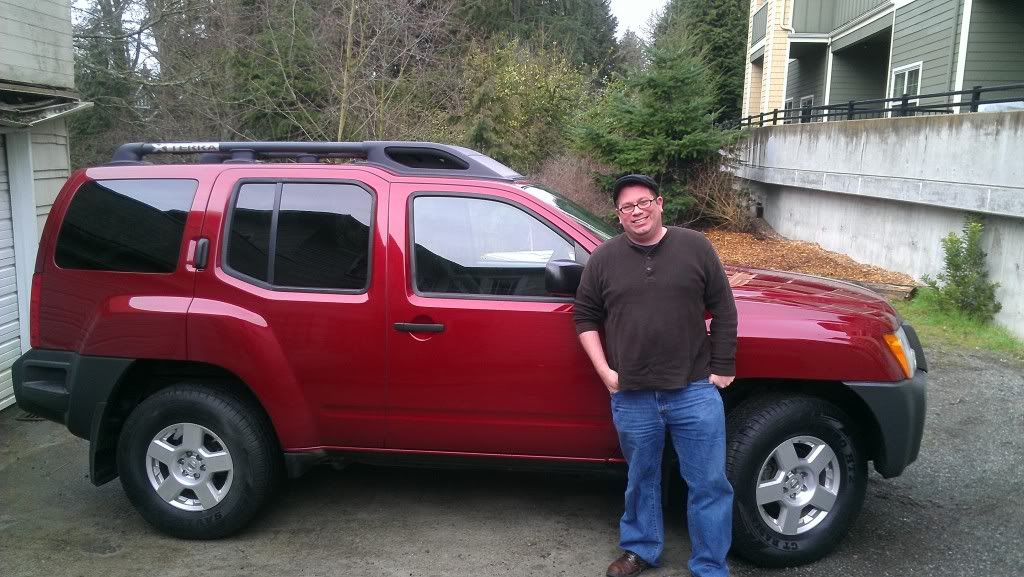 Friday I was waiting to hear back as to whether I got a couple of jobs. I got a call saying I didn't get one job, that I had pretty much figured that I didn't get as I hadn't heard back from them in a long while. I got a rejection from one of the places I was expecting to hear back from which was ultimately a bit of a relief as I had a couple of red flags of possible difficulties (some similar problems I had in my last job). The last one II was waiting to hear back from didn't call all afternoon and I was preparing myself for a trifecta of disappointment but I took Andy's suggestion and gave them a call at like 4 and asked about it and they had pushed back their decision so I wasn't out of the running just yet. I still have a 1 in 3 chance for that one so at least I wasn't destined to be a grumpy pants all night due to complete disappointment, which is good because we had a party to attend.