Friday 8/8
While I was at work, Charlotte took a walk around Green Lake with Dorothy then they both met me at the Two Bells for a couple of drinks when I got off work. Charlotte and I had tickets to the Mariners game with Andy. We met up with Andy and jumped into his car on Western and sat through some horrendous traffic. Andy turned into a big ball of stress but it all dripped away once he was in the ball park and in his happy place. After four visits to Seattle and another with us to L.A., Charlotte finally got to experience the American past time. Andy happily explained the game and Charlotte seemed to enjoy the jovial spirit of the atmosphere and the good people watching at the game.
Although it was a low scoring game, it was actually pretty exciting and the Ms won.
It meant a lot to Andy to share one of his favorite things with Charlotte and she seemed to have a good time.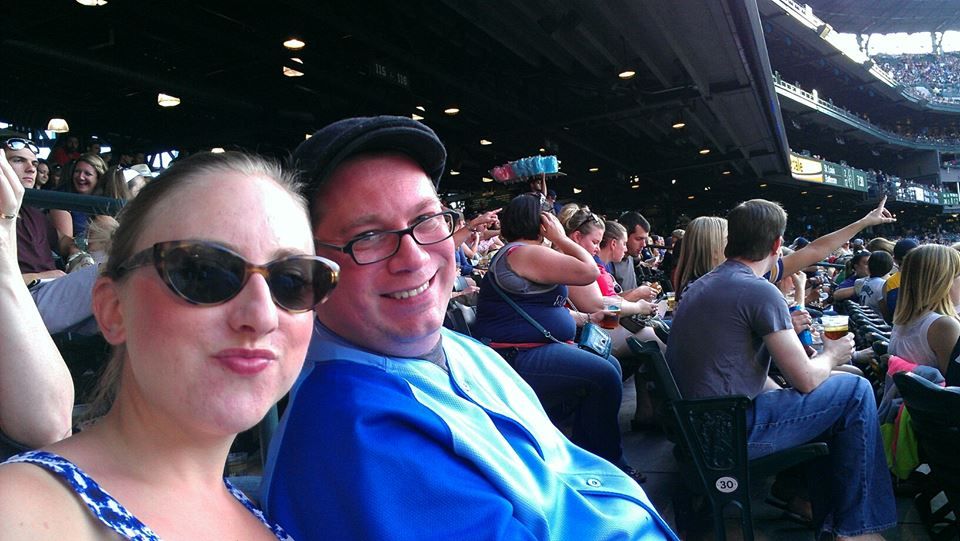 Saturday 8/9
Naturally we made a visit to the Shangri La for some dock time with Samuel. We headed over there with Dani and met up with Raye and Lindsey. We brought lots of food and drink and spent the day back and forth between Sam's apartment (where the food was) the dock (Raye and Charlotte even swam in Lake Washington) and the pool. Good times were, as always, had by all.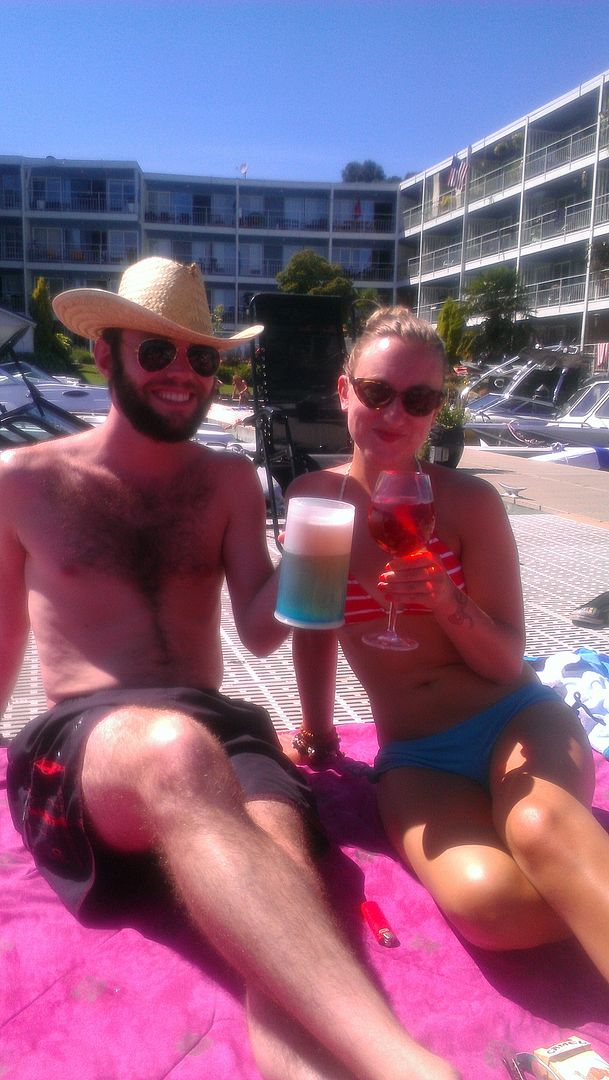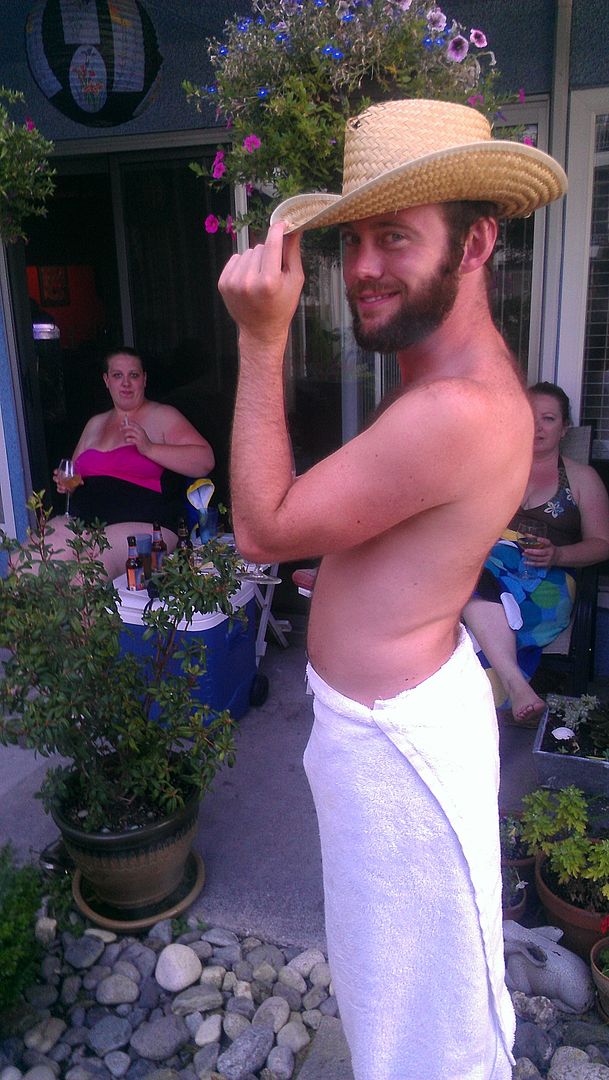 Sam & Charlotte & Samuel Showing off :)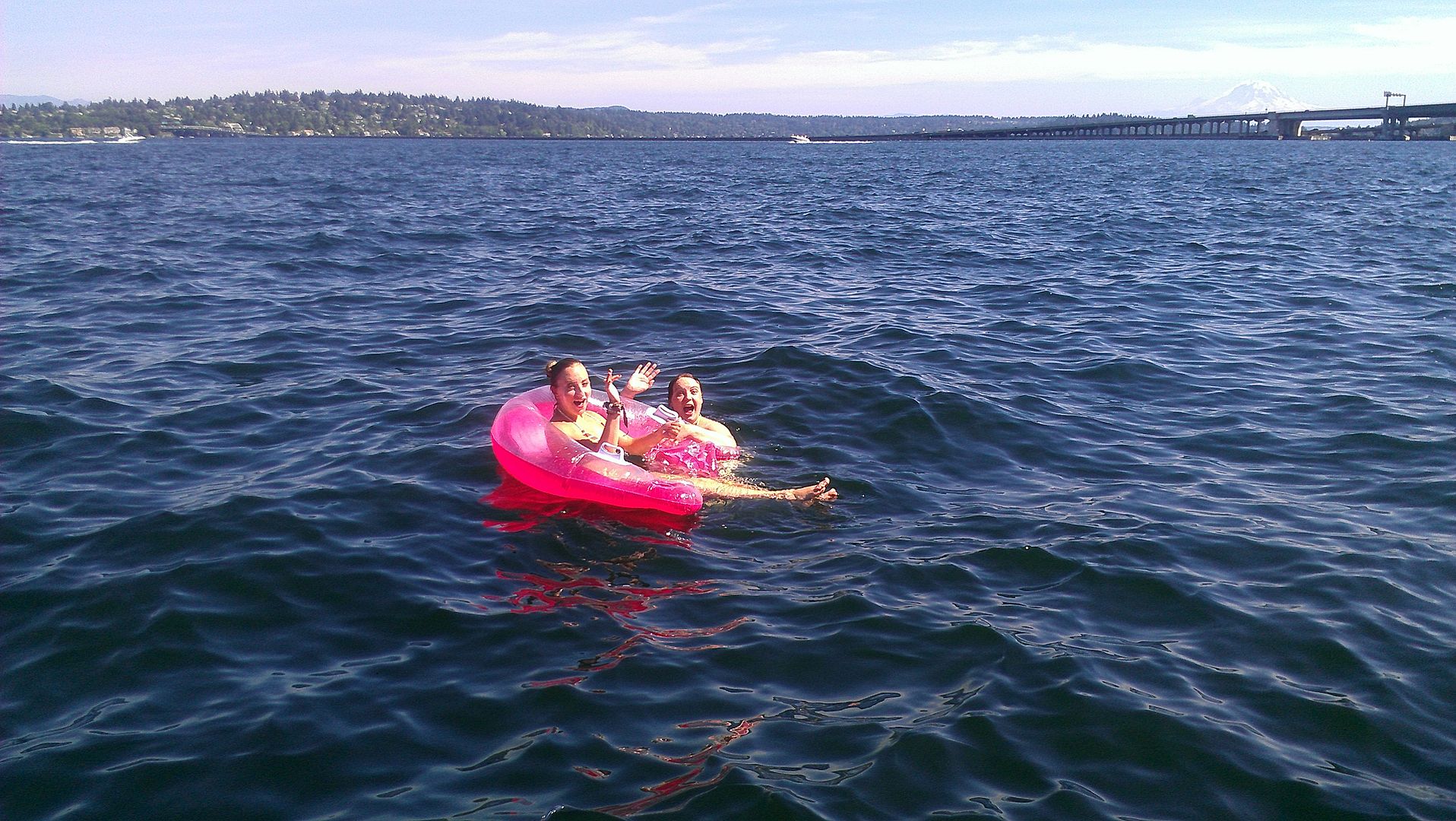 Charlotte & Raye in Lake Washington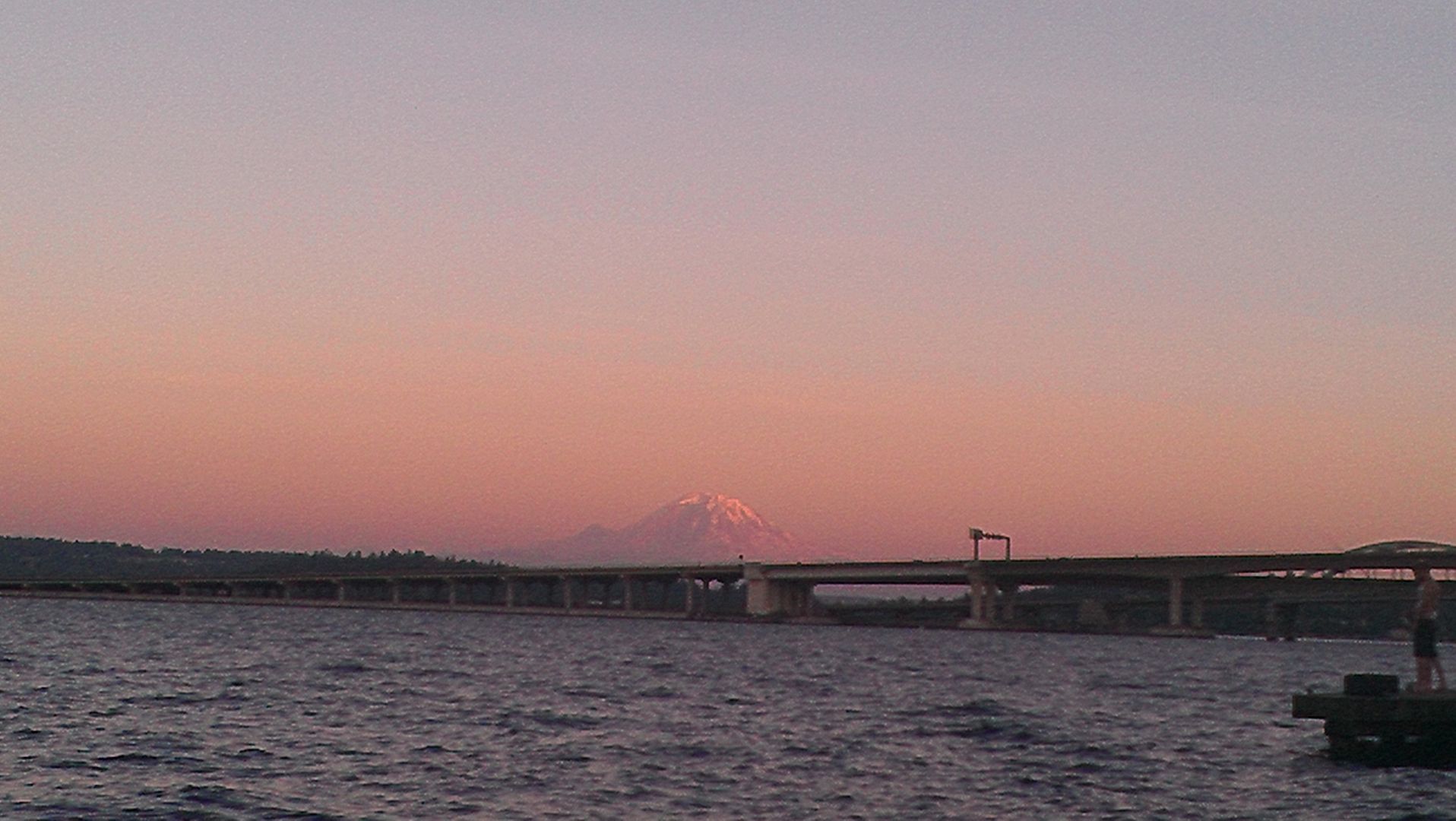 As the sun fell on Mt. Rainer it was so beautiful and we were reminded that we needed to slow down on our drink because the next day that's exactly where we were headed.
Sunday 8/10
We got up early and collected Dani and Raye for a road trip out to the Northwest side of Mt. Rainer National Park and Lake Mowich. I don't think I've ever visited Mt. Rainer before in my years here. I understand the southeast side is the more popular side for people to visit and we found out why. Andy got to use his big-ass SUV for it's exact purpose as we drove through 16 miles of bumpy, holey dirt road to the lake. Seriously, the ascent was scary sometimes but the views of the Mountain were amazing. I picked a hell of a day to forget my phone at home but luckily Raye posted some pictures...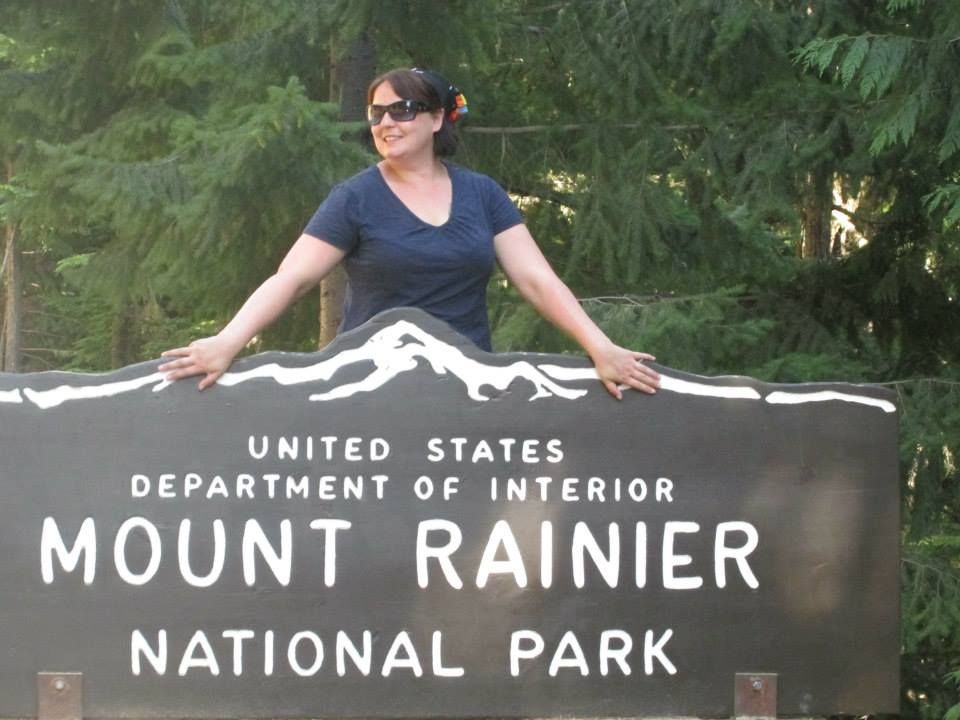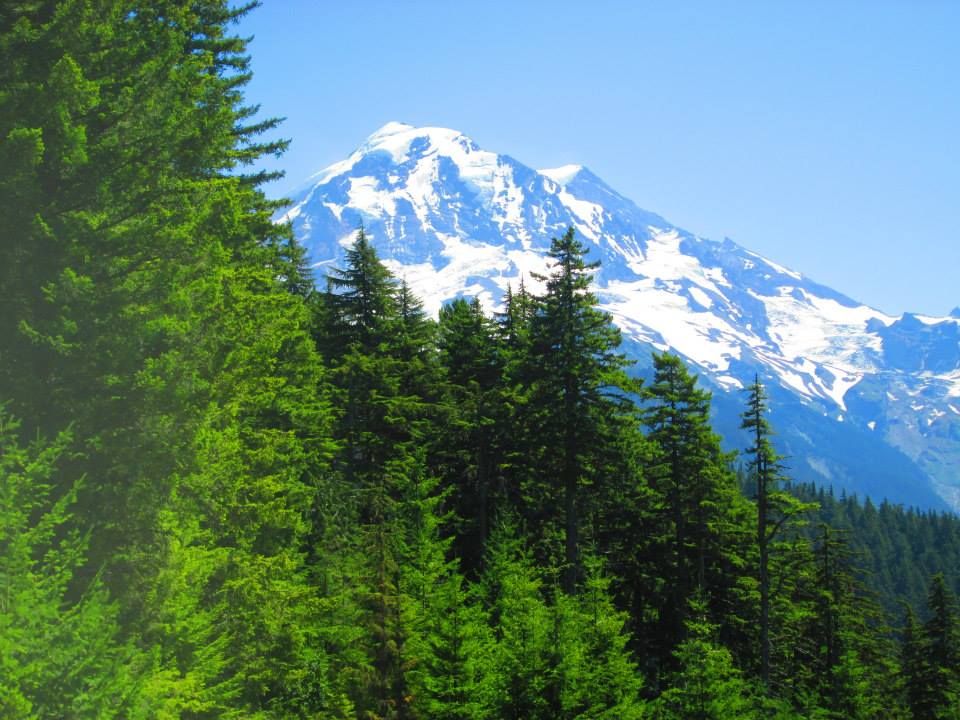 We got to the lake and first order of business was a picnic lunch of sandwiches, as we were ravenous. Andy went all out and picked a variety of meats and cheeses to choose from, really it was kind of over the top but did provide lunches for me for the rest of the week. After lunch we went to go check out the lake and hike around a bit. The lake was amazingly beautiful. The water was so clean and clear you could see right through it. I have not seen such clear water since Hawaii.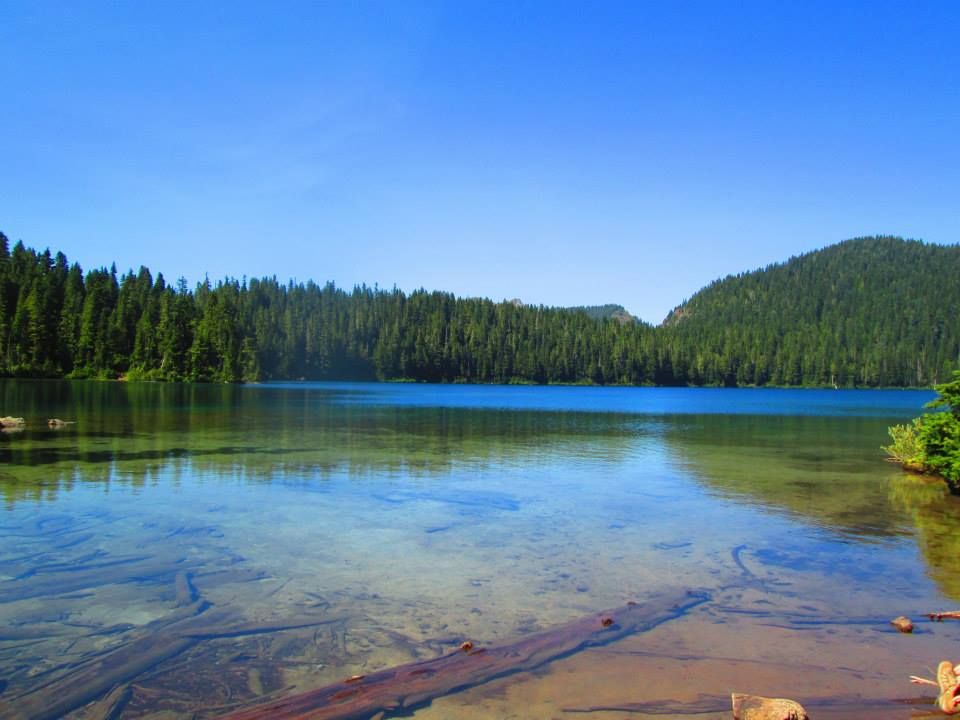 Most of us dipped our feet in (I'm lame, I literally dipped one single foot in seriously it was freezing!) but Charlotte was all about the swimming and just went for it, took off her shirt and swam.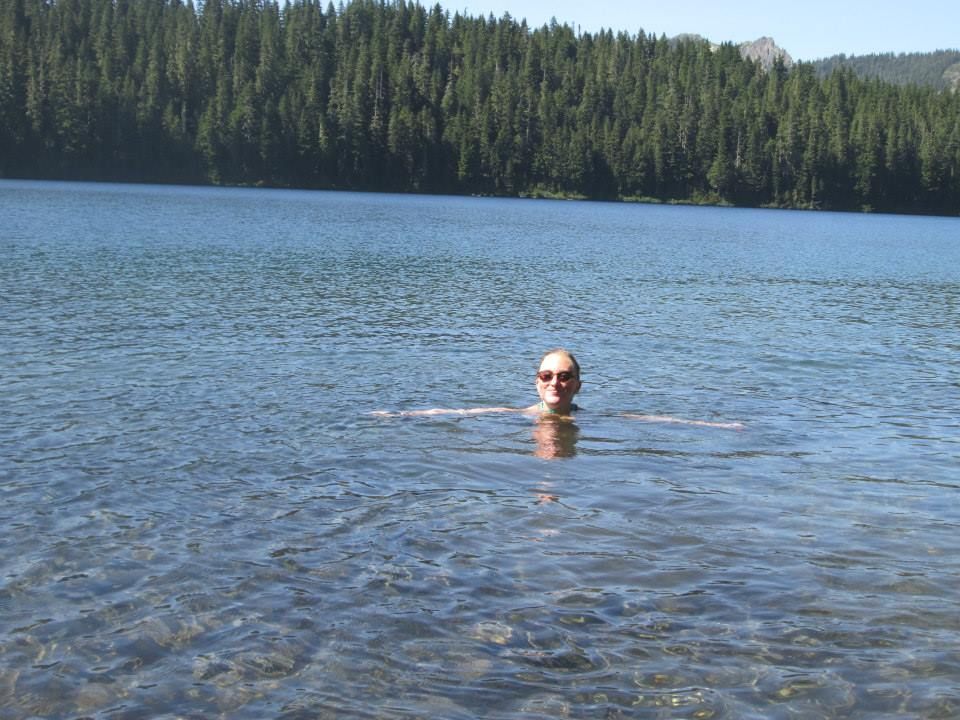 My one complaint with that spot though, if this were a Yelp review, is the bloody bugs. The flies out there are terrible, all over the fuckin' place and they bite. I actually got off pretty easy. Sadly it was the folks that used the anti bug spray who got eaten up. Poor Charlotte had this bit on her thigh that swelled up like crazy. Eventually it was time to head back to the city, luckily in the decent, the road was much better than the way up.
Monday 8/11
Monday we did a happy hour gathering. It was supposed to be at Dragonfish like old times but our party was too big so we switched to Ohana in Belltown instead. It was Andy, myself, Raye, Dani, Charlotte, Dorothy, Derek, Lindsey and Christine and Cory (who Charlotte had not yet met before). The food was better than Dragonfish and, very importantly, Charlotte got to try a Pina Colada which she was on a kick about trying for the first time.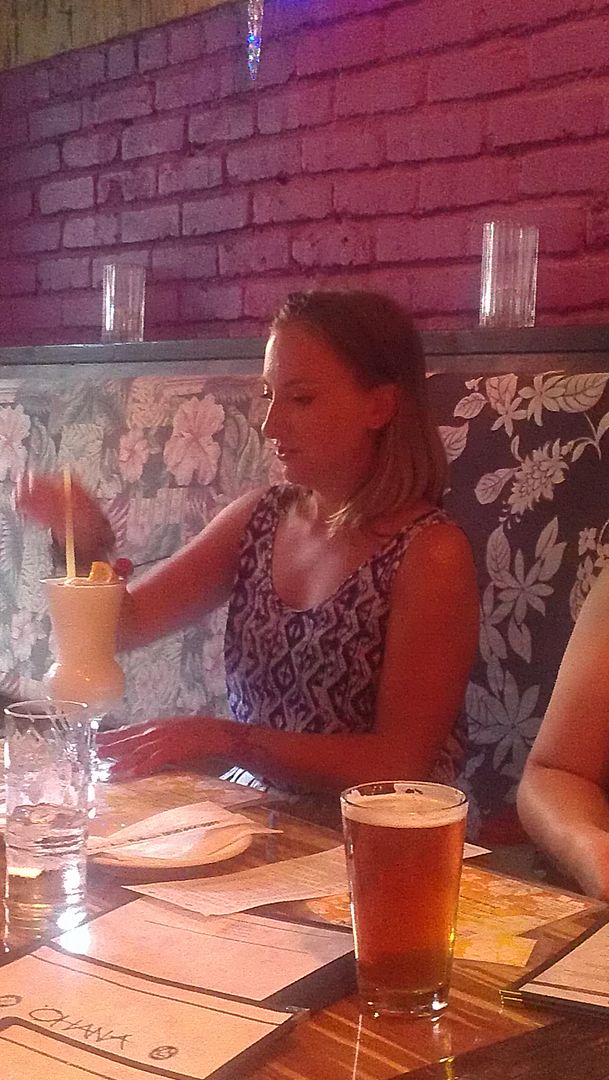 It was also particularly priceless to watch Charlotte try to daintily cut up an asparagus with chopsticks. (She's so proper she can't eat anything that's not cut up into little bites). Andy has video of this that goes on for four minutes.
The middle of her trip had a bit of a rough hump that I'm better to not get into. It has nothing to do with her and I at all it was just upsetting. Anyway, no time to get into it, or even into the other weird stuff going on at our house. Save that for another blog. I'm also getting rather sleepy and am not likely to be able to get all of the last three weeks into one blog. However I should say for the record that Andy is a saint and I'm a lucky girl. So moving along to the next fabulous weekend wherein a bunch of us hung out in a cabin on a private island.
Friday/Saturday/Sunday 15-17
So. Raye, Dani and I had been thinking for months about doing a cabin the the Cascades, but Tracie offered her parent's cabin on Heron Island (this private island down south) for free and after weeks and weeks of coordinating a bunch of us: Tracie, Raye, Dani, Ryan, Charlotte, Chelsea & Laurel and Andy & I went out there. Dani took most of the group out on Friday but Andy and I stayed in Seattle Friday and prepared our contribution to the food offerings at the cabin and made our carne asada marinade. Saturday morning we got up early and headed south and west to the tiny ferry that escorted 11 cars at a time to the private island.
The cabin was lovey. It had a big deck pointed out to the sound. There was a walkway down to the beach. Once Andy an I got down to the beach, we didn't really leave for most of the day. Others took walks around the island and the like, but Andy and I had found our relaxation spot. It had been a rather stressful week so t have that stress melt away with the Puget Sound was priceless. We waded in the water, looked for crabs, played on the inter-tube and just had a relaxing time. Oh, of course we also hung out on the beach with everyone, day drinking and taking. Eventually in he late afternoon we pulled down the fire pit and introduced Charlotte to her first helping of s'mores.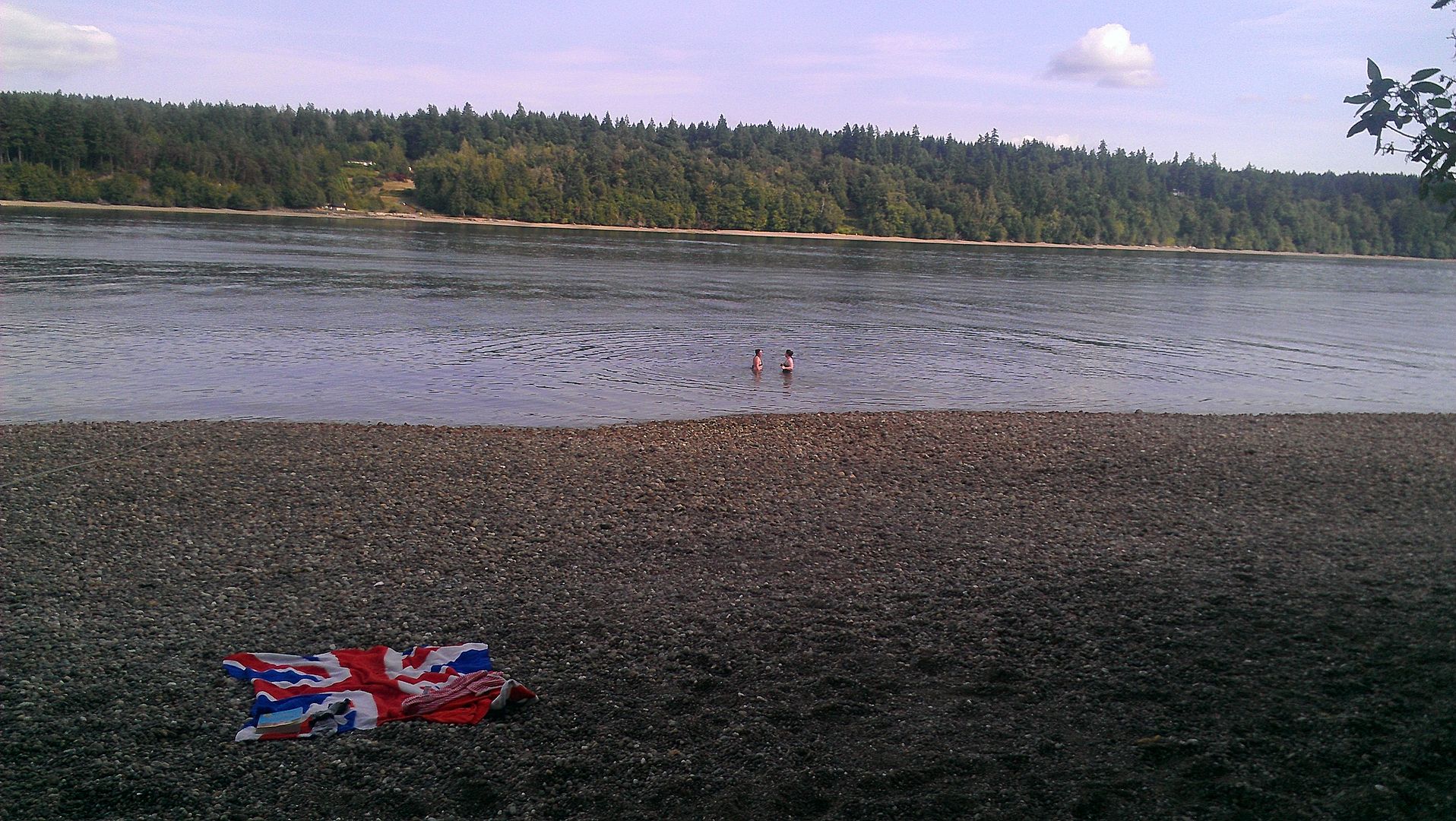 The beach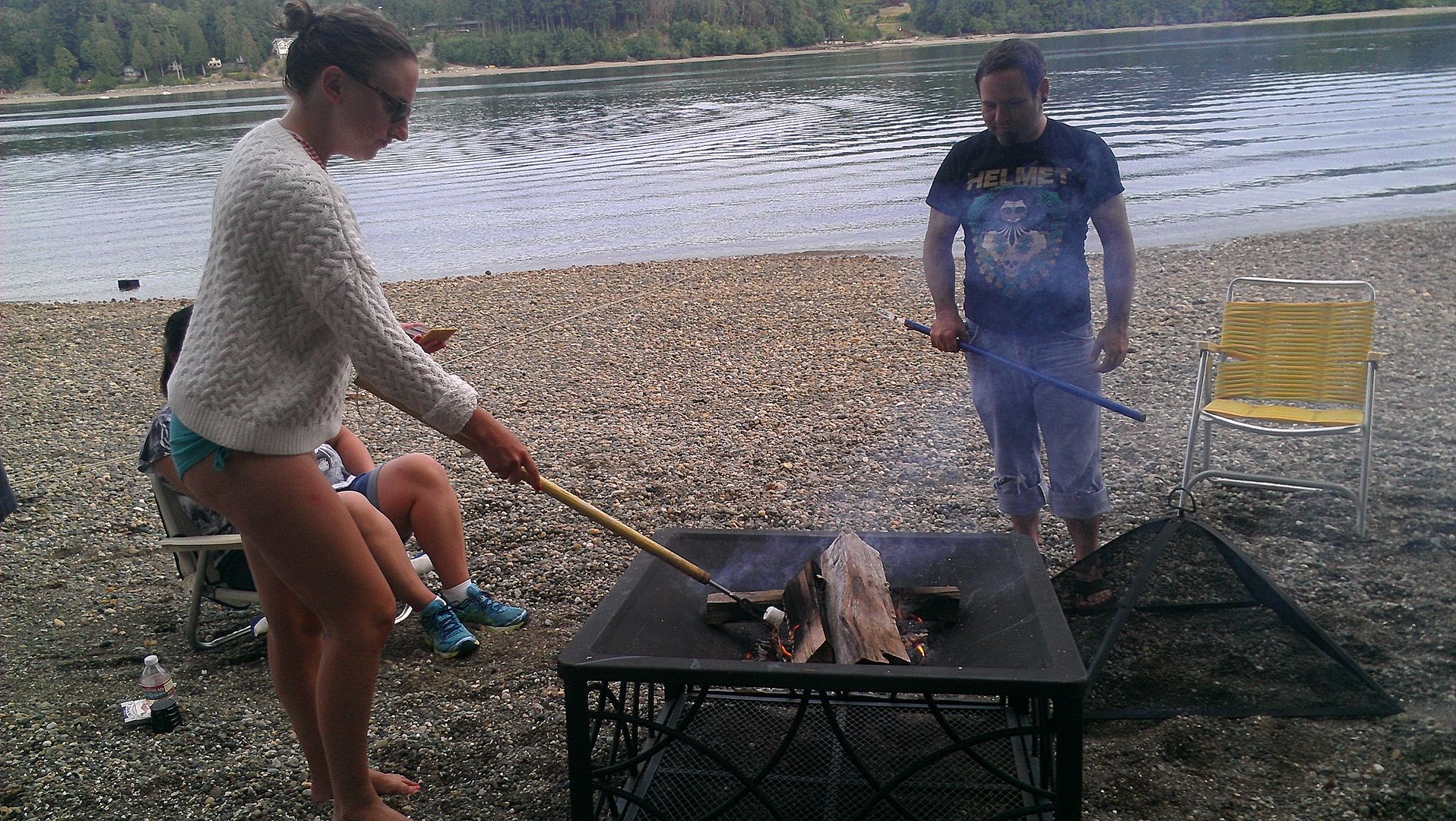 Charlotte roasts her first marshmallow for s'mores.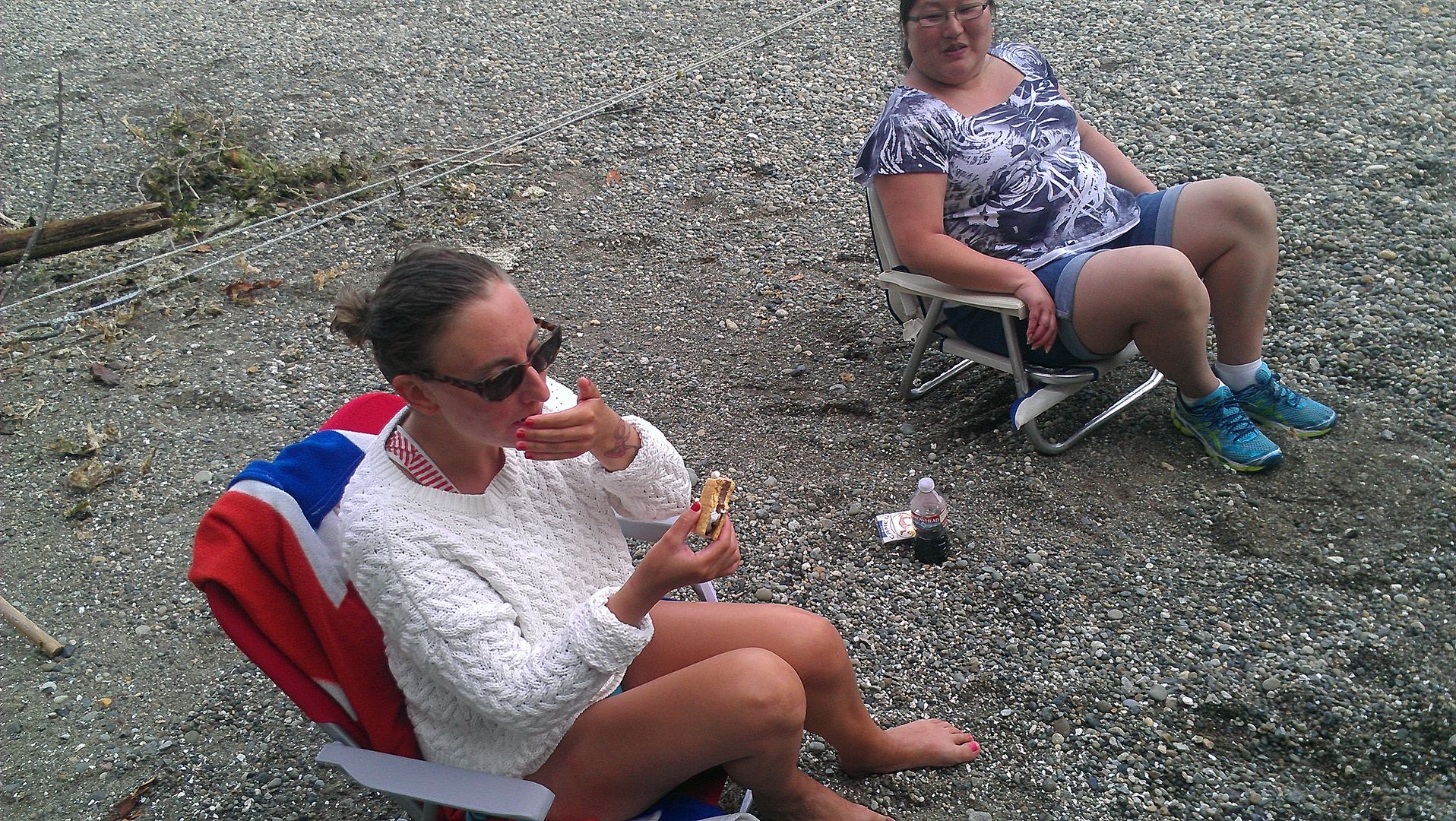 Trying her first s'more.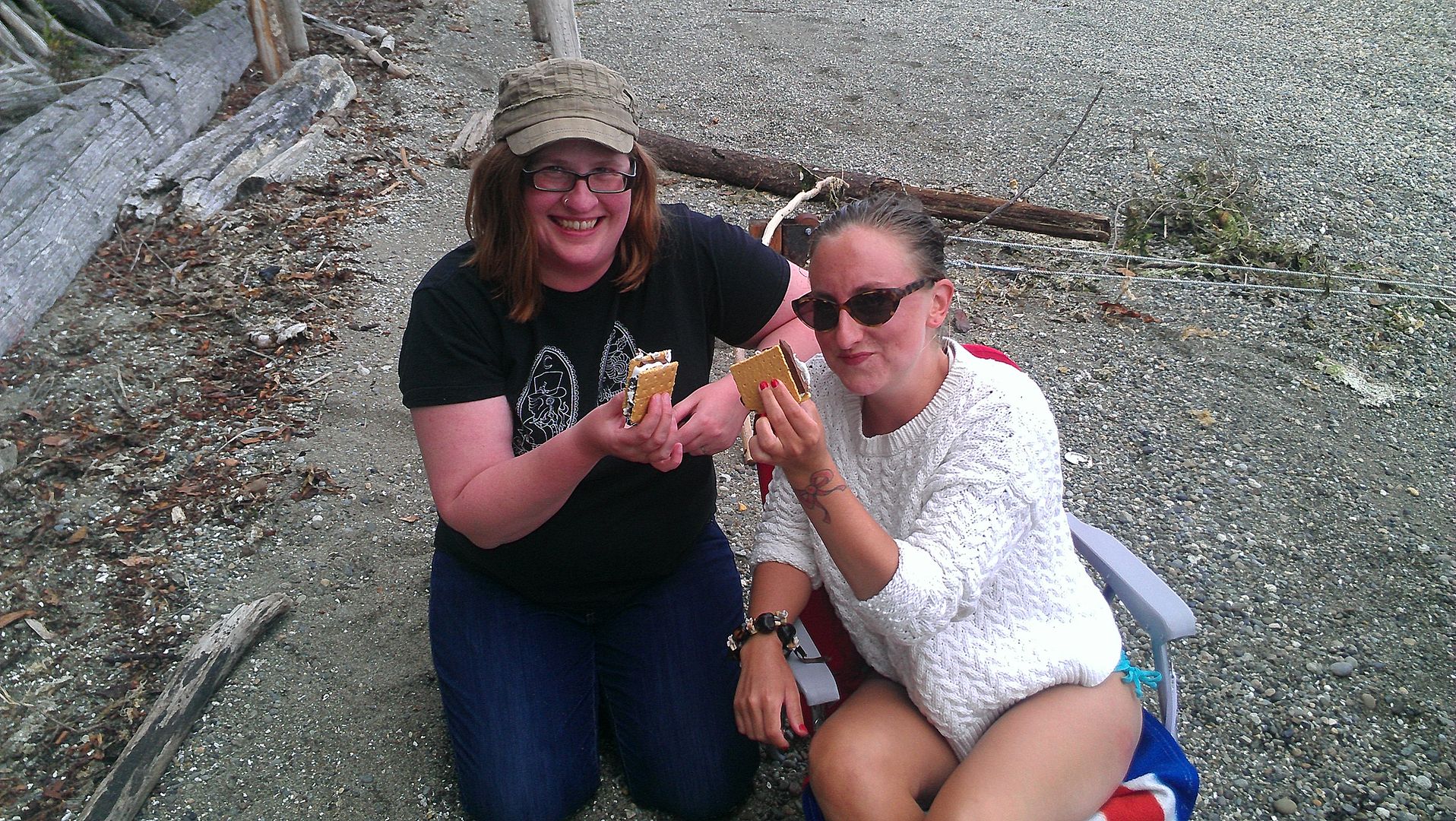 Charlotte tested, Mir approved. (I got totally sun burnt that day BTW)
That night Andy and I prepared our street style carne asada tacos for everyone (mushroom version for the vegetarians) and it was delicious, but filling. It definitely took the edge off our full day of drinking in the sun and we played Cards Against Humanity and Cranium into the night until folks started dropping off downstairs to sleep. (I turned in early, exhausted from my sun burn).
The next day Tracie made Swedish Pancakes for everyone and we had a day cleaning up after ourselves at a leisurely pace with plenty of breaks to talk or take walks, well Charlotte and Ryan took walks and runs around the island. The rest of us were more content just lazing around. When it was time to go Charlotte came home with us and we made a pit stop on the way home in Tacoma at Sonic.
Due to some other drama earlier in the week I was kinda dreading the cabin, but once there everything was good and happy and I found it to be very relaxing and lovely.
Monday 8/18-Thursday 8/21
On Monday Charlotte was going to give Dorothy a call and go to Golden Gardens together. Around 10am Charlotte went into the back yard in her bikini for some reading and sunbathing. Unfortunately though, she got locked out of the house. She climbed over our gate and tried the front door but that was locked too. The poor thing was stuck in the back yard until Andy got home at around 5:30pm. Good thing she had a book with her, she finished that in the day.
That night Andy and I had a housewarming cocktail party at our place with some of his work mates and Charlotte and Ryan. More Cards Against Humanity was played. We bought way more booze than was needed for a work night but everyone had a good time and we got to show off the new place.
Tuesday, Charlotte cooked dinner for Andy, my folks and me. It was kind of like a potato salad but with parsnips and peas and vegetarian sausage. It was delicious. The only problem with it was that there wasn't enough for seconds. Yum! We made hasty plans for Charlotte's goodbye party the next day.
Always one for a bit of cheese and boosting up the Brit feature we held her farewell bash at the re-opened Canterbury. The place is different now, it's no longer a dive. They've got some problems to sort out and the clientele, like every other place on the Hill these days it seems, got pretty bro and douchbaggette heavy for my taste. We still had a good time, regardless, Raye, Dani. Dorothy, Petra, Andy, Lindsey, Samuel, Ryan, Christine and Cory all showed up to bit Charlotte adieu. Charlotte also played shuffleboard for the first time.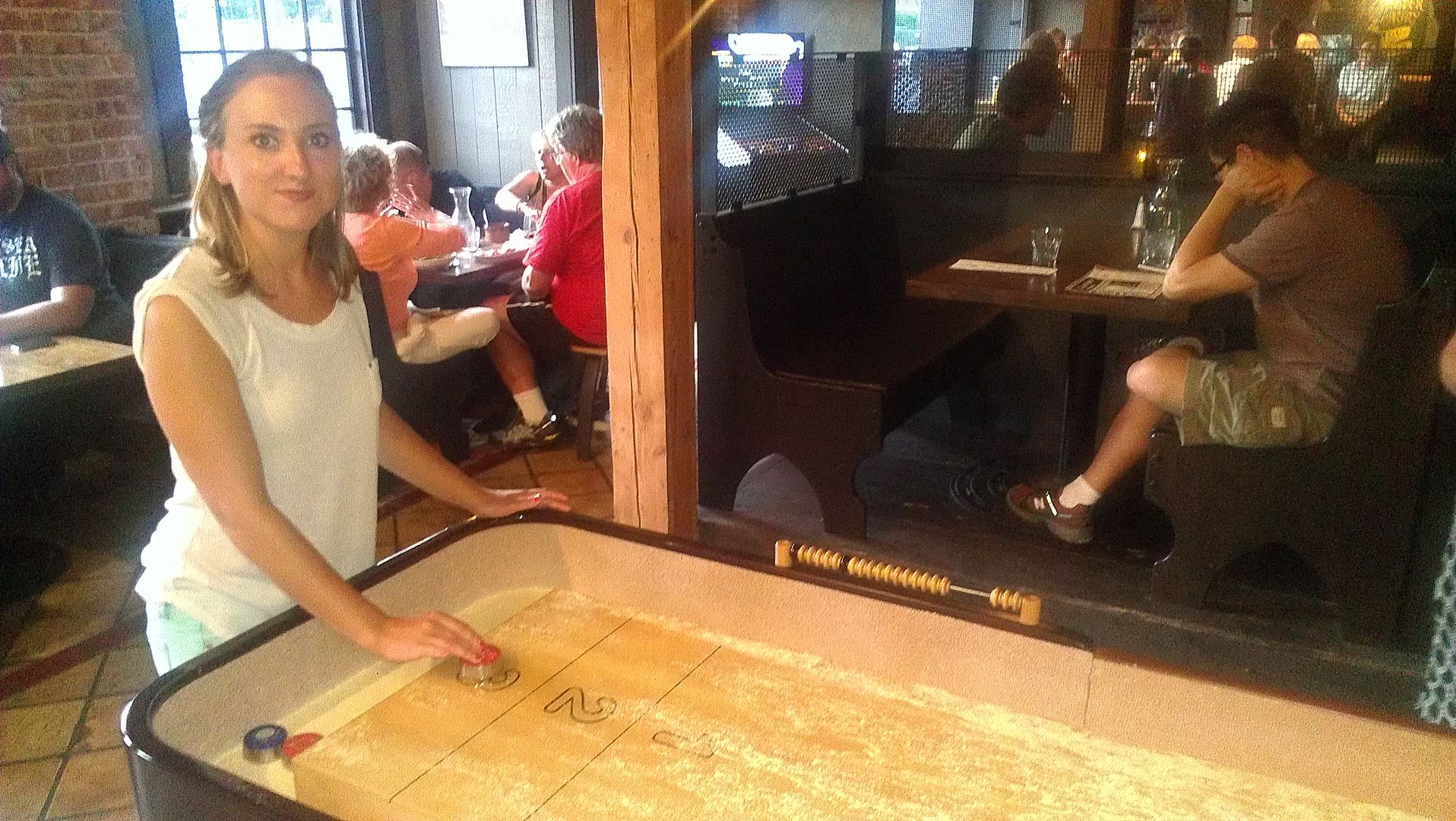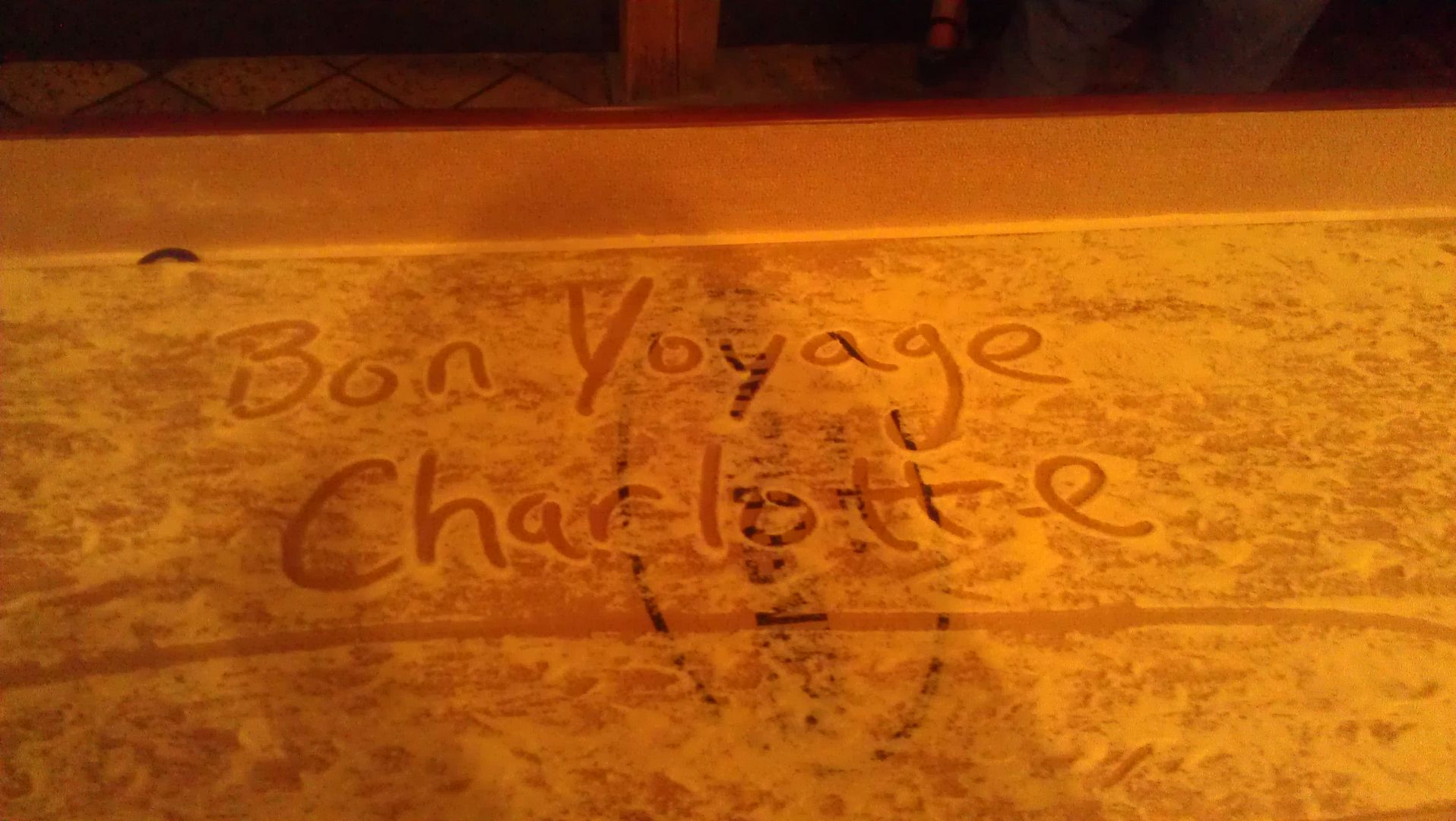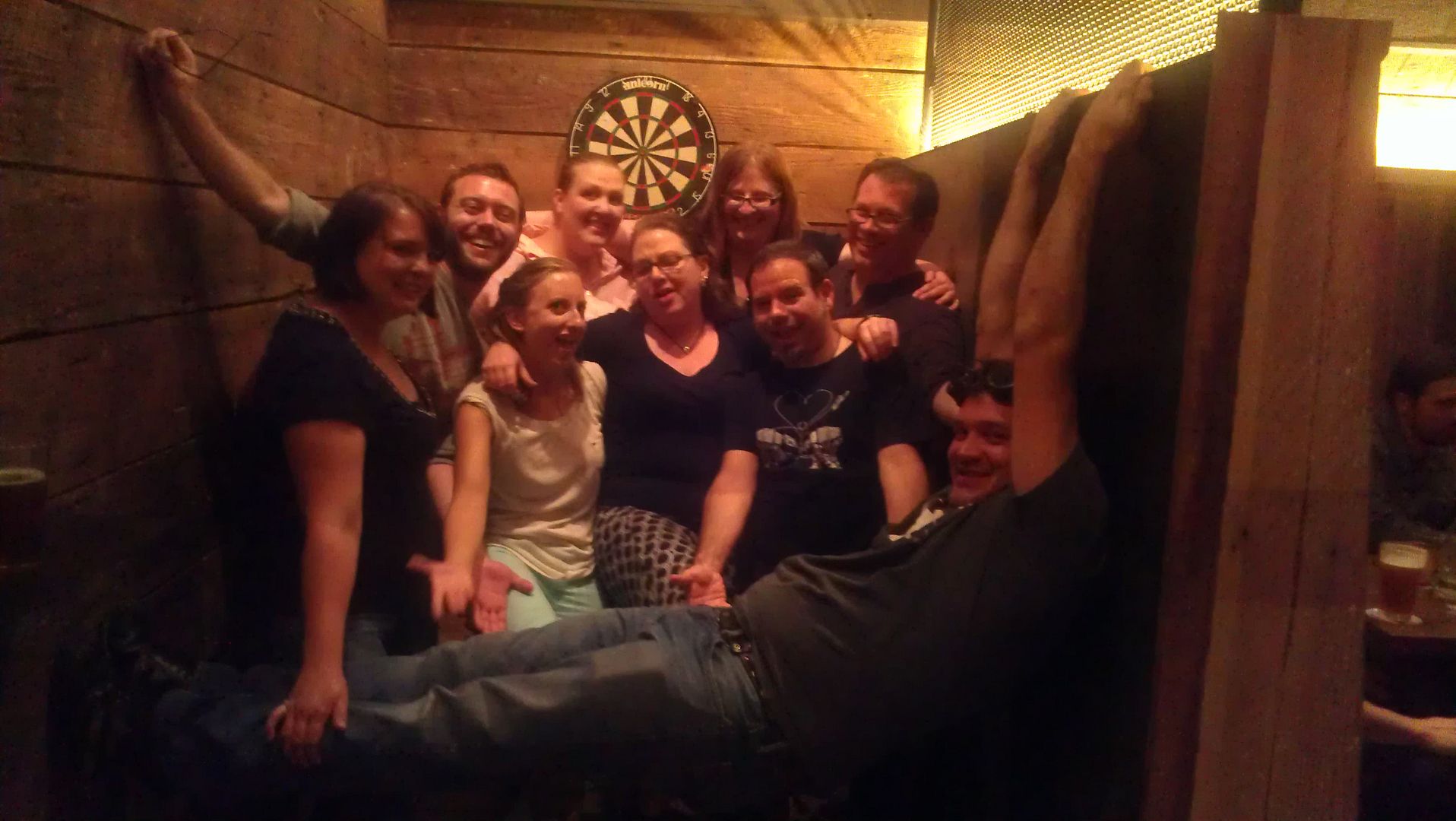 Thursday I had the day off to spend the day with Charlotte on her final day. We got up and took a walk down to Golden Gardens. I really meant for her to see Golden Gardens earlier in her visit but it just didn't work out. When we got to the beach we sat on a log for a little bit and took in the Sound. Then we walked down along the water, through the marina and then past the locks and into old Ballard for coffee. We cabbed it back to my place for her to pack her bags and arranged to meet my mum on the D line. We dropped off her luggage at the Schmee and caught a cab to Cafe Flora for lunch. Time was going by so quickly. My dad picked up her luggage at the theatre and then picked us up to take Charlotte to the airport. Traffic was terrible and it was nerve wracking but we got there and said a brief goodbye wherein Mir got teared up.
It was a good visit. It was a good August. I got to see my British bezzie and show off Seattle in the Summer. We got to show off the benefits of living in this town when the weather is delightful. I got to do lots of things I haven't done before. Good times.
However, It's been exhausting (followed it up with a busy weekend of going to a show at the Rendezvous, hosting a Dr. Who screening party and Schmee business). So Labor Day weekend, I'm doing fuck all and just lazing around the house, takin' it easy.
Haven't had a chance to post in a long while on account of we've been crazy busy, but in a pretty good way. Charlotte arrived on the 4th of August and was in town for about three weeks and let me tell you we jammed a lot in those three weeks. She stayed at ours mostly, on the top floor equipped with a fancy new air conditioner and a new futon frame we put together for her. She came to visit me at work and we had lunch together at the Seattle Center when the weather was nice, or just on site when the weather was crappy. It was really nice to have a lunch date almost every day. We checked out some of her favorite spots of Seattle in the early days, Gas Works Park, the waterfront, Green Lake. Mind you this was Charlotte's fourth visit her but it was her first visit in the summer time. I mean for the wedding she was here in a bit of Indian Summer but there was wedding stuff going on. This visit was about her experiencing the glory of a Pacific Northwest in the summer.