Ack, so I meant to write most of this stuff earlier and have a more detailed account of events but at is stands right now just need to keep it brief...
So weekend before last was my mum's birthday. We had the folks over for dinner and a movie and margaritas and cake. That Sunday was the Auction for the Schmee and Andy and I had tickets to see Airborne Toxic Event at the Showbox which superseded the Auction but my aim was to try to be at both. that didn't really work out as I was attacked by communists and was drained of all energy. The show was good, although I felt a little anemic, super crampy and out of sorts while in the crowd. Stupid commies.

Tuesday I got an invitation from Dorothy to go see Gary Numan for free at the Neptune. Two shows in three days, check my shit out! I was really excited for Gary Numan. He has been on my list of people I'd like to see for a number of years now. I met up with Dorothy at Earl's on the Ave along with the nice lady who offered Dorothy the ticket and a couple of other peeps (including Adulphus who I hadn't seen in so many years, he didn't remember me but I was reminded of what an adorable gay boy he is...he carries gummybears on his person). The show was good but there was one major flaw for me personally. I'm a fan of early Gary Numan Tubeway Army, late 70s, early 80s, Gary Numan where it's all electro and sci fi. However the guy has had a 35 plus year career and apparently a lot of the later stuff is more goth industrial. Which is fine, I like that genra okay, I'm not a connoisseur and it's not my fave. It's just not how I like my Gary Numan. I wanted more Replicas, less Trent Reznor replica. Ya dig?
Wednesday I picked up my new glasses. I went to the place in Ballard where Jessamyn works which is cool for a number of reasons. For one, my money gets to support my Schmee buddy, or Schmee peep, or Schmeep for short. Also, Jessamyn is super cute and fashionable (in a cool punk rock way) and I appreciate her help in finding the right glasses for me...although Andy was the ultimate tie breaker. I had only narrowed the choices down to like a dozen pairs by the time he got there. Anyway, it has taken a bit of getting used to but I like my new specs. Check 'em out...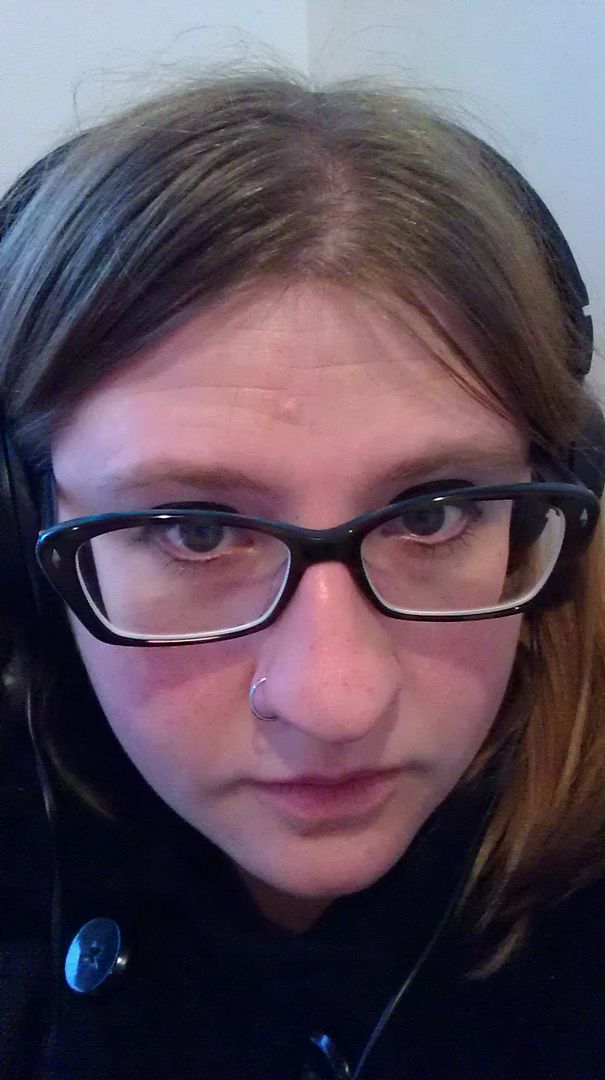 Halloween on Friday was spent at Dan & Kristen's Halloween housewarming party. They got a new place a while back (they moved the weekend we were at the cabin in Heron Island and we felt so bad not helping). The new place is still way out in Bothell though so we went out aiming to spend the night so Andy could let loose and drink. Raye and Dani dressed up but Andy and I didn't bother, preferring instead to make sure we brought a housewarming gift. There was WAY more food than was necessary and our full cart from Fred Myer was not really necessary. The party died down fairly early but since we were in for the long haul Andy, Dan, Raye and I stayed up drinking beer and whiskey and talking into the wee hours.

Oh yeah, a quick aside about Halloween. We had my mum watch Sparky while we were out, especially as we weren't sure if we would have kids knocking on the door trick or treating. Turns out our new neighborhood has way more kids trick or treating. More than any place I have lived since moving out of the suburbs. Even then I'd say we had only like 15-20 but that felt like a lot compared to before when we had at most 5, usually 3. This one little fucker though, just waltzed right into our home. Opened the door and walked in like he owned the place. I mean the kid was wee so most people will give him a pass I'm just sayin' he's lucky I just happened to be holidng Sparky at the time.
With Halloween behind us, and the election as well, though I don't want to talk about it, now it's all about Questionable Content for me. The next shows are this weekend. New teams, new content, and set with nothing to fall off of. I'm going to be busy for the rest of the week working on it. I look forward to the rush of putting it on but I'm really nervous about getting an audience in for this one. So if you're reading this in the Seattle area, you should totally come!