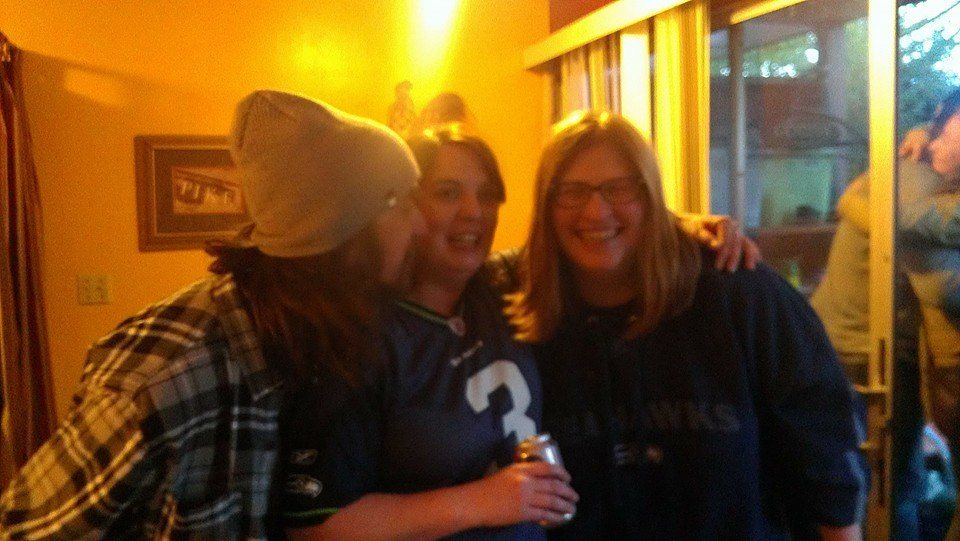 Rob, Raye & Mir reunited!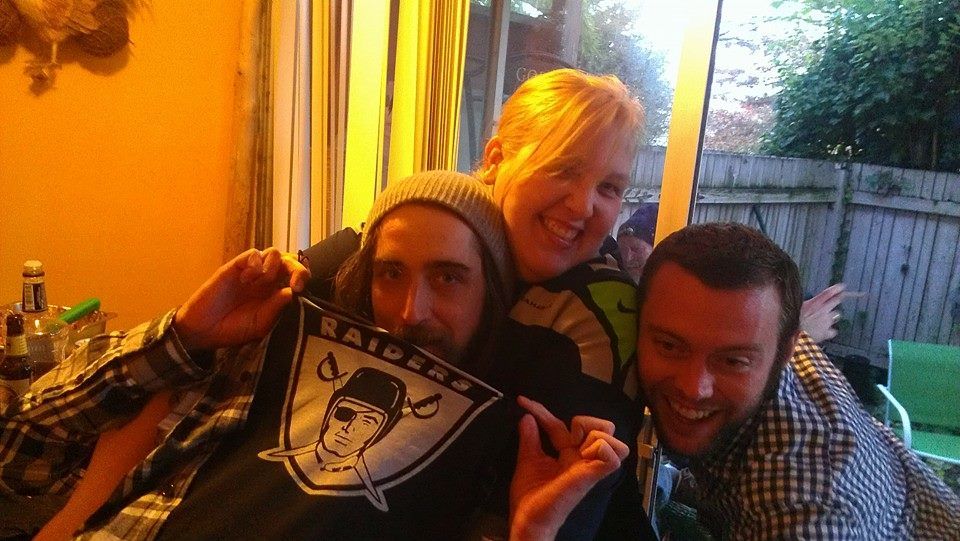 His mates in Vegas got to him first and I guess he's a Raiders fan now. Whatever. With Lindsey and Sam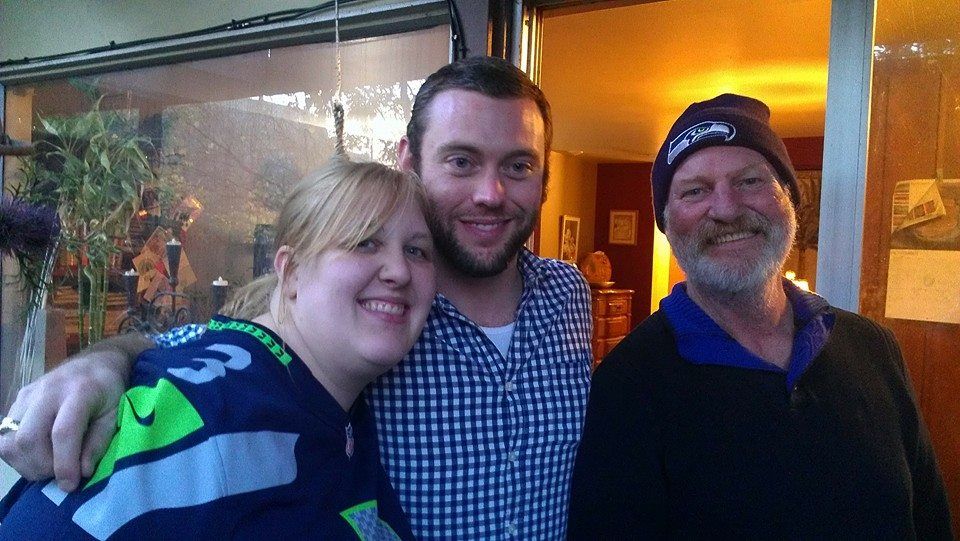 Awww Lindsey, Sam and Marvin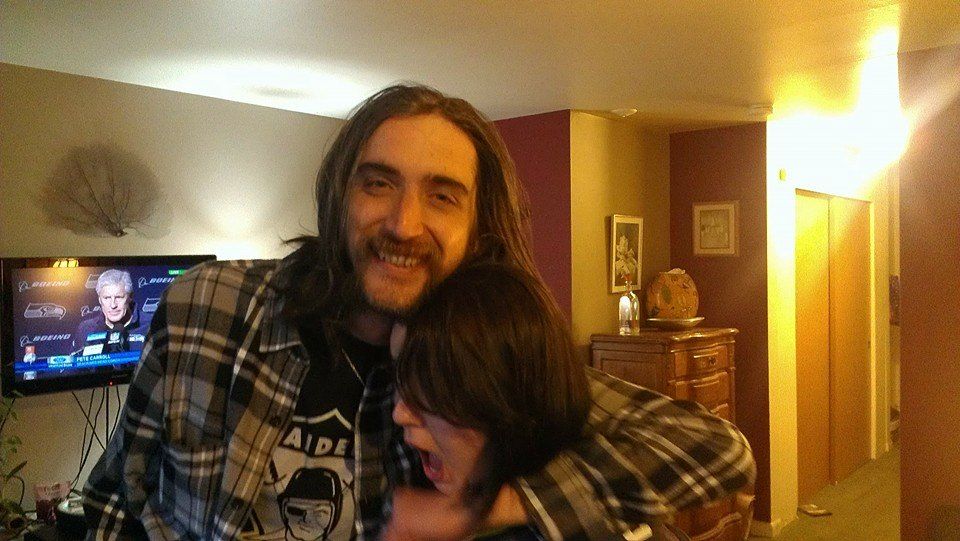 Rob givin' Ray some tough love.
Rob stayed at Rayes for the next few days and she got to show him the sights, Pike Place Market, Pioneer Square, the library, etc while Andy & I were at work. They went to Salumi and I saw it on FB and was crazy jealous. On Wednesday I met up with Raye and Rob in Belltown for drinks and dinner at the Rabbit Hole and made the exchange. Rob came back on the bus with me and Raye had to head down to Tacoma to have Thanksgiving with her folks. Once again the evening with Rob was drinking many beers and talking into the night.
Rob spent his first-ever thanksgiving at ours. He was there to see us prepare the turky, he watched the football game. It was Andy's birthday Thanksgiving day and we gave him his gifts. We watched football and even a little bit of the parade, enough of the parade at least to see KISS playing. How weird was that, eh? I thought into Peter Griffin's dream or something. I was anxious for my folks to get there as they were bringing the booze so. They brought in lieu of a birthday cake for Andy, he asked for deviled eggs so that was pretty much the extent of the pre-dinner snacks. My parents also brought the white russian makings I requested which was what I was all about, and Rob abided as well. My folks were excited to meet Rob and they got on well while Andy and I were in the fevorish, frantic phase of getting all the sides made. My gravy was lumpy but everything else was a success. The dinner was way too much food for a mere 5 people. I mean seriously. It mostly had Rob's stamp of approval. Rob, who "doesn't like vegitables" even liked the sprouts that Andy prepared, which is a big accomplishment. As par for the course, dinner took way less time to eat than it did to prepare and the next thing I know, my mum and I are cleaning up while the fellas watch the Seahawks vs 49ers game. (Again, we won!) The whit russians went down way too smothly and after the football game, Rob was wearing the turkey stained table cloth like a cape and he listened to queen as we played a round of Cards Against Humanity with the folks before they, probably wisely ) took off. From what I hear, the rest of the evening of Andy's birthday was Rob & I talking in circles for the next few hours with Queen in the background. Sorry, love.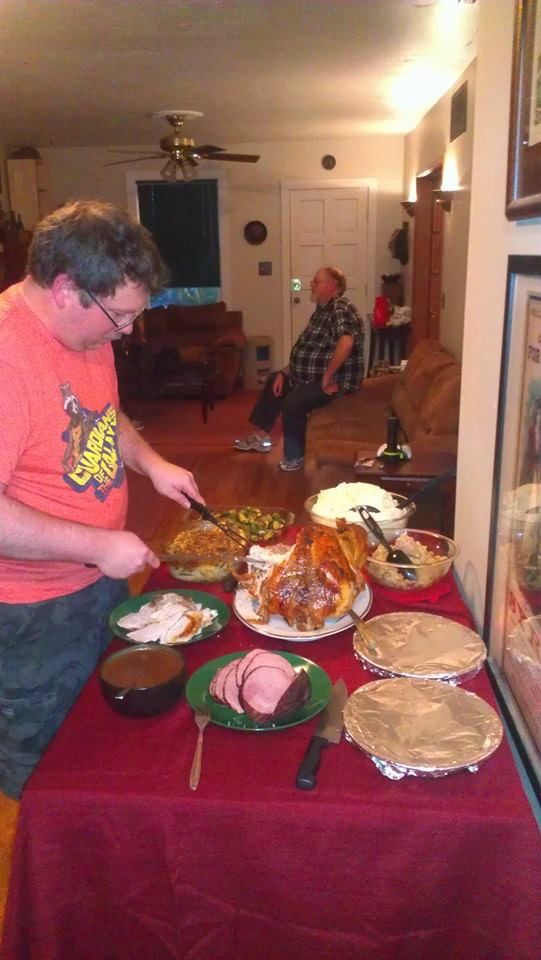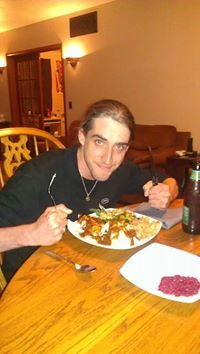 The Spread & Rob's First Thanksgiving (He shaved the Lemy 'tashe)
The next day I was not well so I sat out most activities in favor of sleep, a bath, the couch and a Star Trek Next Generation marathon on BBC America. Andy, Rob and Ray went to go see Guardians of the Galexy at the Crest. Afterward, Andy dropped them off at the Schmee and they saw the Twilight Zones and after that they met up with Andy Dani and me for Andy's birthday gathering at the George & Dragon in Fremont. (Gotta take my English friends to the English pub). My folks and Luke and Angie also came out for Andy's b-day celebration. That was the night the temperature crazy dropped and it started snowing.
Saturday, it was Andy who was not well. Not hungover, but his side was causeing him a lot of pain. Raye, Rob and I eventually bundled up and trotted out into the snow. We went back to Fremont and stopped at Blue Monn burgers before showing him the Troll and gassworks park. The walk was good, but that cold got the better of us and we headed back to mine for a warm up before the night plans of a Ballard pub crawl. Warm at home we showed him the Muppets film and then headed back out into the cold night. Our bar crawl wasn't so much of a crawl. We hit up Hatties for dinner and drinks, Lindsey joined us for this bit, then we ended up at the Lock and Keel and after getting a seat in the back, just didn't get around to leaving. I paced myself and even though we closed down the bar I didn't want to be hungover the next day because it was our last chance to get around to doing the things that were really on Robs list.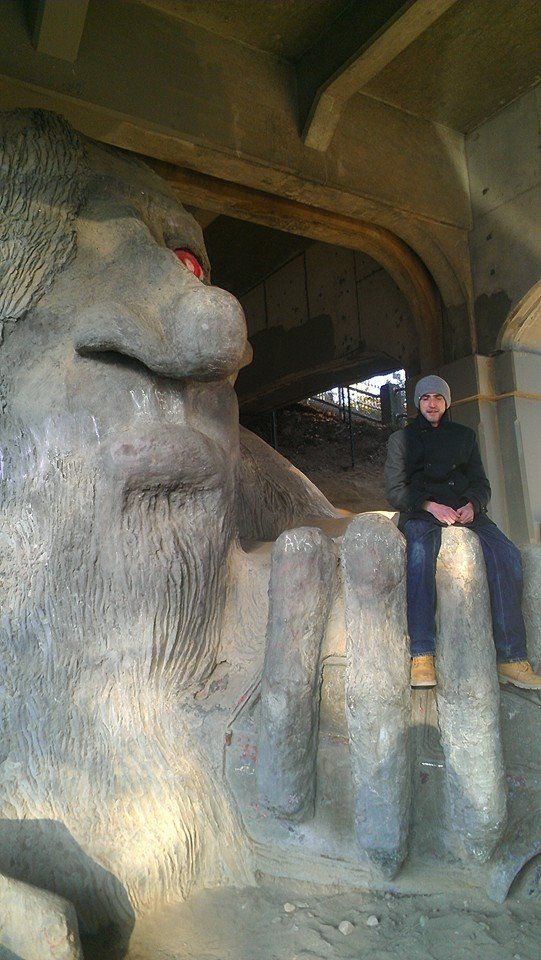 Rob at the Troll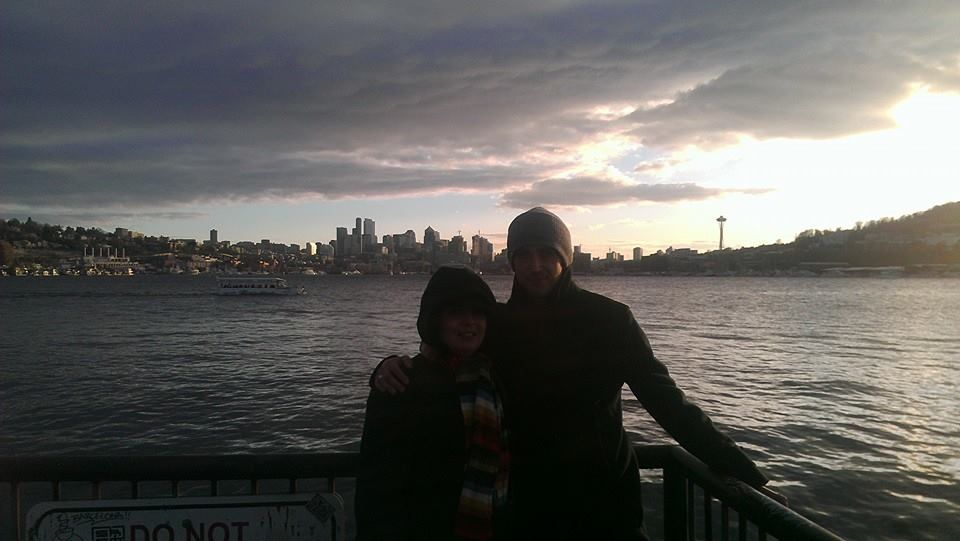 Rob and Raye at Gassworks
Sunday, with Andy feeling better, and after a nice greesy spoon brunch at the Hurricane wherein we met up with Ryan, Andy was able to drive Rob and us around to the things he wanted to do. We went to Martha Washington Park in Raineer to visit a tree that his mates had planted for a friend that had passed. We had to do some decuctive reason to figure out which of the 6 younger trees was the correct one and Rob poured out a 40 for his homie. It meant a lot to his firend who he had stayed with in Vegas during his visit. From there we headed further southeast into Renton to go visit Jimi Hendrix's grave. This was something that I've never done in my 27 years of living in the Puget Sound area, so I was really excited about this one. Something touristy that was new to me and that I've longed to do for a while.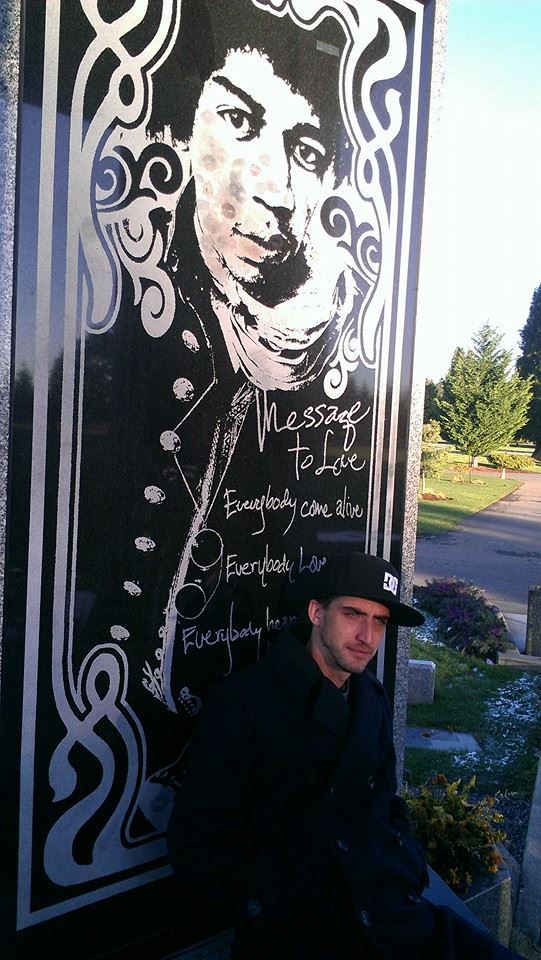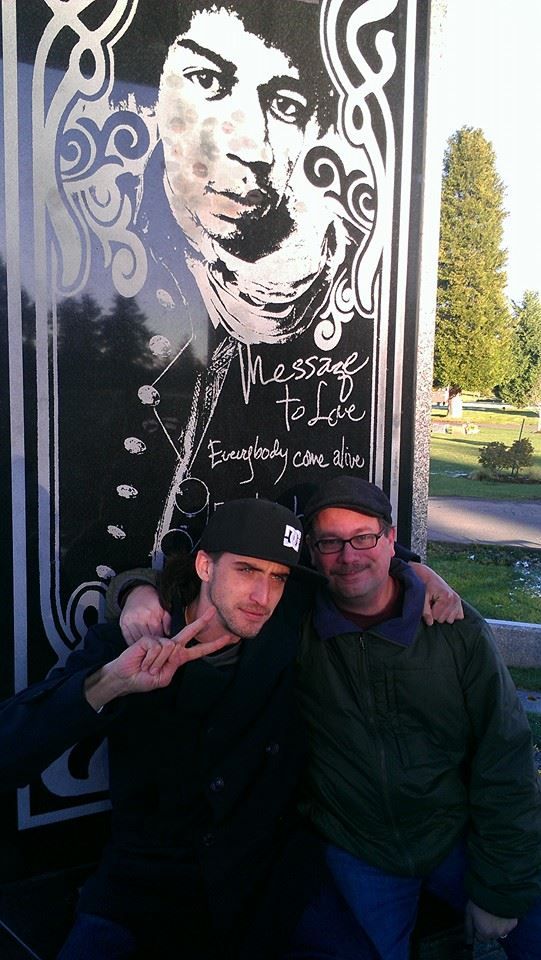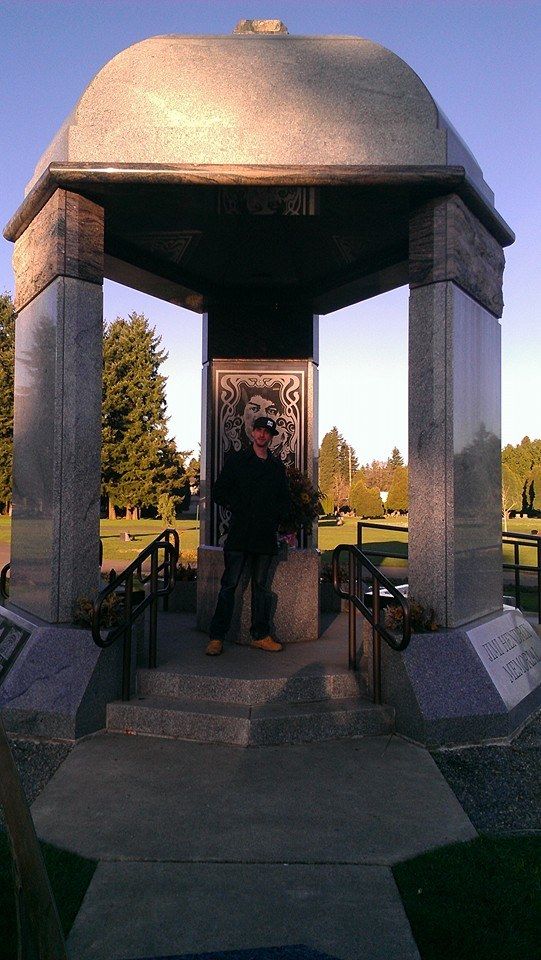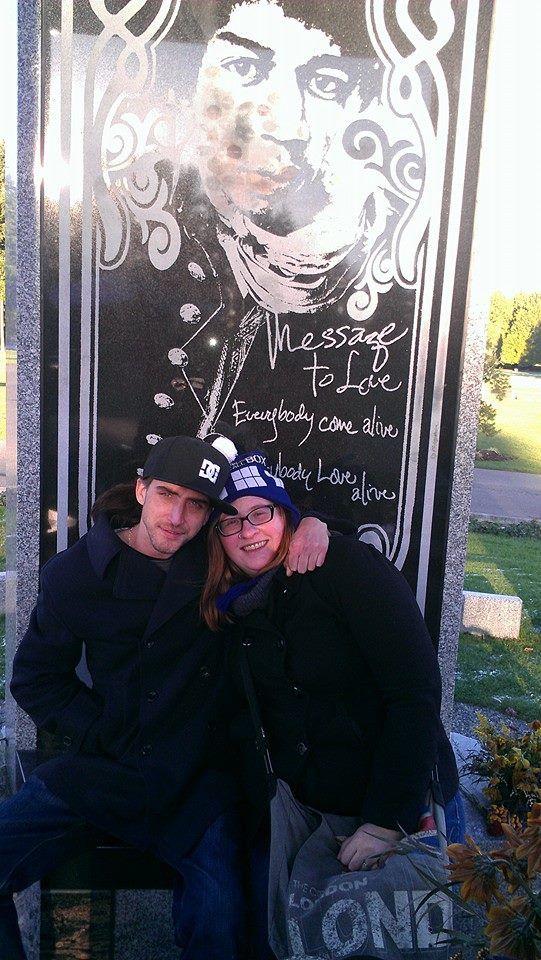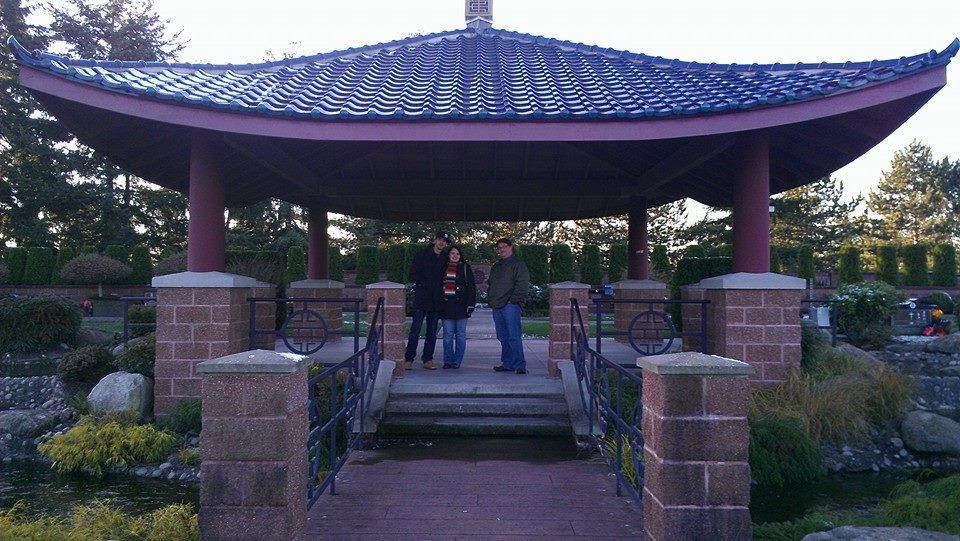 After all that was done, we dropped Rob back off at Raye's before the work week began again. however Rob wasn't around for too much longer. Monday night we had kind of a Hello Goodbye Happy Hour at the Rendezvous. We gave people who got the chance to meet him, a chance to say farewell and the folks who didn't get the chance to meet him to do so. We had Rob, Raye, Andy, Dani, Samuel, and Ryan come out. We had a splendid time, even though a lot of us were exhausted and cold.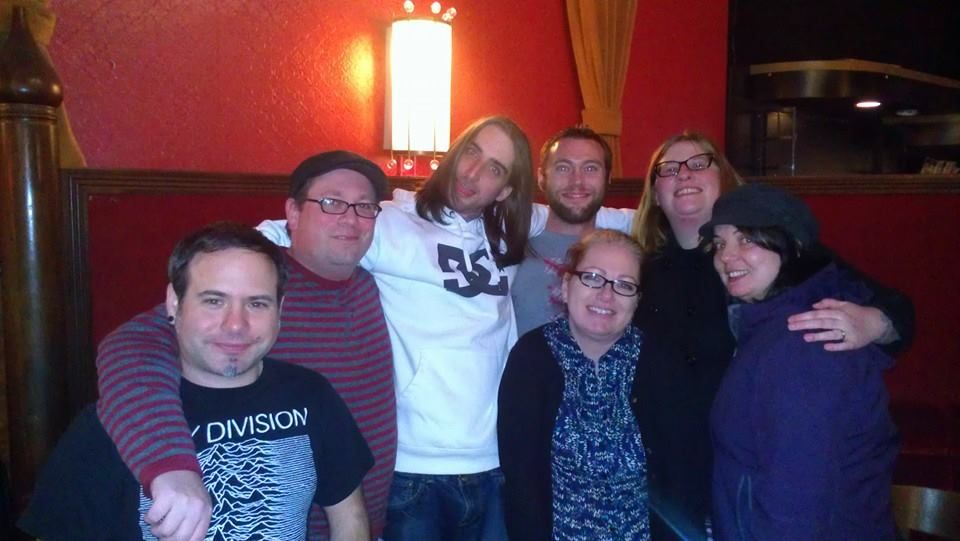 Tuesday, Rob's last day in the states. He came back to ours to pack up his things while we were at work. Raye came and helped him and together they cooked Rob's signature dish, Spanish stew, to thank us and Raye for the hospitility. It was pretty delish and nice and warming after all those cold, cold days. After dinner, and a glass of scotch, we drove Rob down to Seatac and said our farewells. It must have been such a mixed bag for him. On one hand I could tell he missed his mates and fam at home (and I bet his bed after 6 weeks of traveling) but on the other hand, he
really loved
Seattle and wished that he had allowed for more time here. He spent 3 weeks in Vegas, ugh, but he was visiting an long itme friend who had moved there.
Anyway, similar to Charlote, I get the feeling that this will not be his last visit to our fare city. Although he didn't meet everyone, he's kind of part of the Seattle family now. He was well embraced by all me met and he just loved it here. Because, what can I say, we are a lovable bunch.
So Rob's visit has come and gone and it's taken me so long to have time to write about it I'm ashamed. Andy and I picked him up from SeaTac late on the 22nd and brought him home to ours. We ended up drinking beers and talking into the wee hours. The next day, Andy dropped Rob and I off at Melrose so he could experience the Sunday at Melrose during football season experience. He was warmly welcomed by everyone. He got to meet the whole Melrose crew (except Raye, who he met long ago when she came to vist me in London) and he also got to meet Samuel. I, of course, talked Samuel up quite a bit whilst in London, becasue I missed him so much and I think he did not dissapoint when Rob finally met him. Game day was fun and we won! I didn't want to go at first but when I did it was just about the right time beacuse it was a school night and everybody was going over that wall that I could not follow.