QC
We had our April show on the 10th 11th closing up our two week turn around crazy time. We stepped it up this time with new sponsors and prizes. Actually John did all the foot work getting the sponsors I have to give it to him. We had a Improvs vs Stand Ups battle.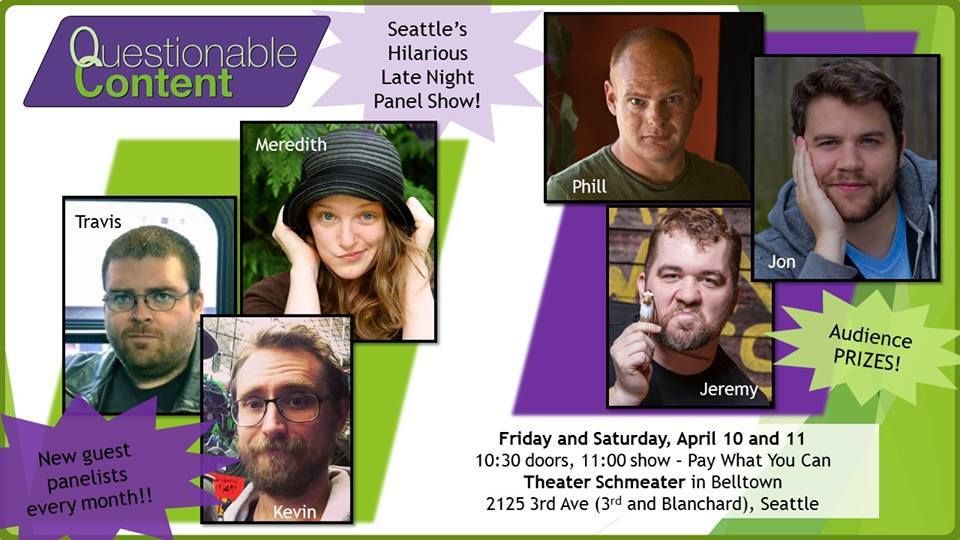 Friday night we had a good house but it was crazy. For one it was the first time in a couple of months that I didn't take the day of to get all my shit done for the show so I felt a bit more pressed for time, even though i had actually got a lot done earlier in the week (though there was still the cards and the power point). Then Angie, Friday's bartender, had an emergecy during the primetime show and had and had to split so suddenly we (me & my dad) had to do bar as well as duties in preparation for the show. The show went off just fine and we had all these awesome prizes to give away. Saturday night we did not have a good house and did a truncated version of the show and at least got some video out of it.
Team Improv (with Dani's team name The Itchy Nipples)
Team Stand-Up
The first game to go into a Sudden Death Question
Victory
Next order of business/coming soon, more marketing efforts, editing commercials and clips with the videos finally and editing podcast versions of former shows. Oh yeah negotiations are in the works to get a primtime spot at some point in the summer. *fingers crossed*
Andy
So Andy's got his lithotripsy scheduled on May 7th to try to break down the kidney stone stuck in his kidney. Fingers crossed that it will do the job the first go and Andy can get back to a regular life without pain. Unfortunitly for him in the mean time he's got his big annual conference for work this week while he's still in a lot of pain but then he's done the last 3 user's conferences with this kidney stone so this should be the last one. On top of the usuer's conference, though, there's something wrong with his the transmission of his truck which had to be taken into the shop. When it rains it pours. However, me always seeing the silver lining, at least it didn't crap out on us while we were stuck in that terrible traffic on I-90 on Saturday. That would have been far worse.
Neil Gaiman and more things in store...
So although we're focusing on finances and health stuff this year and, sadly, not taking a trip for vacation, the nice thing about 2015 is that it seems like one of those years that cool stuff is coming to us in Seattle.*
Weeks ago I saw on Facebook that there were tickets avalible for "An Evening with Neil Gaiman" at the UW. Remembering how bummed out I was when I didn't find out about George Saunders at City Hall untill it was too late, I jumped on getting tickets for Neil Gaiman immediately. I picked up a ticket for Dani and Ryan before i even asked them if their schedule was free. I wanted to thank them both for being awesome Dani, for her help driving me places and that Sunday she lost taking Andy to the dentist's office and Ryan for building QC's webiste for me.
We met up for a drink and a bite at the College Inn Pub and then headed over to the ballroom where the line wrapped around the basement of the building many times over. It was crazy how many people were there and how huge the room was...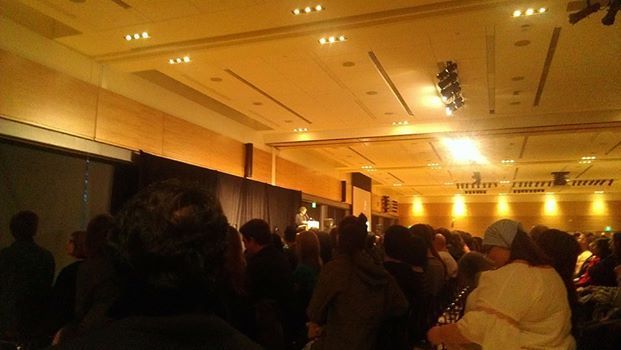 Needless to say he did not do any signings so I carried my hardback of his new book I picked up a Powells for nothing. :( They had signed books for sale but I didn't go for it, sadly.
It was great though. He just answered questions that the audience wrote down on cards and read a couple of exerpts & short stoires. (I'm currently reading Good Omens so when he started to read form there I paniced, worried that he would read a part ahead of where I am and that there would be spoilers. Luckily he read from early in the book.) I loved hearing him talk about how much he loves his wife. I cried when he talked about Terry Prachett because it was obviously still very fresh (whoever asked those questions, seriously
too soon
) and he was still in mourning. I of course loved hearing him talk about how he writes and his process. I was reminded it was the first time I've gone to a literary thing since Goldsmiths (woudn't have been had I got to see George Suanders, just sayin'). I came out very pleased and inspired to get back to my writing. I'm throroughly enjoying Good Omens and look forward to reading the new short stories (!!!) next.
The other event that came up was the opportunity to see Anthony Bourdain at the Paramount in the summer. I conferred with Raye about how we want to do it, becasue the tickets were kinda pricey and I know that she's trying to save up. However,
although Raye and I met Mr. Bourdain
, we never had tickets to his show so going to this is like 7 years in the making we decided to go all out and get floor seats. I'm so happy about this!
On top of that Andy, Dani, Raye and I are going to see Kids in the Hall in May! EEK! I'm so stoked about this! Come to think of it, this is also righting the wrong of not seeing them in 2008 . However back then
we still met Dave Folley in the alley behind Neighbors
. Wait a minute...
So is there a lesson to this story? I guess so. Kids:when you're 25 years old and broke, and can't go to shows, hang out in alleyways to meet the people other schmucks paid to see and then, seven years later, when you're a little more distinguished you can have a second chance to pony up the dough and see the show.
*with one exception the Rezillos are touring the US (Mostly Cali) but not coming to Seattle. Anyone want to buy me a ticket to to see the Rezillos and the Dickies at Punk Rock Bowling in Las Vegas (plus, you know, a plane ticket) would be forever in my debt. I want to go SOOOOOO bad!!!! *wah!*
So last time I posted was at the begining of the month. It's all of the sudden it's the penultimate week of the month. WTF.