Sadly Andy was still under the weather with that terrible cold but he was still a trooper and picked everyone up (except Christine and Cory we met them at the gate) and we headed down there.
Once we were all at the fair it wasn't long before we all split up to wherever we were most excited about. A bunch of folks went straight to the beer garden Andy, Raye and I went to the rides and midway area. Though Andy wasn't up for rides I was and looking at the number of tickets per ride it looked to me like getting the wrist band for $40 seemed the most economical thing to do. We left Andy at the midway to go on a few rides. The first we went on was the
Kamikaze,
this pendulum ride that seemed a bit more intense than what I was used to but it had been so long since I had been on a ride (the last time was when we hit up the Fun Forrest in Seattle Center before they took it out and that didn't even have that great of rides) I was game to give it a go. We got on, strapped in and i was enjoying the wind in my hair at first until we went upside down and suddenly my stomach churned and I was
not
having fun.
Luckily the only thing I had that morning was coffee so I didn't throw up or anything but I was not well. Still, trying to fight the realiztion that I can't do rides anymore I went on one more I went on a rollercoaster with Raye. I figured rollercoasters, so long as I didn't go upside down would be okay but nope. I used to love that feeling of my stomach dropping with a steep fall, now, already nausiated, it was no fun. I felt like such a killjoy but after that second ride Rob caught up with us so Ray had someone to go on rides with and i just wanted to be with Andy who I felt really bad for abandoning in my excitement for rides earlier.
Andy and I got some lunch then played some midway games and totally scored a bunch of plush animals. For most of the day it was kind of an in and out of who we were hanging with and what we were doing. For a while we were with christine and Cory petting the animals and looking at some exhibits.
Then we waited for Rob and Raye and Dani so that Cory and rob scould go get their faces painted...which they did.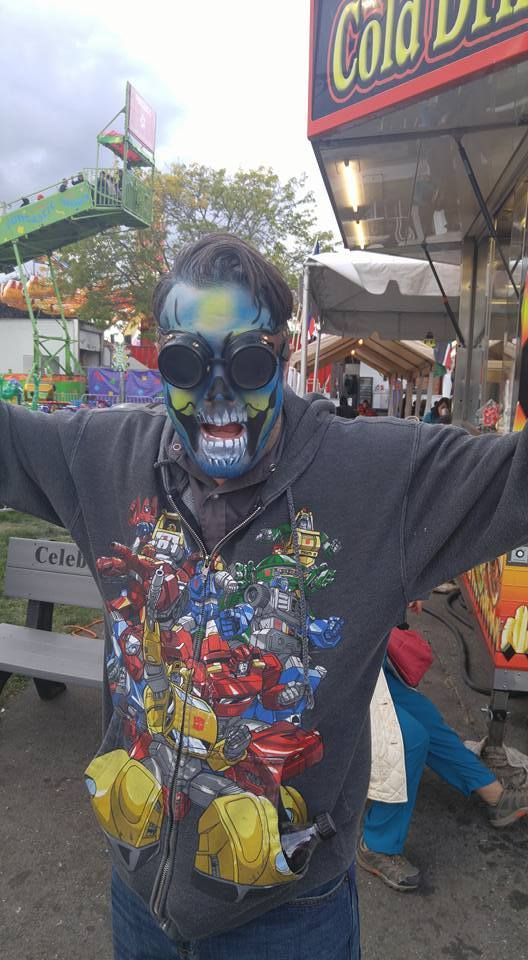 Raye, Rob, Dani, Andy and I went on the ferris wheel, which was apparently Rob's first ever time on a ferris wheel. How weird is that. Then a bunch of folks went to the Star Trek Exhibit when Raye and I headed to to the car. I love Star Trek and wanted to see the exhibit but it was an extra $8 and I was already running low on cash. We still had dinner and the Weird Al show to go. Before Weird Al we all regrouped for a short time at a beer garden on the roof.
Andy and I grabbed something to eat before going into the main stage area. I made the right choice by hitting up a piroskhky place that was delish and easily portable. Luckily for the Weird Al portion we were all sat together with Christine and Cory right behind us. Our seats were good, to the side but we had a pretty good view. It was an awesome show and much to Andy and Robs likeing the encore was all Star Wars related parody song. Oh oh and they did this weird gibberish thing as the last song were they referenced all sorts of things including The Mighty Boosh's "crimping" which got we way excited. We laughed, we yelled, we cheered. All in all, with the exception of learning that I can't ride rides any more, it was a lovley day at the fair.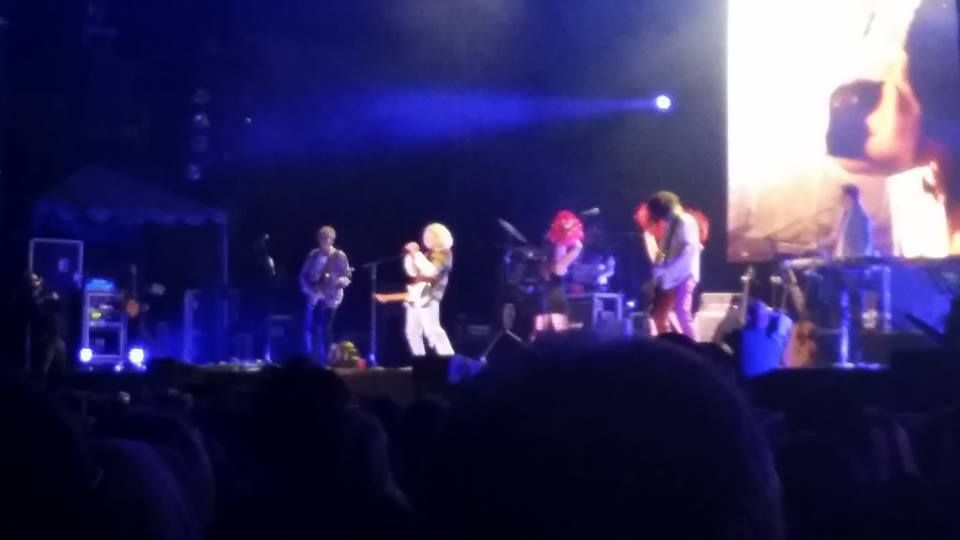 Oh yeah, when we got home, we gave Sparky one of our crappy plush prizes from the midway and he fell in love with it. For days he was walking around with it in him mouth, even taking outside with him to pee, he would constantly burry it then retrieve it then burry it again. It was adorbs.
Now it's almost October. Raye and Rob left this week on their trip to the UK and Europe. Hopefully Raye comes back as planned after the three weeks and I hope to see Rob back in the new year. I went to Melrose for football on Sunday for their send off and there was a lot of love around. Andy's out of town this week too, in Louisville for work. It's the middle of my bachelorette weekend and I feel I haven't achieved anything productive. Like I'm barely keeping on top on the very basics of taking care of myself before it's time for bed.
Everyone taking these trip has left me with a feeling of wanderlust but know it's However, I just bought tickets to accompany Andy to Vegas the first week of Nov. He'll be down there for work anyway and so all i needed to pay for was the flight and I get itchy to go on a plane after it's been a year. So it's not much but I aim to enjoy some days to myself to explore and a chance to see Geoff and others we haven't seen since the honeymoon. It's not much, but hey, in the year we vowed to not take a vacation and to focus our finances on medical and other things, it's actually a bomus and at least I get to go on a plane after all!
Backtracking half a month ago to September 14, myself, Andy, Raye, Rob, Dani, Christine and Cory all had a day at the Puyallup Fair!