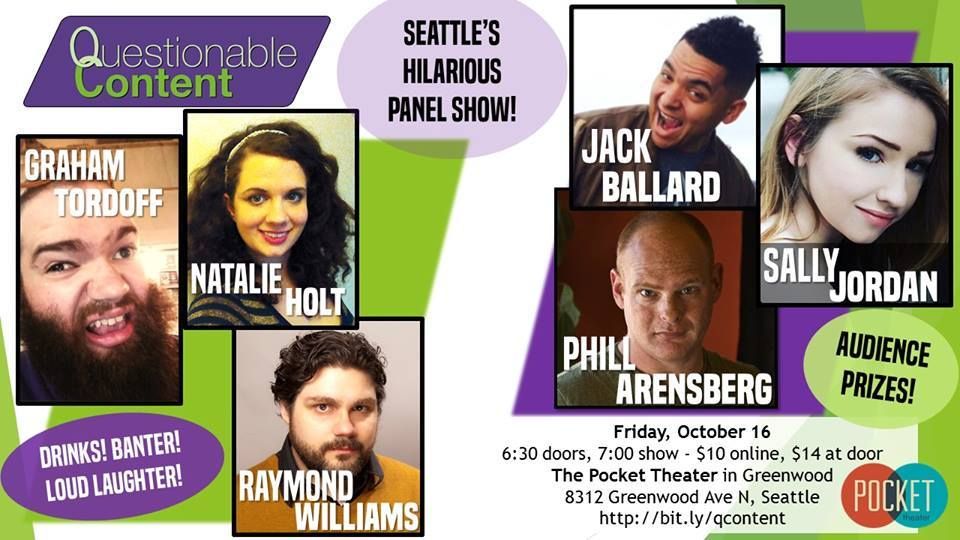 I took a half day at work (comp time from that 14 hour day for the Faculty Conference) so that I had time to get things together at the Schmee and at home before our 7pm curtain time. This being our first time in the Pocket we had the early, 1 hour time slot. There was a breif freak out on my part when one of our panelists had to bail for work reasons but Jon is freaking magical and got us a replacement in like 3 hours. I went home to put everything together and a little while after Andy got home we loaded up and headed over the Pocket to set up. Time went by crazy fast while we were setting everything up. It's like I got everything done and the next thing I knew it 5 minutes to curtain.
The house looked pretty good. We ended up with about 22 people. The theatre considers 14 a success so I was pleased. There was a funny moment right before the show started. We were using the Pocket's projector for the power point on John's computer and right as we were about to start it went blue and said 'no signal' we brought john out to futz with his computer. D'Arcy (thier stage manager) futzed on her end until I eventually got up and checked. Yeah, there were two HDMI cords connected to each other and one had become unplugged. Ah technology, how you manage to make us look like prats.
The show itself went well. It went by fast, that one hour. We aimed to cut things down but we almost cut down too much. But it was tight, it was funny, this was a great panel. Onth thing was that people wanted more. But isn't that what you're suppoed to do , leave 'em wanting more. I forgot to take pictures until the very end.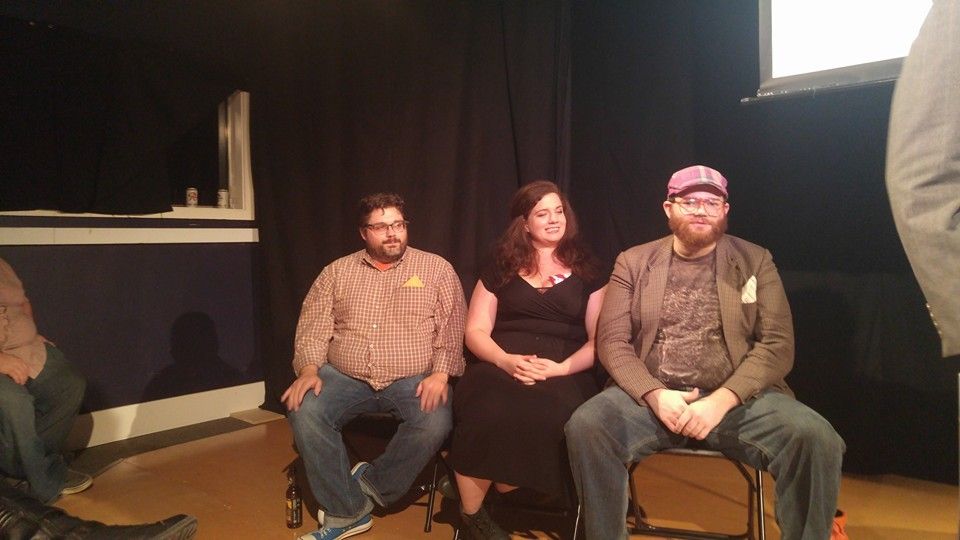 Team "those Damn Emails"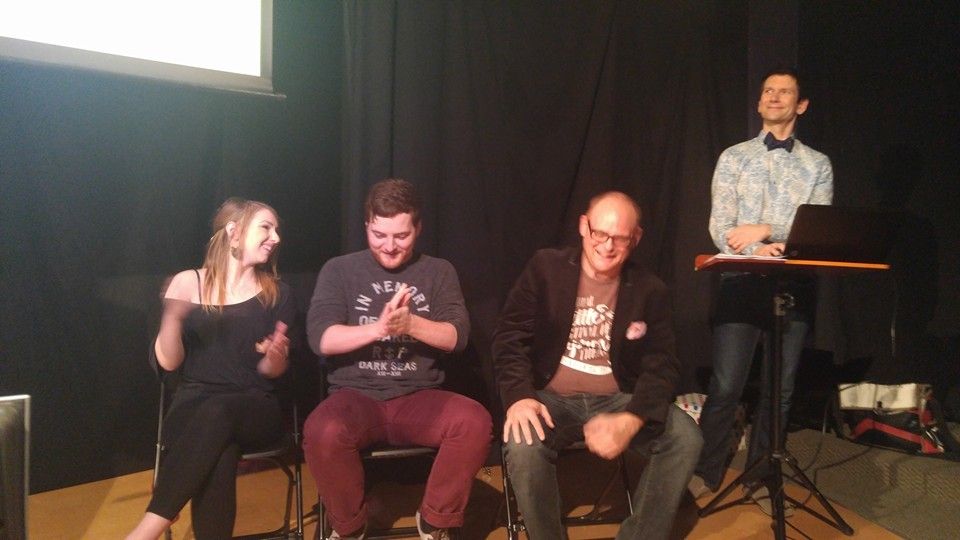 Shoot I can't remember Phil's team name it was clever too.
Once the show was over, seeing as how it was so early and so quick and for once it was just one of them instead of 2 or 4, not to mention the fact that we were in the North End not terribly far from my home,
I actually got to go out for drinks after the show!!!
David, Raymond, and the panelist Sally all went out along with Dani, Christine and Cory to Barnoff for drinks and, surprisingly (for me anyway becasue I usually avoid such a thing), kareoke. But hey, when in Rome, right? It's kinda sad it has taken me a year to be able to go out for drinks with folks. Oh it was good to hang out and booze it up after a show.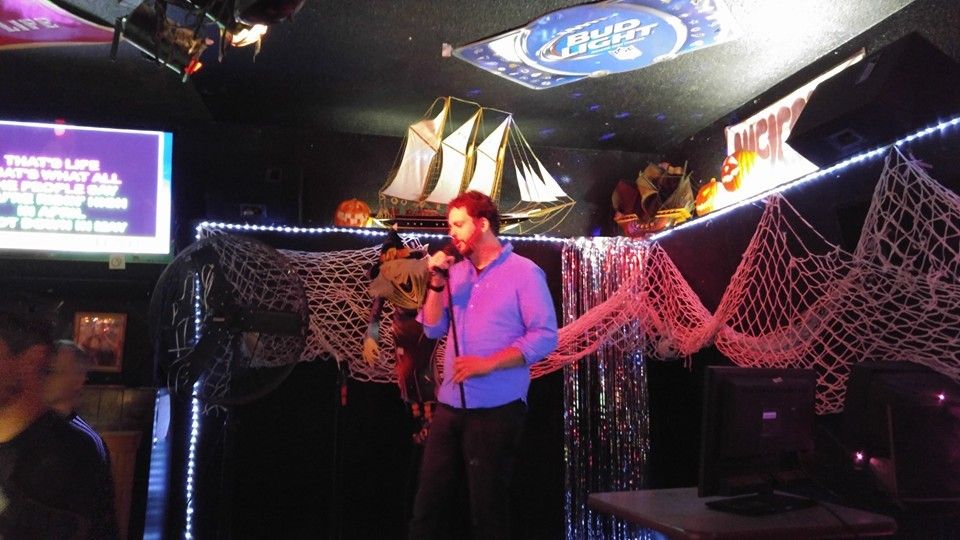 David singing Sinatra 'cause we're classy like that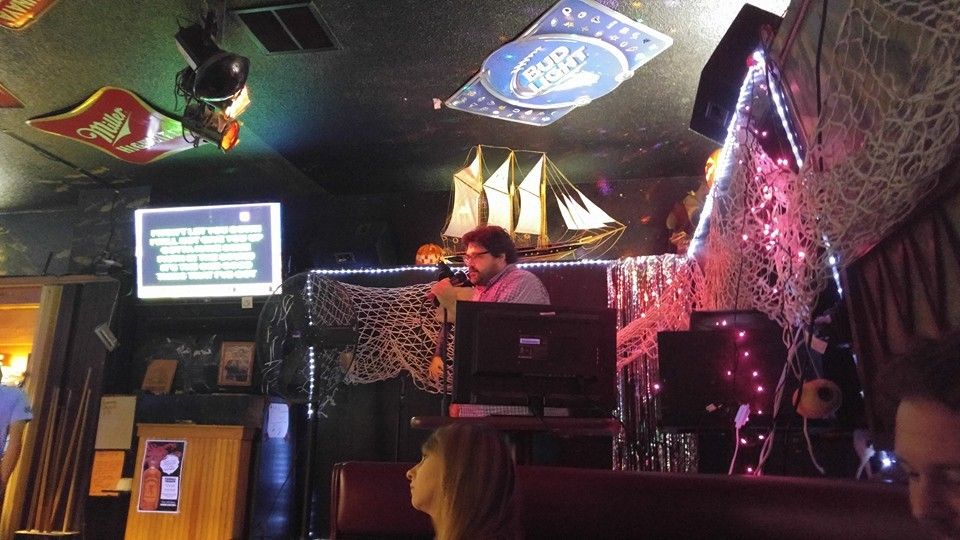 Ray singing George Michael
Sally's team lost, but she won Jon's doodle of the precious thing. Wah-wah.
I've got my dates for 2016 (well the ones at the Schmee anyway). For the times in-between the Schmee shows I want to do more of this touring the show to other neighborhoods in Seattle. I want QC to come to Ballard, to Capitol Hill, to Columbia City or GeorgeTown. So the next couple months while we're dark Ihave got to do some netowrking and scheduling. On top of pulling together the most Awesome Year in Review Show in early January!
Last week we had Questionable Content at the Pocket Theater in Greenwood. It was the one year anniversary show! That past year has been so busy it has gone by so fast. Can't belive I've been doing this for a year now.