Thursday night we took a red eye flight to NY with a short layover in Chicago (so no Mets gear on the plane after the Mets swept the Cubs to get to the World Series). There was a lot of turbulance in the first flight so we didn't get much sleep. The second flight was a little better for sleep but it was a shorter flight. We hit LaGuardia at about 9an local time with about 3 hours of sleep (at best). We cabbed it to our hotel Hotel Pennsylvania in midtown across the street from Madison Square Garden. It was too early for us to check in so we dropped off our luggage and hit the town. We didn't really have quite enough time to do a whole lot. We went to Al's Deli nearby for some early lunch (by this time it was about 11am). Becasue it was the day before Halloween our whole trip there were people in costume everywhere, which is a fun memory. For example the whole staff of the deli was in costume so our sandwiches were made by a Mexican wrestler and delivered by a lady superhero. Andy has been to New York as a kid bud never seen Times Square so although there wasn't much time for sight seeing, we did hit that up.
Times Square was just one subway stop up from our hotel. We went to the subway and got our metro passes. I love the subway. I take to subways like a duck to water. I made one mistake of going onto the express platform at first but to be fair I was running on 3 hours of sleep. I corrected this and we took the 1 up to Times Square. We took some pictures and wandered around. We saw a hat socks and I picked up a Mets beanie and some Mets socks for the game. We ended up taking the train back down to our area and took a some more pictures and killed time before it was time that we could get our luggage and check into our room, which I discovered had a view of the Empire State Building.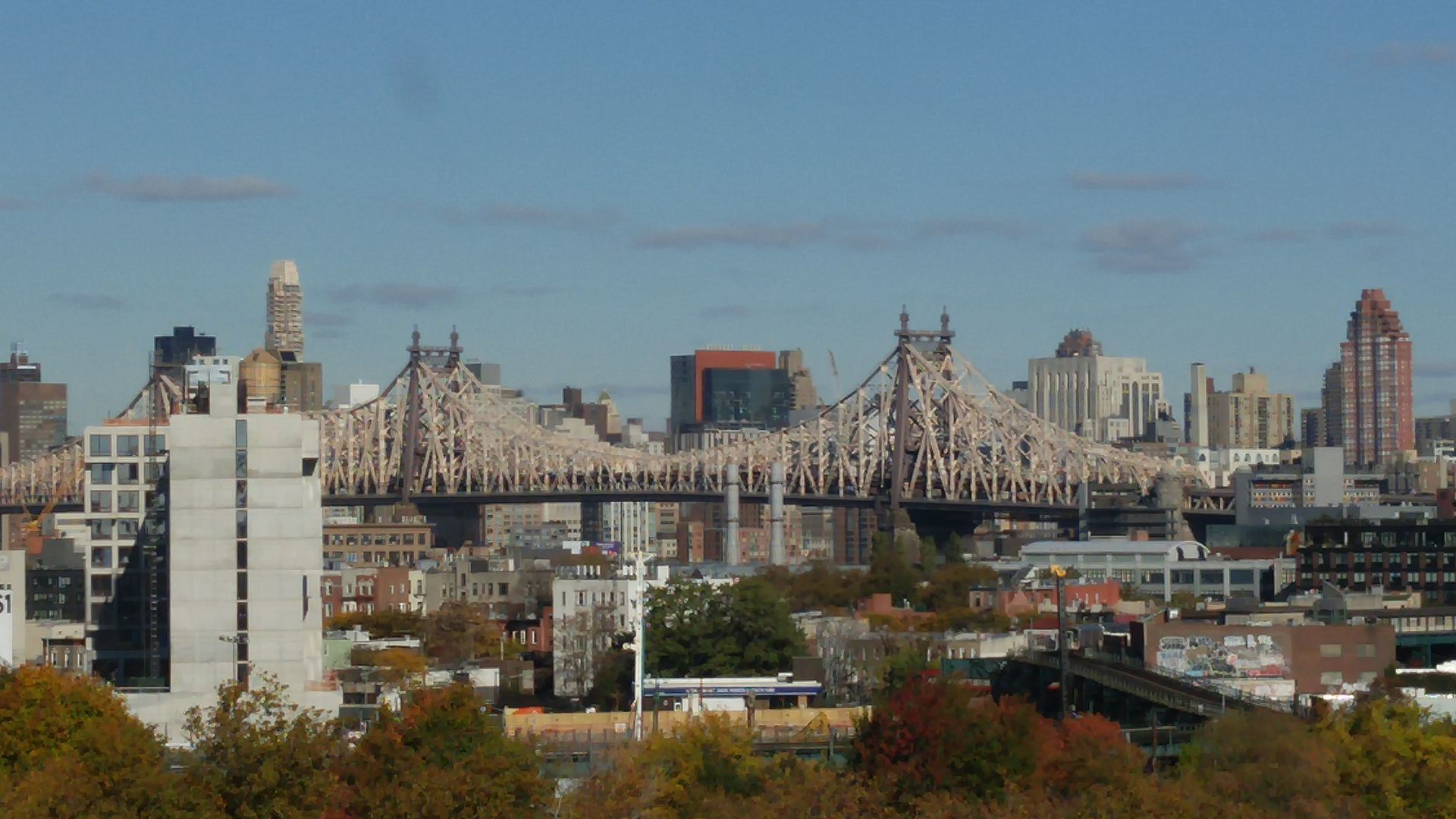 First sight of Manhattan from the cab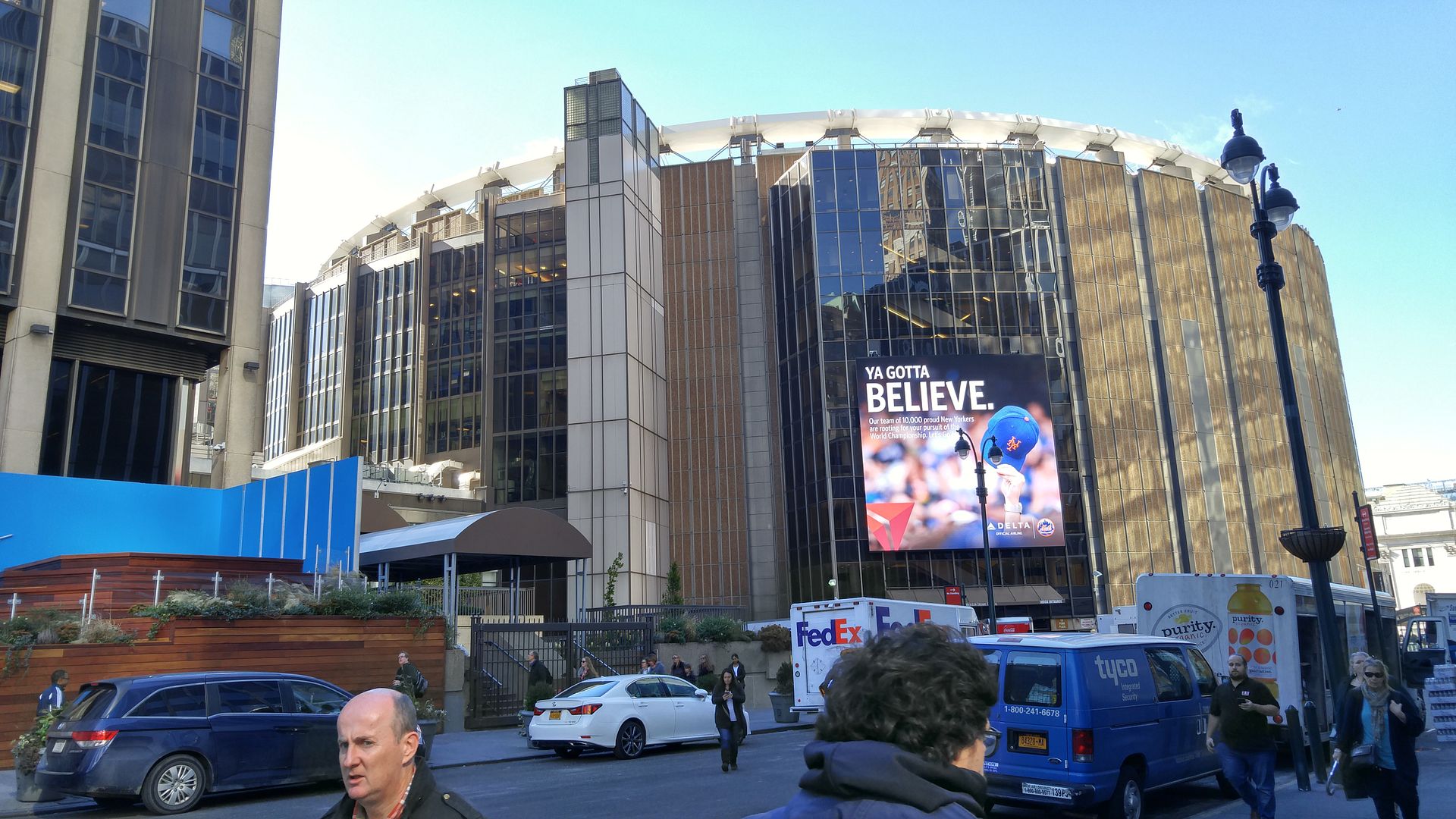 Madison Square Garden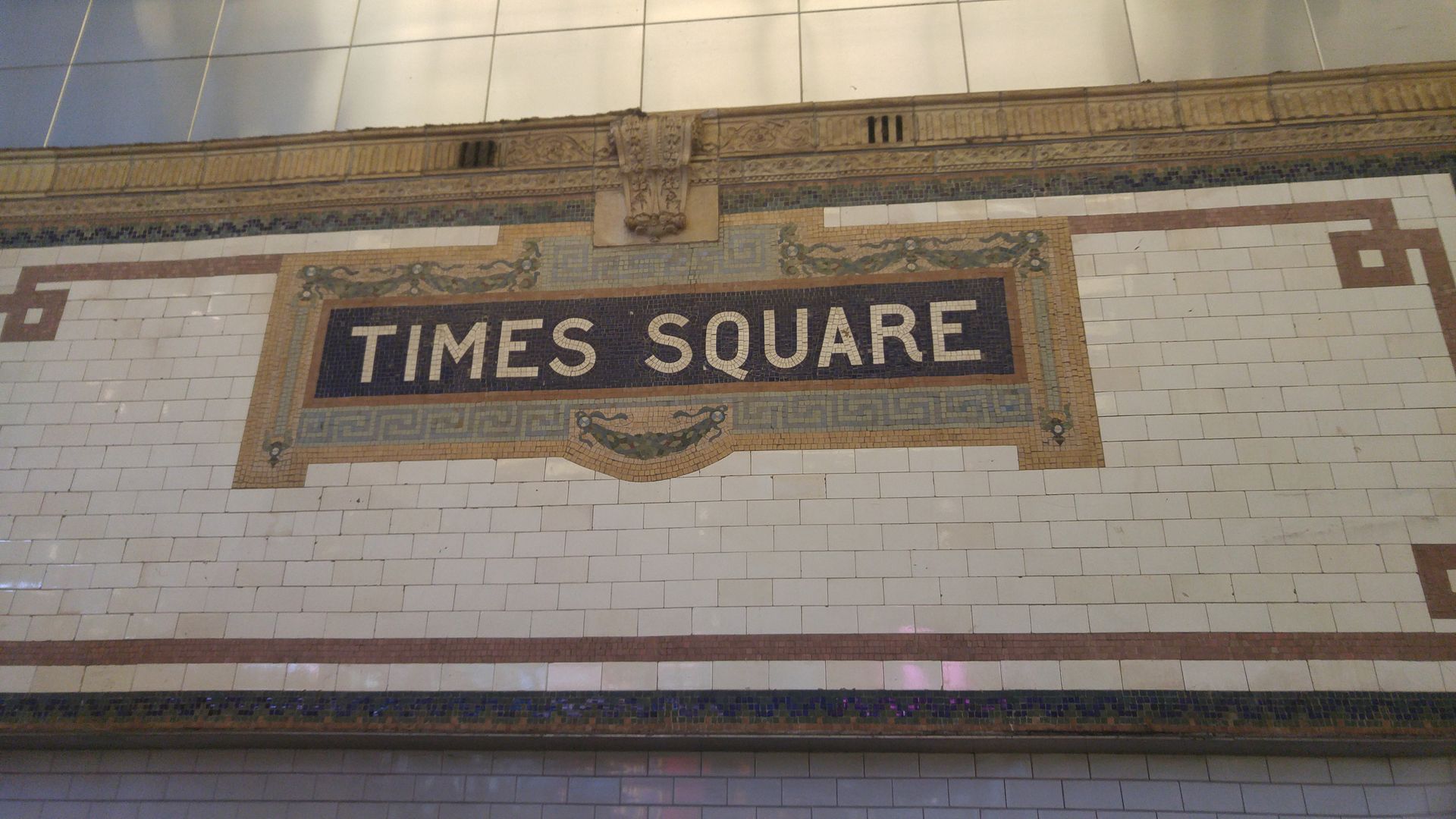 Times Square Station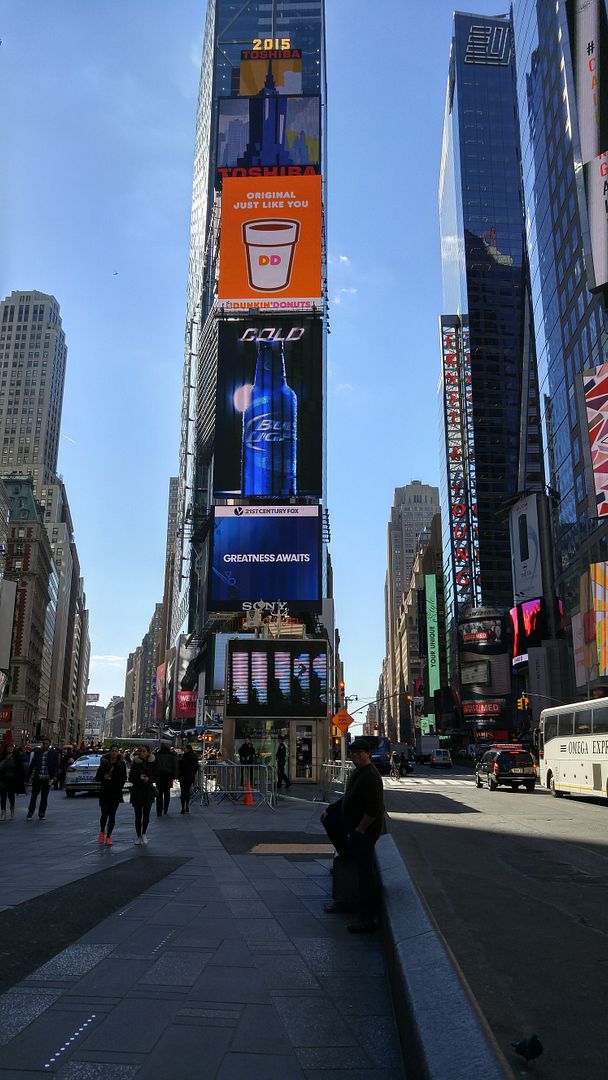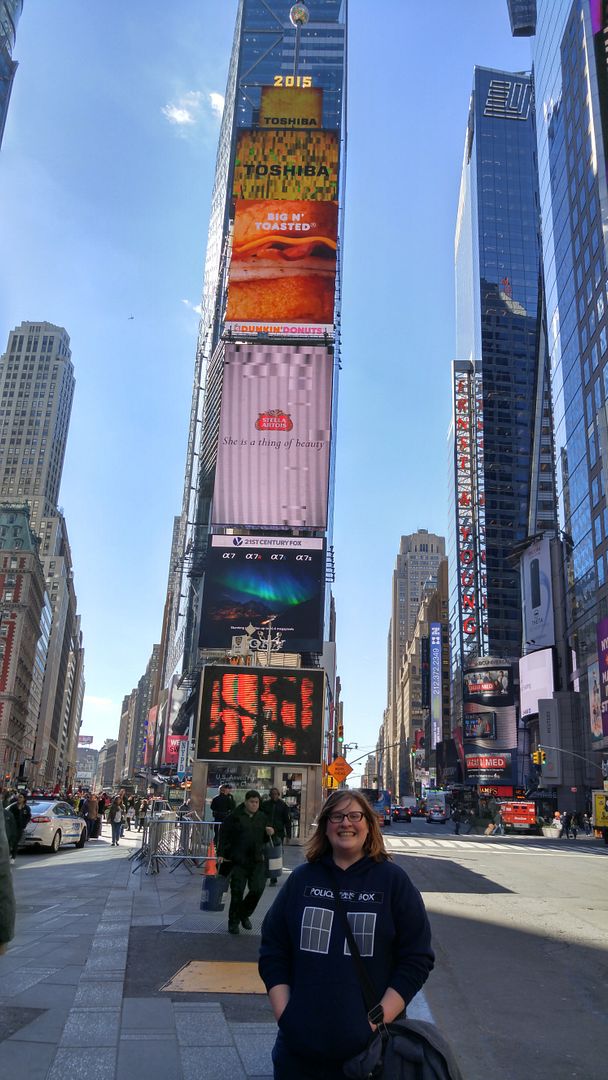 Andy and me at Times Square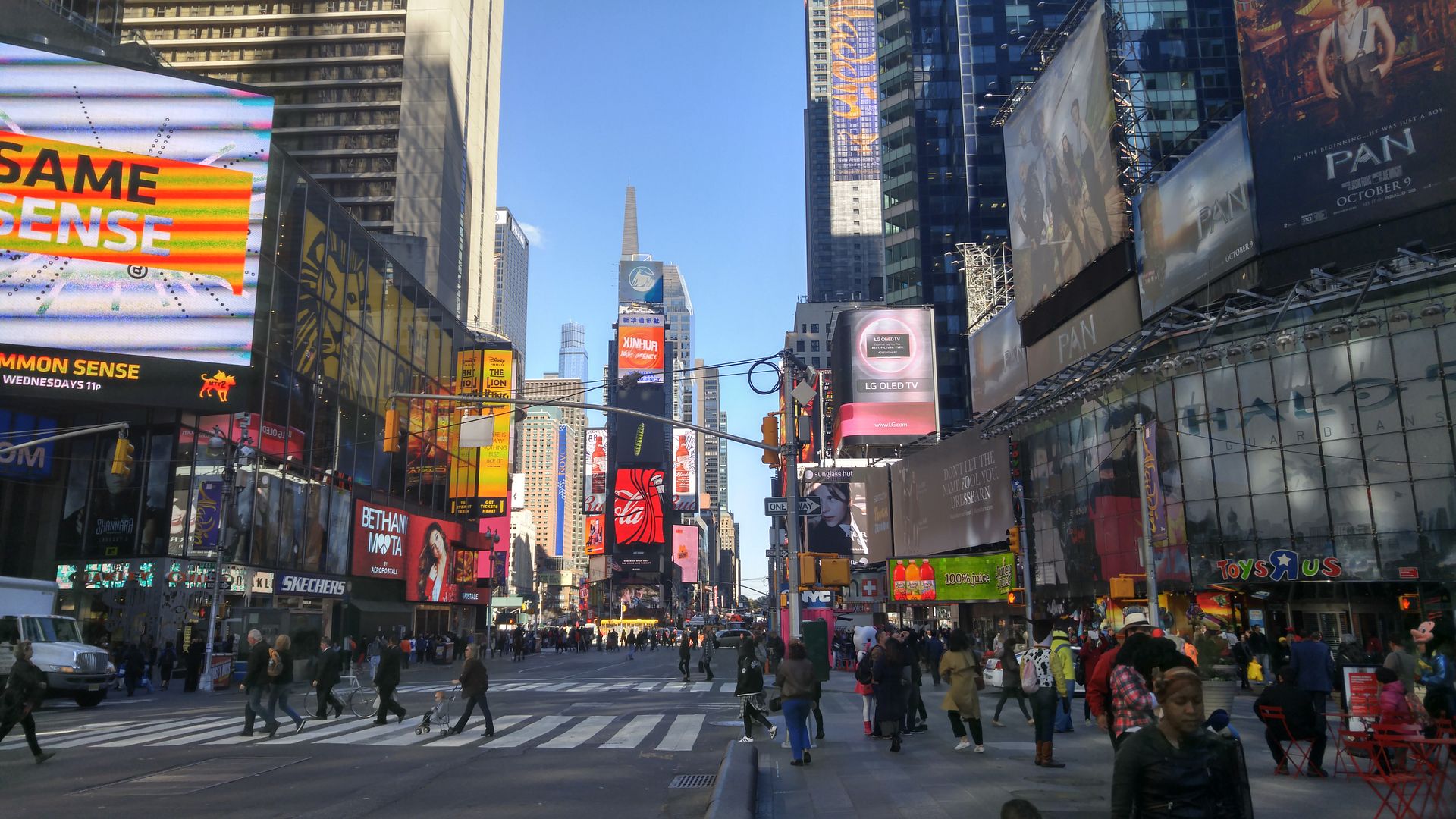 Looking south from Times Square
I'm not a fan of Times Square to be honest, but I do love that NYPD is all lit up.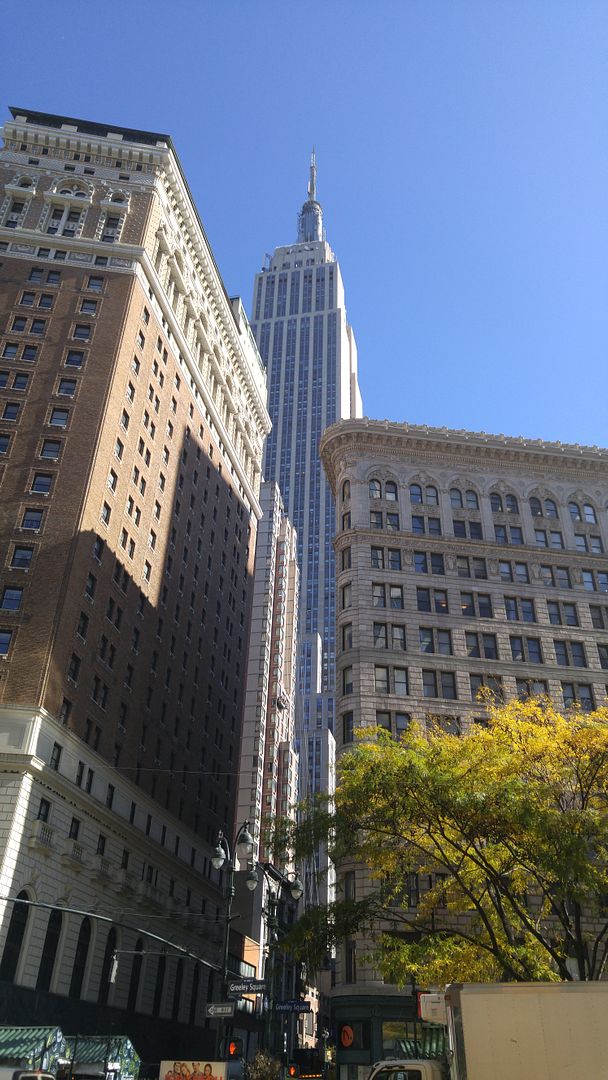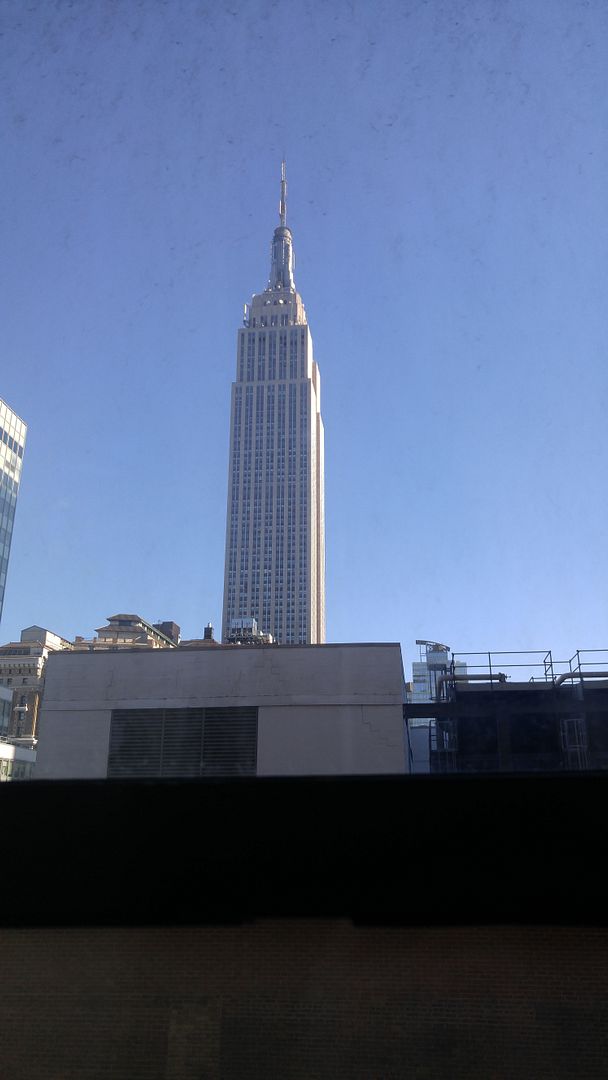 Emire State Building from the street and from our hotel window.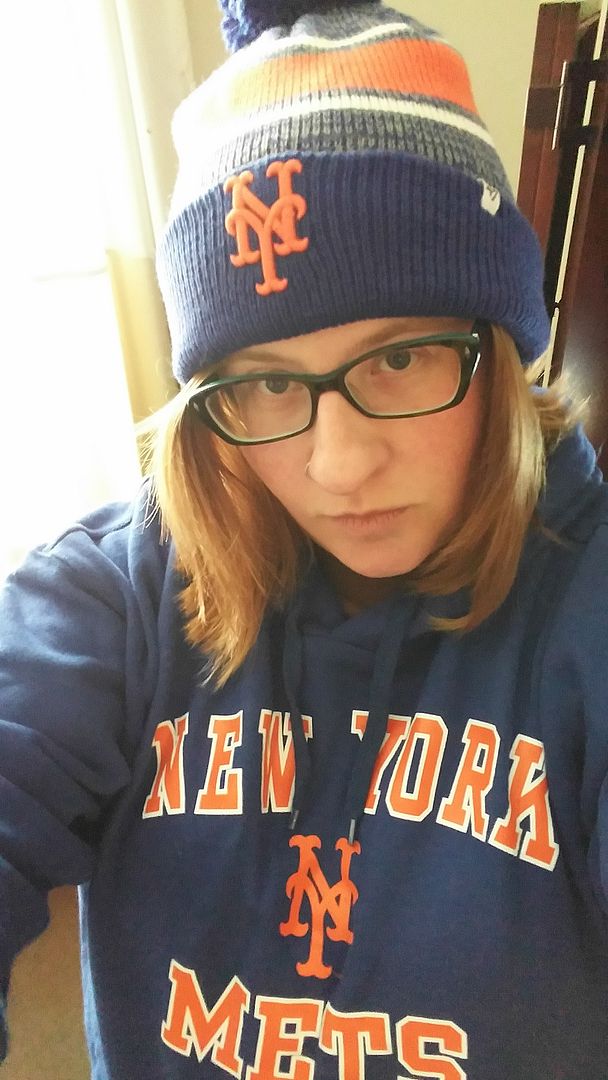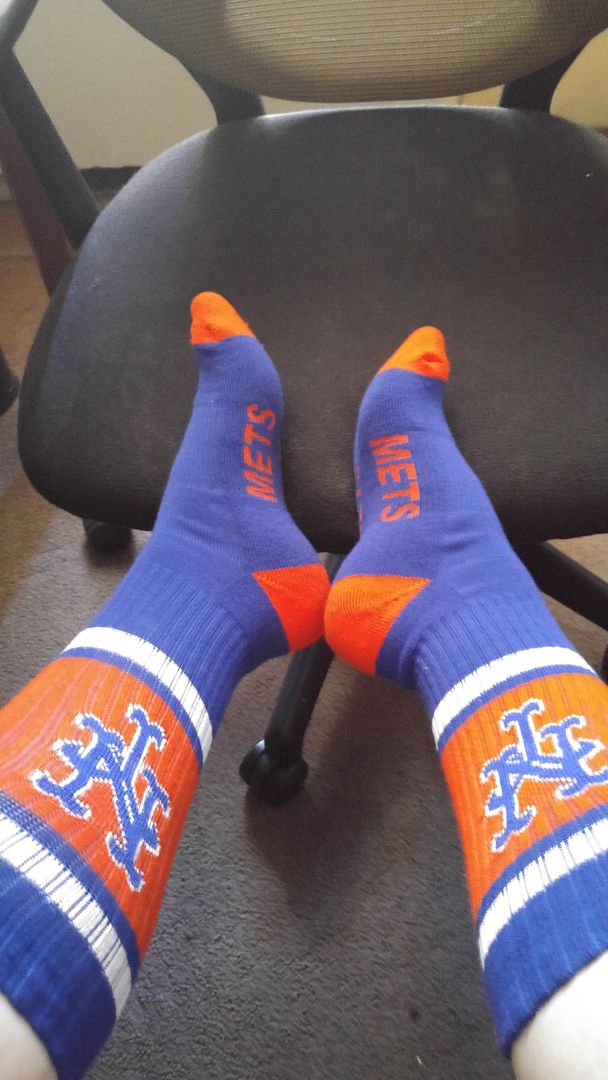 Geared up for the game. :)
We spent some time unwinding from the trip, cleaning ourselves up and gearing up for the game. I managed to squeeze in a 20 minute catnap before it was time to head out. We took the 1 up to time square and then hopped on the 7 express to Citi Field. It was rush our and we were heading out early so many of the folks on the train were commuters and It was standing room only so I'm a little bummed I couldn't see out the window (as I've not been to the bourroghs before except for that drive into Manhattan that morning). When we got to Citi Field the energy in the air was infectious. Andy was giddy. He had reached his mecca and he was with his people. It being a world series game there was loads of media, helicopters--media and NYPD--were hovering overhead. There were loads of people. There were even some crazy Christians with signs souting about how we're all going to hell and the New York fans were well behaved and ignored them. We smoked, tok some 5 hour energy drinks, walked around taking some pictures. I think I saw Trevor Noah walk by me. It looked like him from the side, he was dressed like him and sharp and he went into the VIP enterence, but I could be wrong. We walked to our enterance and, they looked through my bag and we were padded down and the moment of truth cams. The lady scanned our ticket and we were in. We were at a World Series Mets game!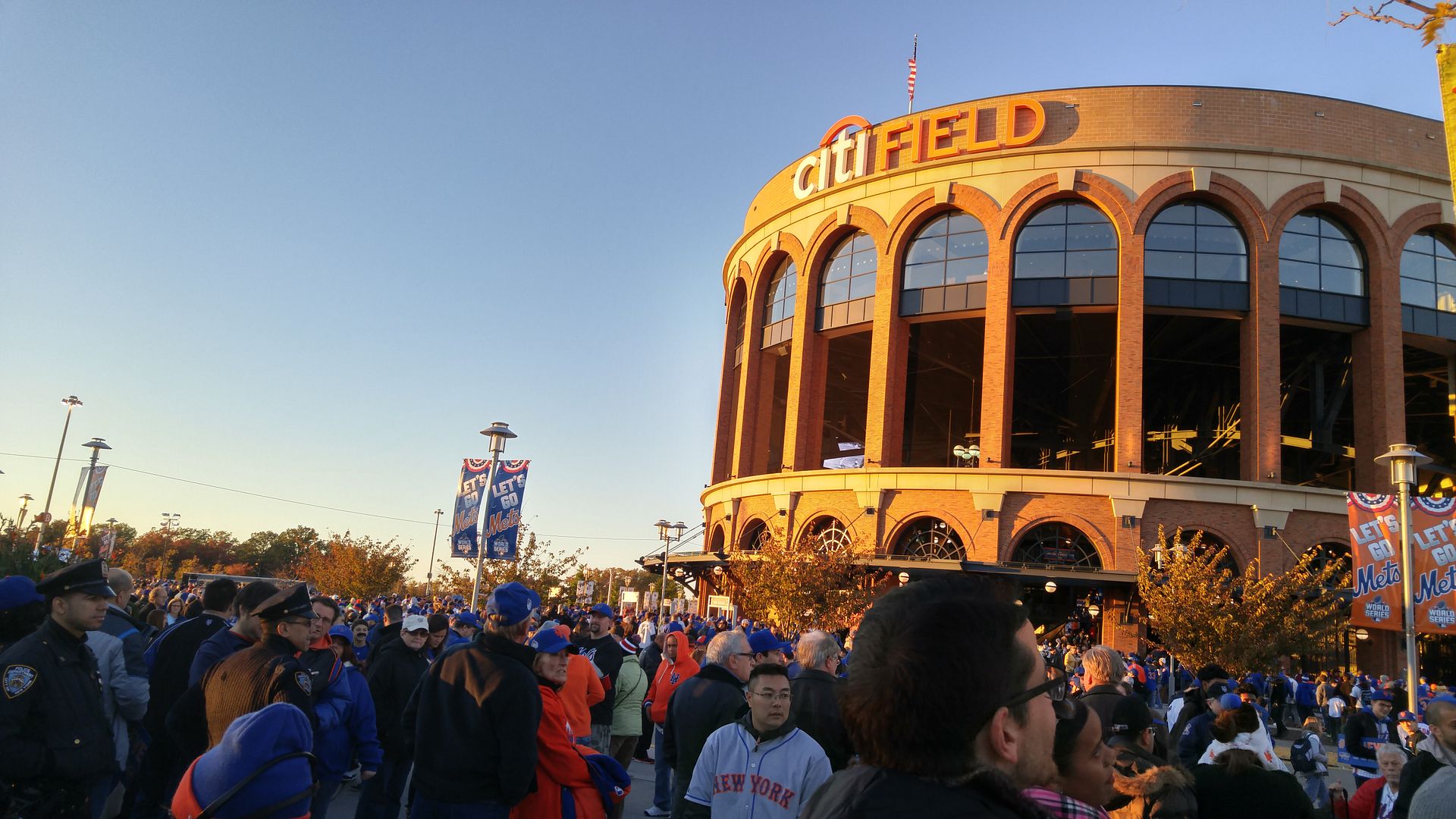 At the stadium!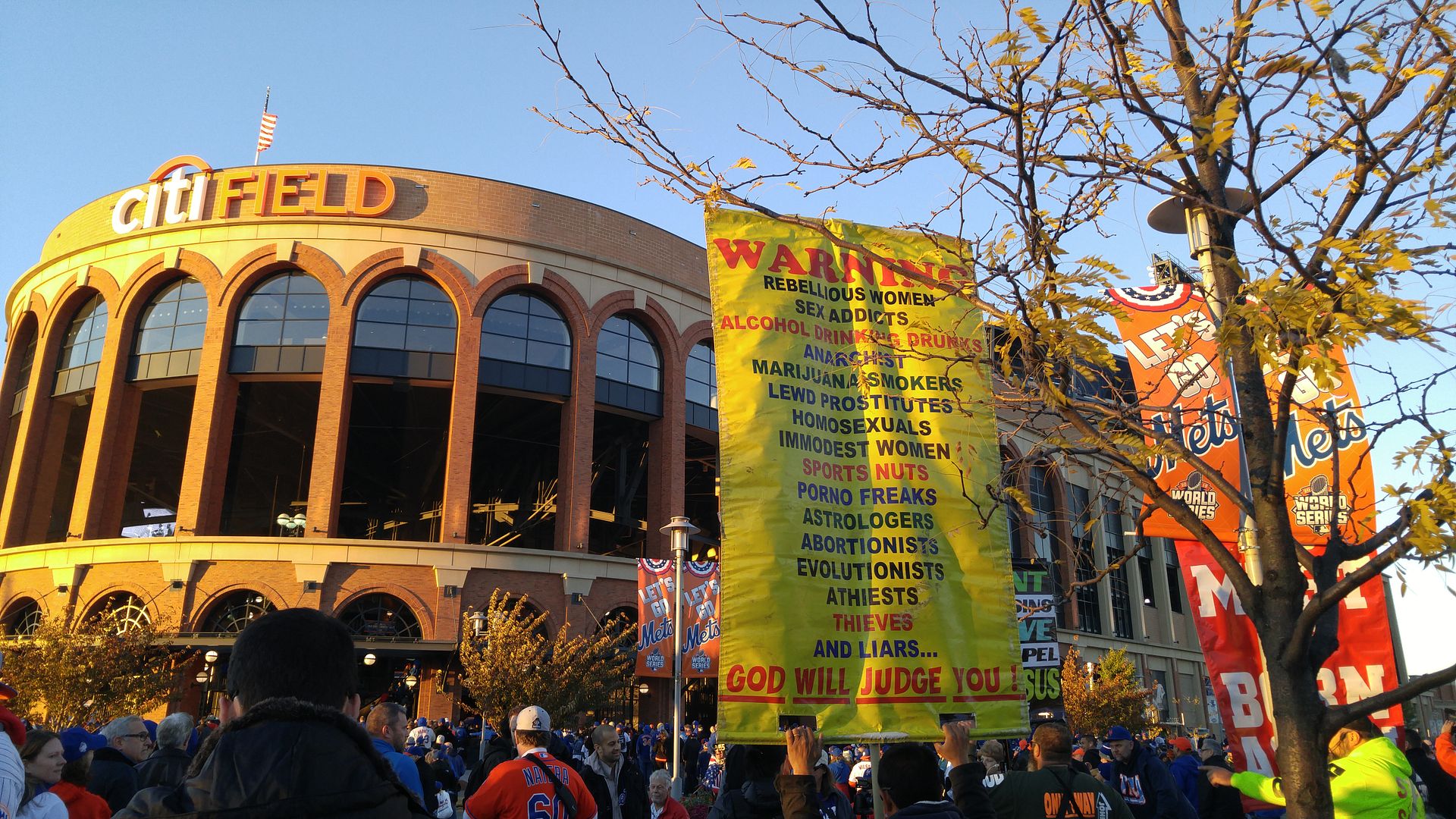 They may call themselves Christians, I call them "people who don't like fun"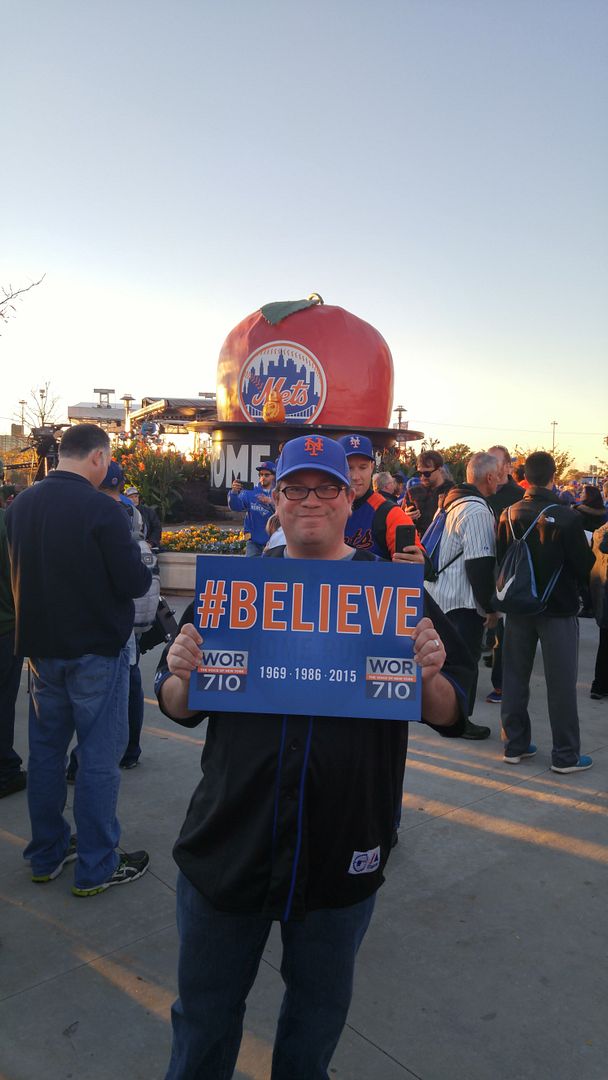 Happy Andy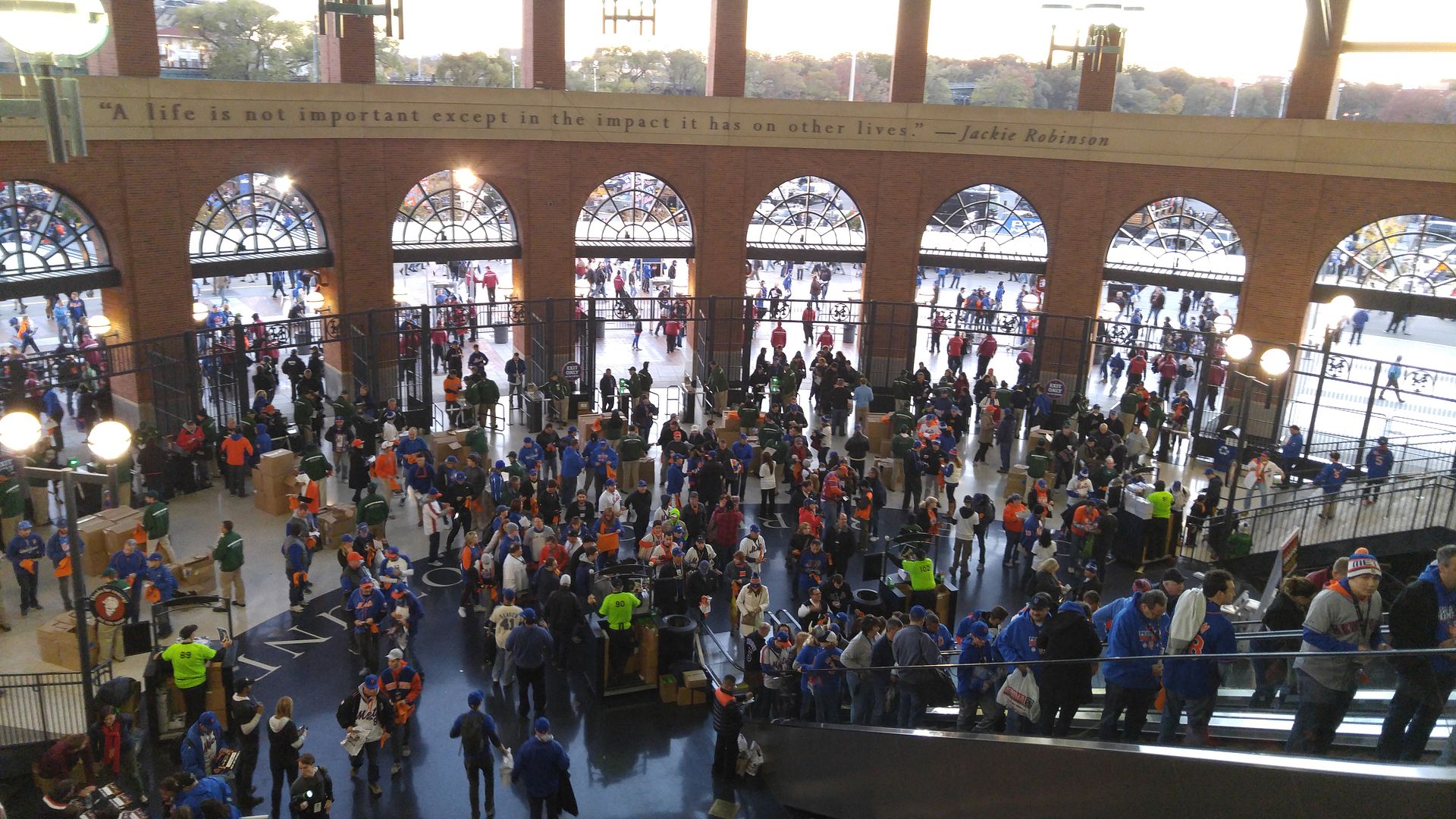 Jackie Robinson Rotundra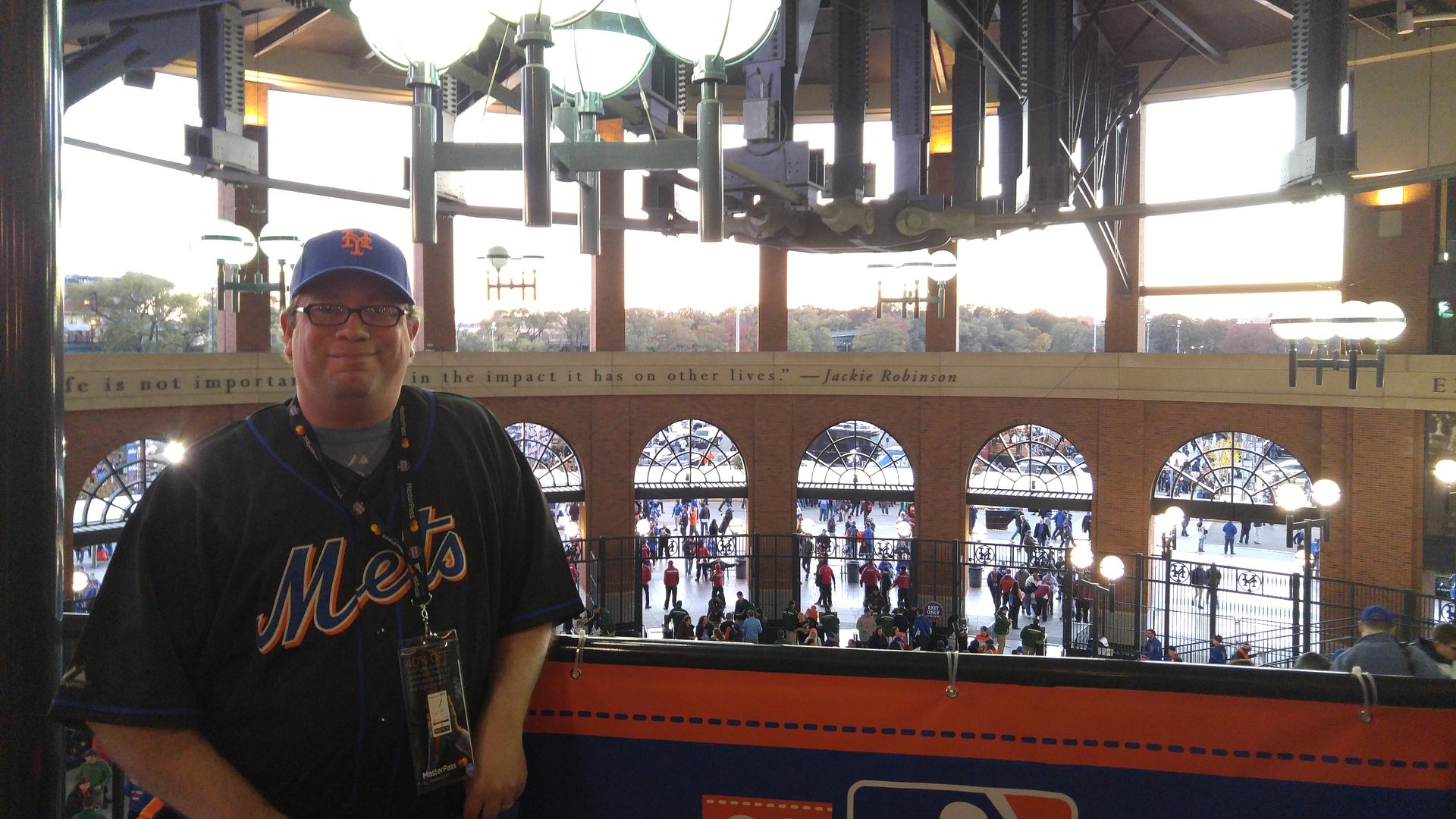 More happy Andy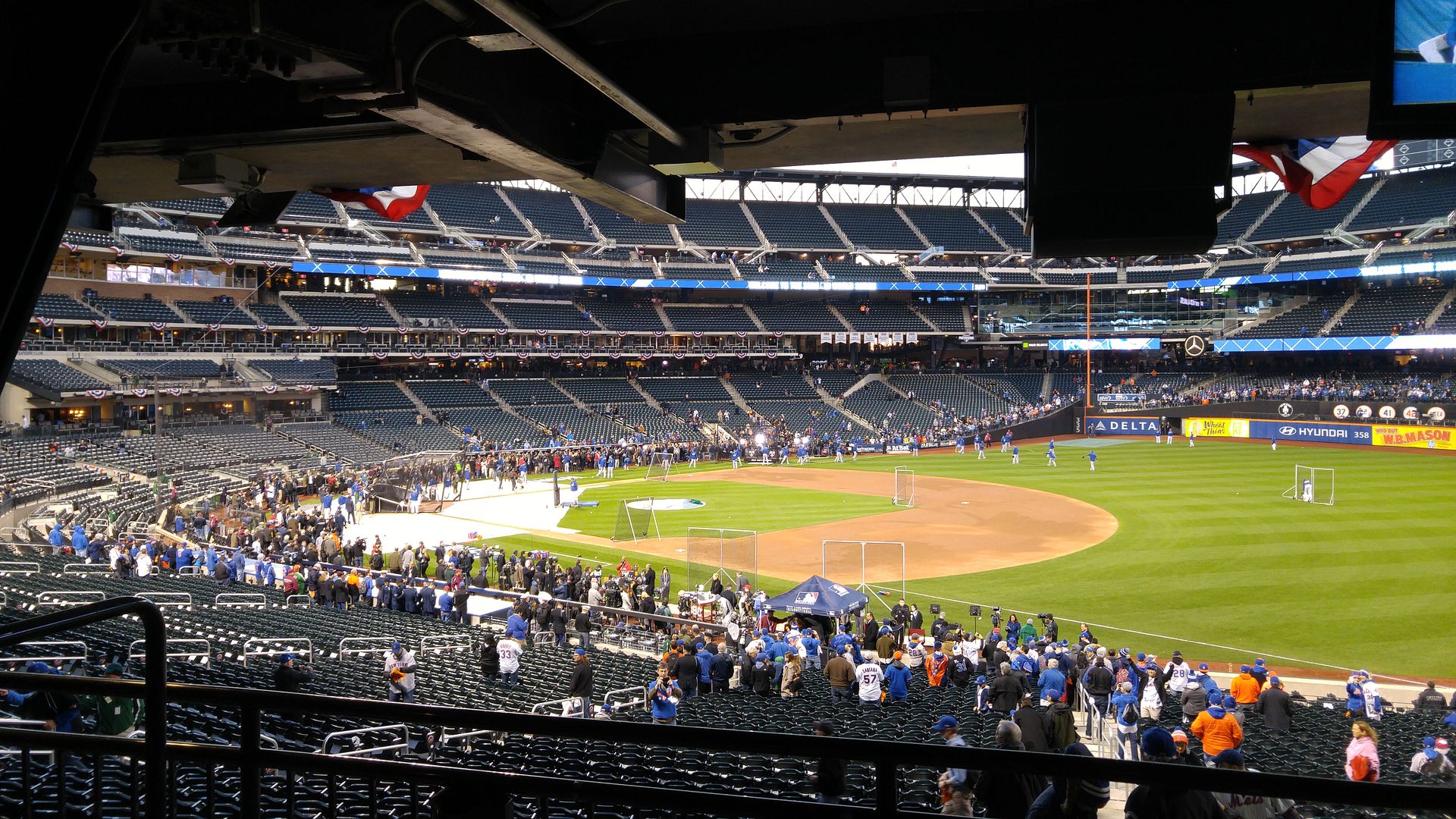 Pre-game field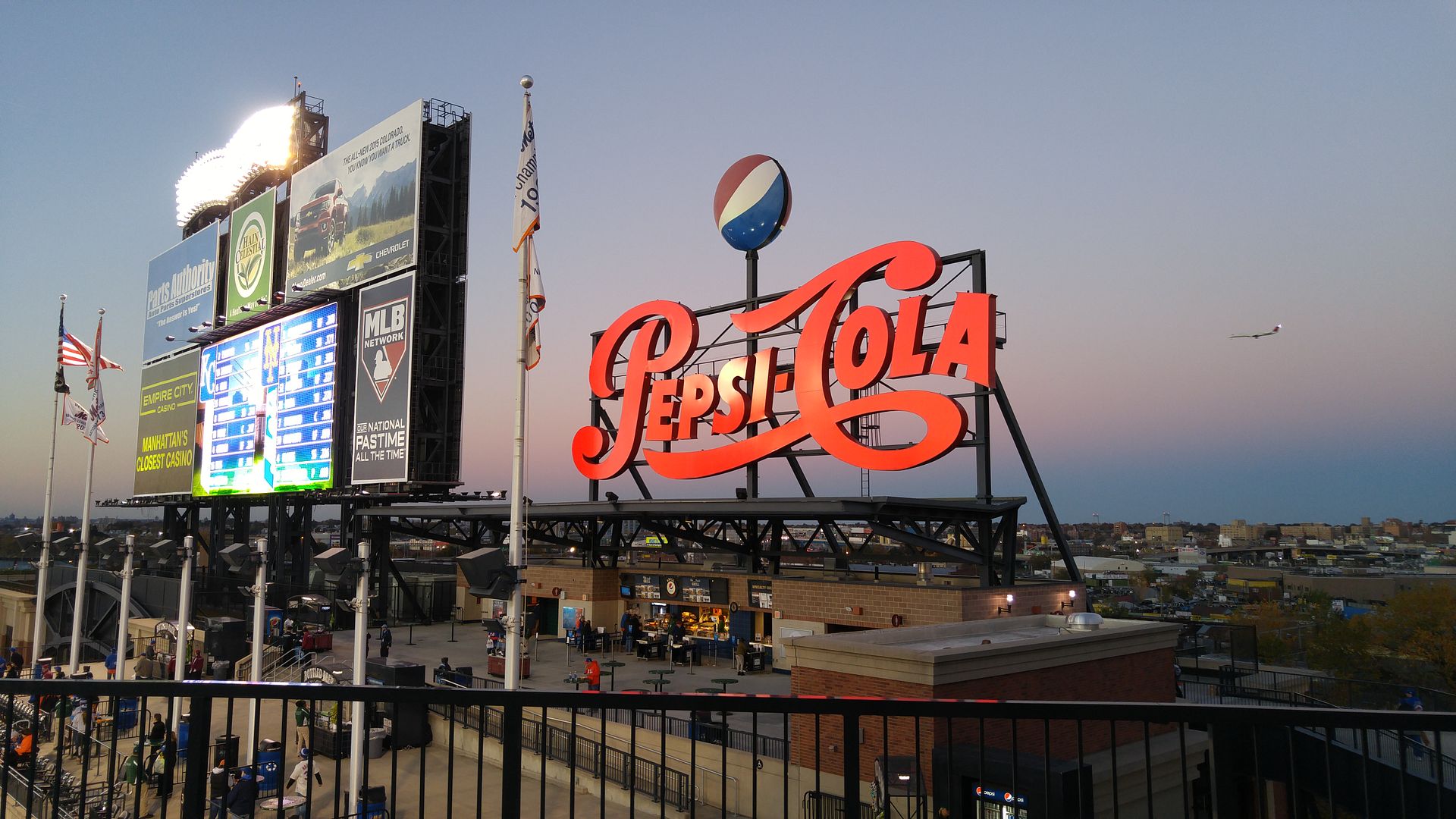 The Pepsi Porch
Since I don't know how to make panoramic pictures, I took a video instead.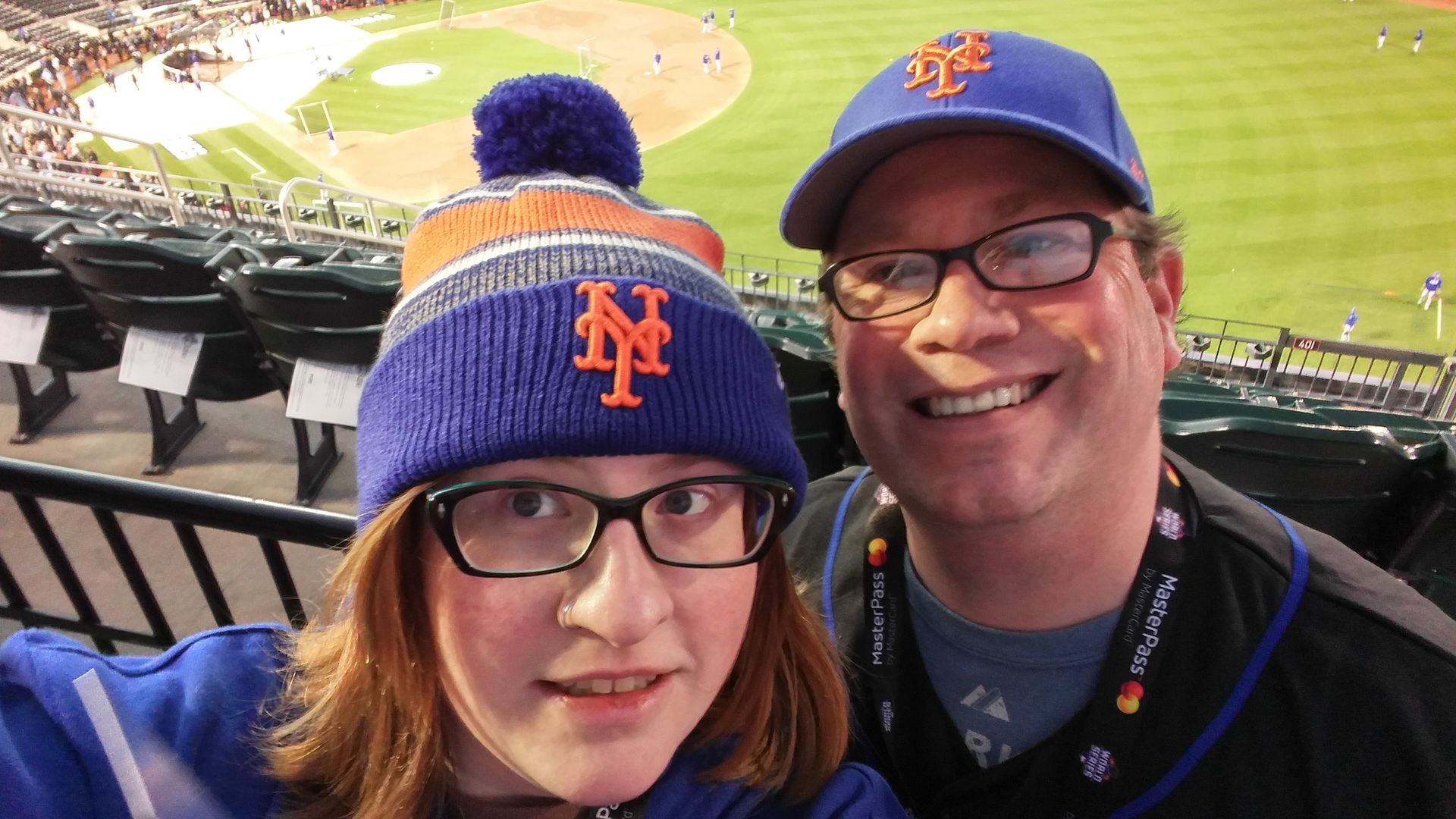 Selfie time.
Once inside, we had about two hours before the game started. We wandered around the stadium during batting practice and took pictures and video. We used the time to get some food and some beer before the game started. I got some NY pizza (because you gotta) and we sat down at a bench with some other Mets fans that were nice to talk to. I think Andy won a Mets fan merrit badge for us coming all the way from Seattle to catch that game. I didn't really think about it util we were there but not only was Andy living a dream from childhood in seeing the Mets at the World Series, he also saw the very first World Series game at Citi Field. Whatever happens in the series, that can never be taken away from him. We got some beer and some hot dogs and took our seats. Our seats were AEWSOME! It was on the top level but kinda behind home base on the first base line. It was a great place to see the action.
Billy Joel sang the national anthem and Mike Piazza threw the first pitch. Then the game began.
Now I'm not Andy. I can't recall how or when everything played out but Andy's favortire player, David Wright, got a homerun. If you're interested in how the game played out the scorecard is
here
. (This probably kills Andy to read that I can't recount the highlights That's just how I am. I can't tell you after a show what songs a band played for the life of me.) We cheered. We high fived perfect strangers.We swung around the orange commemerative towels we were given at the beginning of the game. I heard the best heckling from a NY fan; "Shove shit stright in their ear!" I took loads of pictures. It seemed when I took pictures, the Mets did well, plus, in retrospect better I do the docmentation while Andy enjoyed the moment. It got pretty cold up there. The wind was heavy and brisk. Poor Andy was only in a T-Shirt jearsey but he's hard core and suffered through it. We sang "Take me out to the Ball Game" at the seventh inning stretch and "Piano Man" in the 8th. We never left our seats, preferring to stay in the action at all times.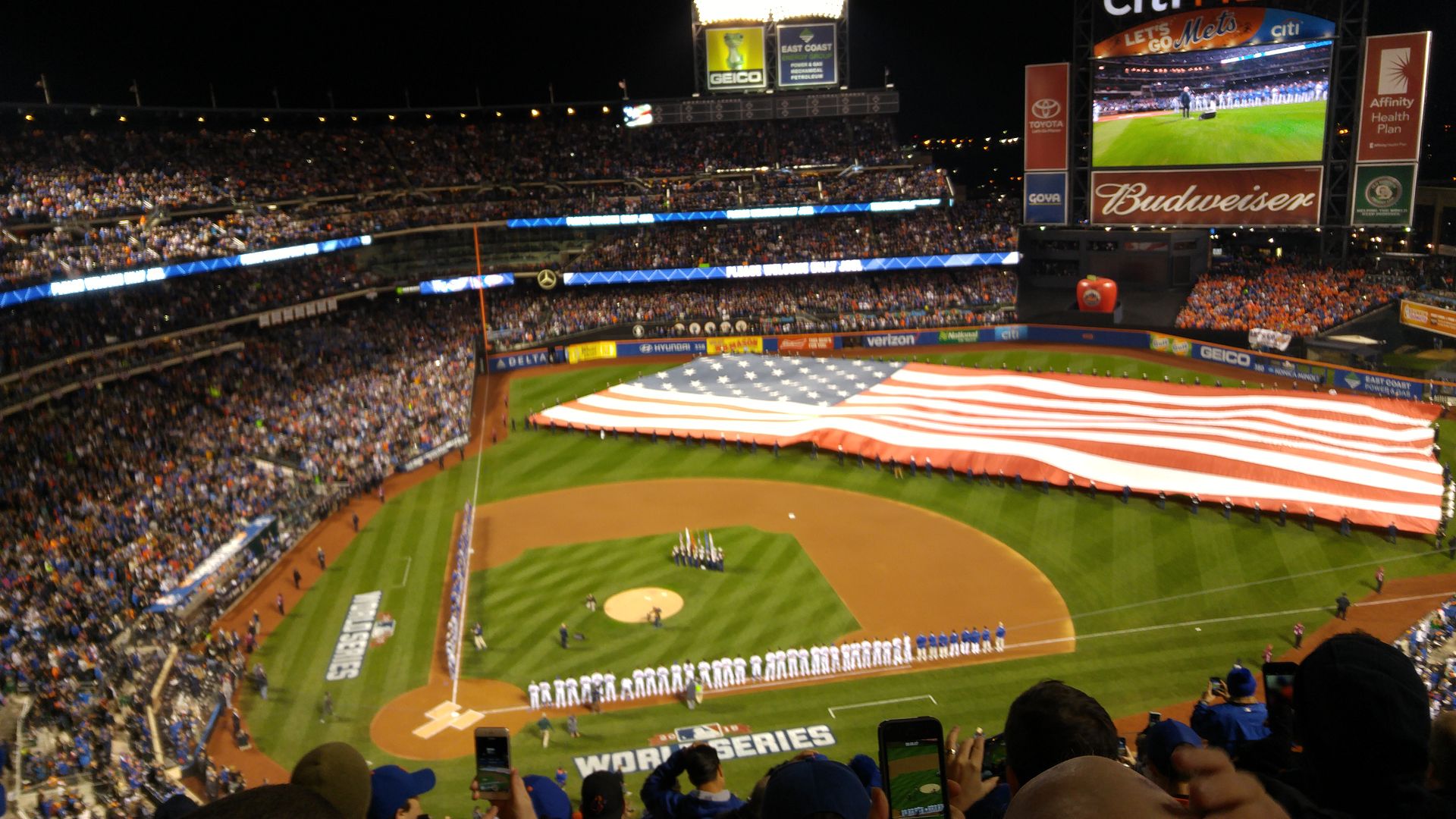 Billy Joel singing the Star Spangled Banner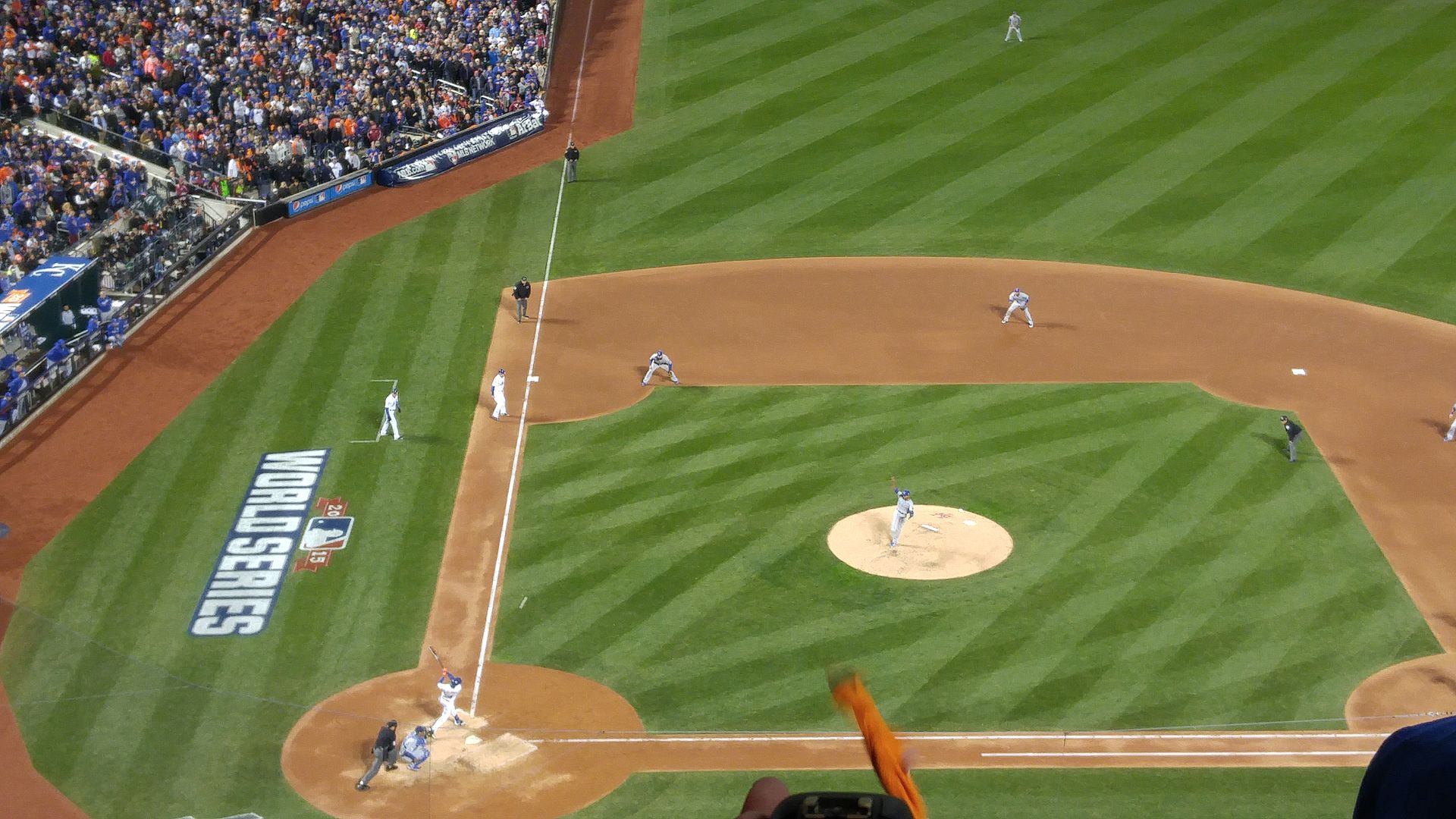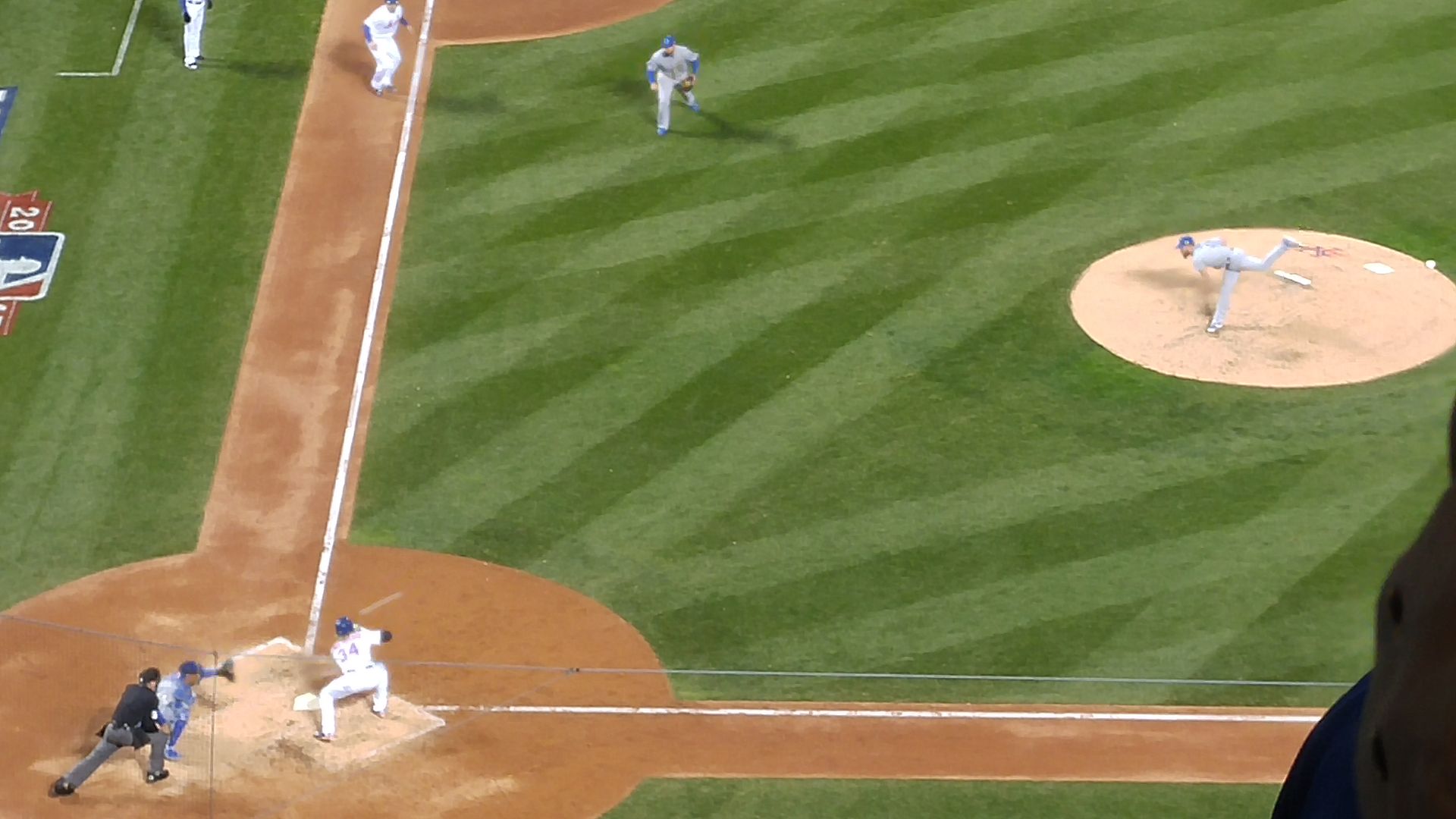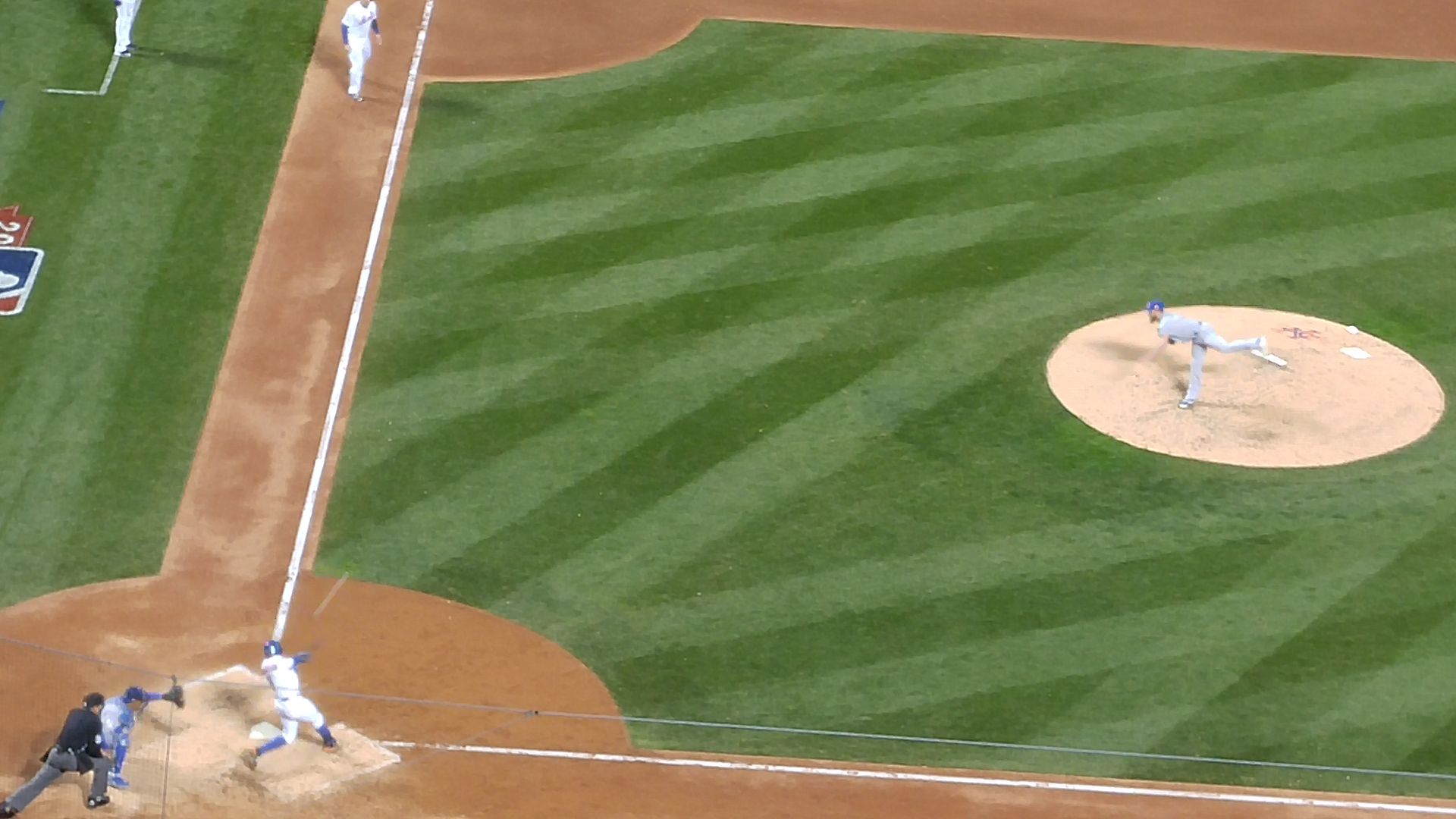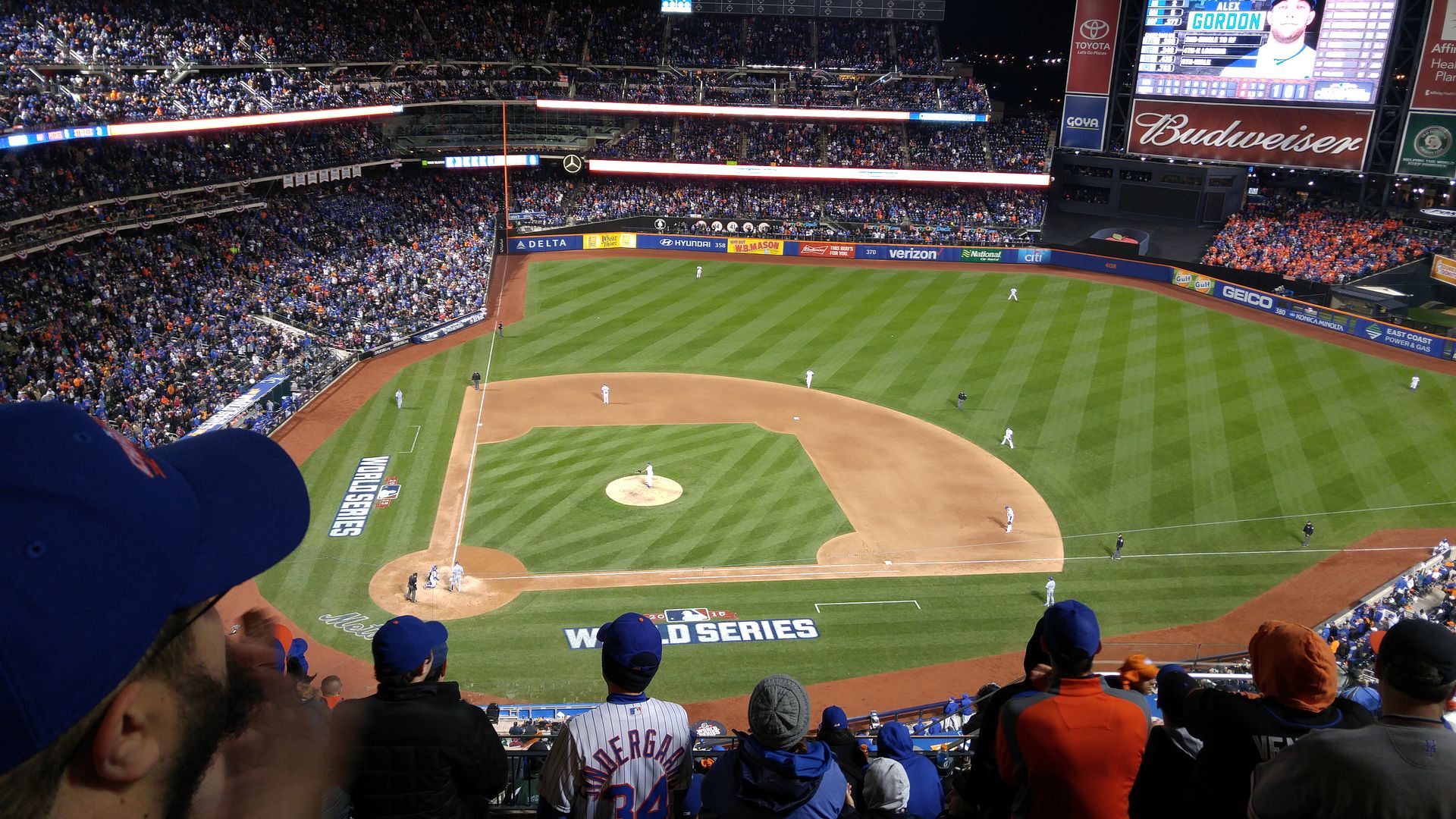 In the end the Mets won the game 9 to 3!!
After the game, we reveled with all the fans as we exited the stadium shouting "Lets go Mets!" and high fiving staff on our way out the door. It felt good to get out of the wind and finally have a smoke after all that. We followed the heard back to the trains and caught an express 7 train back to manhattan. I have to tip my hat to the crowd controll. So many fans going to the same station but it wasn't chaotic at all, There were people twith bullhorns expaining which way to go and it was all very calm and controlled. The train was full of happy Mets fans. I have no bad words to say about Mets fans either. They were all really friendly and upbeat. Andy talked with fans, like I said before the game when we were having our dinner, and again on the train. All the things you hear about New Yorkers being gruff and rude, you never would have thought that was the case if your only experience with them was hanging out with Mets fans after a game. (At least a game they won from my experience.) When we switched trains from the 7 to the 2 at Times Square, we went from being surrounded by Mets fans to being surrounded by drunk folks in Halloween costumes. It was now officially Hallowee proper as it was 1 in the morning before we got back to the hotel.
We stopped at a hotdog stand outside our hotel when we got back and Andy got a late night hot dog and I got some meat on a stick before we headed up to our room. we used the excess energy from the game to repack our bags--we had more stuff than we came with now--and make sure we were ready to go in the morning to catch our flight back. It was well into the 2 o'clock hour when we set our alarms for 6am and said goodnight to the Empire State Building.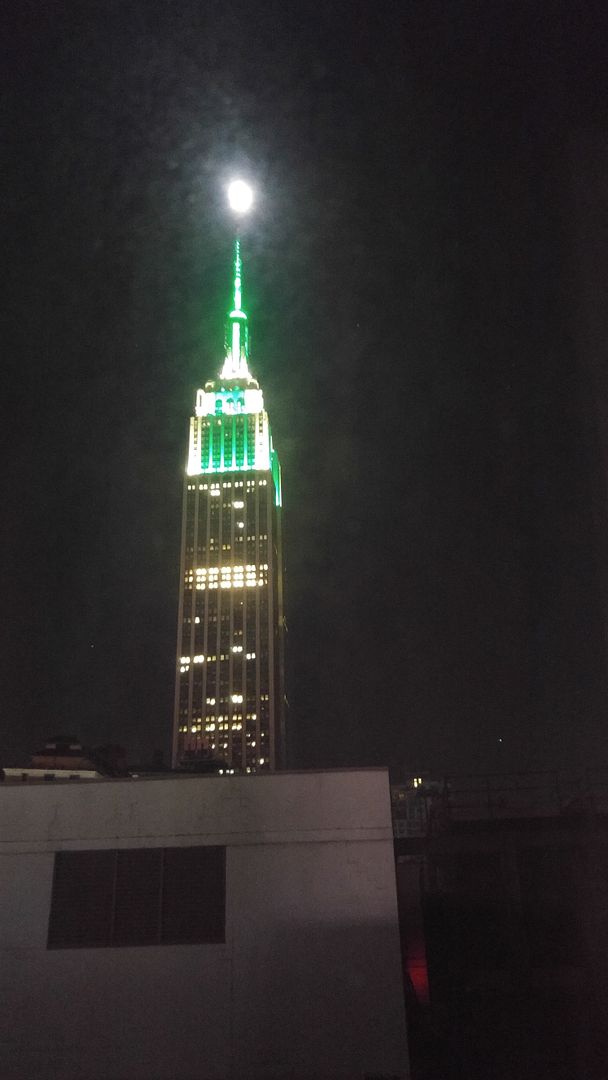 We woke up at 6, with a little less than 4 hours of sleep, it wasn't easy. We loaded up our stuff and checked out of our hotel. I got some coffee and we smoked a cigarette and got in a cab to JFK. There was less traffic than expected. There was heavy traffic coming into Manhattan when we hit town, I wanted to be prepared but it was early on a weekend morning so the trip to JFK was actually pretty painless. The sun was rising as wee drove through Queens and the foliage was really pretty in the early morning fall light. we said our goodbyes to New York. I saw the Worlds fair Globe thinggy in Queens in the distance for the first time. Not long after we were at the airport. We checked our bags, went through security and once in the terminal had breakfast and mimosas to end our whirlwind NYC World Series pilgramage.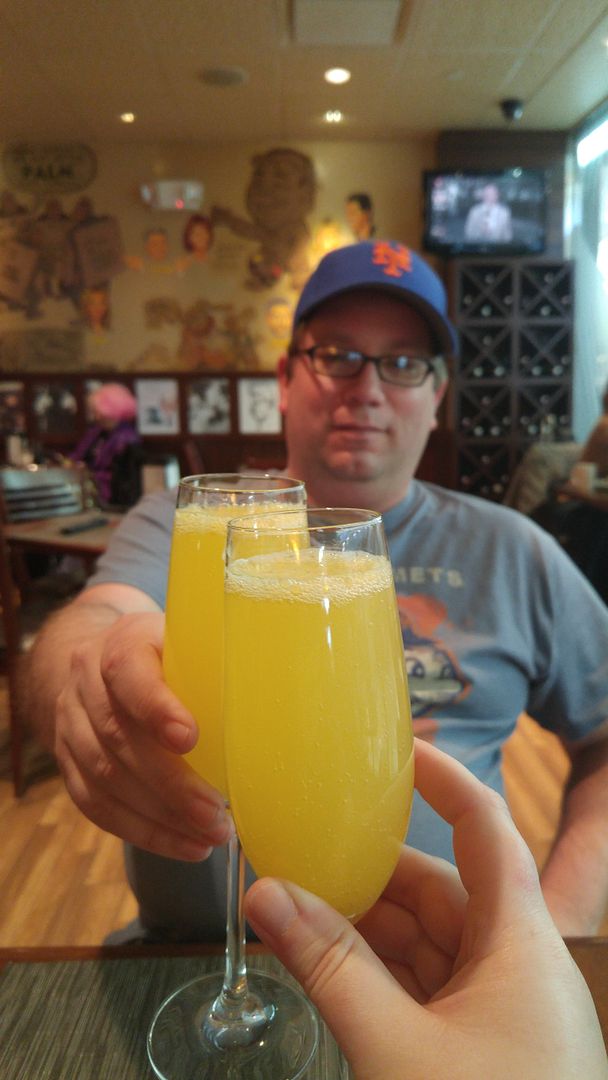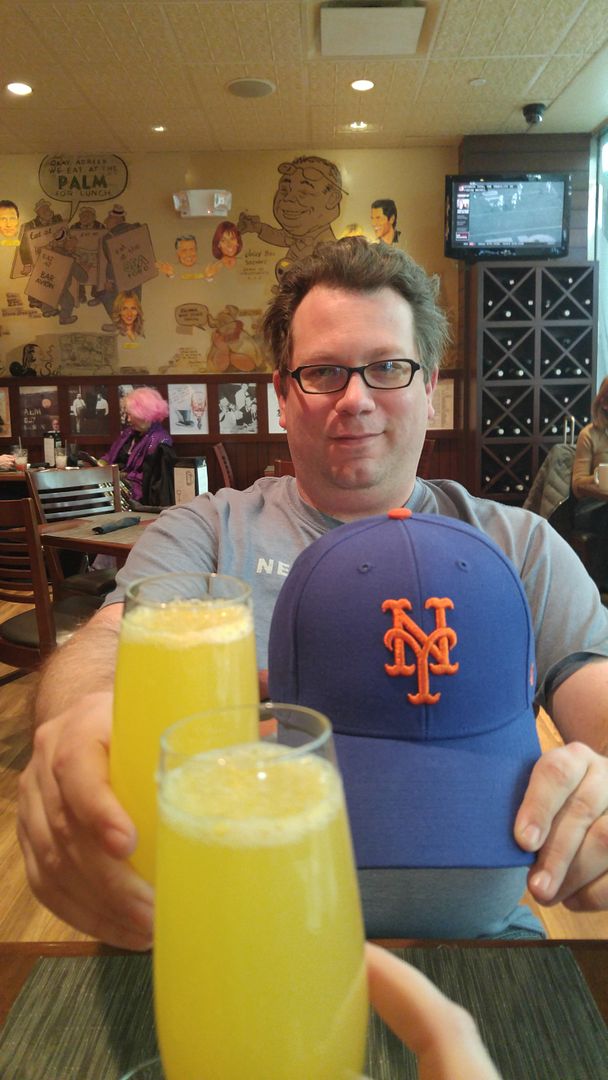 We have no regrets about going. We didn't get a lot of rest. We didn't get much sight seeing done but it was a great trip. It was a once in a lifetime thing, being at the first World Series game at Citi Field. When we were debating going I was all for Andy going from the get go. We we're sure if we could aford it. It required pulling from our savings and putting some money on credit. But at the end of the day, the last time the Mets were in the Word Series was in 2000. 15 years ago. Who knows when this opportunity will arise again. Say it's 15 years, Andy would be 55, who could say if he would be up for it then? Now was the time. We're young enough. We had the money in savings and the open to buy. We have jobs we could take the day off. The world could wait while we made this trip and fullfilled this almost life long goal of Andy's We only got one life. Sometimes it's better to throw catuion to the wind, say "fuck it, let's do this" and follow your dreams. Andy had one of the best nights of his life and that in itself is priceless to both of us.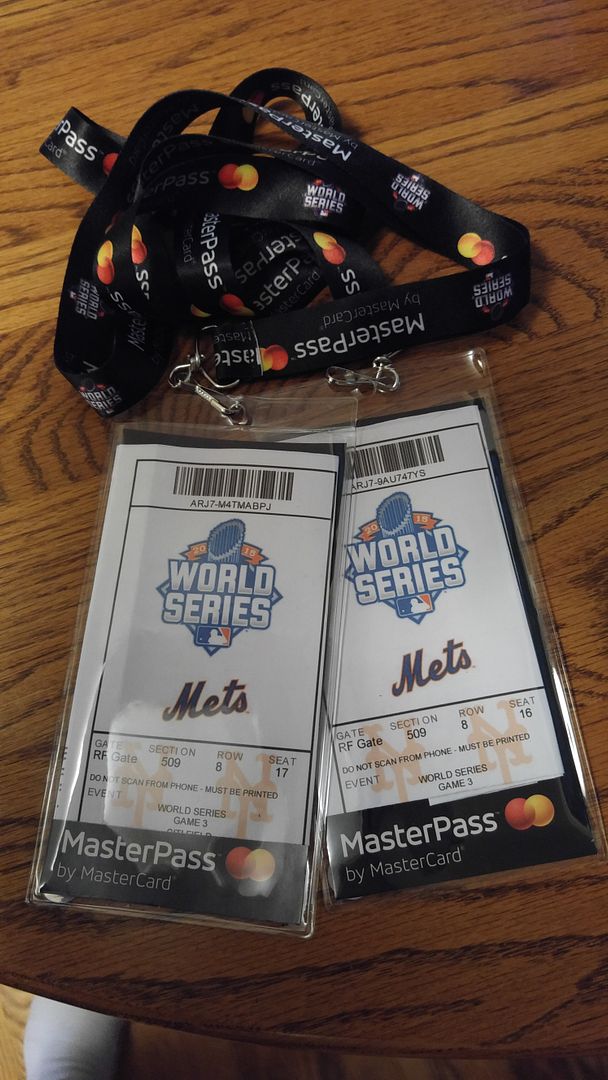 So when the Mets were in the playoffs Andy toyed with the idea of making a dream come true and actually attending a World Series game in NY. After waffling about it -- if we could afford it or whether or was wise-- Andy and I decided to go for it and make one of Andy's bucket list items a reality. We bout tickets, a flight and a hotel room and we were going to Game 3 of the World Series at City Field in Queens!