Tuesday was just a travel day. Security at Seatac took forever and we were later on to the plane than I had ever been before but we made it. The weird thing was Alaska had up go on to the tarmac to get on our plane. I've only done that in small airports before, it's weird but, you know, I like it makes me feel like a rock star. Anywhoo we got to Vegas and got to Ceasers Palace and checked into our room and all Andy had to do for work that day was check and make sure some stuff for the conference was delivered. We didn't do much that first afternoon, just hung out in the room, which, by the way, was quite nice and had a jaccuzi tub (woot!). That evening Andy wanted to check out the buffet downstairs but I had sticker shock when I saw the price wasd $57. That visit to the fancy-pants buffet was the first instance to remind me I was in a strange, strange place. So they took our picture on the way into the buffet and then when we were eating our meal found us to try to sell us the picture for $25. This struck me as a terrible, disgusting practice. So I pay all this money to go into this buffett you want to eat as much and the fanciest food you can to fell like you get your money's worth and while you're stuffing yourself they come up to present you with a picture of yourself as if to say "hey you were this fat when you came to us. Would you like to now pay for evidence of that?" Maybe I'm just being senstive. I'm not a fan of buffets, but this was fancy pants, with fresh stuff but jut like too much man, There was everything there from BBQ to sushi. Pho to Pasta.
It was overwhelming. After dinner we went back upstairs and just hung out in the room.

Wednesday Andy went to the conference and I had the day to myself. The only thing I had planned to do was to chek out the Art Gallery in the Bellagio where currently they were showing a Picasso exhibit. I liked the exhibit but didn't think there was enough showing there for $19 but that' Vegas, everything on the strip is expensive. The one thing I really found fascinating was the lithiograph series of Lex Deux Femmes Nues, which was a series of 22 lithiographs where he had two figures he studied, one the nude woman in Luncheon on the Grass and another from a Goya painting. It starts of looking realistic enough and becomes increasingly more abstract. It was interesting, like a glimpse into how his mind works. I could only find these 3 images on the web to give you an idea.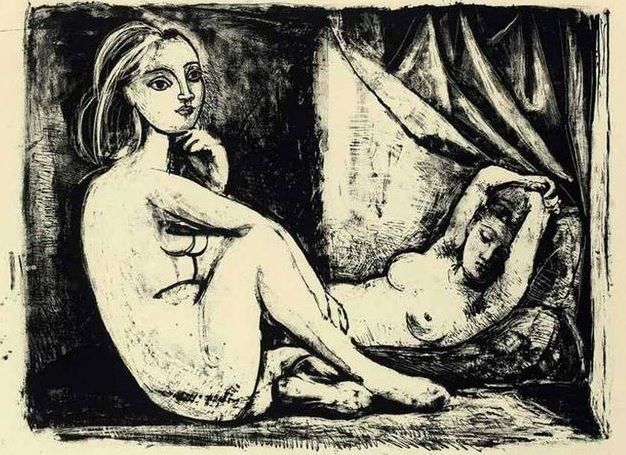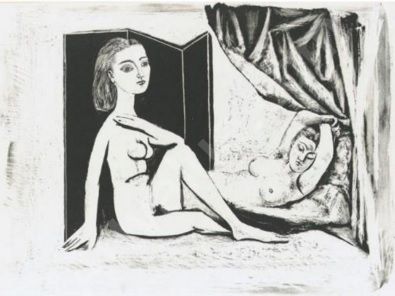 These are two from early in the series. It becomes more and more abstract until the study finally ends up looking like this (21 in series)...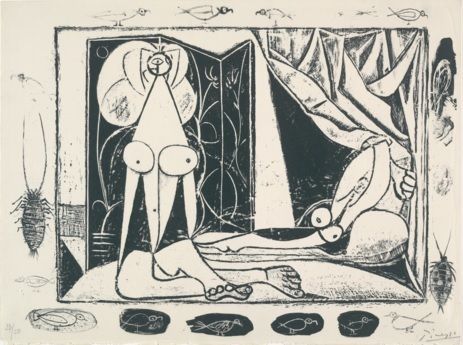 Cool huh?
I had plans to meet Rob's friend Micki in the evening. Before then, of course, I had many hours to kill so I just wandered around for a while and took some pictures around the Bellagio a bit and Ceasers.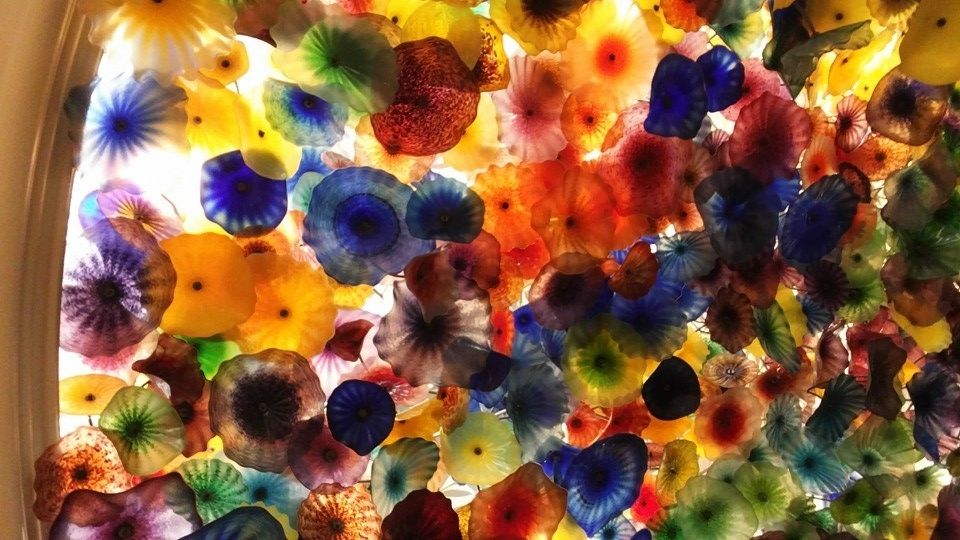 Glass blown ceiling at the Bellagio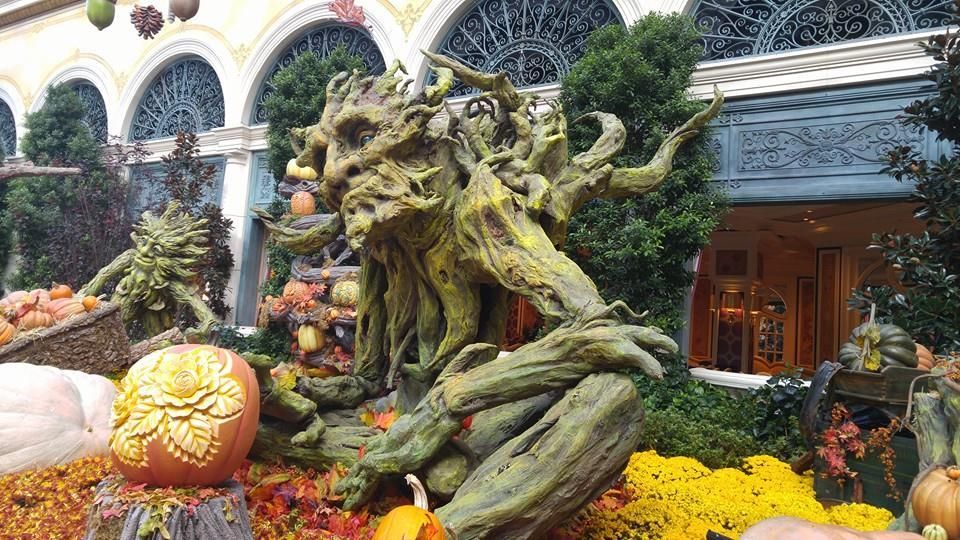 Holiday installation at the Bellagio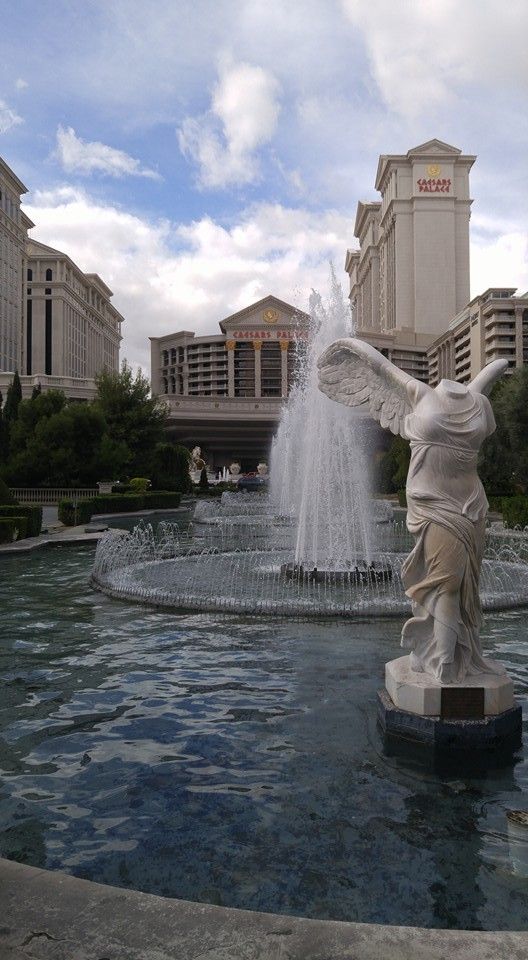 Ceasers.
I wandered down to the Venitian and stopped at a little bakery for coffe and lunch. Since this had turned into an impromptu vacation for me I wanted to have a couple of me days where I could relax and enjoy some reading.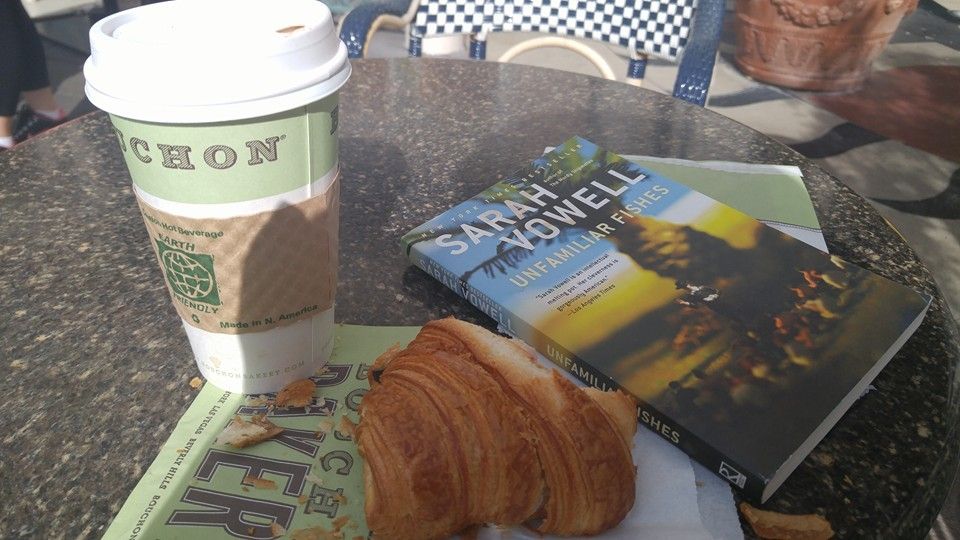 Of course the Vegas strip is not a place that takes kindly to people just sitting around reading and not gambling or spending money in some way, the only way I could get some reading done indoors but out of my hotel room was to essenntially buy my seat via getting coffee or drinks or a meal. So I kinda wandered around then would find somewhere to read and then find a bar and have a sit down for an hour and a half of reading or so. I did this at Circus Circus.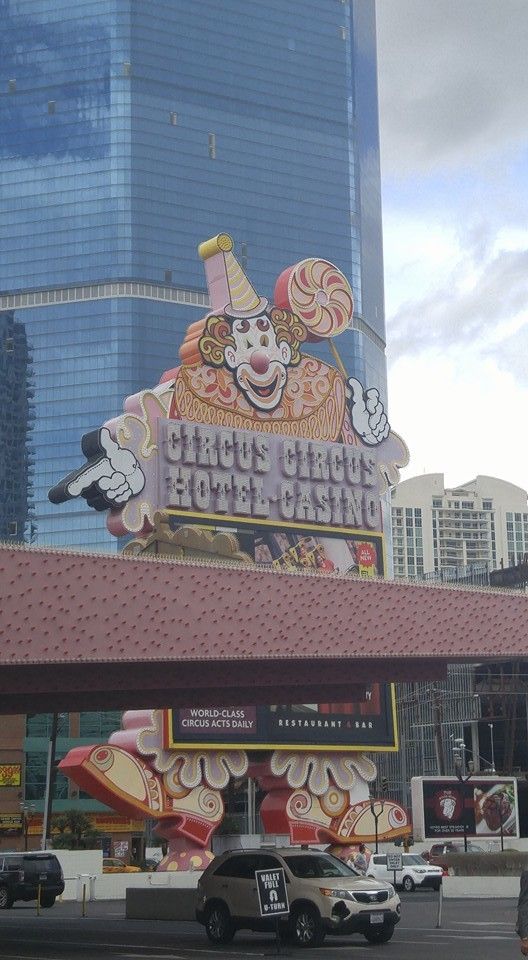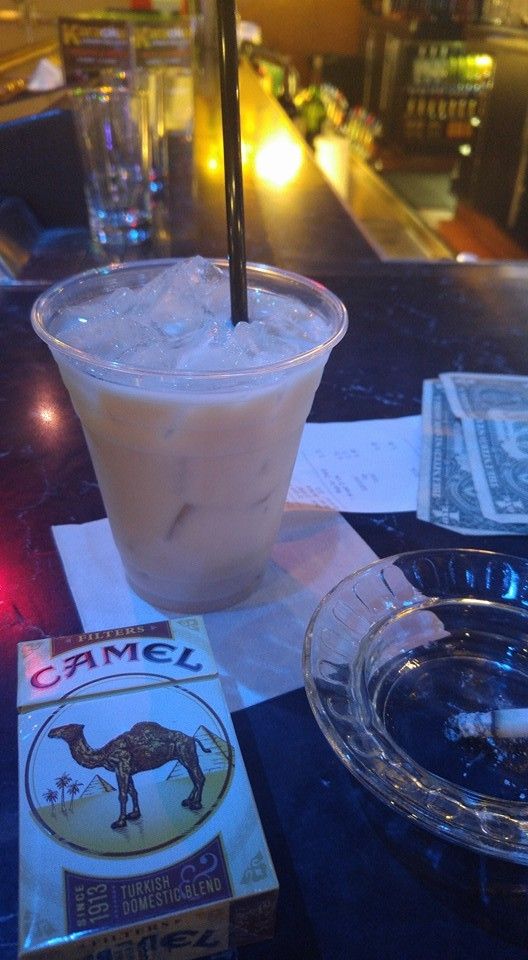 and I did this at the Peppermill becasue no trip to Vegas is complete without a visit to the Peppermill's lounge.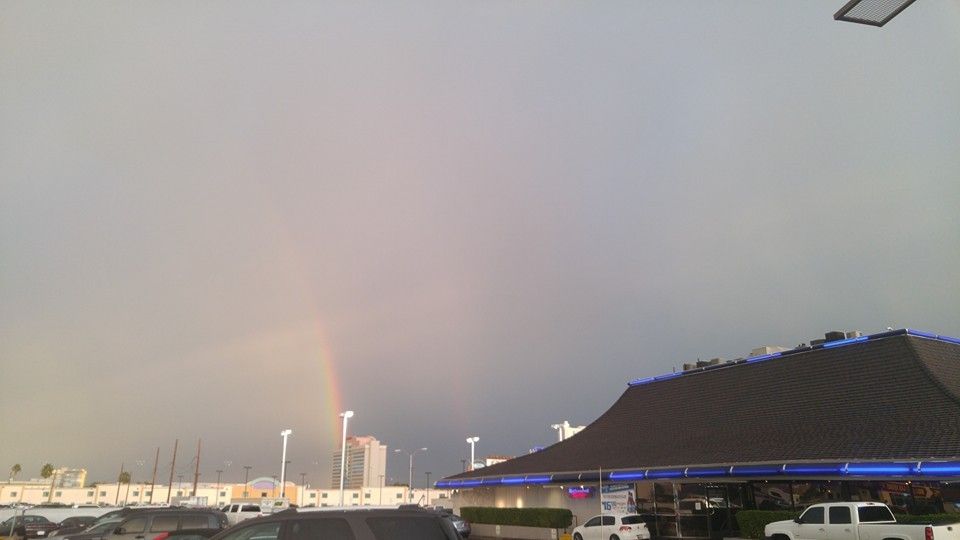 When I came out after a couple hours reading the the lounge I discovered it had poured outside and I was out just in time to catch a lovely rainbow. From there I walked down to the Stratosphere to eventually meet with Micki. Walking past the now closed Riviera was a real bummer. It makes me sad when an old property, some place that was around back in the days of old Vegas bites the dust. Also that was shere we stayed when Andy brought me down for the first time and we had a very special visit in our bad ass suite upgrade. As I walked down the the Statosphere, I got to enjoy a nice desert post-rain sunset.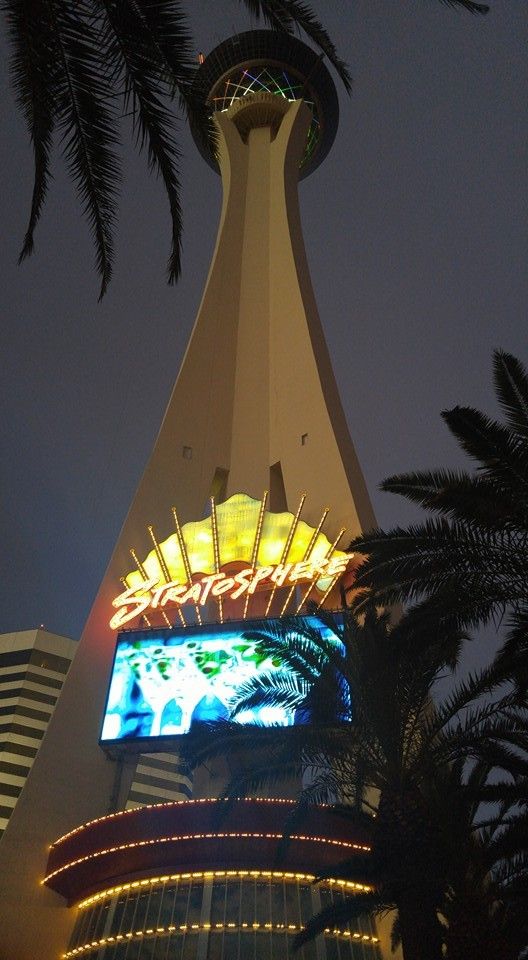 This was my first trip to the Stratosphere. I passed the time reading while I waited for Micki. She was going to take me up to the bar at the top for the view but unfortunately when we got up there it was closed for a private party. Boo. Instead we went to a different bar inside and talked and had some cheap happy hour drinks and eats. She was lovely. She's super fun and friendly. We hit it off right away.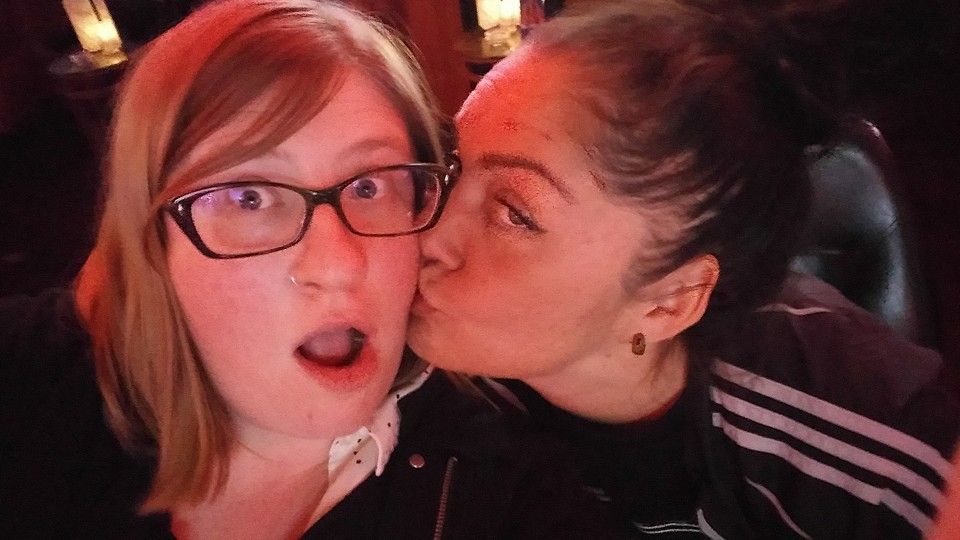 We went back to the bar in the casino and had some more drinks. These folks next to us from Austin were drawn to her with her London accent so they kind of butted in and it kind of became a group conversation (I'm less good at that and kind of closed in a bit) but they did buy us some drinks so I suppose I shouldn't complain, and it also made sure that I got back to Andy at Ceaser's at a decent time.
Thursday I opted to save money and do my reading in the hotel room. It was pretty pricy having to spend money to sit somewhere. I was on a white russian kick and they would rage in price anywhere between $8 - $11 a peice. That kind of spending was just not sustainable for another day. So I went downstairs to let the maids do their thang and to get breakfast but after that I went back up to the room and read all day, enjoying the jacuzzi tub for a good part of the afternoon. It was very relaxing and most importantly, cheap!
That evening, when Andy was done with the conference, we took a cab out to the area by the University and hit up In and Out Burger for dinner before heading over to Cheers to meet with a bunch of Andy's old friends. The turn out was pretty good and we got to see Geoff, Carin and Rudy, Anthony, and others, some of whom I'd met before and some I met for the first time. It was good for Andy to see everyone. wish I got a picture but I didn't want to look like too much of a dork. A little before midnight we took off. Geoff gave us a ride back to Ceasers and on the way there he and Andy were being goofy together, which always makes me super happy to see.
On Friday we had to check out of the room in the morning but we didn't fly out untill the evening and Andy still had the conference to wrap up. I, once again, kept to reading my book but I also wandered around Ceasers a bit and ended up in the Foroum, which is esentialy a shopping center of posh stores, only it's like the most gaudy shopping center ever.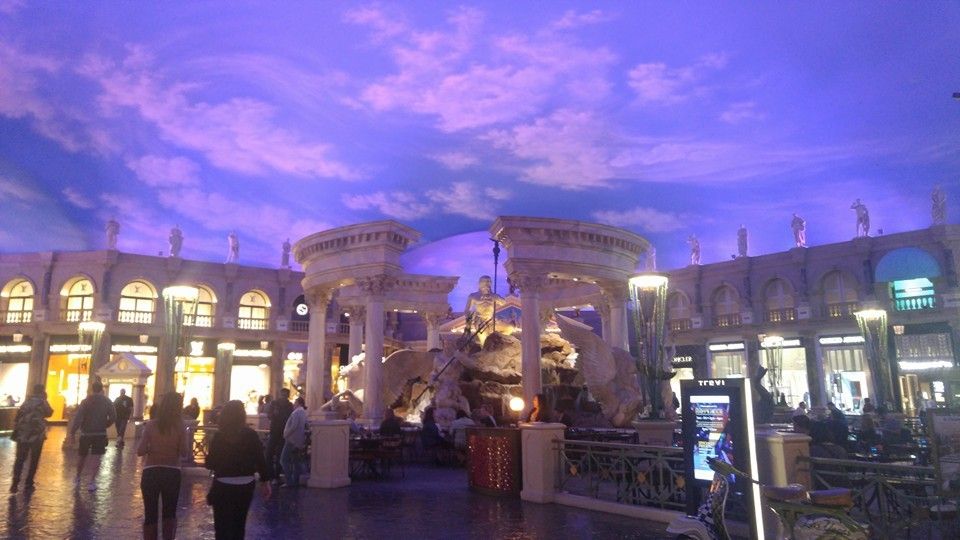 just by happenstance I caught this animotronic show about Neptune and gods that was kind of neat in its utter cheesey-ness. Like those old Chuck E Cheese shows but for like adults and with considerably more fire involved. All the shops were posh and didn't interst me with the exception of a memoribilia store where of course everything was out of my price range but it was at least cool to look at. I read at a bar for a while while I waited for Andy to be done with the conference. We grabbed our luggage and took off back to the airport by the most rediculaously cleless cab driver ever who barely knew how to get to the airport and certianly didn't know how to use the machine for us to pay with a card. He turned it off in the middle while it was processing and ad opposed to haiving him do that over and over, I ran out to an ATM and paid in cash which, we still ended up paying twice. It sucked. Andy had to complain to the company and report it and stuff when we got home.
So yeah, that was our trip trip to Vegas. It was work for any but for me it was a basically a really expensive place to read a book. :P
So after getting back from New York, Andy and I had the weekend and then went into work on Monday before we got on a plane again on Tuesday (Nov 3) to go down to Vegas for 4 days. Andy was going down there for a conference for work and I was just tagging along. Originally the idea was that when it looked like the Mets could possibly be in the World Series, if the series had gone long enough, the 3rd would be game 6 and the 4th would be game 7. Andy didn't want to watch the games alone in the hotel room if the Mets were in it. So I got a plane ticket and took time off to go down to Vegas to join him. Of course the series didn't really end up working out that way so our evenings were free to do whatever and of course Andy's friends are down there so we had a gathering with folks but I'm getting ahead of myself.
Current Music:

TV Seahawks game