Leavenworth is the cute, kind of cheesy Bavarian-style town in the Cascade mountains. We went out there in the summer one time when I was a kid but I haven't been there since and xmas is the time to really go becasue it's andaorble Christmas town. My mum loves Christmas and goes to to the treelighing ceremony in Seattle every year, usually by herself. I thought it would be fun for us to get out of town and see the lights at Leavenworth.
My dad picked me up at 7am and we checked in and got on the bus at the Seattle Center. We took off on the bus at 8am and headed out of the city and into the Cascade mountains.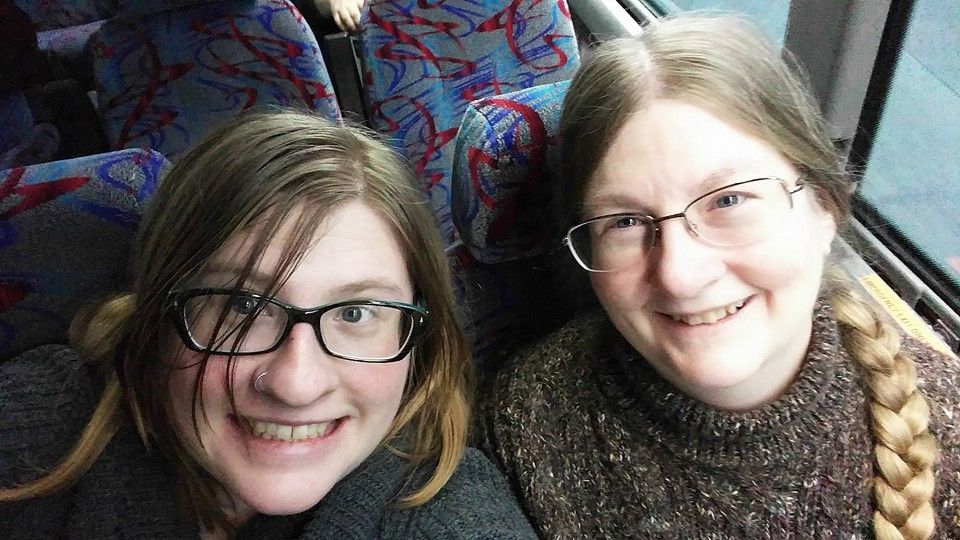 I even got my mom to take a selfie on the bus.
We went in through
Snoqualmie
pass and thats when we really started seeing snow. We stopped at a rest stop at the pass and man it was cold. I mean I dressed for cold as much as I could but damn, I'm not used to that kind of cold. There were snow storm warnings for the cascades so once we were in the mountains it was coming down pretty much all day and evening long. But as we were on the bus the rest of the way we talked and looked out the windows at the lovely pristine snow on all the trees and on the few farms and eventually outside of Leavenworth we started seeing civilization. The bus parked and we were let loose in Leavenworth.
It was about 11:15 when we hit town and we took the tour guide's advice and went to get lunch first at a resaurant which was wise advice becasue we were able to get a table right away, the rest of the day, every restaurant and pub had a line out the door. Watching the snow out the window, I was keen to get out there and go see more of the town.
We pretty much spent the day walking around, taking pictures and looking around at the shops. Like I said, though I hoped to walk into a pub or a cafe, all those places were filled to capacity so that didn't work out so going into the shops was the best way for us to go inside and warm up.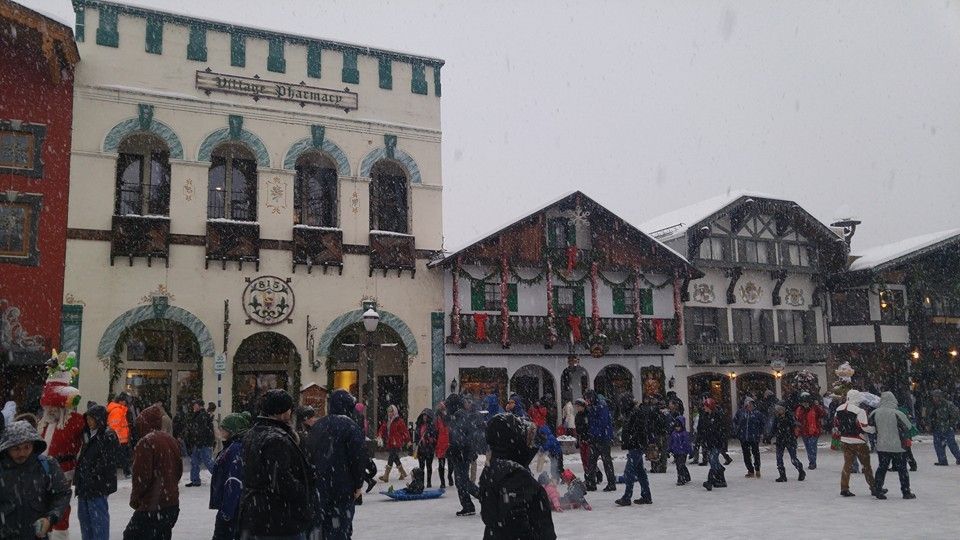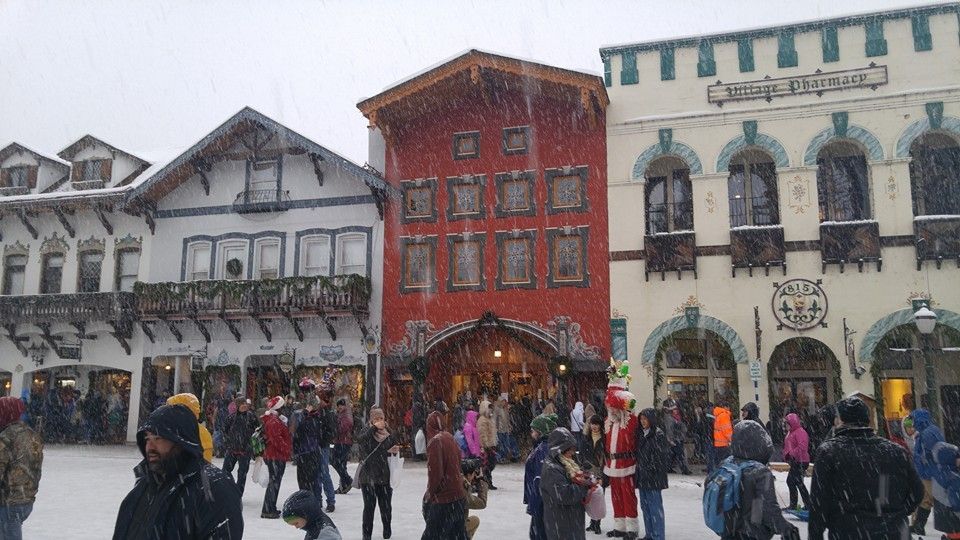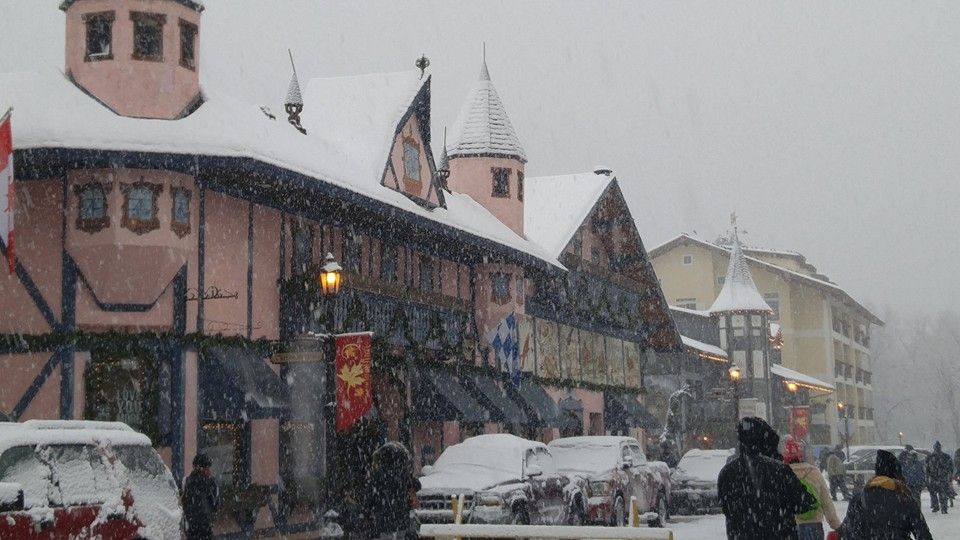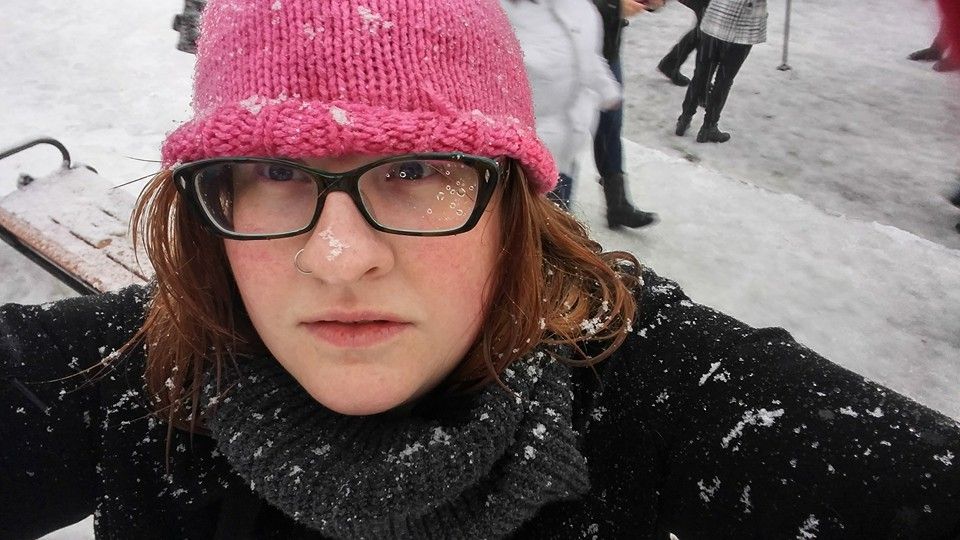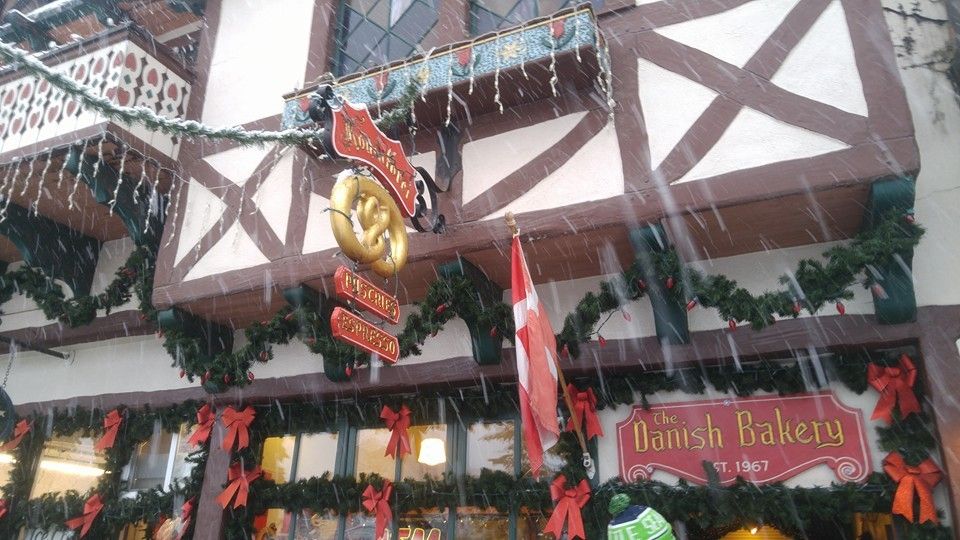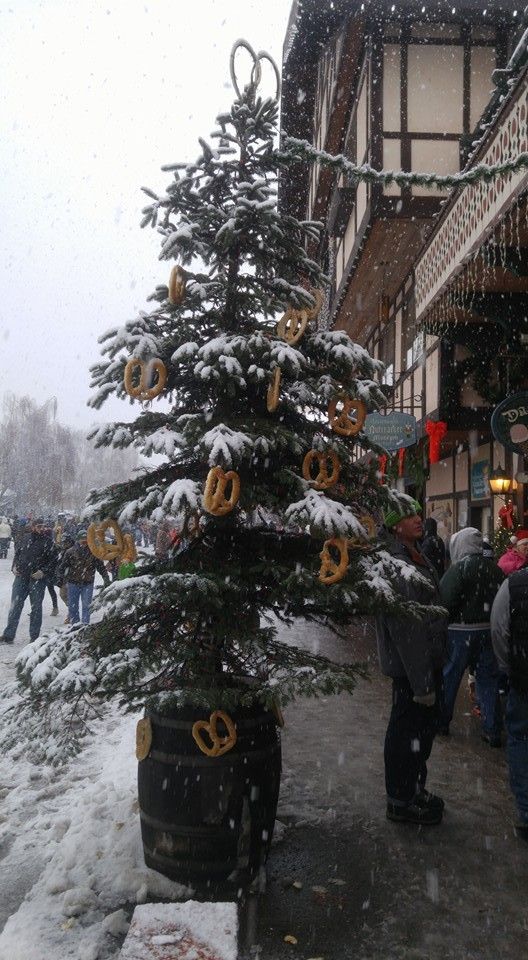 There was a cider and German mulled wine stand outside where we were able to warm up a little bit.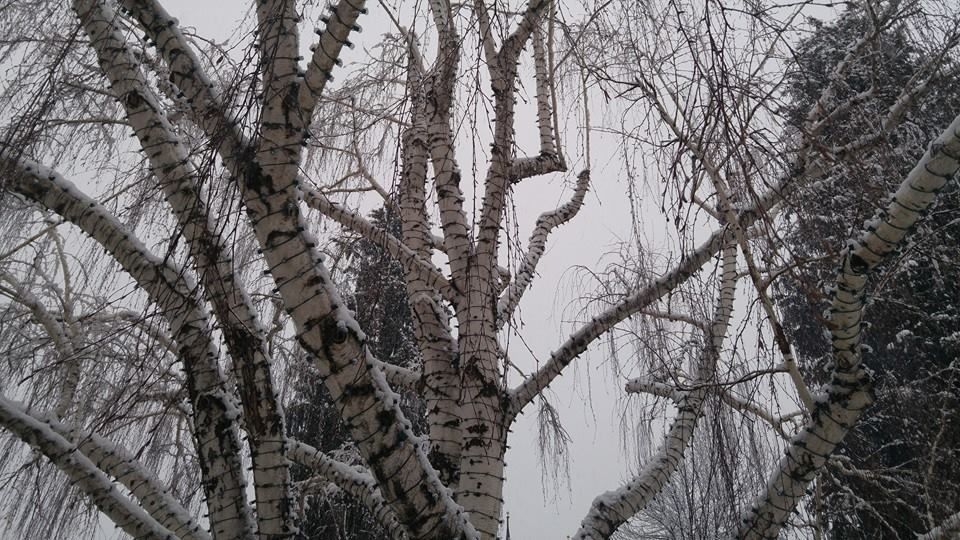 I thought this tree was beautiful, it was evem more beautiful at night.
By the time we were getting close to lighting time my feet were frozen from being outside so long. I had some soup that kept the rest of me warm but my feet--I only have Converse on for shoes--had lost all feeling they were so cold. So all the pomp and circomstance was like "yeah, yeah, get on with it" There were a bunch of terrible born again christians with these big signs about repenting and that god is vengful blah, blah, blah. That really pissed me off. I was afraid that thier big signs were going to ruin my pictures. These people are terrible. Here I am, an athiest, trying to enjoy their Christian celebration of pretty lights, and they have the nerve to interrupt my fun by telling us all, blanketly that we are all going to hell. Well to hell with them, we all only get one life and they're wasting theirs, that's fine, why they got to make such a production about it and spoil the fun for everybody. Becasue they're self-rightious twats who like attention. That's what it boils down to. Sorry tangent. Luckily they didn't ruin too many of my pics. But if you see thier sign, know these people are assholes.
Finally, after much waiting and staing through some silent night the lights came on and it was beautiful and magical.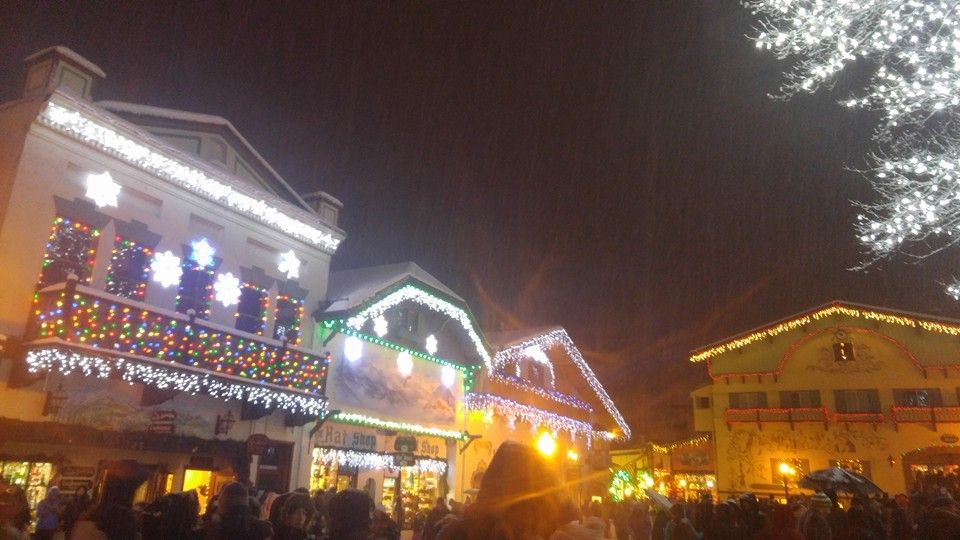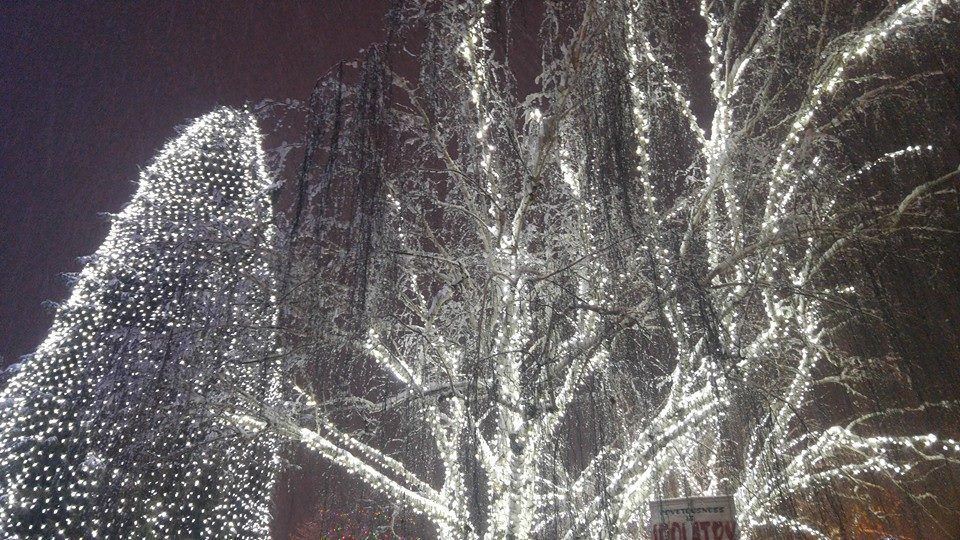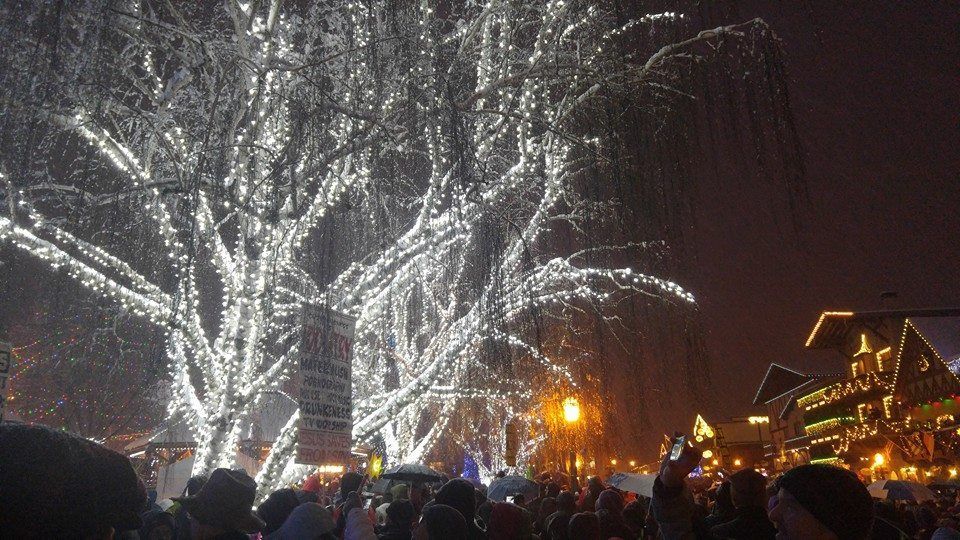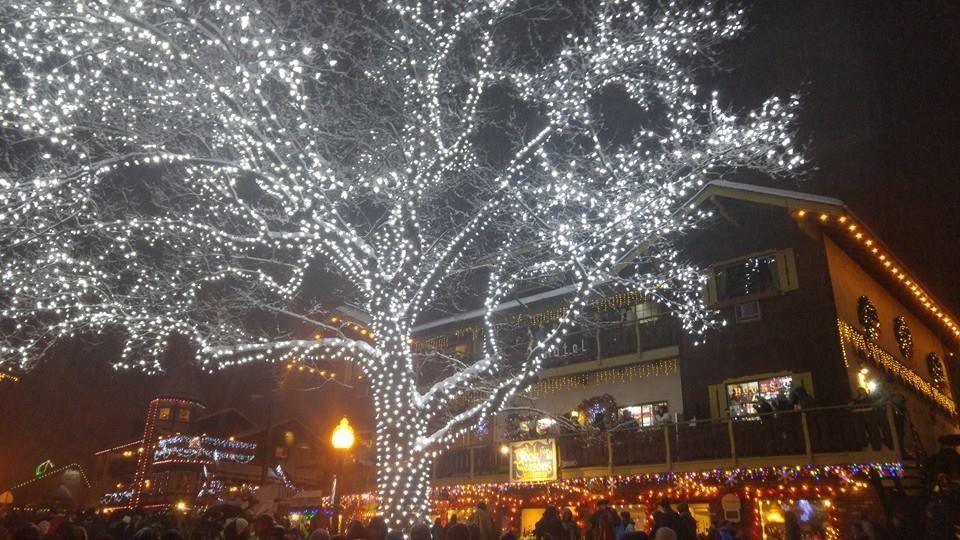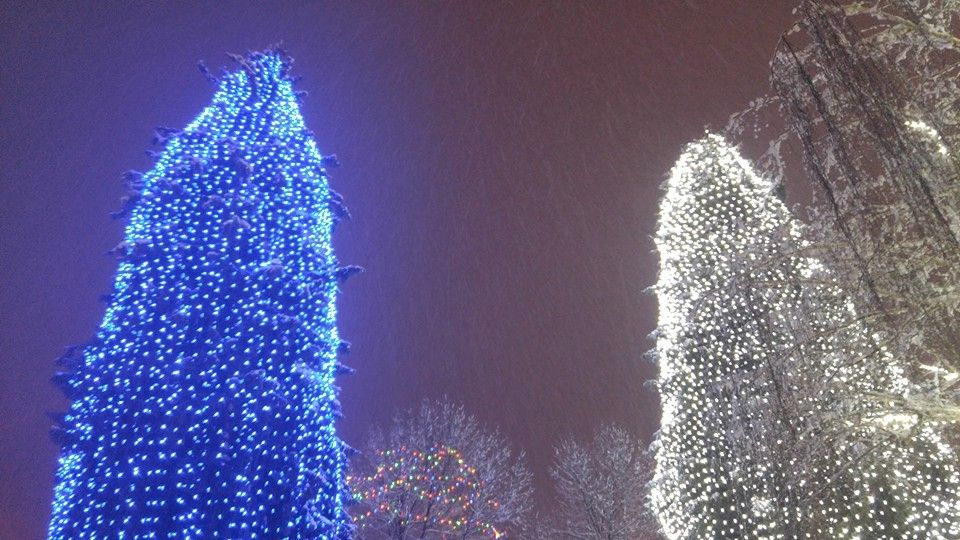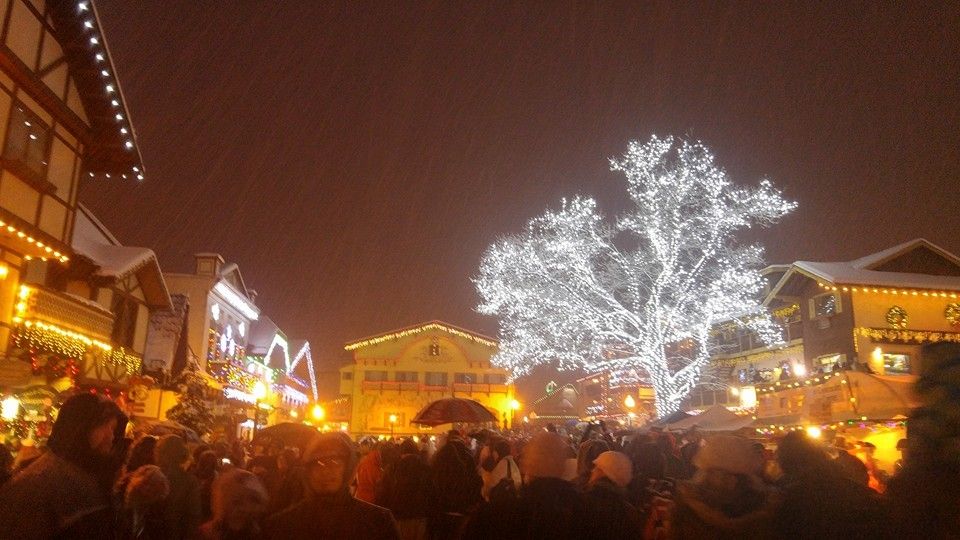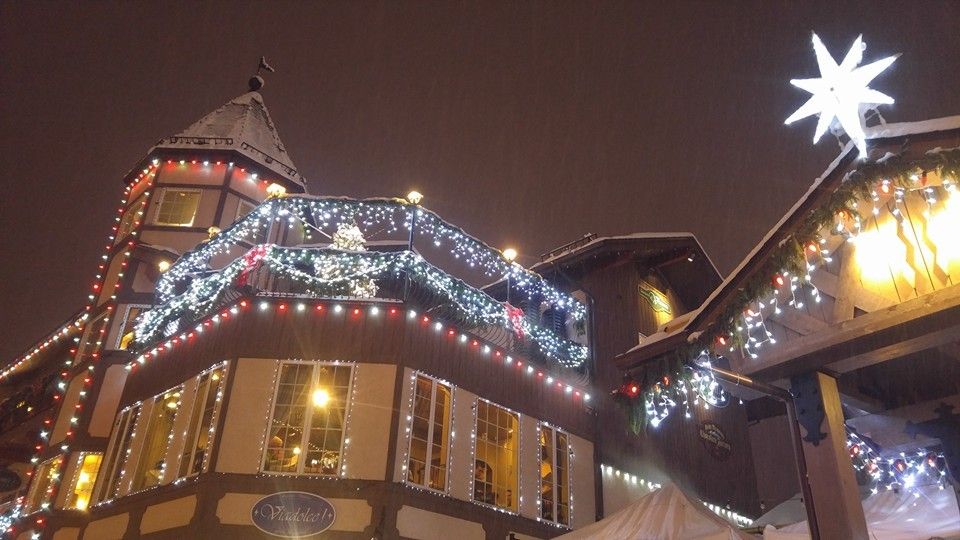 We walked back to the bus and I realized how wet I was from snow and I could warm up and finally feel my feet again. It was a long ride back, about 4 hours this time through Stevens pass. The snow was still coming down and the roads were tretcherous. We saw a couple of cars that had skidded out of the road. So I was a bit on edge until we got to the foothills where there was no more snow. After that I was able to finally get a bit of rest.
We were dropped off back at the Seattle Center. We tipped our guide and the driver who was a rock start for getting us safely through the storm. Mom and I walked through the Seattle center and took the D line home. All in all it was a lovely mummy daughter Christmas adventure.
On Saturday I took my mum out for a mother daughter day to Leavenworth to see the xmas lighting ceremony. This was one of her xmas gift, something I've wanted to do since last year but didn't know about these tours until it was too late. This year I jumped on the oppertunity and got us the tickets.