We left on a red-eye Monday night to Dallas. I normally have an easy time sleeping on planes but not this trip. I could not get comfortable enough to sleep on that flight at all and when we landed it was a race to get to the terminal for our connecting flight to Puerto Rico. We narrowly made it out of Dallas before a huge weather front of lightning and flooding came through. We were very lucky.
Before the trip we were both learning a bit of Spanish with the Duolingo app on our phones. By the time we left I was at about 18% fluent according to the app. Now on this flight with about a 50/50 mix of vacationers and Puerto Riccans and everything was in both English and Spanish, you realize how little that 18% is and how not so useful 18% is. That second flight I got a little more sleep than the first, but still not much. When we landed I was hit by the reminder of the existence of humidity (I'd say greater than that of Hawaii but not nearly as bad as New Orleans. We had an air-conditioned shuttle to take us to the resort where the conference was being held and I tried as hard as I could to not fall asleep and to see as much as I could in the drive. But it was difficult, I was so tired. The resort was about an hour fron San Juan. When we got there I was impressed. I'd not been to a resort before, it's not really how I prefer to travel but I thought it was fancy, but with a worn-in charm. The buidling that we stayed in was clearly built in the 60s and had its own charm. The area we stayed in was partially down this his toward the water. You had to this funicular to get there from the main part of the hotel. Though that's kind of an inconvienence, it was actually pretty neat beacue that building had its own pool and hot tub that was less crowded and open 24 hours. Our room was nice with a big bathroom and walk in closet. I approved.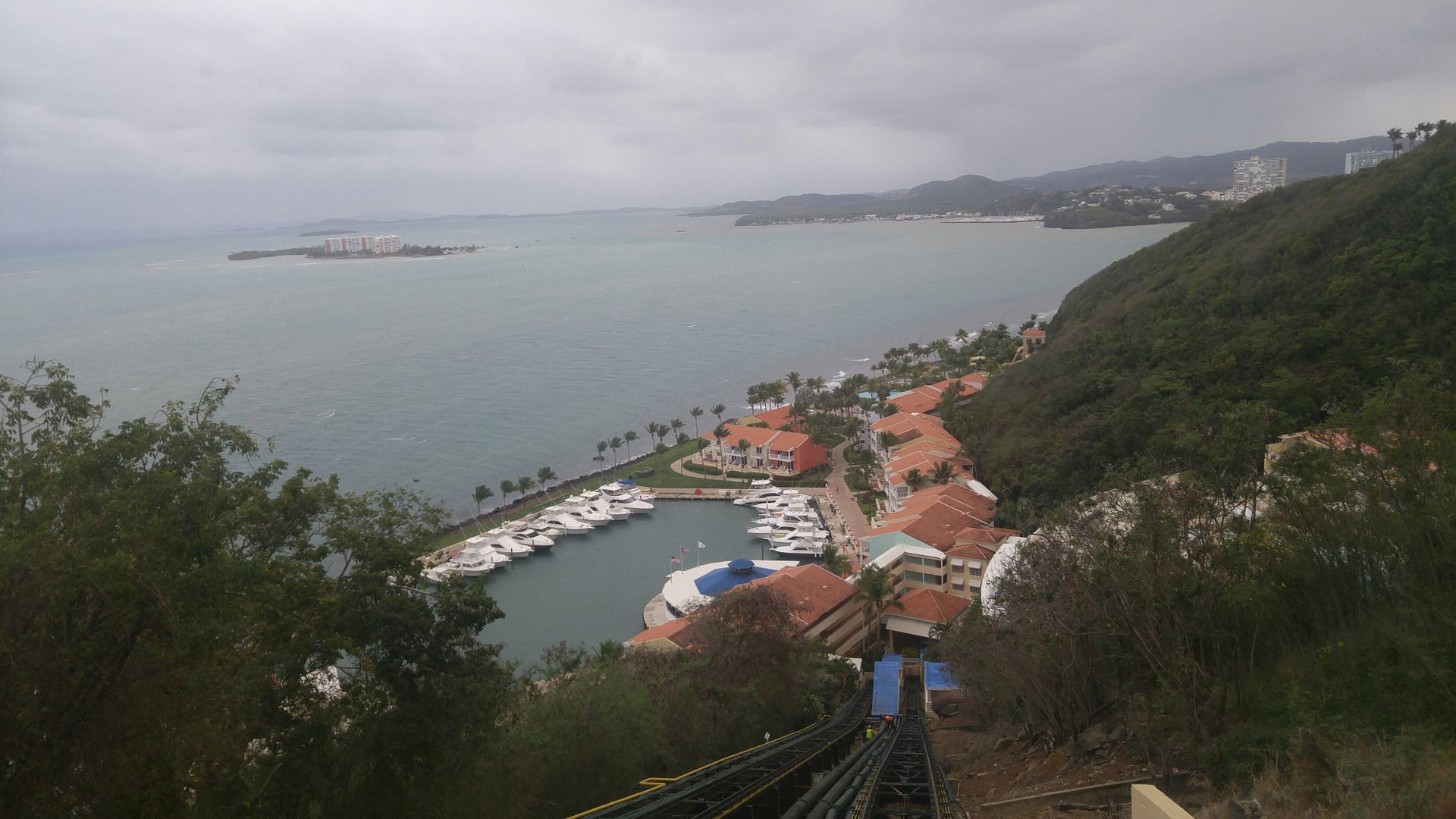 View from riding the funicular down to our area.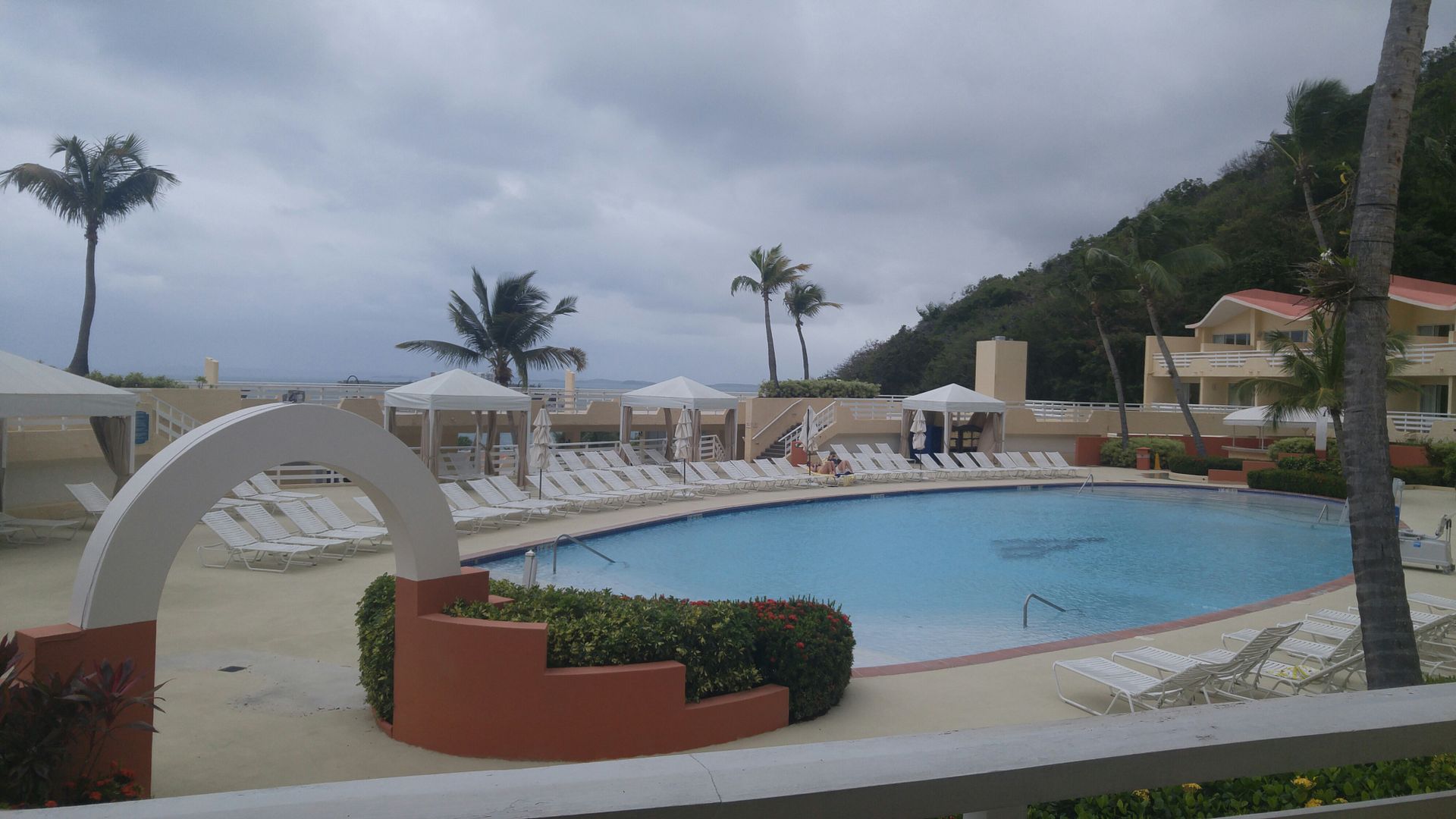 Our pool from our deck.
Sadly the day we arrived I suffered from serious jet lag. I thought I had jet lag before. I was wrong, or at least I didn't know the extent to which jet lag can knock one down. I've usualy been one who can push through anything but this jet lag had all the symptons of a bad hangover. I was tired. I had a headache that wouldn't go away. I was hungry but I was also nauseated. We tried to eat food and I had this pork and rice that sounded great, but it was just too much for me to handle right then. We took it easy. Any time Andy turned his back on me, he would catch me snoozing. I couldn't help it, I was beat!
So for me the vacation really began on Wednesday and after a night asleep in a proper bed so I was able to wake up refreshed enough to enjoy myself. Andy had some checking in to do before the convention started but otherwise we had the day to ourselves. I checked in with the tour desk to try to sign up for a trip to San Juan. That was something I really wanted to do. I didn't want to be trapped at the resort all day. Unfortunately I learned that it wasn't a guarantee that I could take the tour whenever. Due to being so far away they said they needed 8 people to do the tour. I checked in almost every day I was there and the most ever signed up was that first day for 4 people, still not enough. So yeah, i never got to see San Juan, or use my 18% Spanish, which is a shame but there was nothing I could do about it. Guess we have to go back to Puerto Rico some time.
instead, Andy and I took the ferry over to Palomino island, a private island of the resort, for beach time. There was a ferry that went over to the island every hour and it was a fun, bumpy ride to the island. First stop was the water and I officially got in the Atlantic Ocean for the very first time. (I didn't put my feet in the water in Brighton, certainly didn't swim.) After swimming we went to the Iguana Cafe for some lunch. The cafe was aptly named as we saw a handful of iguanas hanging around nearby. We played some mini golf and some other free games near the beach then hopped back on the ferry to rest up near our room, have a dip in the pool and spend some time getting pretty for our fancy-pants dinner.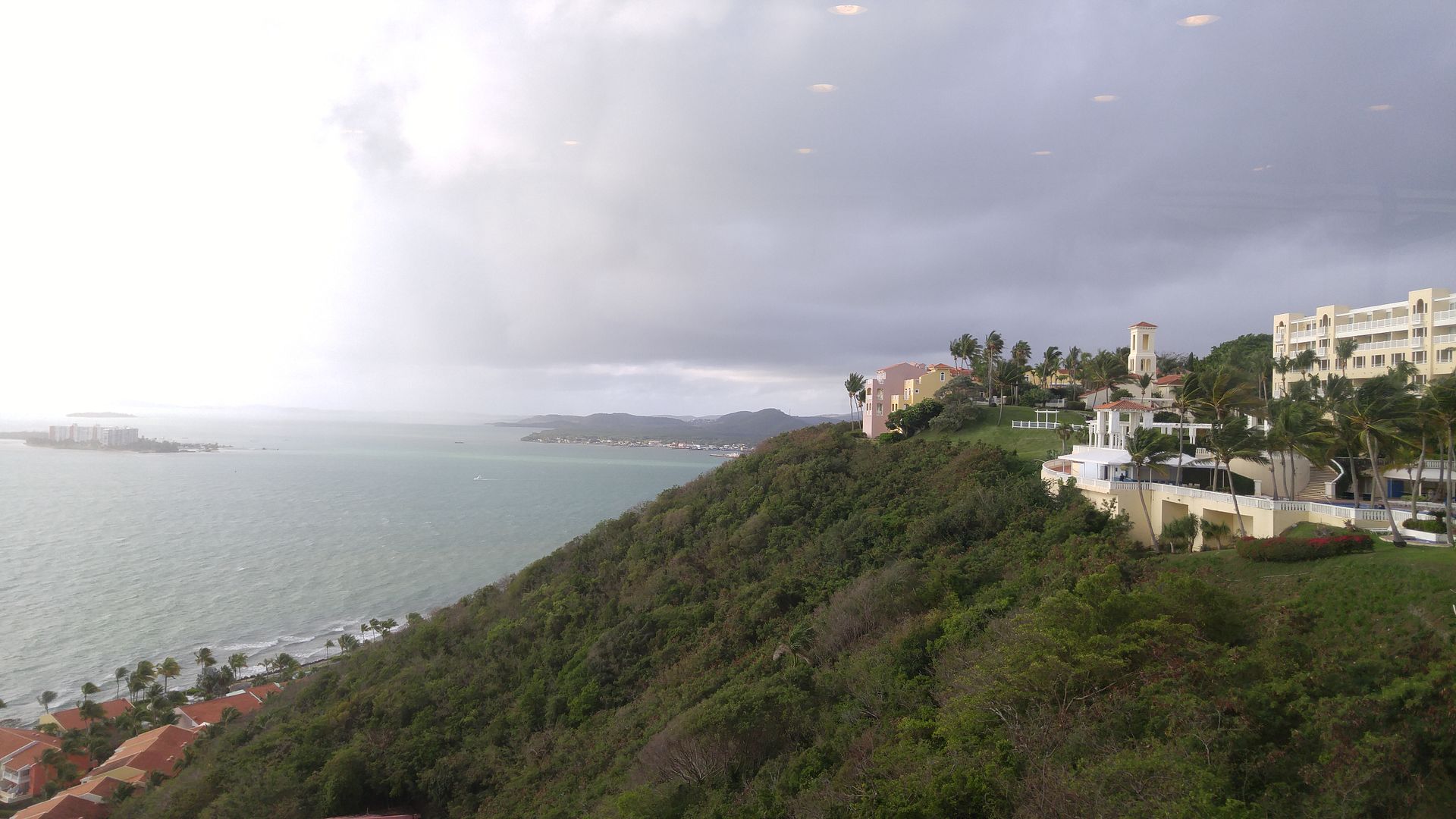 View from one of the terraces after getting off the funicular.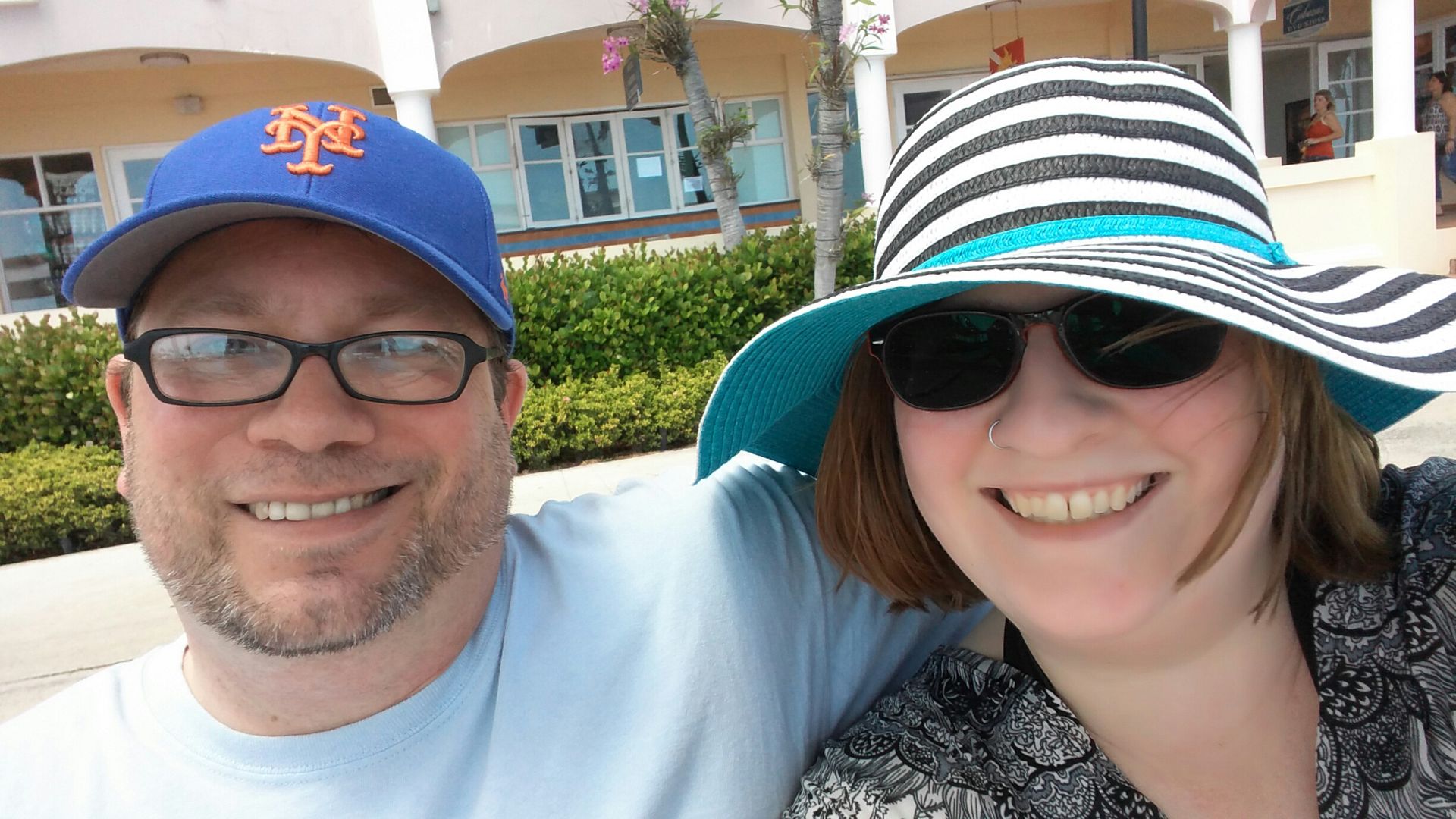 Waiting for the ferry in my new floppy hat!
Palomino Island beach from the ferry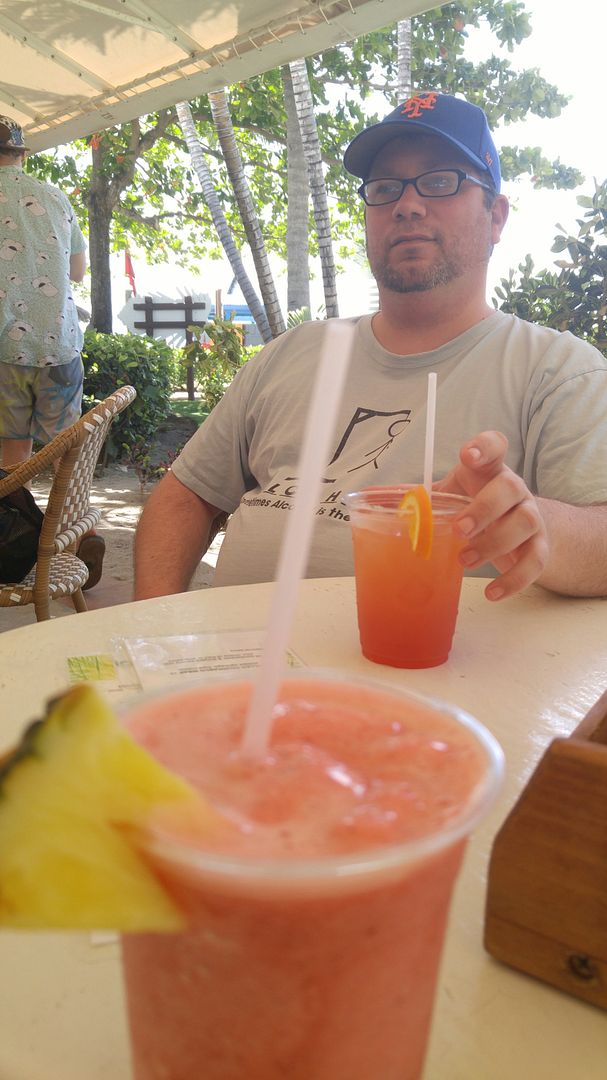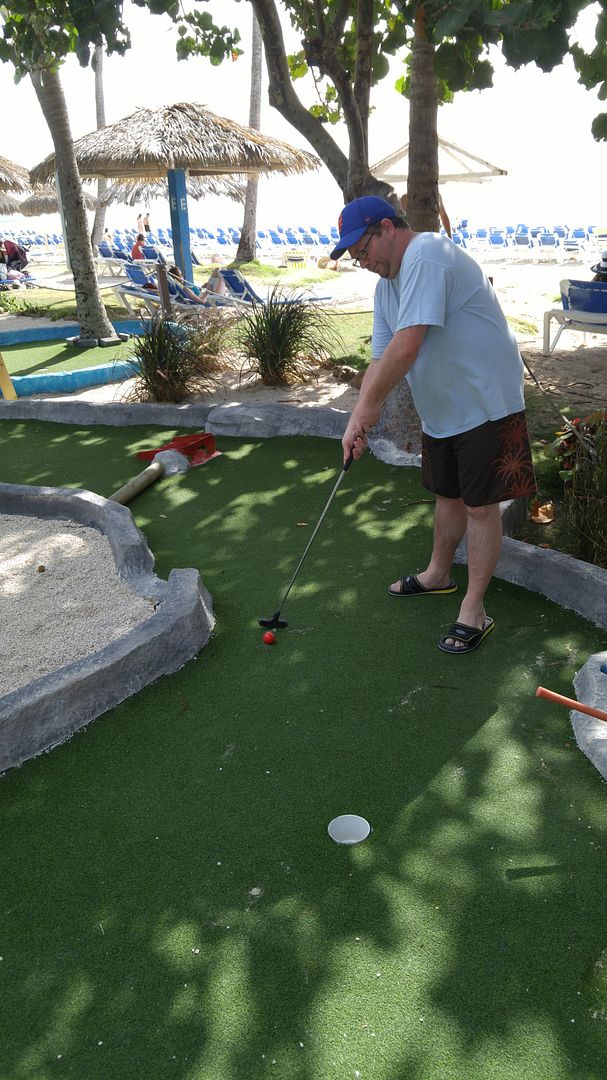 My first fruity alcoholic beverage and playing miniture golf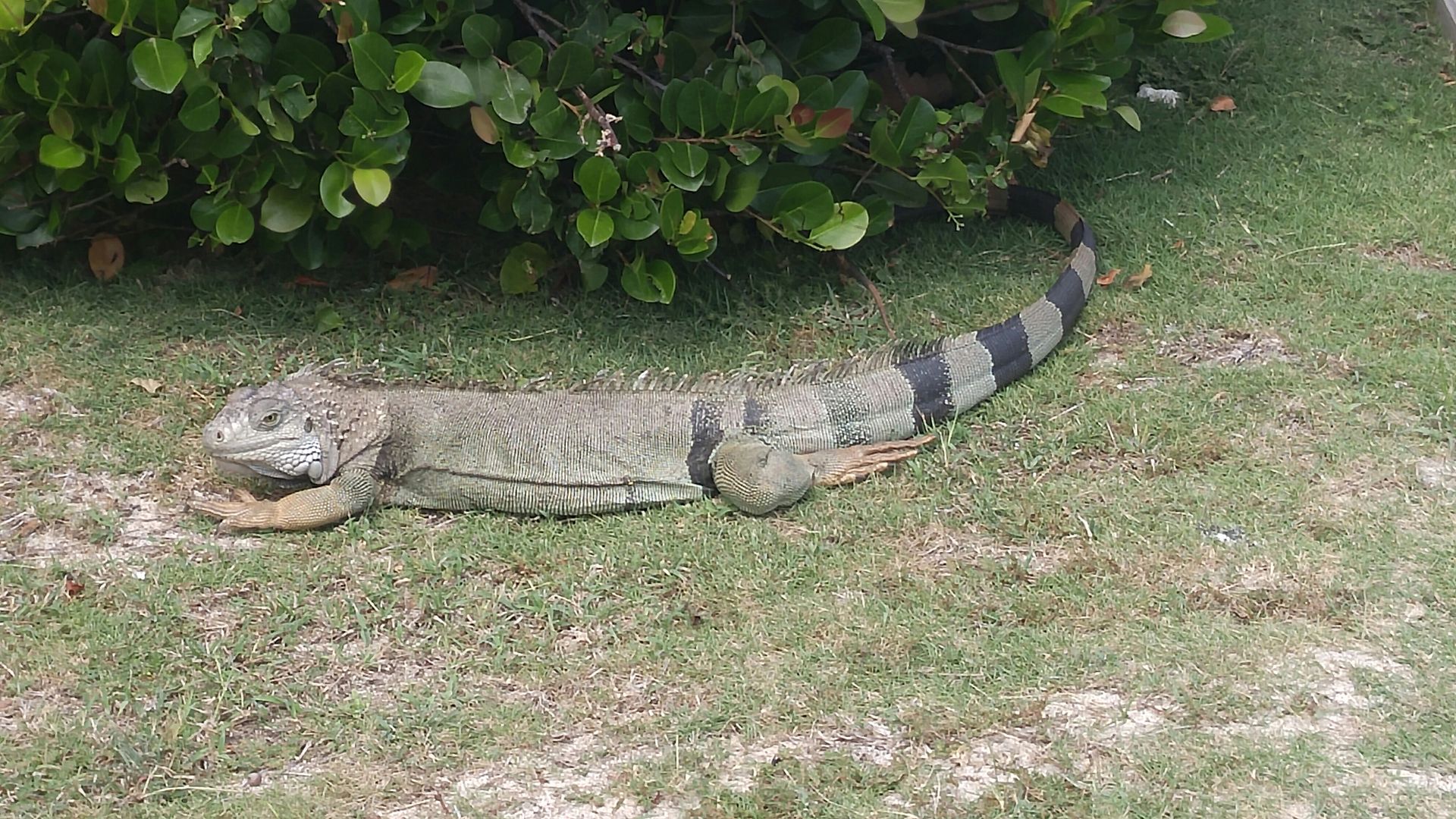 Iguana!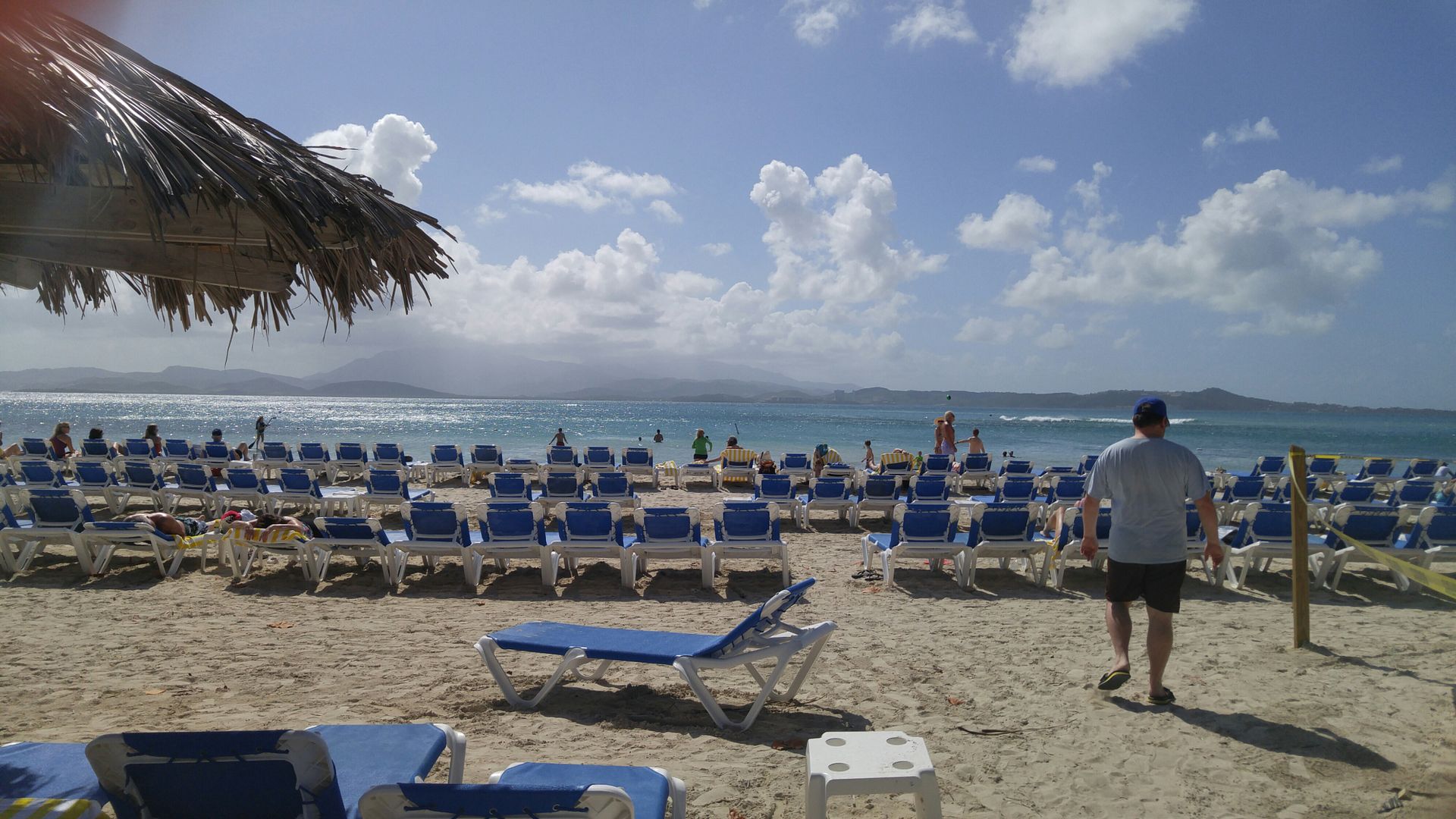 Andy's a beach bum

Panoramic pic of the beach from the ferry dock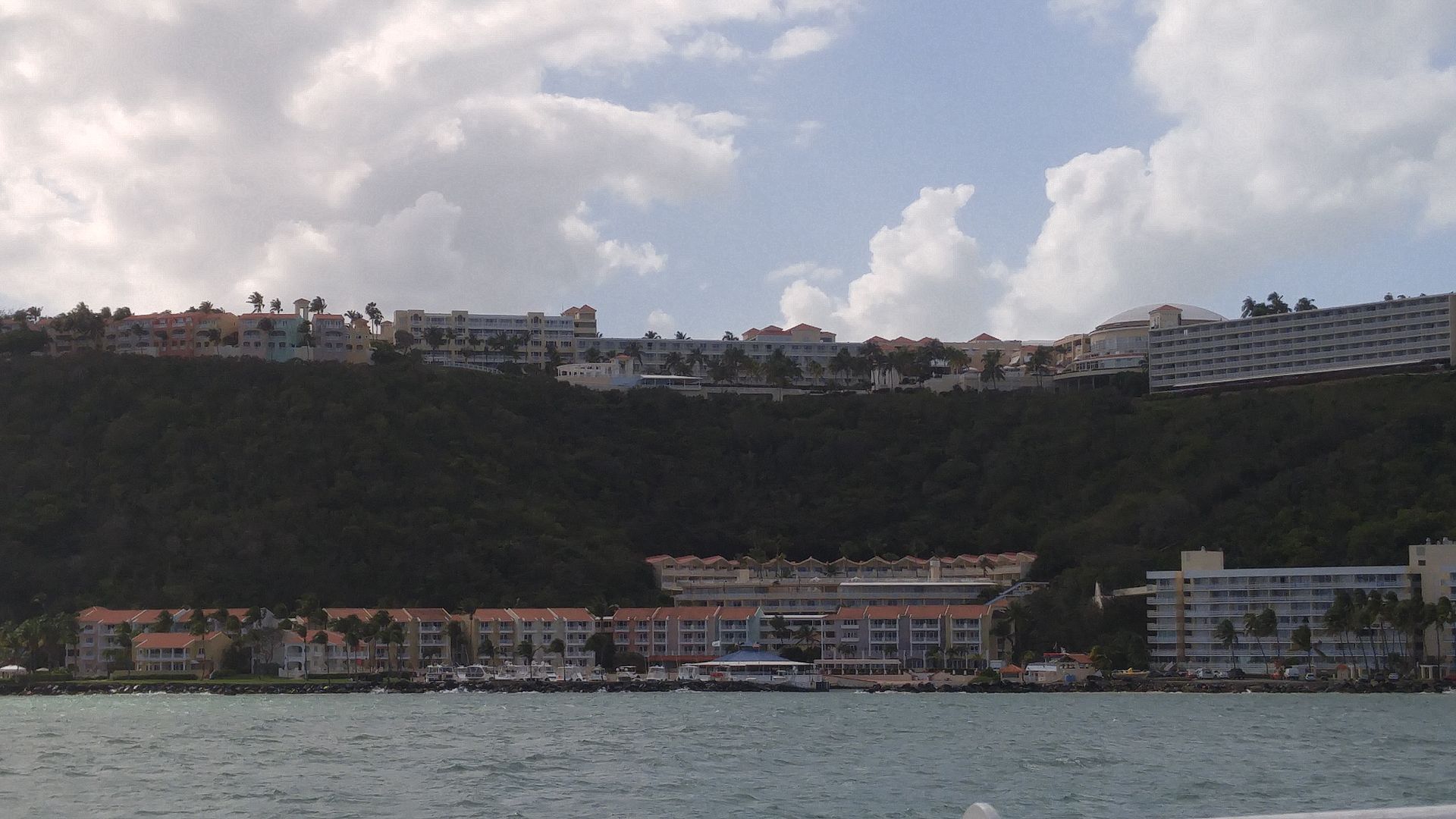 A view of the resort from the water. The building settled into the cliff is where we were staying
That night we had a reservation at the steakhouse at the resort which was my opportunity to get dressed up in my fancy new dress and fascinator.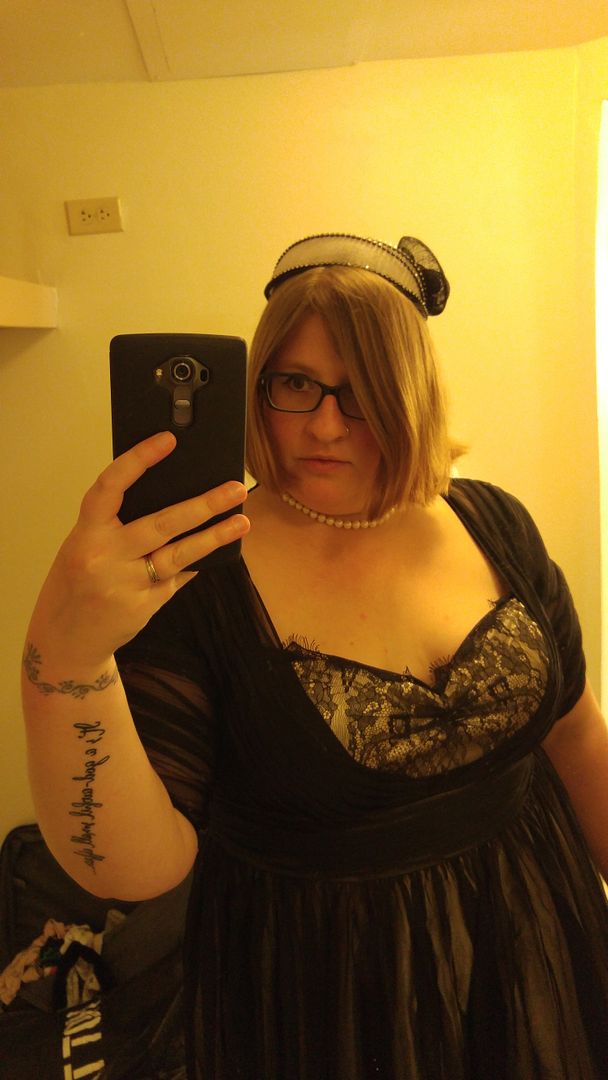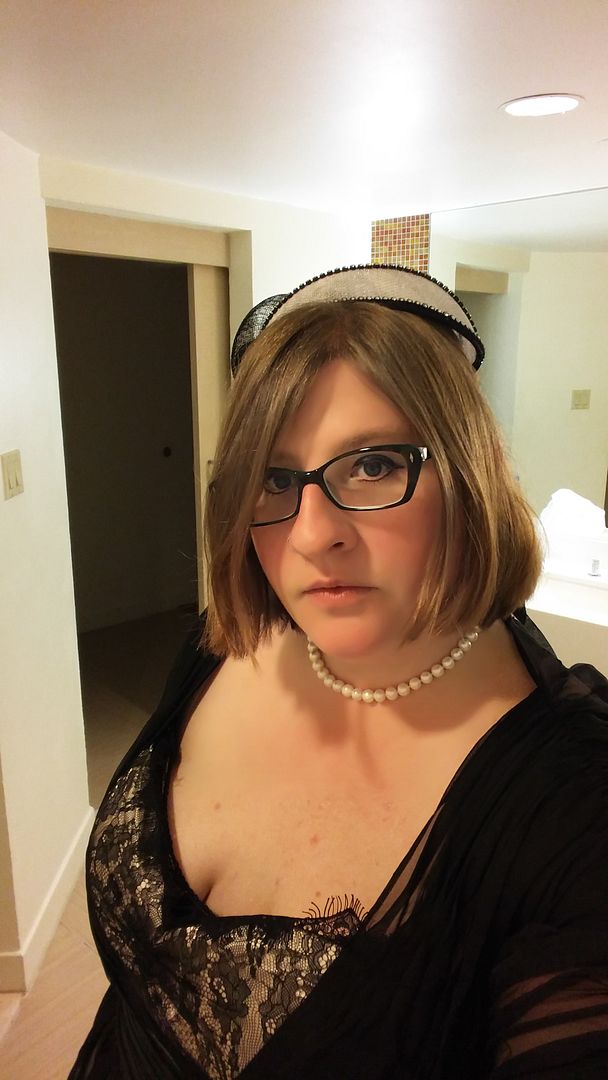 I felt so fancy and got a compliment from a stranger. The dinner was, for me in the top three or four dinners that I've ever had. We started with a cocktail that was a work of art and a delicious lobster bisque. I had fillet oscar that was just perfect. As a shared side we had this goat cheese mac and cheese with a sundried tomato chutney that was amazeballs. I'm all about goat cheese and by itself the mac was just kinda meh, but that chuttney made it pop! I want to try this at home. For dessert we tied their speciality, this brownie to share but luckily I was the one to discover that it had walnuts, which Andy is allergic to. Dodged a bullet there. That could have made our evening go a very different way. After dinner we went outside and had a cocktail before heading back to the room to relax.
Thursday was the first day of the conference, so Andy had to work. As I couldn't go to San Juan, I mostly hung out on by the pool at the mainpart of the resort reading. I had gotten crazy sunburned the day before from the ferry ride so I tried to stay in the shade. I had lunch with Andy and then hit up the pool again where I finally got to realize a longtime goal, a bucket list item of drinking at a swim-up pool bar. There was only one other couple I saw that was a sunburnt as I was. When I overheard them talking, they were speaking Swedish. Clearly that's the part of my hertiage to burn that easily. After Andy was done with work we went back to our building and had an afternoon swim. That evening we did the mixer for the convention and had free drinks and food. Perhaps it being spring, the weather was very quck to change. It could be beautiful then some coulds could come in and it would just dump rain and then go back to being beautiful again. It dumped that evening at the mixer but after about 20 minutes completely stopped and it was like nothing happened.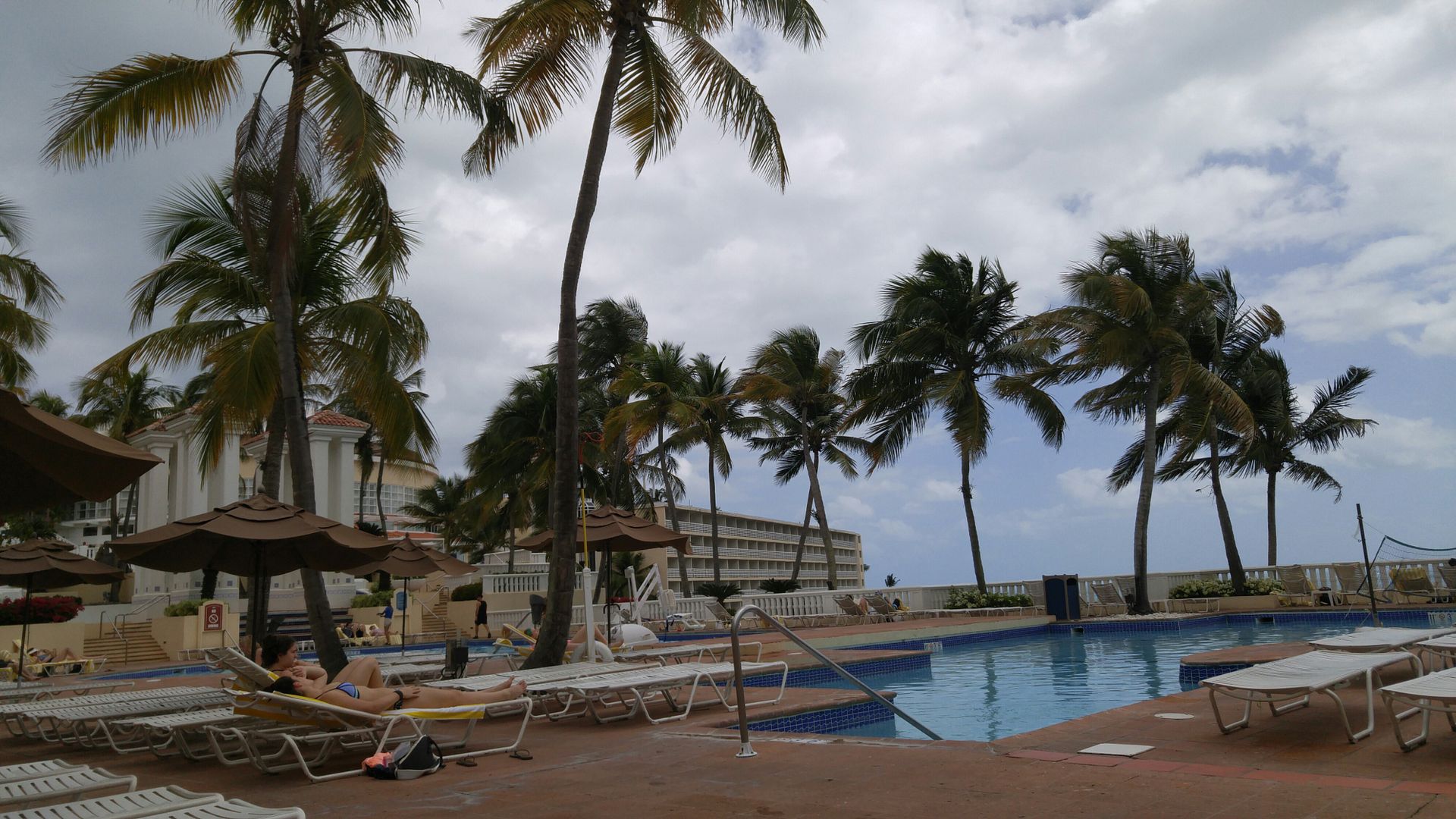 Chillin' pool side in the morning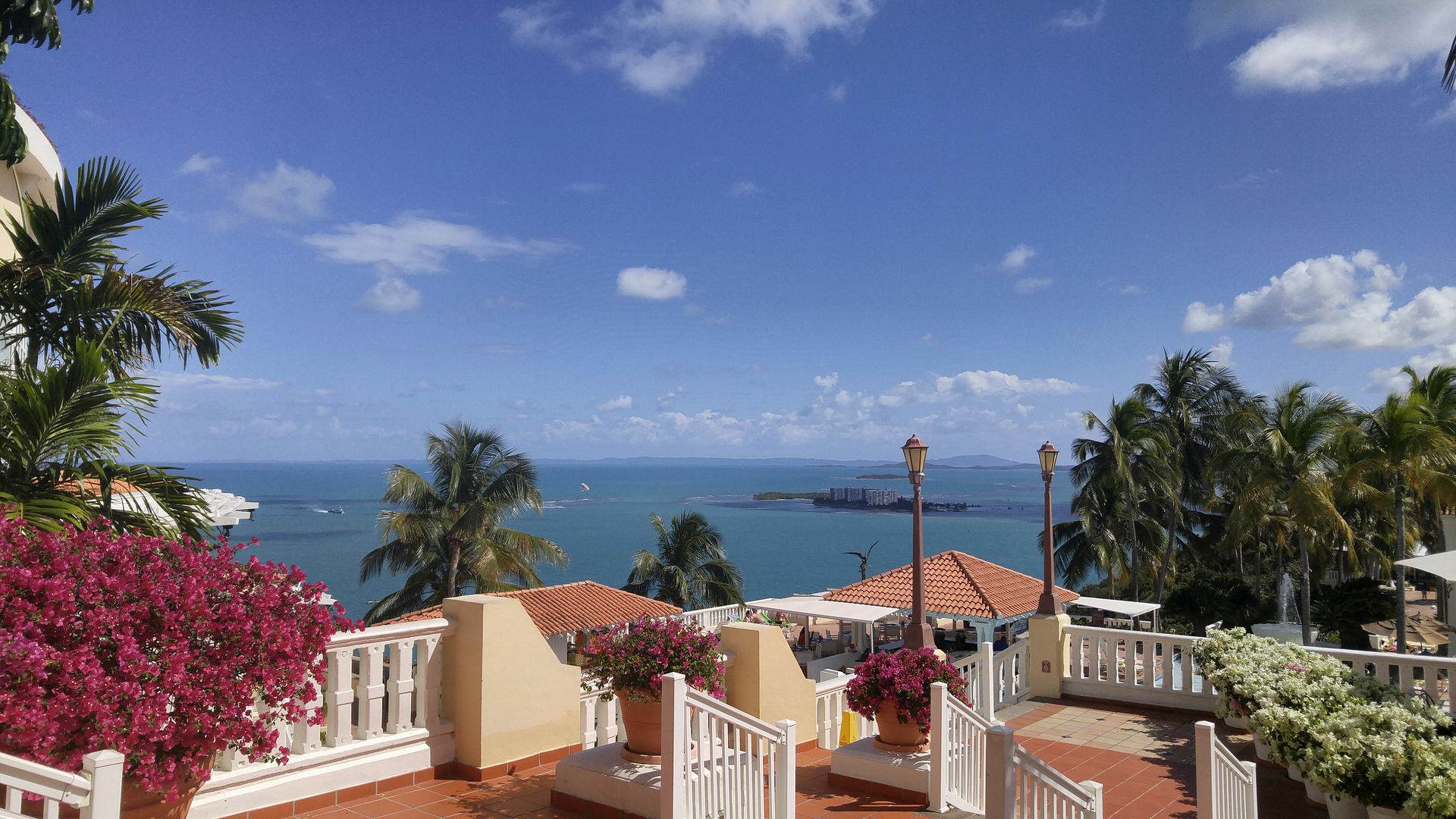 Our view from our smoking spot.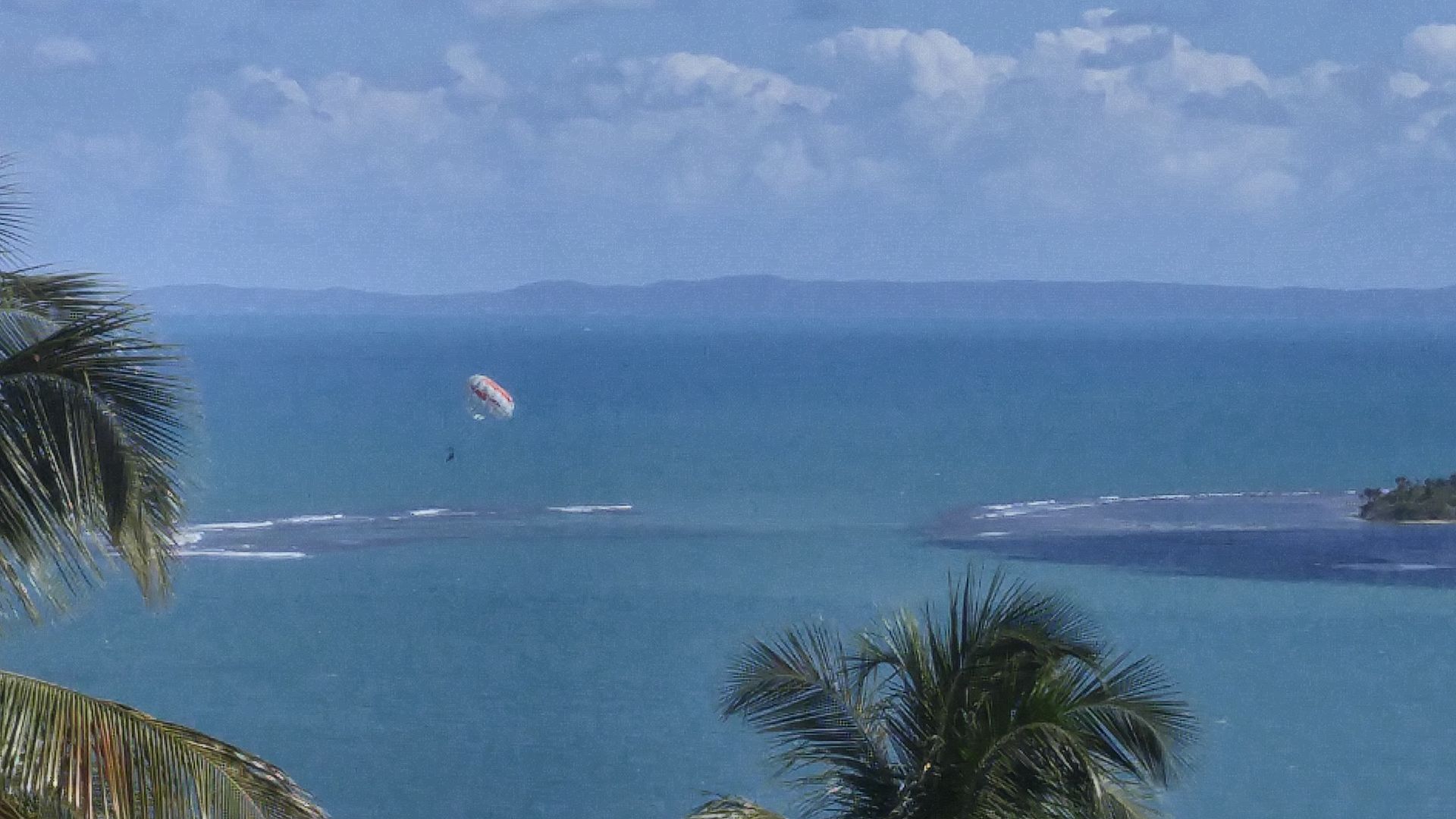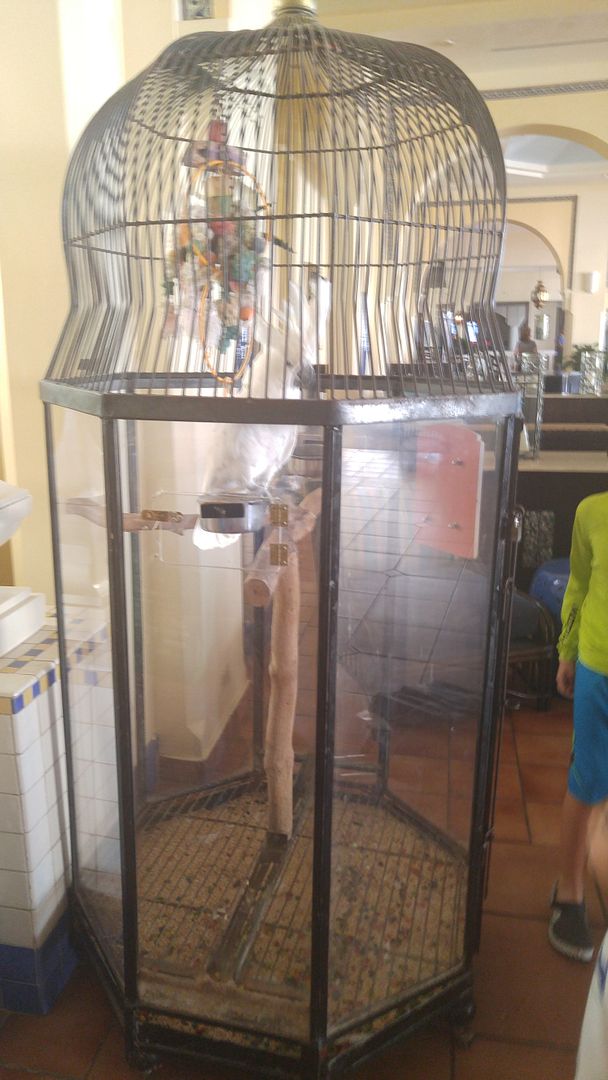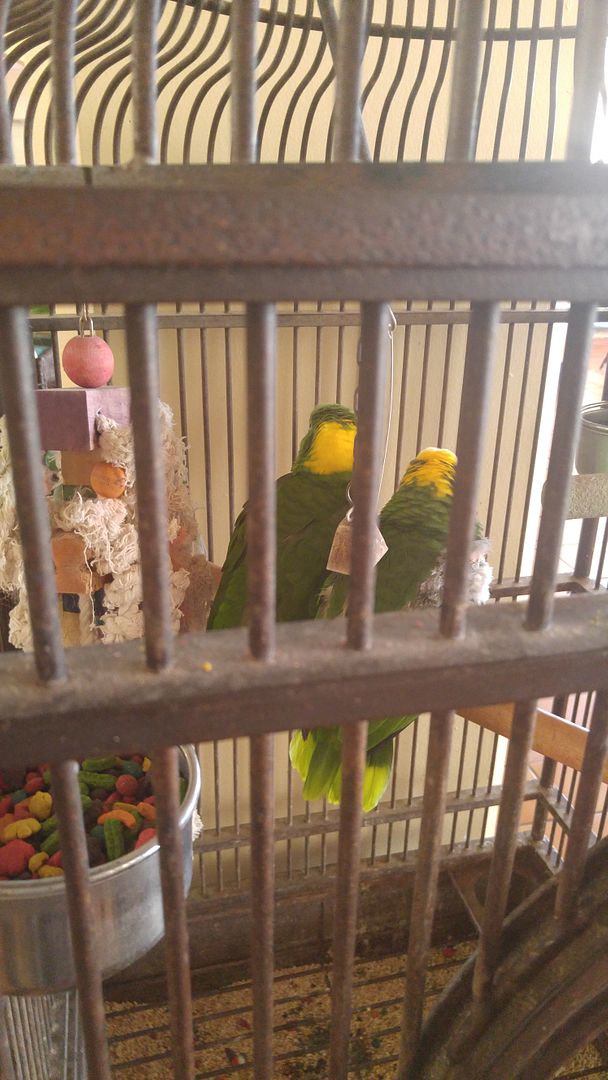 The resort had birds in the lobby. The white one could repeat 'Hola!" So every time you go by it you say hello and it'd say hello back.
The pool and pool bar (left).
Friday there was a team-building event to build cardboard boats thing on Palomino Island as part of the convention. I joined in on this and hoped to be on Andy's team but they had us team up with folks we didn't know. I ended up with a British couple and another chick. We were given sheets of carboard, mailing tape and box cutters and were to build a boat. In my team I felt kind of useless. We were bulidng on the beach and it was a very sunny afternoon. An hour of building this boat in the sun and having not eat anything tyet that day was rough on me. I got a little light headed at times, but pushed through. Eventually it was time to finish our boats and display them for judgement by the other teams. Then it was time for us to run heats to put them in the water and see if they were seaworthy and race two other teams at a time. Andy's boat was seaworthy, but his team didn't win. Our boat was surprisingly also seaworthy but we also didn't win, partially becasue another team cheated (something I learned later). After all the heats were done, there was a ranking of the boats that won. There were categories for favorite boat, most seaworthy boat, and most pathetic boat. Our boat didn't rank in any of the categories -- we were thoroughly mediocre but hey at least she floated. After the boat-building thing was over, Andy and I were going to eat at the Iguana Cafe again but then made a last minute decision to hop on the ferry and go back to the resort. We had a dip in the pool to cool off before we got dressed up again for another gathering for the convention. After that we hit up the hibachi restaurant at the resort. Although I didn't have high expectations for the place it actually surprised me and was pretty good. Much better than a certain chain hibachi restaurant that I need not name. It was a good dinner and the fellow doing the cooking was fun and good at entertaining the table. I was pleasantly surprised. After that dinner we played some games in the little arcade before heading back to our room and relaxing.

Boat Building on the beach
This was the winning boat. Pretty much everyone's favorite .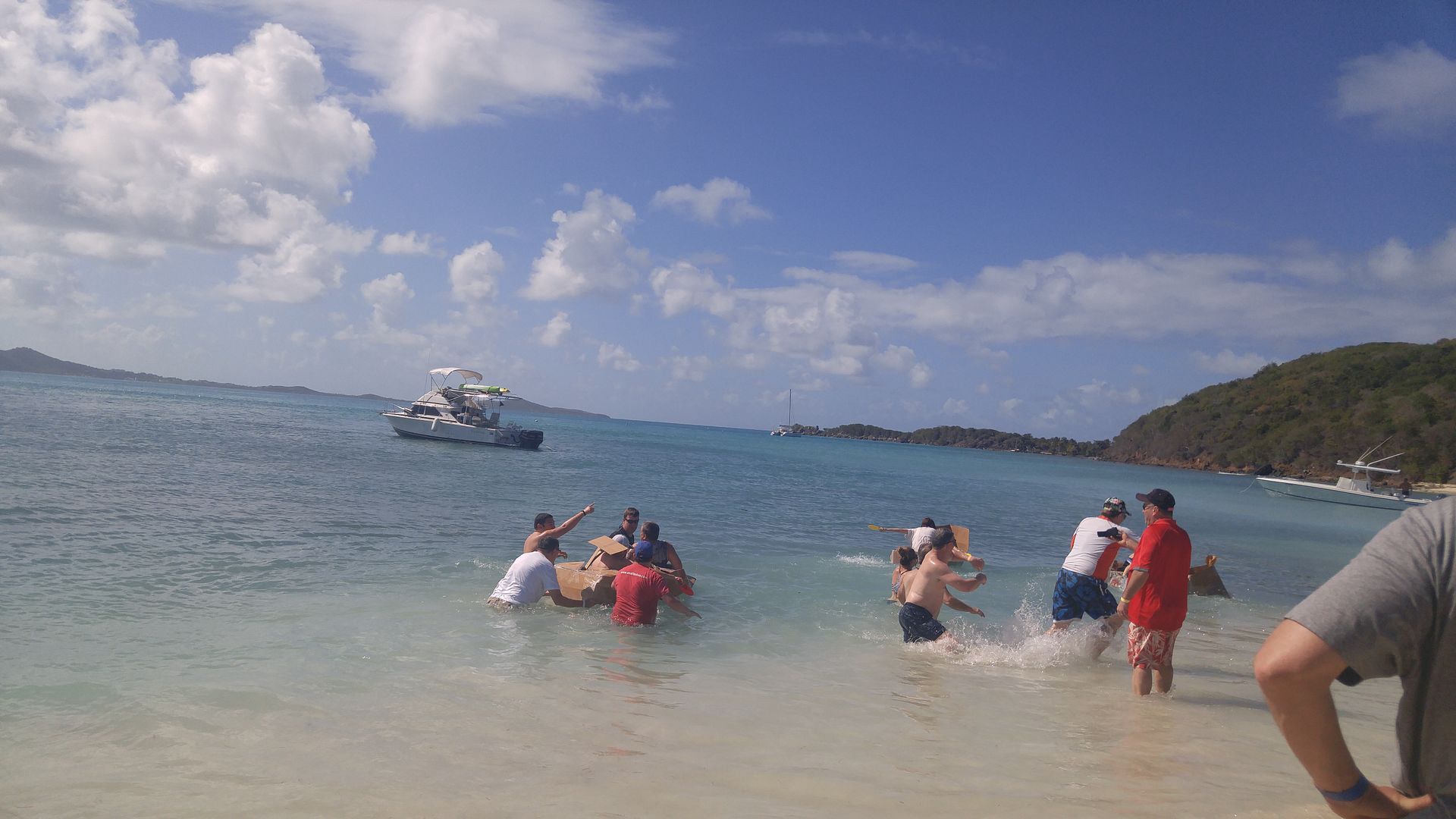 Andy's team in their race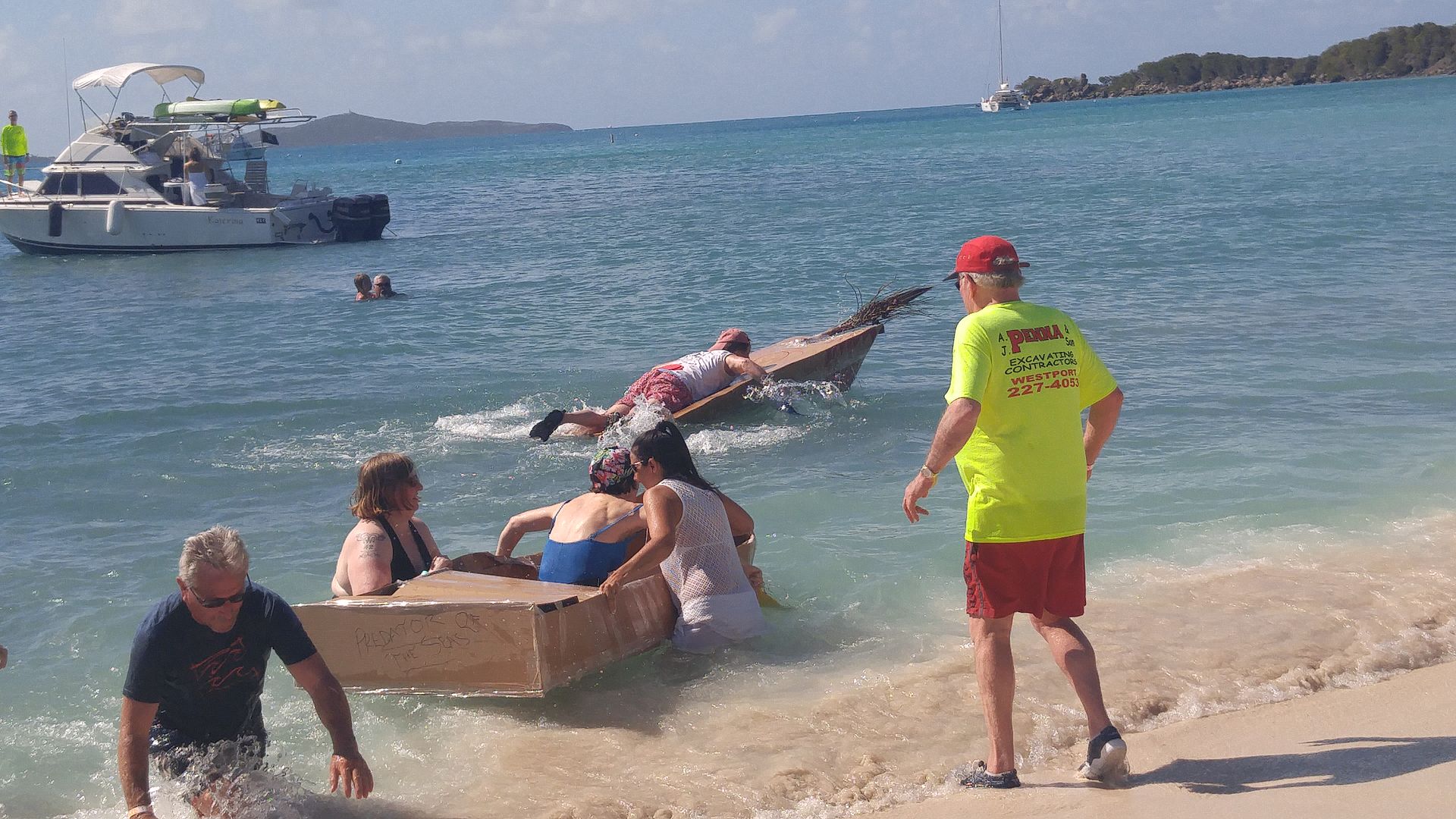 My team in our race.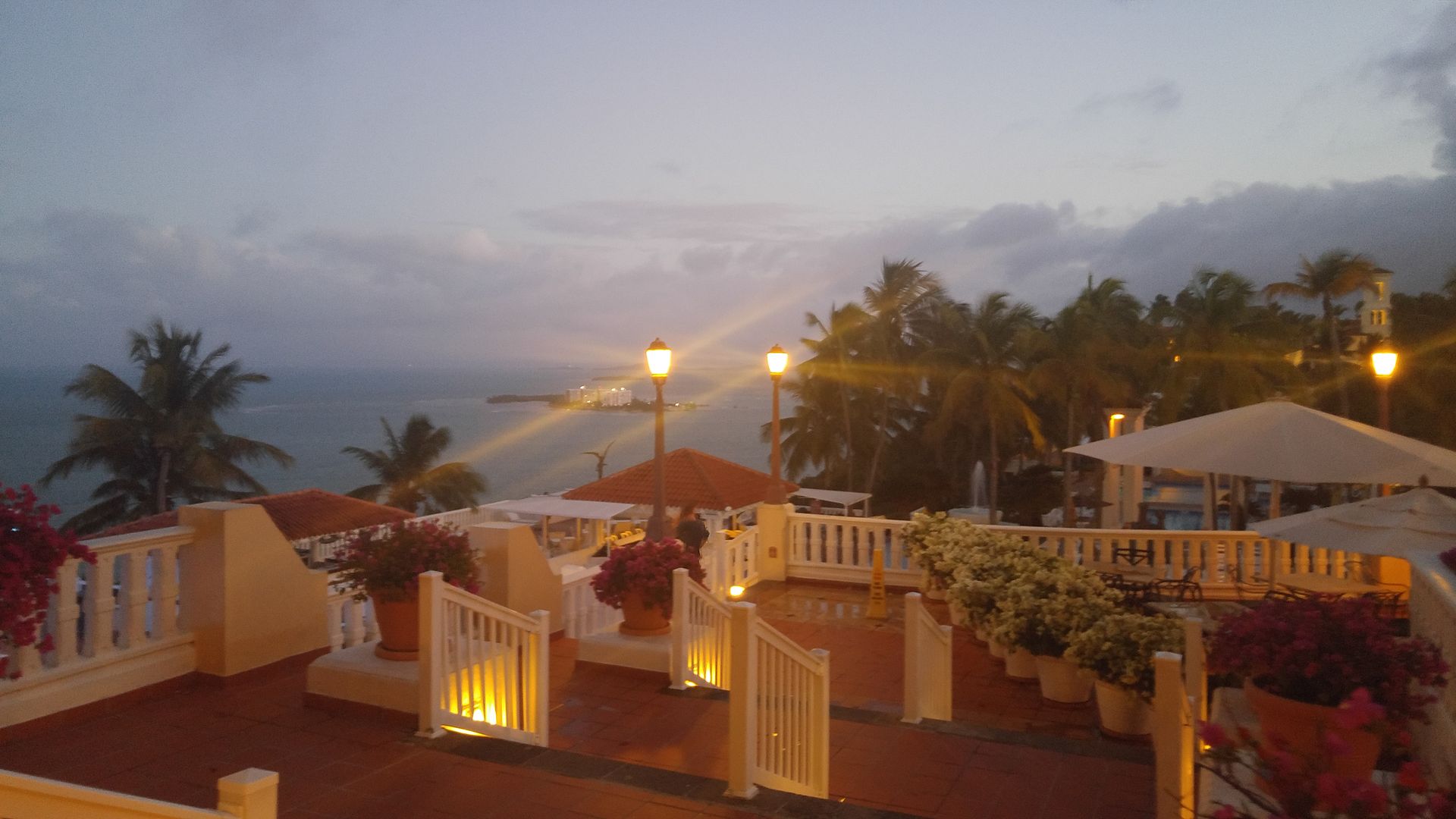 Our smokin' spot at dusk...
Saturday was the last day of the convention and our last full day on the island. There were convention type things to do. There was a speaker in the morning who apparently passed out during her speech. I didn't go to that, I was buying gifts for friends and co-workers, but I just happened to run into Andy in the lobby as the group was exitiing. In turn, not much else going on with me, I went to the luncheon with Andy where there was a former NFL player-turned-broadcaster Merrill Hodge who gave acutally quite a good speech about attaining your goals and how his work ethic and outlook helped get him through a battle with cancer. We thanked him after the lunch and was able to get a picture in with him.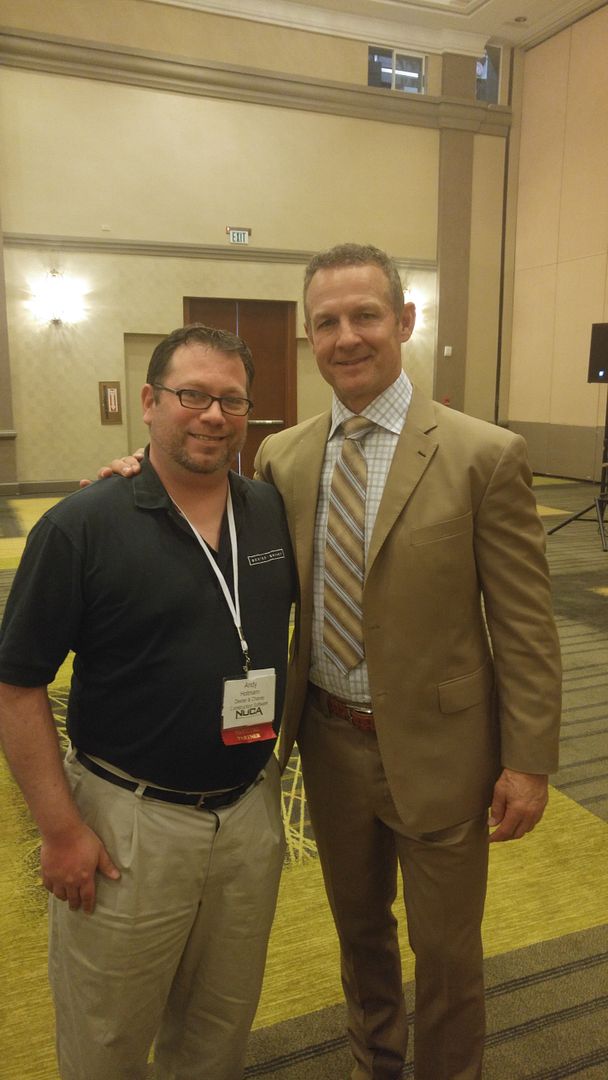 I accompanied and helped Andy break down his table afterwards then we went back down to our building for another afternoon swim (this time in the rain) and to start packing up our things for the trip home the next day. We had an early dinner at the marina by the ferry dock before heading back up to the main part of the resort for the final event of the convention, the auction and the award ceremony. The auction was actually pretty fun. I had my eyes on this pair of headphones that would actually be helpful for the ride home. Though I had headphones Andy did not and one of the reasons it was hard to sleep on the way out was thanks to a screaming baby so there was much at stake in winning those headphones...which we did. After that there were speeches and we had a good excuse to duck out early to finish our packing.
Heading out of the resort, I didn't want to leave. I really wanted more time there and (I wish) a chance to see San Juan. We got on a shuttle back and I watched Puerto Rico go by my window.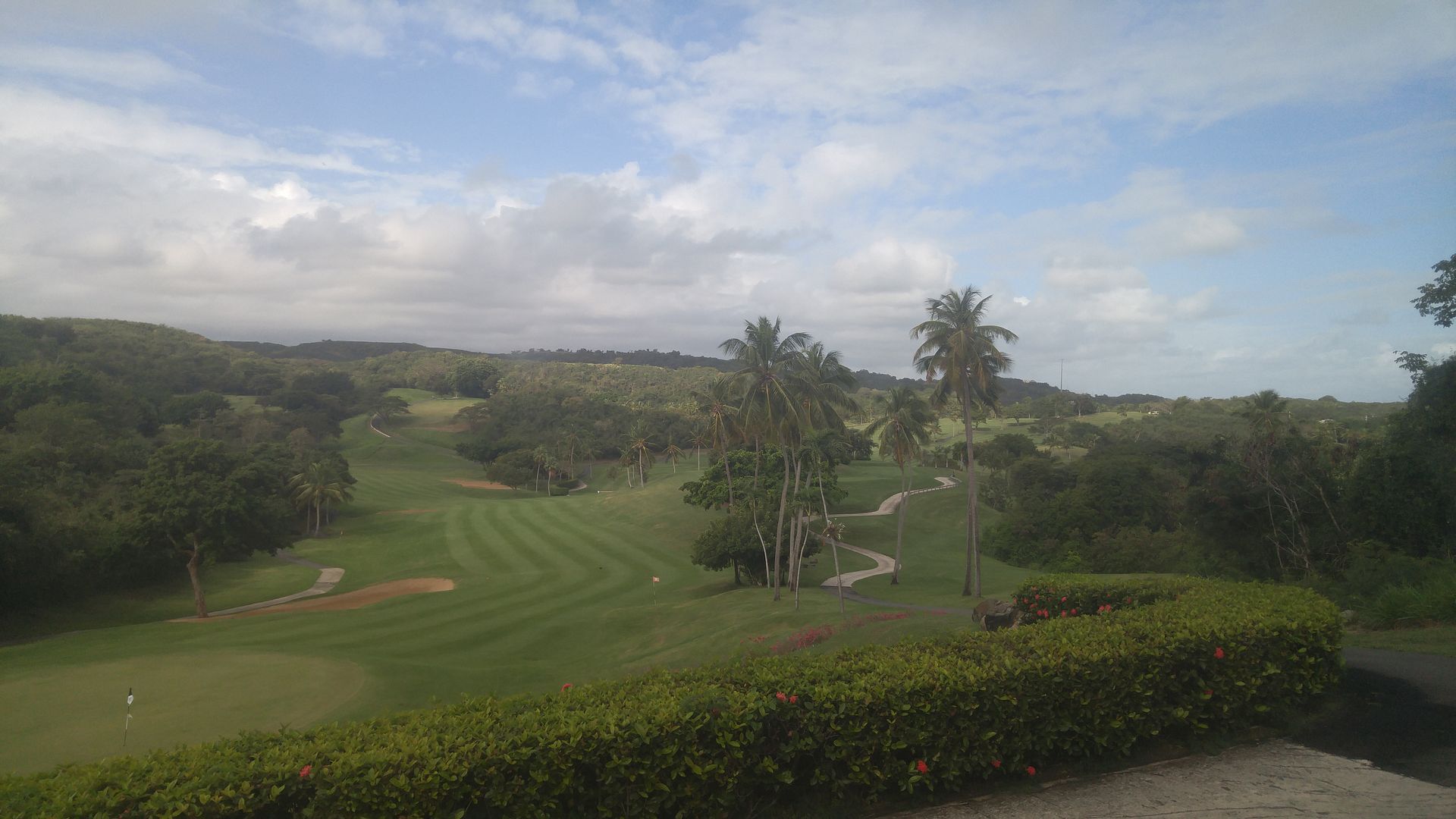 The golf course section of the resort.
The airport was madness. We stood in the TSA line for security for well over an hour. I was a good thing we left when we did. It was a long way back, with a stop in Philly. I got some more sleep than I did on the way out, at least.
It was a good trip. Only I want to go back and see more of the island. I want to see San Juan and there's a town my buddy Jose suggested that has old Spanish architecture and history. Next time....we'll have a car. Still, though, for just having to pay for my expenses and flight and there was plenty of free food and booze at the convention functions, so I really can't complain.
All right, I am long overdue in writing about this partially becasue of time and just being busy, and partially the task of writing a long, photo-heavy blog but here goes. From March 8 to 13, Andy and I were in Puerto Rico! Andy was going for work and I was tagging along for a holiday. Neither of us have been to the Caribbean before so it was a shared first time.