Friday - Noel Fielding
So after a long, uneventful day at work it was time for the show I had been waiting for since before xmas! I left work early, went to the Schmee and collected my mum and we got in line at the Moore to get good seats. We were eventually joined by my dad, then Andy who showed up at the same time as Christine and Cory.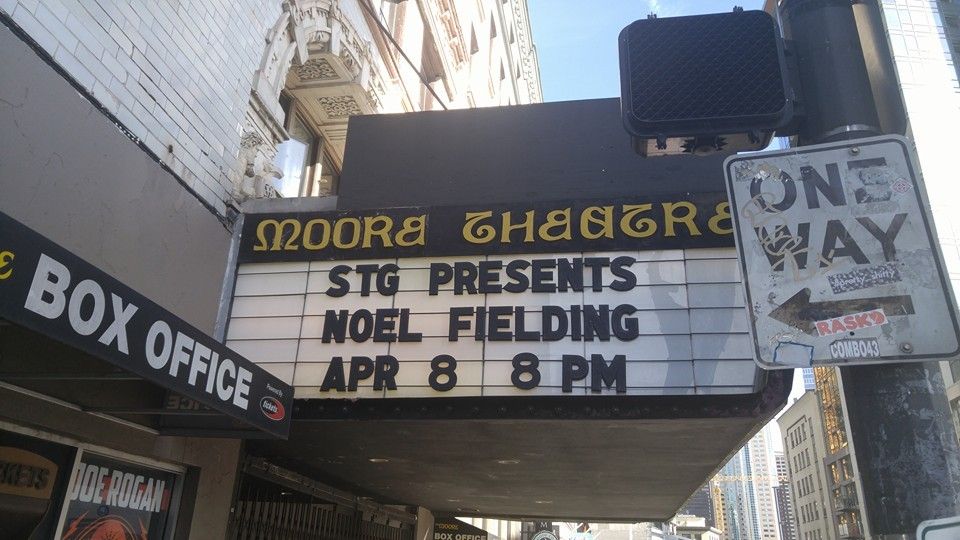 Our seats we managed to get were pretty good. We went to the side about row 3 and I, as the biggest Fielding fanatic, called dibs on the isle seat. Picutres were not allowed during the show but Christine snapped a shot of the stage from her seat (four seats to my right) before the show.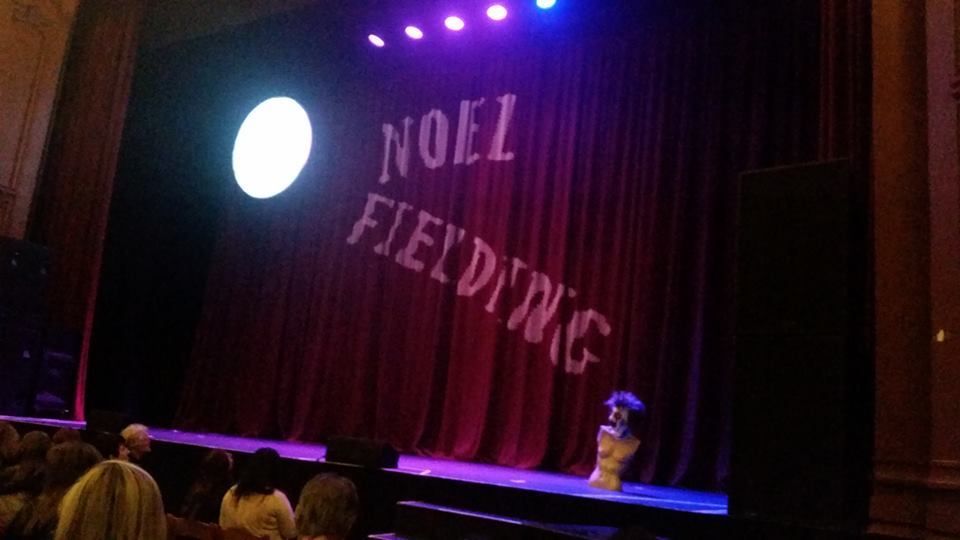 The show was absolutely fantastic! Noel came out (I did my fan girl "oh my god I'm looking at Noel in the flesh, this is amazing" squee moment) and he warmed the crowd up in a traditional stand up kind of form. I say traditional stand up but really, lets face it, his absurdity in his comedy makes Eddie Izzard look like an accountant. Gradually he gets into this story about "I caught my wife in bed with a triangle" which came into play later. He said he had Antonio Bandaras as his understudy and Rich Fulcher came out as Antonio Bandaras which prompted one of my favorite jokes of the night "Like you're so special, your name in English is Tony Flags" Then it went into this bit with interactive animation of plasticine Joey Ramone and David Bowie (RIP) that was really neat and worked really well. There was the moon and now the dark side of the moon. There was Michael Fielding as "Noel's wife" and Rich Fulcher as "the triangle, Gordon" There were all these times that it looksed like they were breaking down and I couldn't tell from one viewing if it was scripted or not.
In the second half, Noel did some Luxury Comedy characters under the pretence that he (Noel) had been kidnapped during the interval. He came out as the Cop character and mingled with the audience. Sadly, he did not stop and chat with me (which, though dissapointed I'm kind fine with becasue I'd probably go stupid if spoken to and I couldn't want my face to be up on that big screen in front of everyone. too self consious for that. But he did walk right by me, inches from me a couple of times and he smelled nice. *swoon* Ultumately the story was that Noel had been taken hostage in the plasticine world and Fantasy Man (character from Luxury Comedy) had a Steve from the audience come and say the day. It was surprisingly hard to find a Steve in the Seattle audience but it got done.
I know it sounds like a children's show, and it had that element to it but aslo, as the same time giant curly cocks and toblerone erections and Rich Fulcher as a clown, saying random things to make Noel break and giggle. It was SO MUCH FUN!! It was long too, we definitly got our money's worth. Andy had had a really bad day at work and was in a very sour mood when he arrived and the show lifted his spirits, thankfully. It was so great. And now, becasue I saw
Julian Barret in a play in London
, I've seen all members of The Boosh, short of one, in real life.
Saturday - Theatre Stuff
Saturday morning I got up early and put some time into the vegetable garden sifting project before I had to chatch a bus downtown to attend a Schmee staff meeting. Becasue I was working the bar that night it made the most sense to just say at the schmee. So after haivng lunch with my dad we went back to the theatre and killed time. I worked on the QC website and spruced up/updated the gallery page. What used to be just pictures, which I hadn't updated since May or so, I updated by listing all our shows and their guests and puttin gthe pictures underneith.
Check it out
. Working on this made me feel particularly proud of how far we've come and the amount of talent that we've brought to the stage along the way.
Sunday - Gardening/Yard Work
Sunday was a productive day. I started working on the last bed for sifting at around 11am. Eventually Andy came out and joined me. We finally finied up the project I have been obsessinve over for weeks now. In fact as soon as it was done I got, out of nowhere, Boys II Men "It's so Hard to Say Goodbye to Yesterday" inexplicably stuck in my head. LOL. guess I'm going to miss the zen of sifting dirt. We went even further. We weed-whacked and we mowed the lawn and got the back yard looking lovely!

Next week we aim to have more soil put in the beds and we can start planting. However, I was surprised by Andy when he went out to Fred Myer to get two things and ended up coming home with our first plants of the year!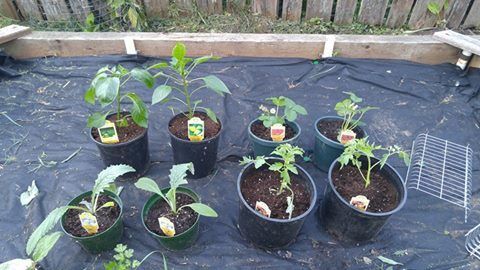 I'm pretty excited about this year's garden. We'll go from complete novices to advanced beginners in our gardening. We're gonna try new veggies and do more of what we planted last year. Expect more nerdy gardening posts.