Friday: Movin' tons of dirt
I had the first of my 6 Fridays off and Andy took the day off as well as we were having 5 cubic yards of dirt delivered in the morning. Not sure what 5 cubic yards of dirt looks like? take a gander at this...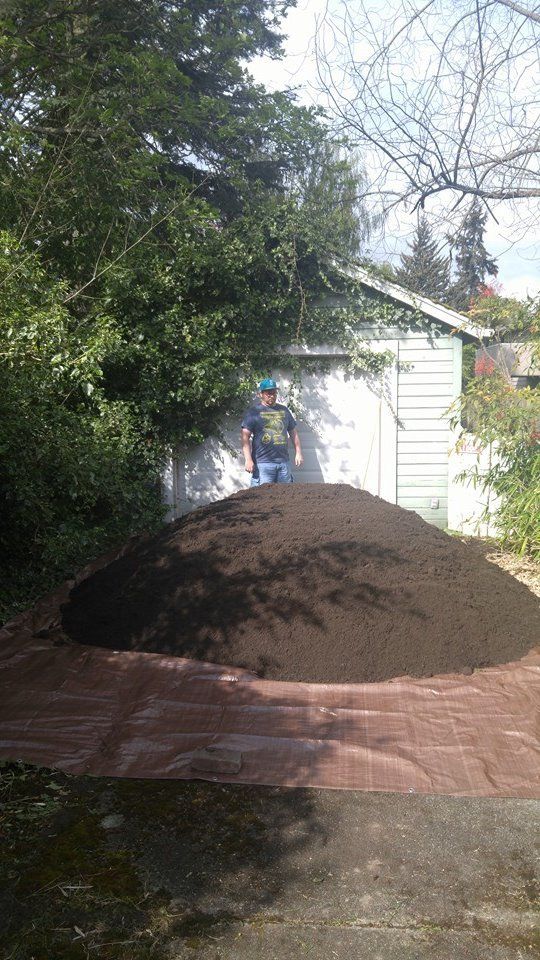 That's a lot of dirt.
We got started right away on filling in our vegetable beds. We took turns between shoveling and wheelbarrowing/dumping into the beds. As we we filled all 4 of our beds it became clearer and clearer that we had bought too much dirt.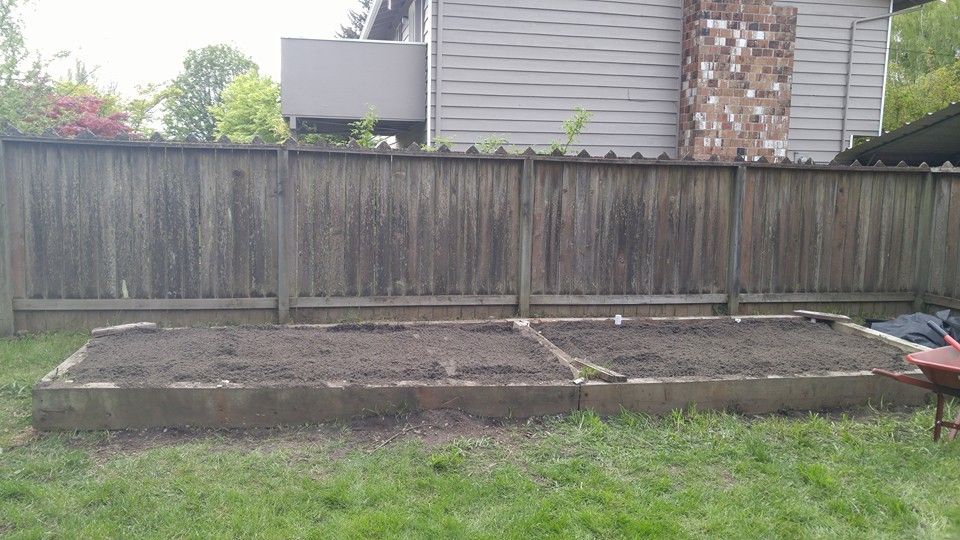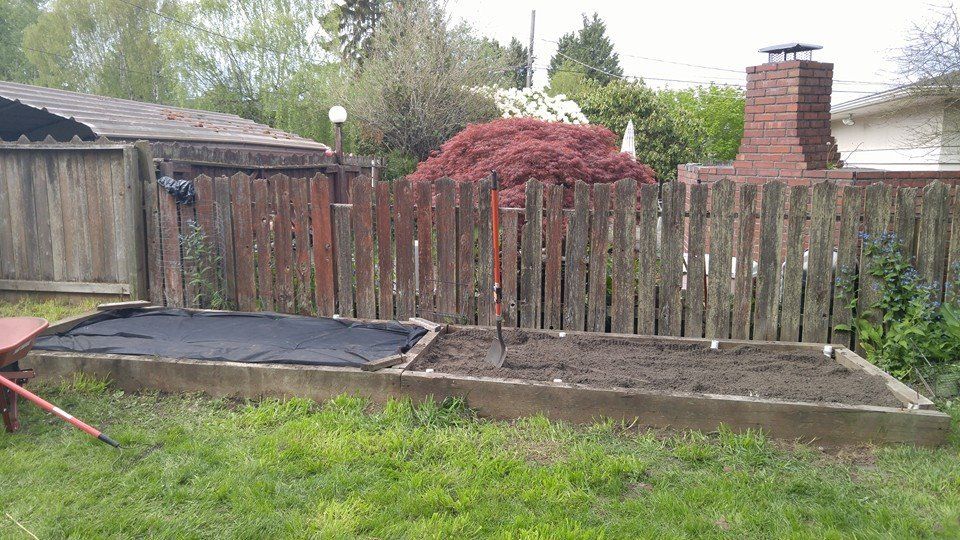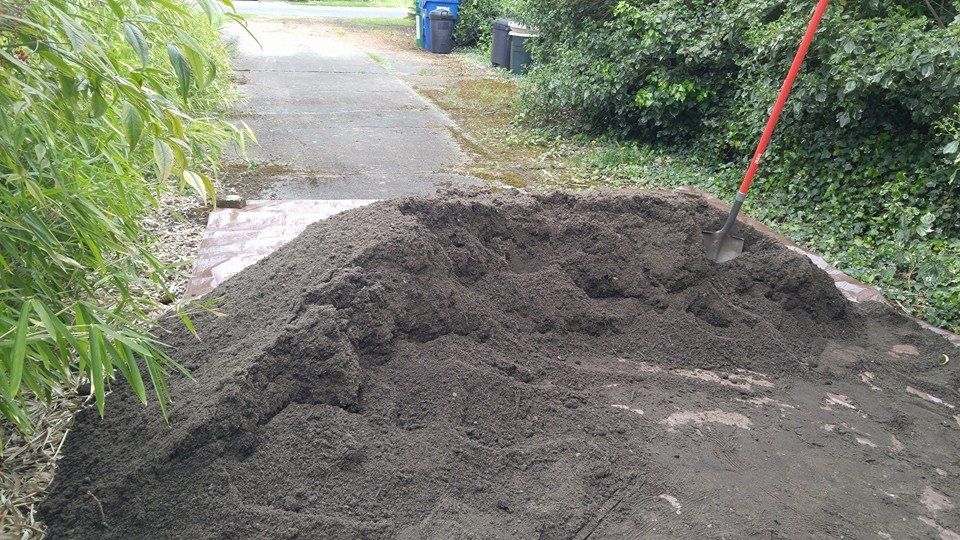 4 veggie beds later stil soooo much dirt....
There was a time limit to what we needed to accomplish as we had appointments to get haircuts at 6om. After cleaning our sweaty and dirty selves up we actually had a little bit of some spare time to stop at Swansons (the plant nursey and garden store down the street), We have shady area in our front yard that doesn't really have grass and Andy thought of putting together a flower bed in that area to help use up more of the dirt. Also flowers are good for attracting bees which is could and may be useful for the veg. So we bought some of the materials we thought we might need, as well as some veggies to plant soon, before going to our hair appointment.
We got our hair cut then went to get conveyerbelt sushi for dinner. Once home we watched a movie and cleaned the house and crashed fairly early, tired from all the hard work.
Saturday
The next morning, got up early again, this time headed up to Lynwood to check out a furniture store to get a new couch set. We had a scare that morning actually measuring our doorway to find that it's super narrow, 29'', compared to the size of couches these days 32'' and up. But Andy got the couch he wanted, which is only a wee bit bigger than the one we've got and they assured us that, with it's dimensions, they could get it in for us when it's delivered. Knock on wood, they're able to fulfill thier promise. Of course the couch is likely to be delivered during the User's Conference (Andy's biggest event of the year for work) so the delivery will probably be made on my watch and I'll have to take more time off of work.
After lunch, we got home and I started work on putting in the flower bed; weed whaking and raking the area, putting down the siding and the lining and dumping in the dirt. This used up about half of our dirt that we had left. With another trip to Swanson's for flowers, we came home and started planting.
First we planted the flowers...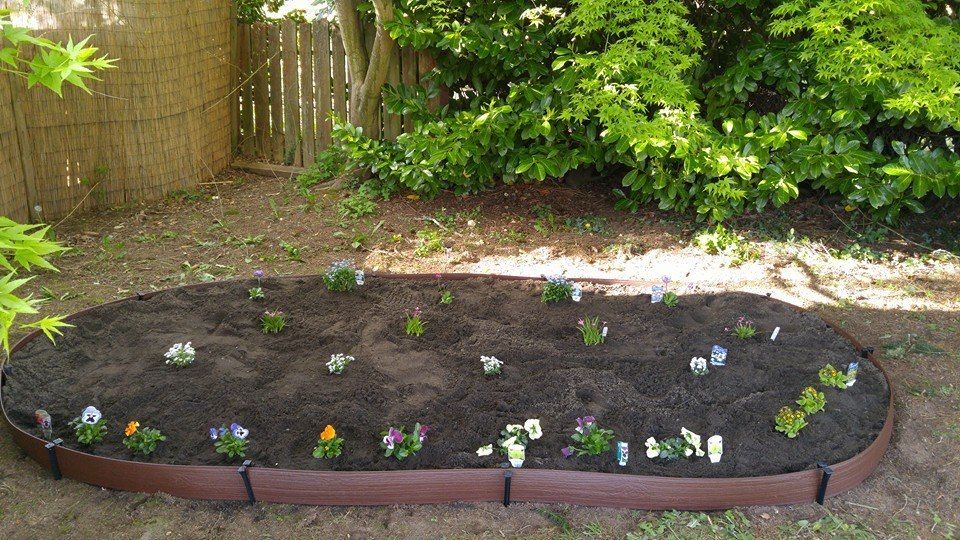 Then we went back and planted our veggies...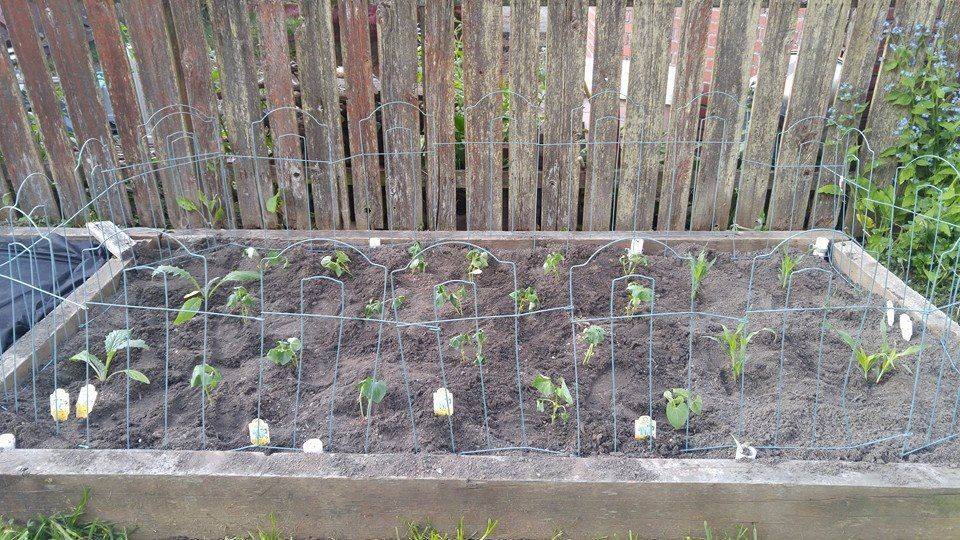 From left: Artichokes(2), Green beans (many), Corn (4)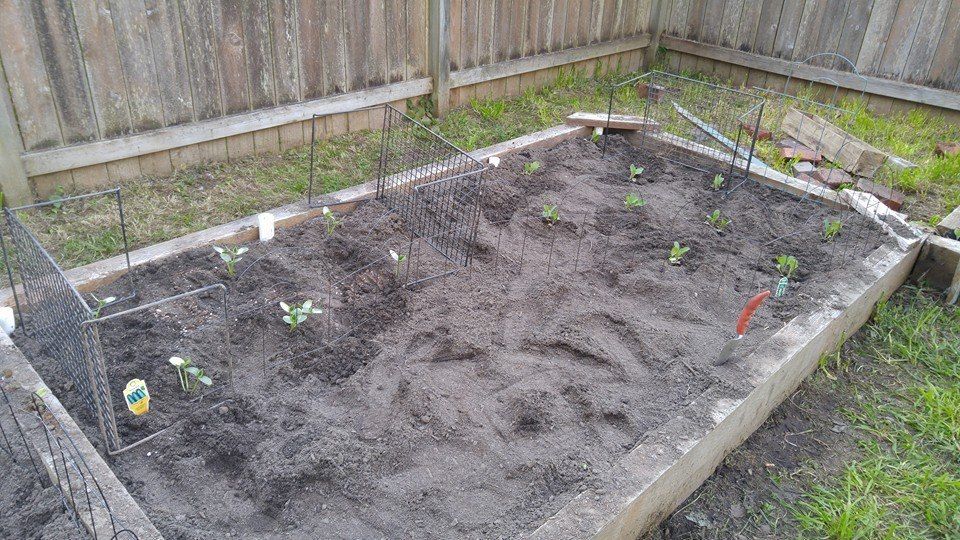 From Left: Cucumbers (6), Brussels Sprouts (10)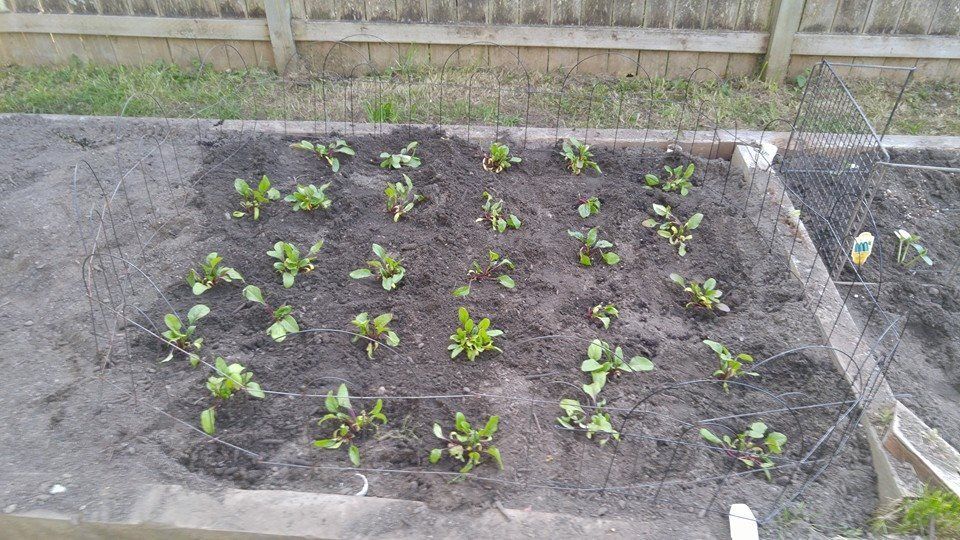 Beets! (many)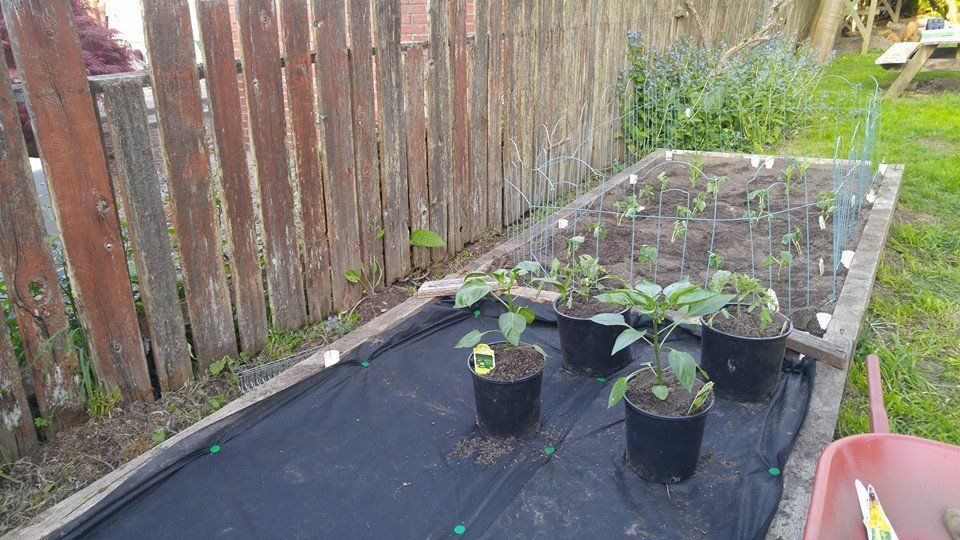 Tomatoes and bell peppers

The spread...
This year we are trying new things from last year and we are paying more attention to compatability and such. The artichokes, corn, cucumbers, brussels sprouts,and strawberries are all new to us and we'll see how it goes. We are also goint to plant some carrots next to the beets and zuchennni. Also when the beets and carrots are pulled I'd like to switch to autumn gords.
Sunday
Sunday Andy had an appointment to go to the optomatrist and get new glasses. He hasn't been to the optomitrist since I've known him (since 2009) and shockingly his perscription didn't change a bit! How weird! He still picked out some new glasses and new sunglasses and, as we were at Target, I picked up Mad Max: Fury Road on DVD and a David Bowie tribute magazine. :) We got the car washed and then hit up Fred Myer to get more fencing for our veggies but also ended up buying more flowers and veggies. We came home with some broccolini and more tomatoes and strawberries that we planted in pots, adding to the potted bed and using up a bit more dirt. We just don't know when to stop. We're on a gardening roll!
Dinner and the usual Sunday laundry chore and we were able kick back and watch Furry Road and be proud of all we accomplished over our three day weekend. We moved more than a literal ton of dirt, got haricuts, a new couch set, new glasses (for Andy), got the car washed, cleaned the house, did laundry and planted neumorous plants. Team Holtmann for the win!
Wow, we had such a productive weekend. I am so crazy proud of us for all the hard work we did and a little embarassed of how much money we spent (tax return, baby!)