The City (way back in 2007)
and I hadn't seen the Bay Area before.
Mostly though we were traveling down there to visit Andy's "good" family, that is his older sister, brother-in-law, Tiffany, and nephew (and his kids). It's odd that with the exception of Tiffany, I'd only met Andy's parent's before they passed and his "bad" sister who he wants nothing to do with now that his folks are gone.The family he actually
likes
I know only through stories and phone calls.
So on Thursday we got up early and hit the road at a quarter to 6am to avoid traffic. It was a good thing we did, too, because there was a
tanker accident in Tacoma the closed I-5 both directions
that morning. Yikes! The drive down was fine. We were making really good time. We listened to music and comedy albums. Andy was slaughtering me in Slug Bug, as would be the case for the entire trip in fact this shall be the last I mention of it. We made it all the way to Redding, CA by about 6pm where we decided to stop for the night.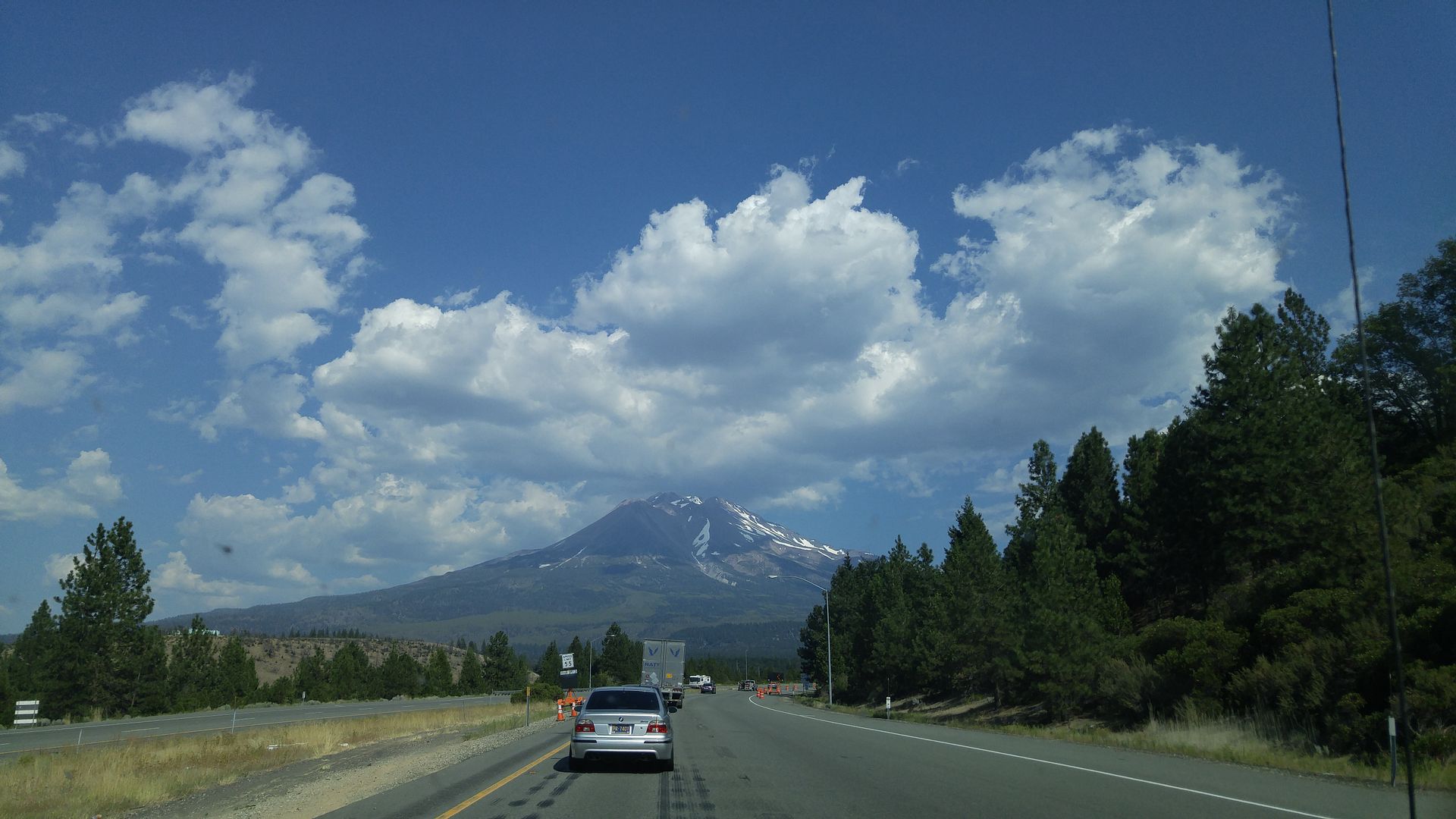 My first peek at Mt Shasta from the ground.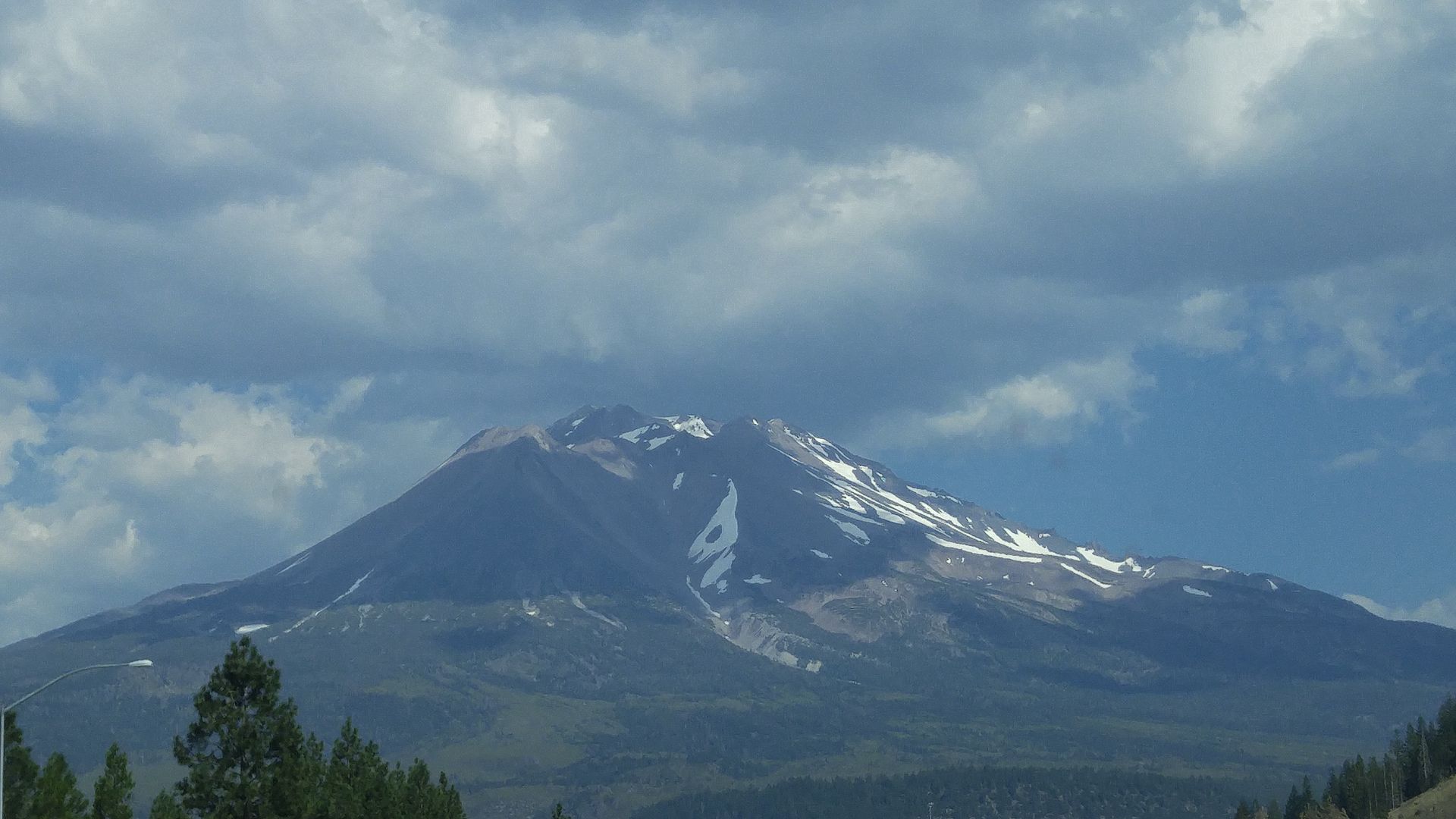 Get it Peak?
When we got out of the air-conditioned car, we stepped into a heat that I had forgotten had existed. That dry, desert heat that instantly sucks all the life out of you. When we were talking to the front desk lady at the hotel we were checking in to we were all "it's hot out there like upper 90s." The woman just laughed and in a patronizing but jokingly way replied. "You're sweet. It was 109 yesterday." Sure enough, I looked at my phone and it was 103 degrees. Ugh. No thank you. Needless to say in that heat the first order of business after getting our stuff into the room was to get swimming gear on and hit the pool.
Later, when we were about to head out for dinner in Redding, we approached our car when another guest at the hotel pointed out to us that a metal bar was hanging from the back axel of our car. Sure enough, this was true...and troubling.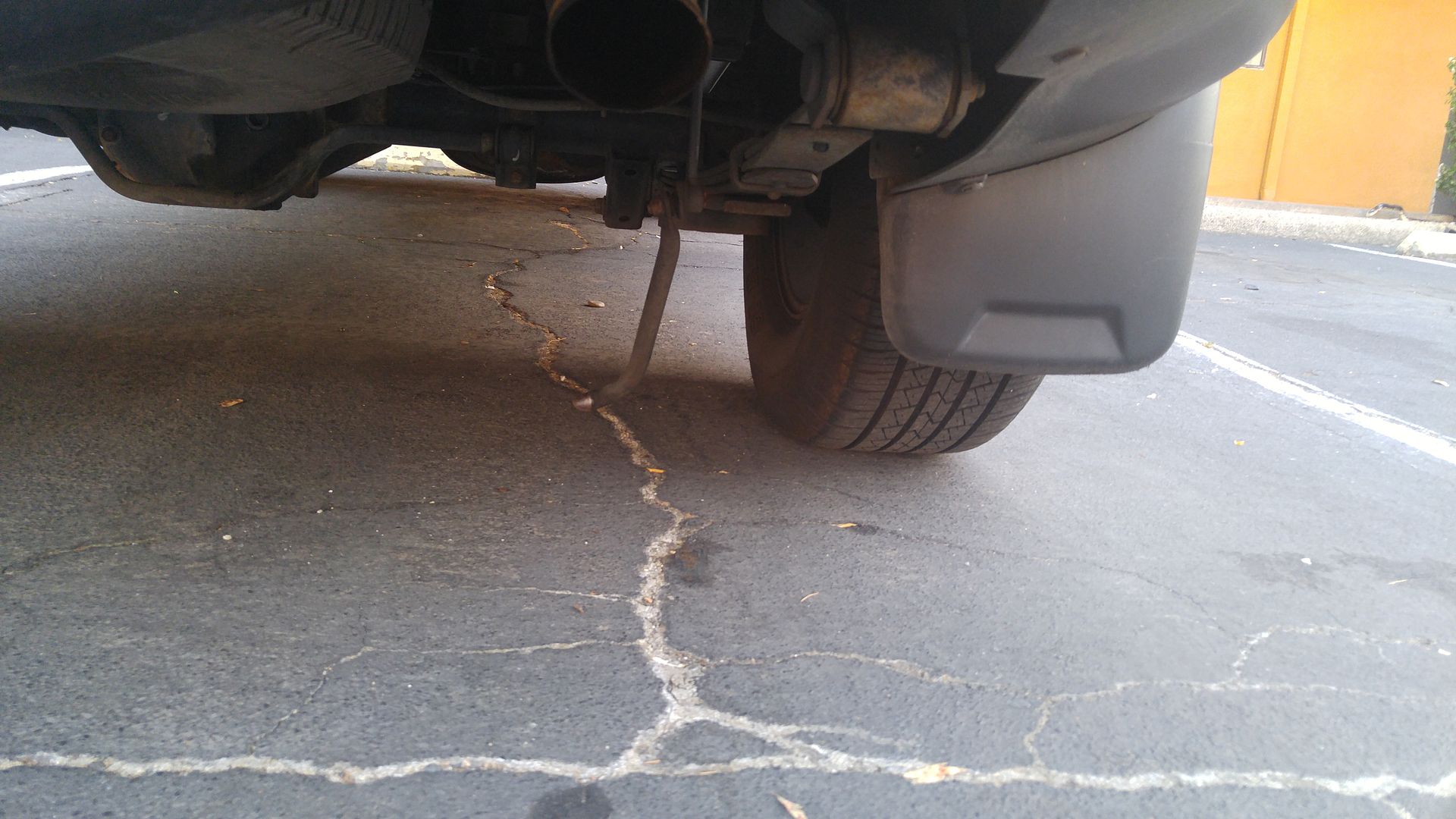 We called my dad and texted him the picture to see what he thought it could be. He said he thought it was a stabilizer which sure sounds like a bad thing to have broken on a road trip. It's certainly not safe to have a piece of metal dangling from your axle at least. So the next morning we got up, packed up, checked out and headed straight for the LesSwab down the street to be there right when they opened. We were the third party in line when we got there (a lot of people try to hit up that place right when they open, dang!) and explained to them our situation and handed them the keys. About 20 minutes later (maybe even less) they called our names and had removed the dangling metal bar from the car. It was a stabilizer but it's not a necessary feature, they say that off-roaders using the 4 wheel drive, usually have it taken off anyway. We were road safe and best of all free of charge, They took it off at no cost! So what seemed like a possible nightmare of an expense the night before, turned out to be nothing and we could hit the road yet again. Thanks, LesSwab of Redding, CA!
We hit the Bay Area in the early afternoon. First top was his family's house where we met Tiffany and then we went over to Andy's sister's business and I met Terri for the first time. After a while, we went to check into the hotel and chill for a bit before going back over to the house and Tiff was going to drive us into San Francisco for the Giants vs. Mets game we had tickets to. Yes, Andy planned this trip around the Mets being in SF so that we could go to a game. We would have gone to all three game if we could but he couldn't get tix to Saturday's game (of course the day my favorite player was ptching).
On the way out to the city I had my first drive over the Bay Bridge which seems like a notable first for which I took a couple of pictures.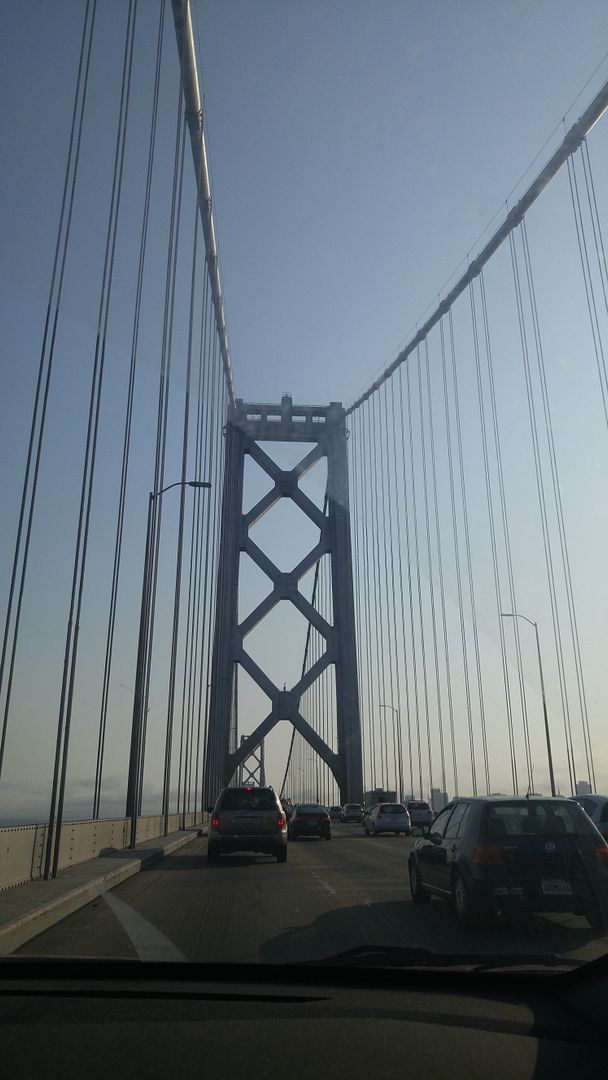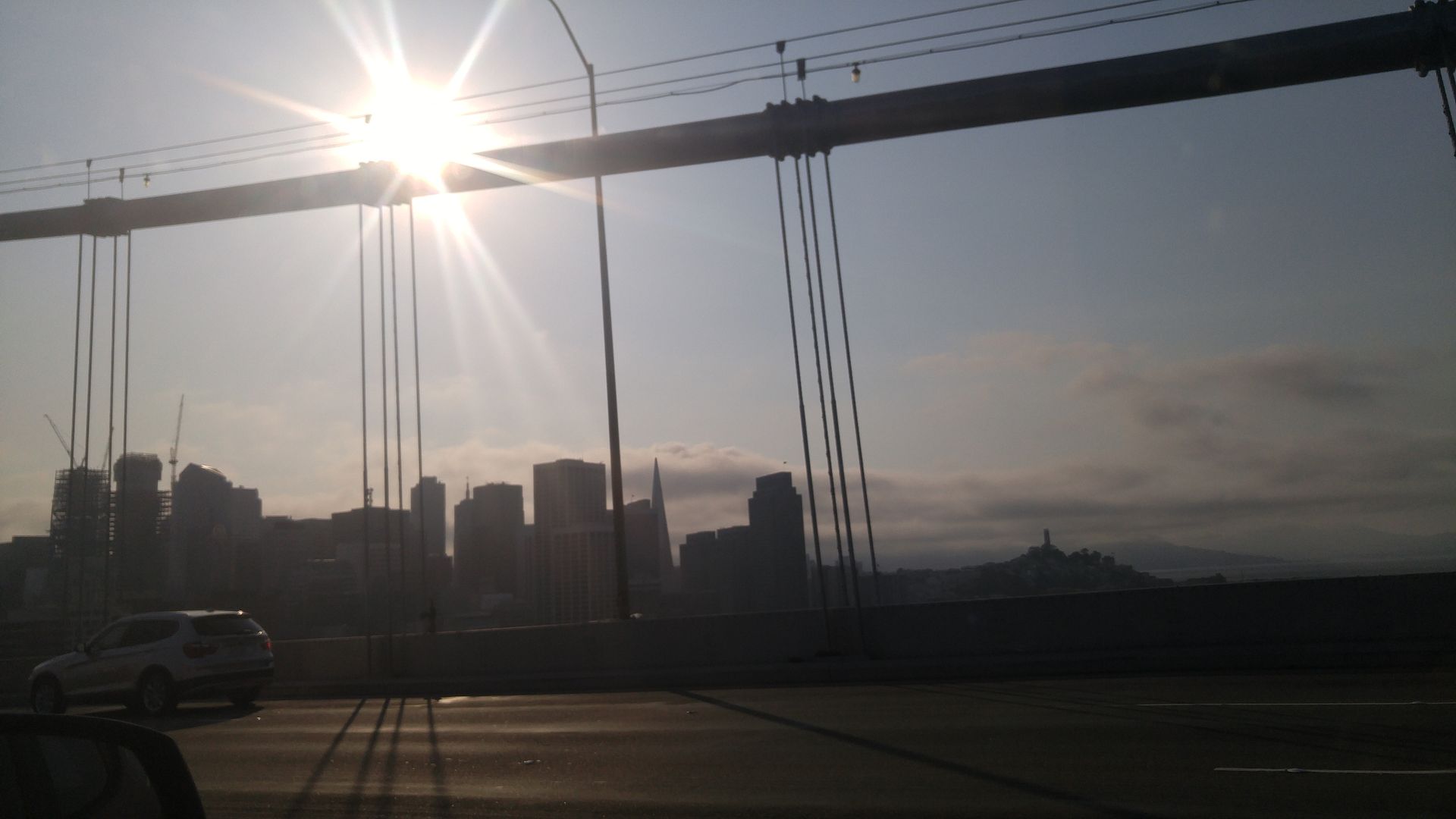 I've actually wanted to go to a game at At&T Park because it looks beautiful and it's right on the water. I have memories of the people who would be out on boats and kyaks trying to catch home run balls during the home run race. This I got to see in action when Granderson hit a home run in the 2nd inning. But I'm getting ahead of myself.
When we went in we had a look around and I was able to take some fun pictures. It really is a lovely ballpark. Our seats were on the first base line in the 100 level. What I didn't realize was that we were the very last row of the section so our backs were right to walk way. Before the game, they were doing a birthday celebration for Tony Bennet's 90th birthday so I saw him in person along with
Willie Mays
who was there too. So that's pretty neat.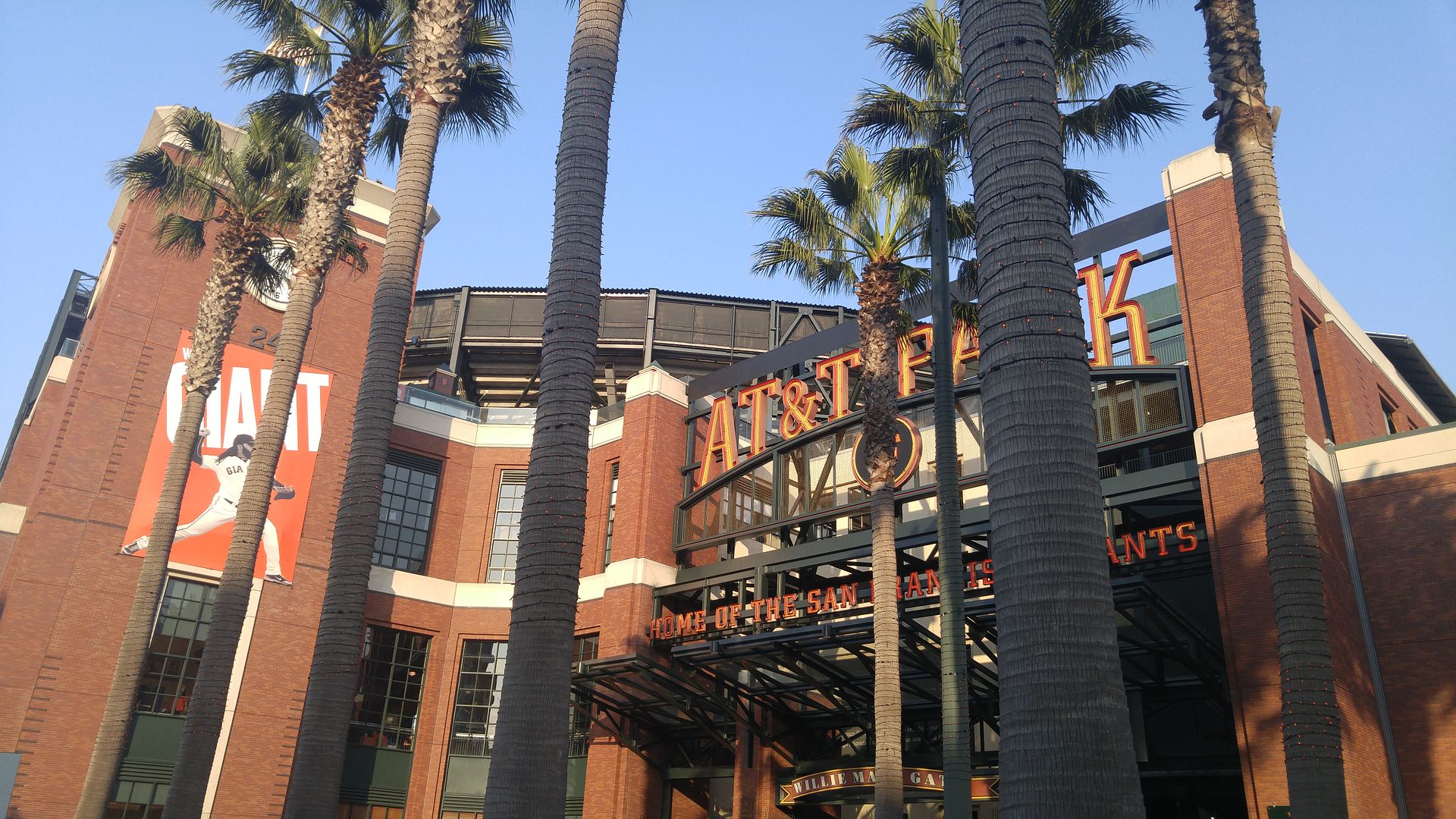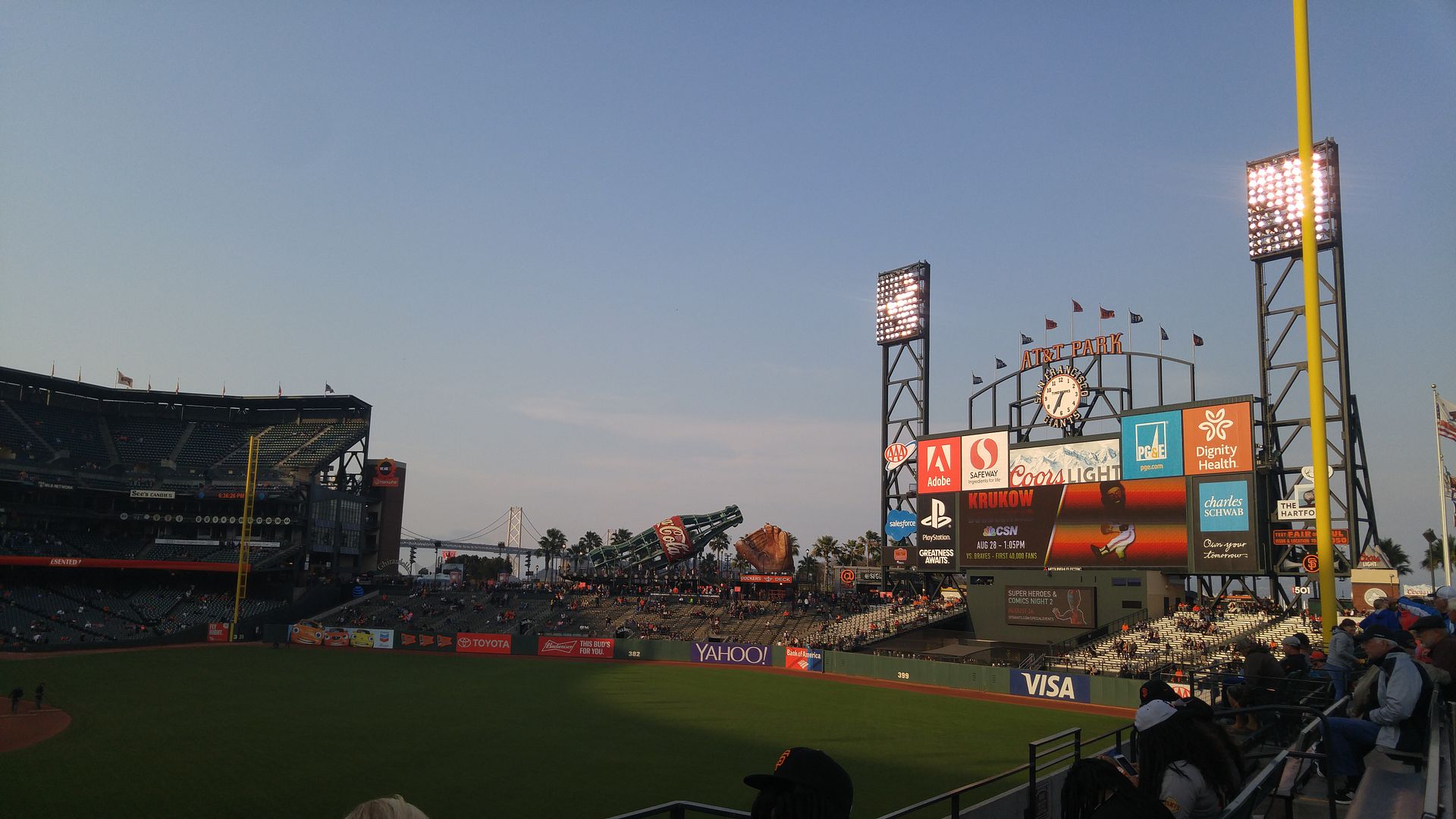 Rivalry!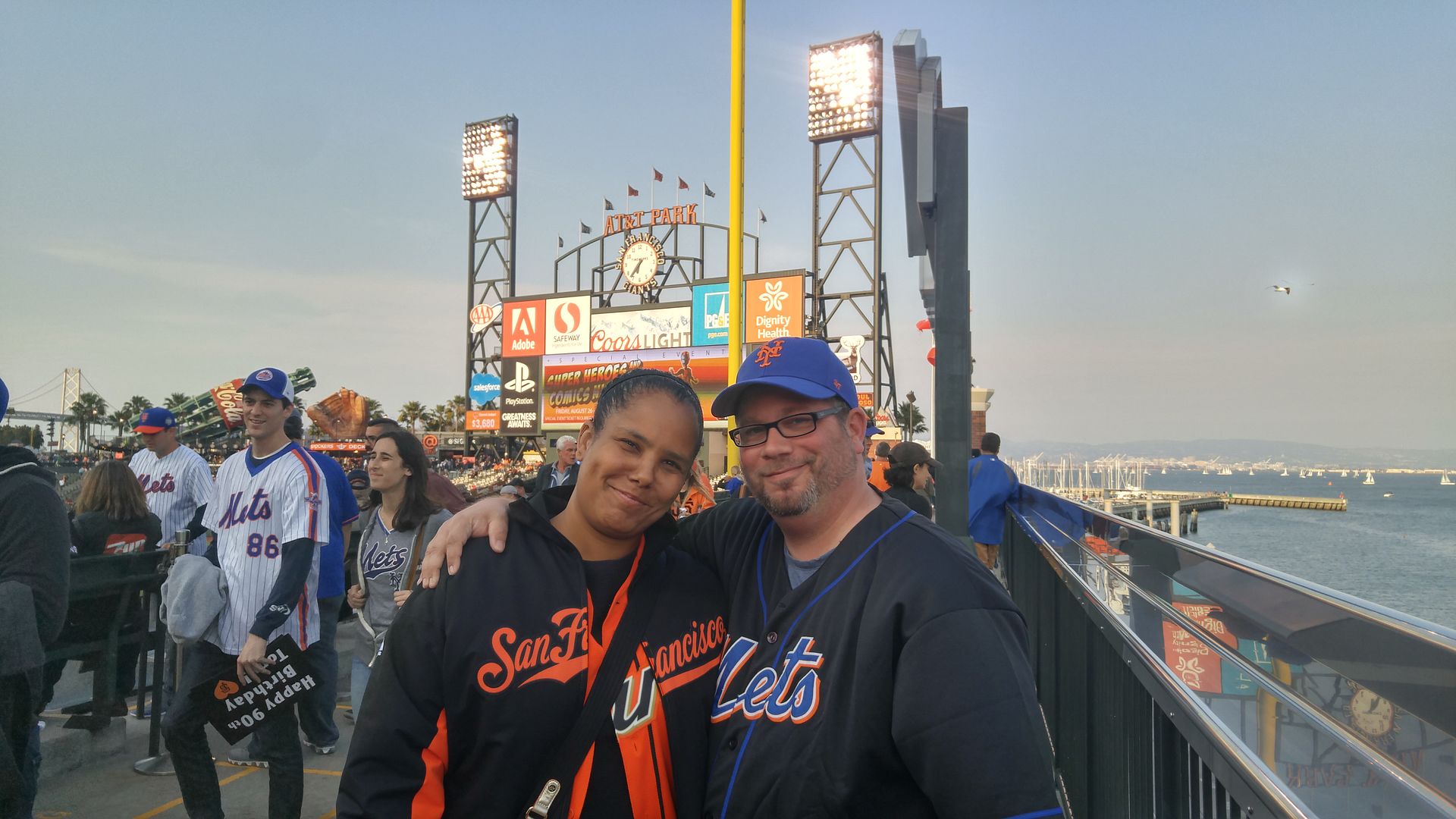 Naw, it's cool.
View from our seats
The
game itself
was actually
pretty sloppy
. There were some blunders on both sides, but particularly the Mets. Andy had his hands on his head or his face buried in his hands a few times. Shit, I went to the ladies room only to come back and SF had scored 5 runs while I was away from my seat. But Tiffany was happy, along with the rest of the crowd, including the crazy-intense lady that was sitting next to Tiff. I have to note this because it was pretty bizarre. There was an older Asian lady who was
so into the game
she was literally on the edge of her seat the whole time, crossing her fingers and, in an interesting move, would shake her crossed fingers at the Giants' players as if casting a spell of good luck on to them. I'm actually glad the Giants won, just for this lady's sake because if that's how intense she was when they were winning, she'd probably be hanging herself from the rafters had they lost.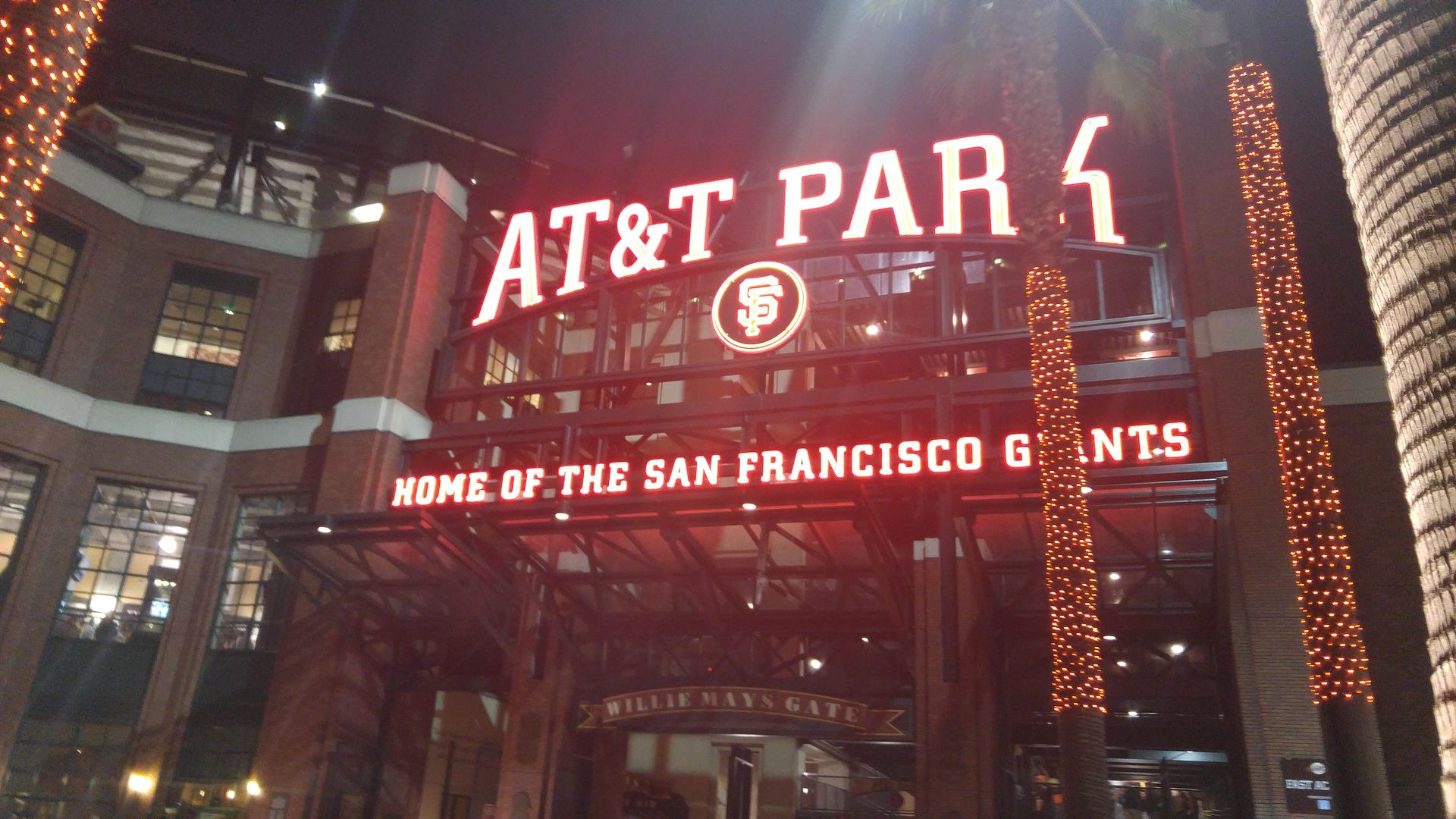 On Saturday we got up and went over to house in the morning Terri, Tiffany and the kids all loaded into Terri's car and we headed down to Santa Cruz. A bit of back story. Before Andy and i met and when he was living in Vegas, before he came to love Seattle Santa Cruz was the place where Andy dreamed of moving. I had heard lots about it (and seen it in films) but had never been. We were going to Boardwalk with the kids which is on the beach and has rides, midway games, shops, an arcade, fair food, etc.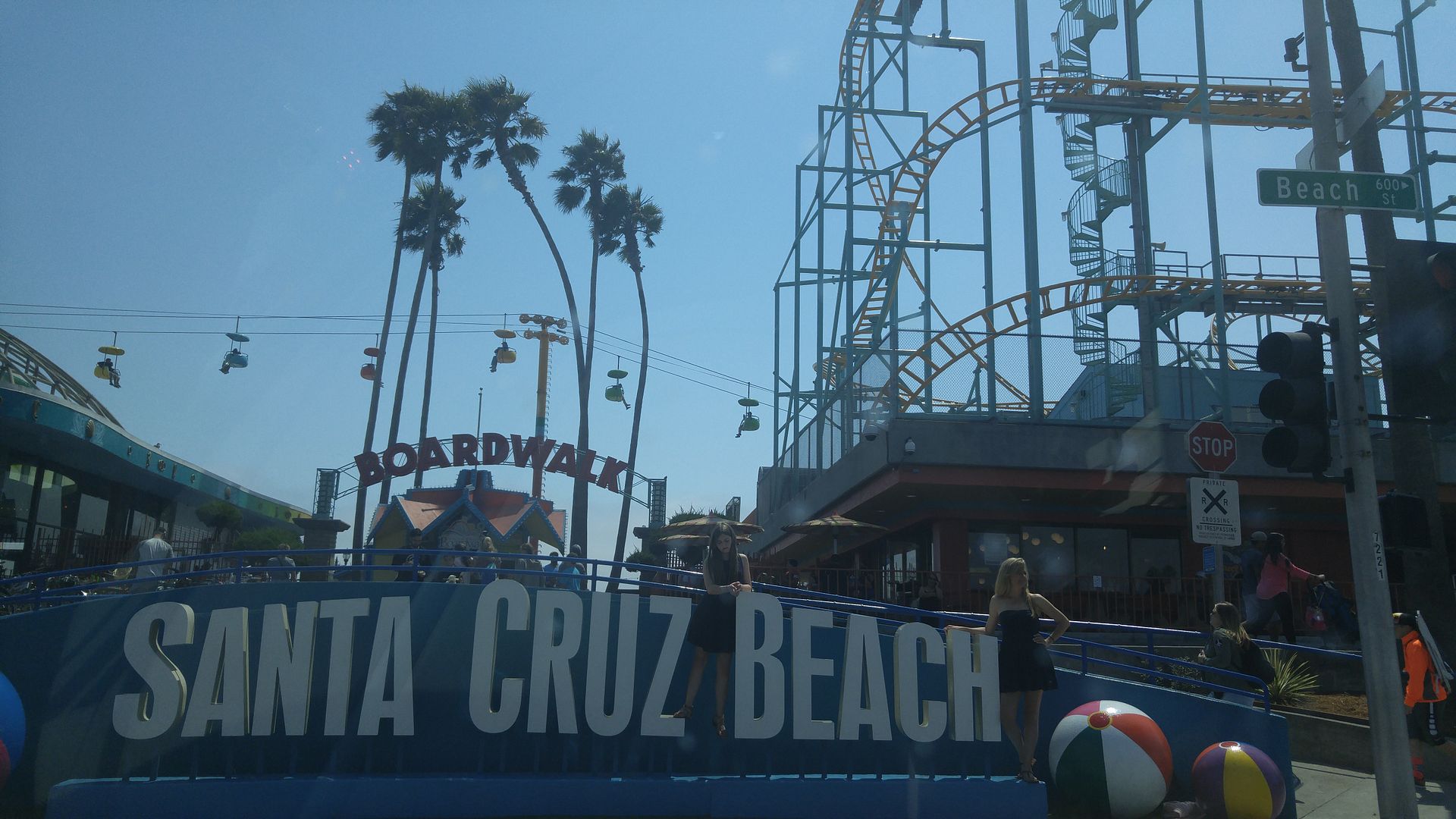 That stage, there? I heard Smash Mouth was going to play a free show that night. Not even kidding. What is it 1998?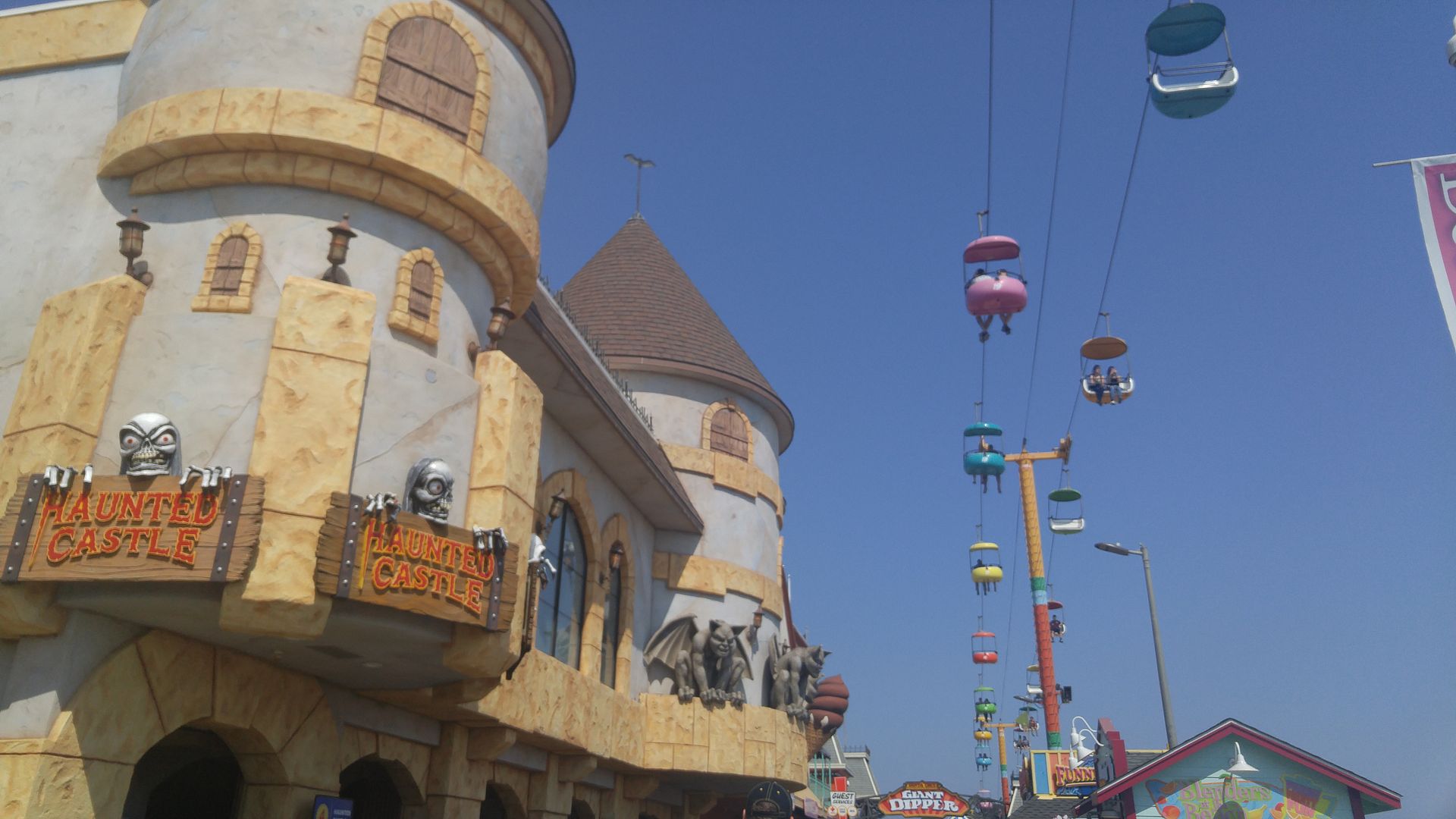 Andy tests his strength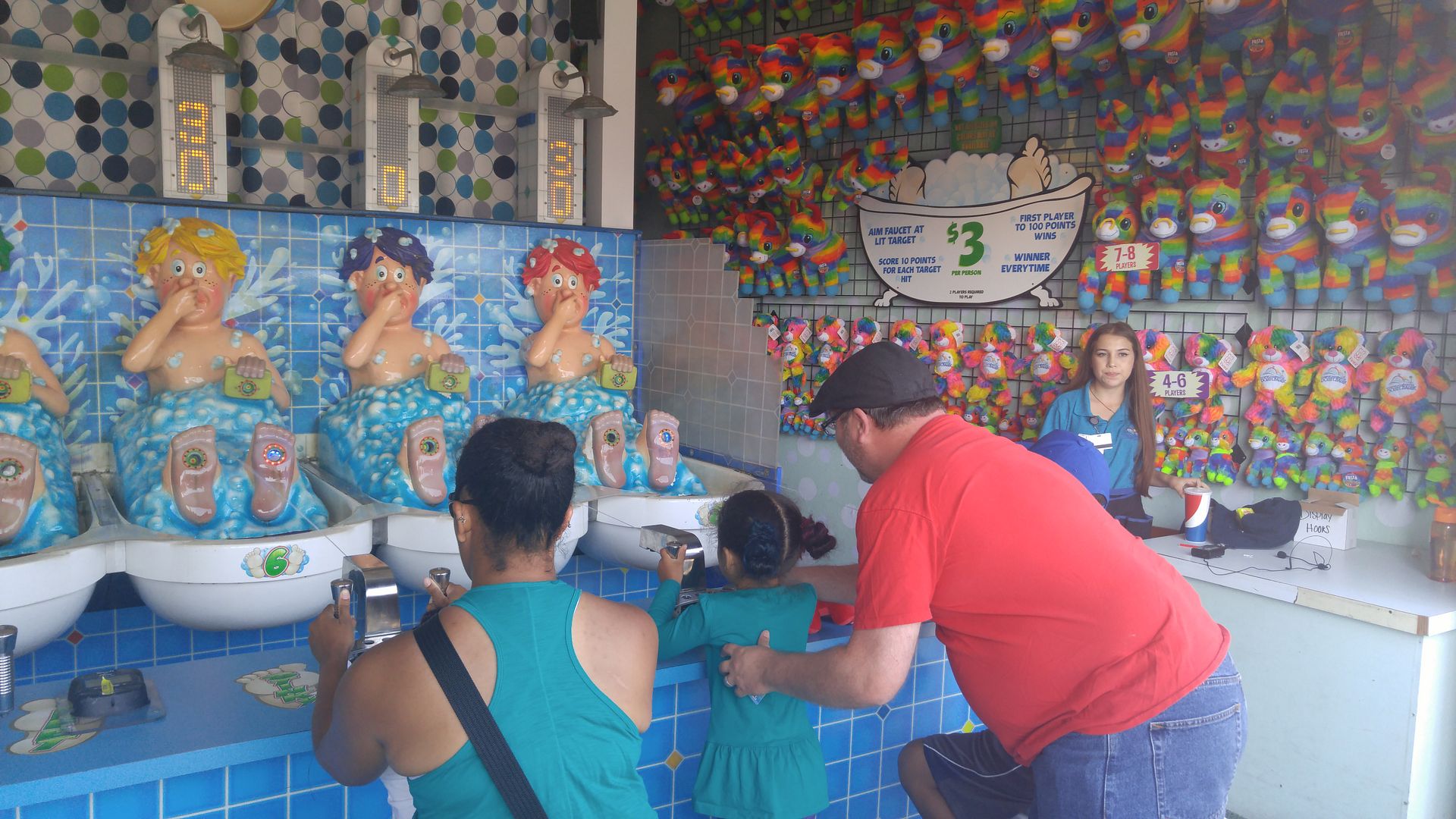 Tiff helps Peanut (unseen in her lap) and Andy helps Juda at a midway game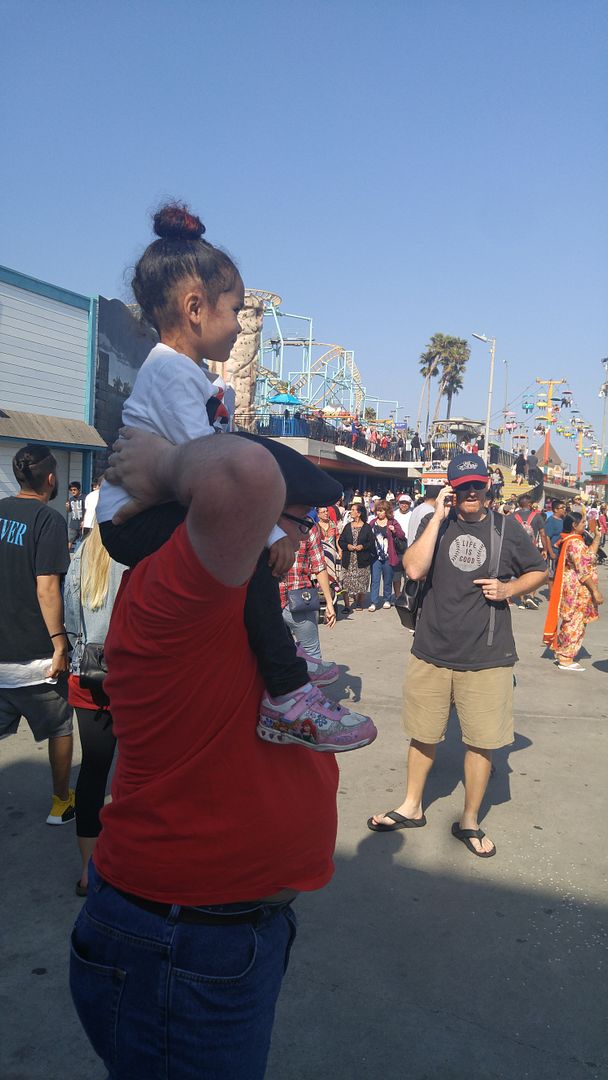 Andy gives Peanut a higher vantage point on his shoulders
Now, Andy and i are not used to doing stuff like this with children. There was actually a certain novelty to it for us and so actually had a lot of patience. If it were just the two of us, we would have played way more midway games, explored the beach and played that came of mini golf that we won. However, with a 3-year-old, 5-year-old and 9-year-old in tow, we were slowed down a lot. But somehow that was okay. The kids were good. The kids were pretty cute and best of all we had little people to pawn off our plush winnings in the midway games.
Don't take this the wrong way. Andy and I are still firmly on the Childless Couple Train and have NO intentions to step off that train. I do NOT want kids. I don't want the life-long responsibility. I don't want the loss of what little disposable income we have. I don't want vaginal tears (*shudder*). Just want to make it clear that no change is happening on that front; no biological clock change or anything. All that said, there must be some sort of evolutionary trigger that happens when you see your significant other doing well with children that endears you to him/her. My heart kinda melted when Andy had Peanut on his shoulders. Andy said he felt the same way when he saw me holding Juda's hand while crossing the street. Andy doing well with the kids made me feel more confident in my choice of partner, even if it is not a skill we aim to use regularly. Maybe it's easy because we're related yet still fairly removed from the kids, but also they're pretty fuckin' cute. It's hard not to warm to a scene like this.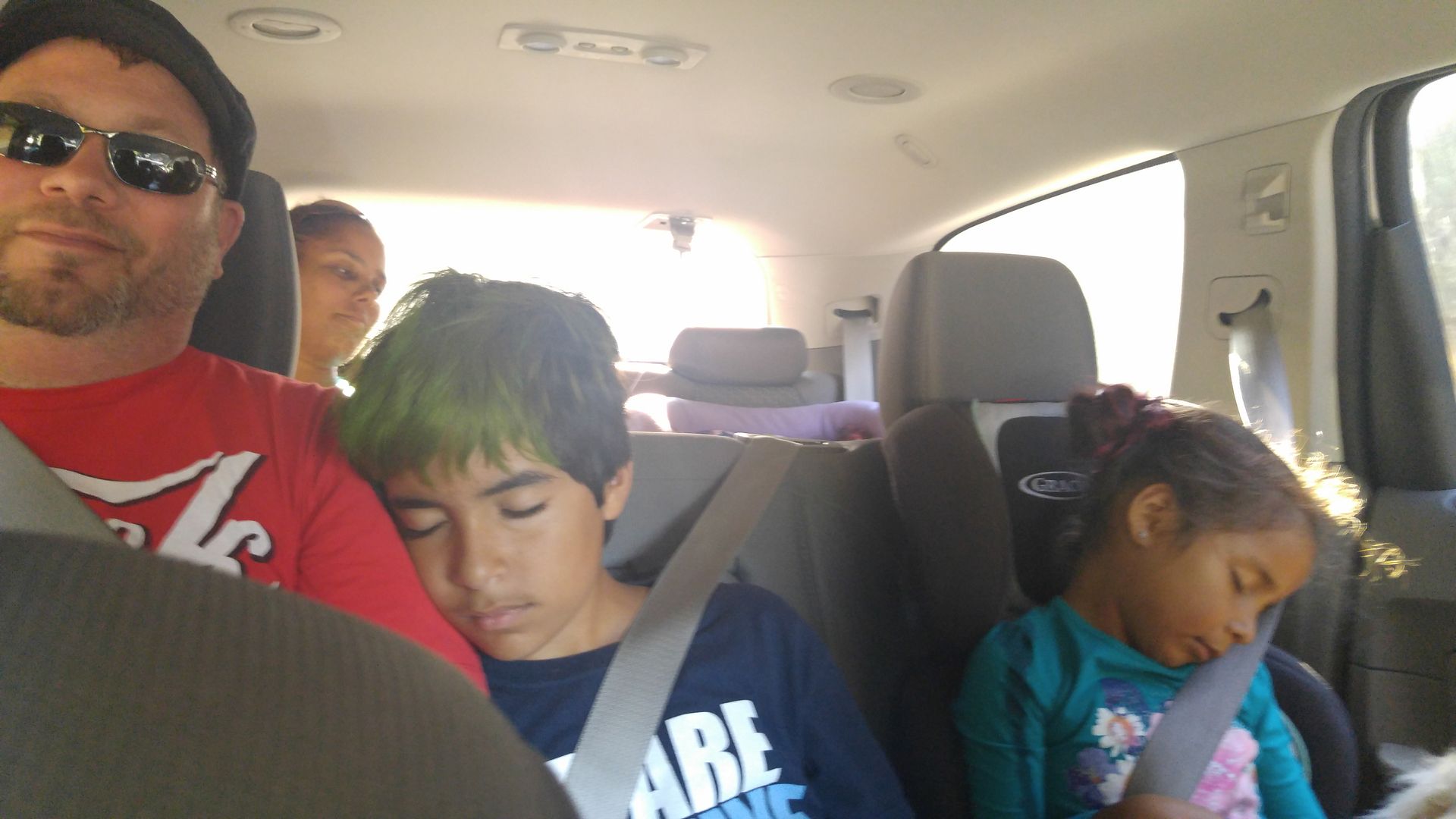 The car ride back to Fremont, the kids zonked out.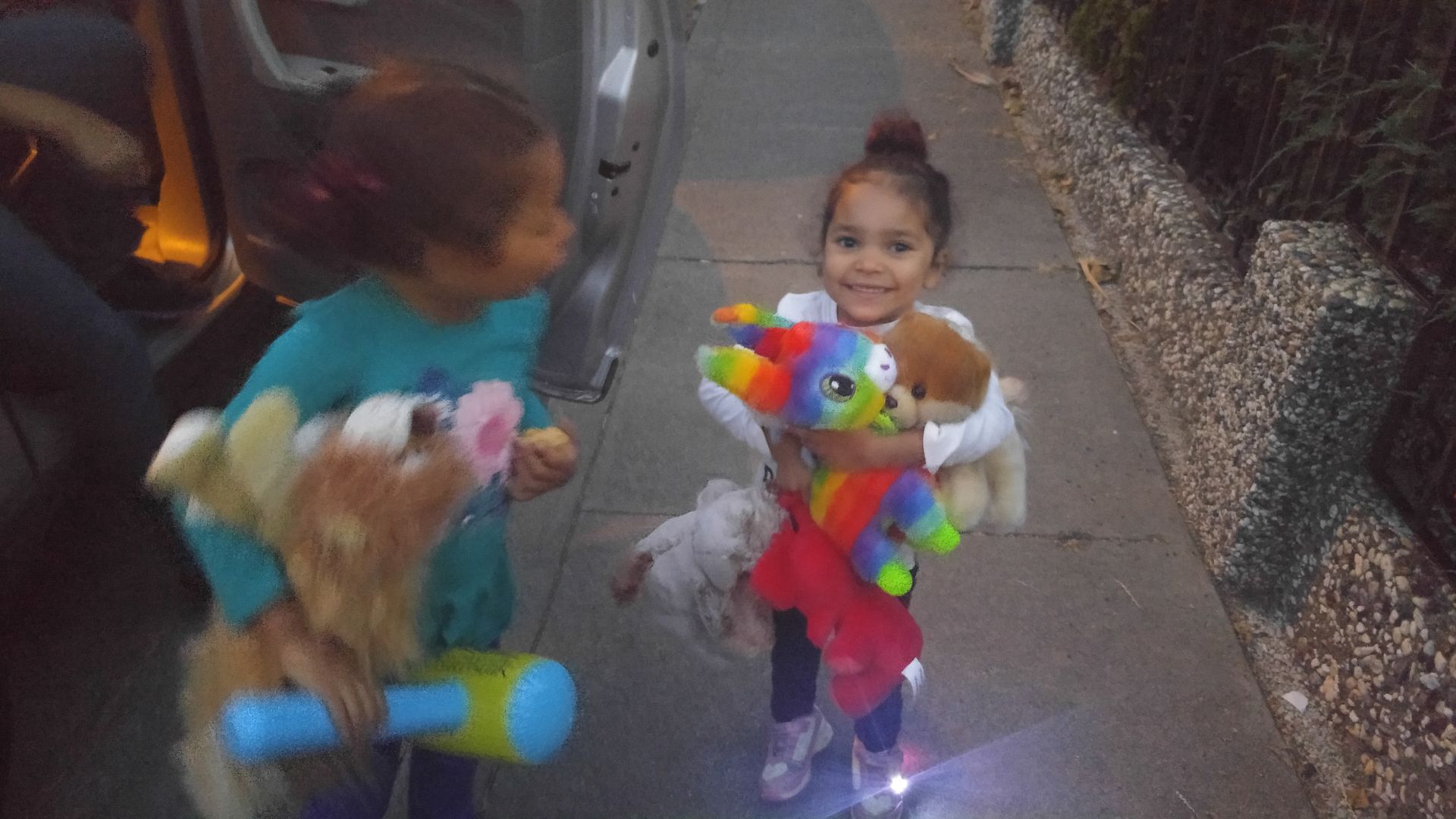 Peanut reminds me of the littlest girl in Despicable Me "It's so FLUFFY!"
And one last shot, group shot of us all at the boardwalk.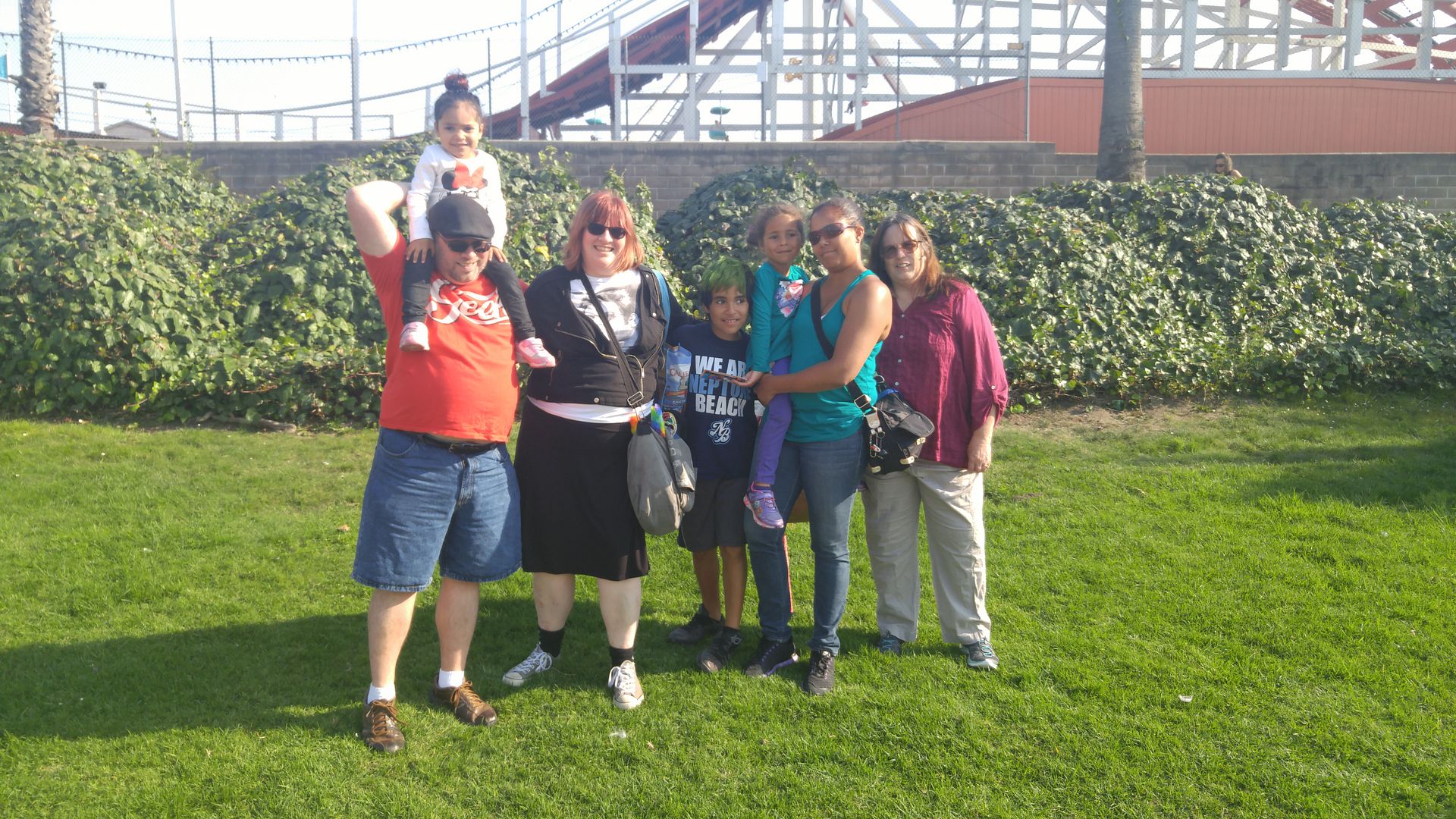 After the boardwalk we had dinner out in Fremont, then went back and talked for a while at the house before heading back to the hotel.
Sunday we had yet another game to go to but not until 5. So in the morning we headed over to the house and Tiff gave us a ride again. On the way into the City we stopped in Oakland to see Andy's nephew at his new soon-to-be tattoo shop. It was a brief visit but I got to meet his nephew (the kid's dad) and thus met everyone on that side of the family. Then we headed into San Francisco, specifically Chinatown for some shopping and some lunch. I got swag fro co-workers, my mum, and prizes for QC. We had lunch at a little place in a basement that was quite good. (We were the only non-Asian people there so that's a good sign). Chinatown is probably my favorite part, or at least one of my favorite parts of that town so it was neat to be back.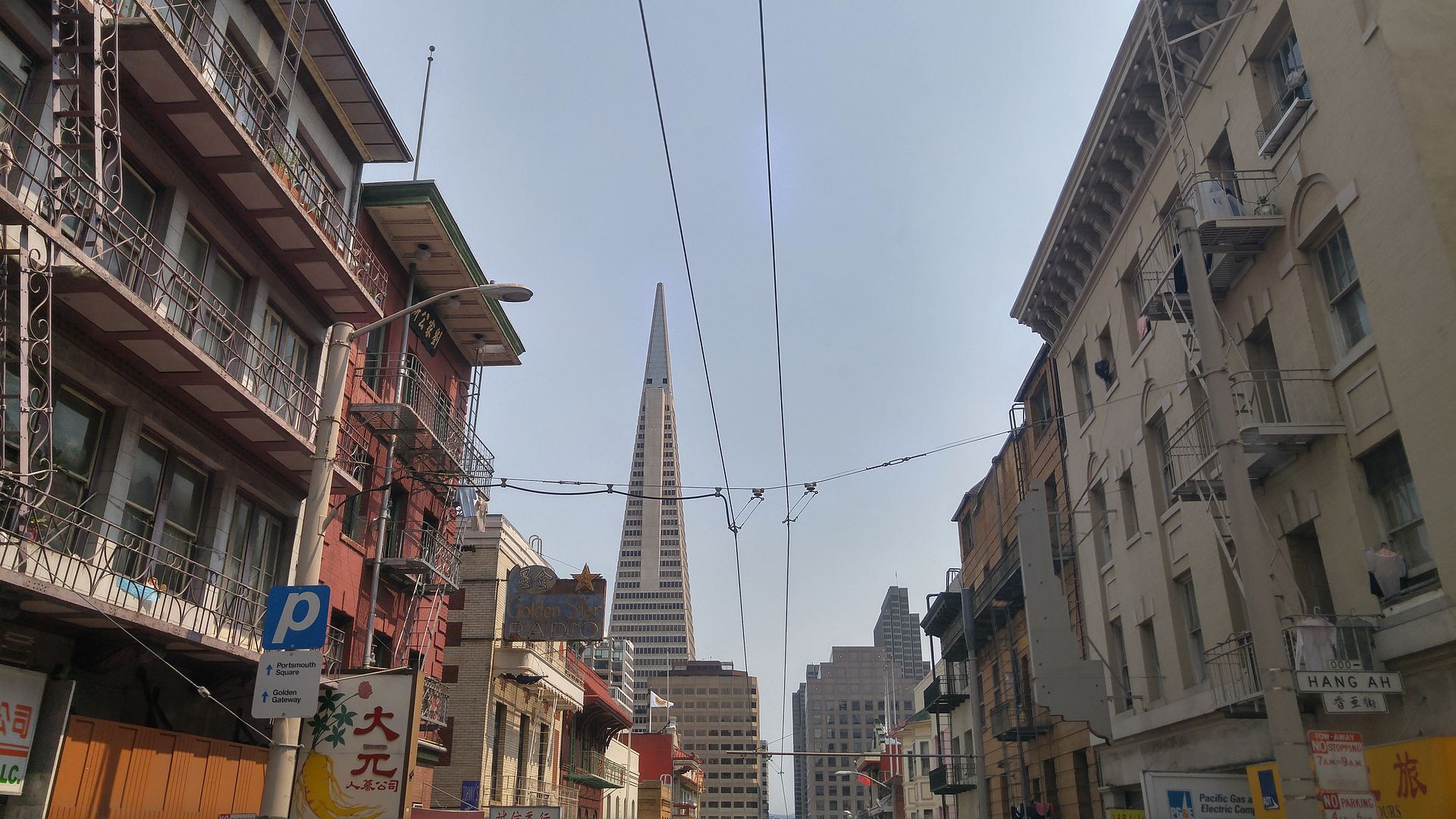 Shot while being stuck in traffic.
Lost in translation. That picture is not a shrimp. Not at all. lol.
Then it was back to the ballpark for another game, after a quick drink at a nearby bar on the way. I also noticed that we walked by a historical literary point of interest on our way to the ballpark.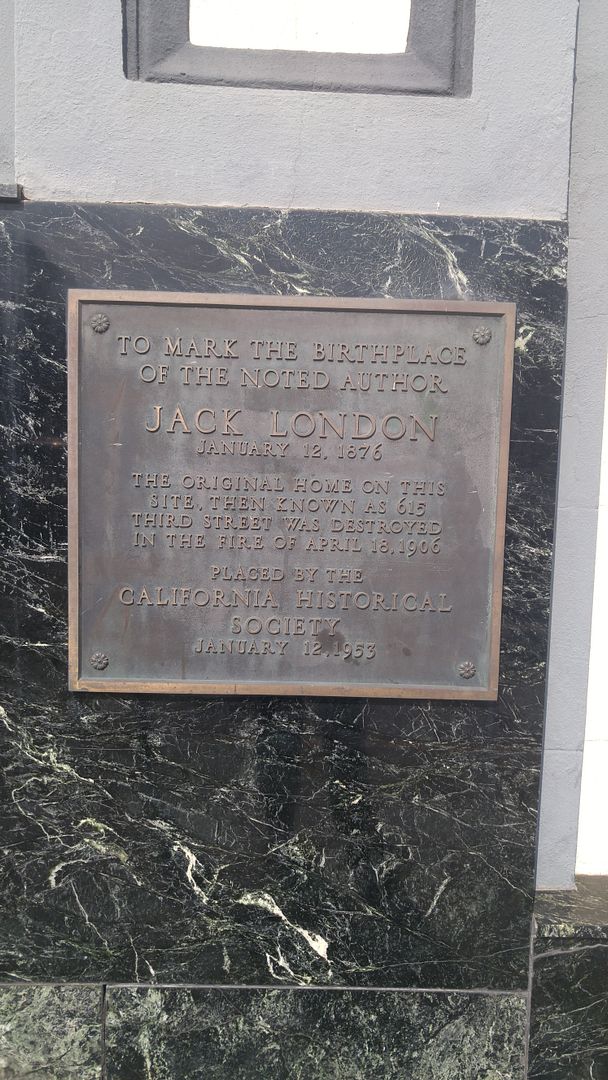 For this game we were back in the bleachers in the outfield.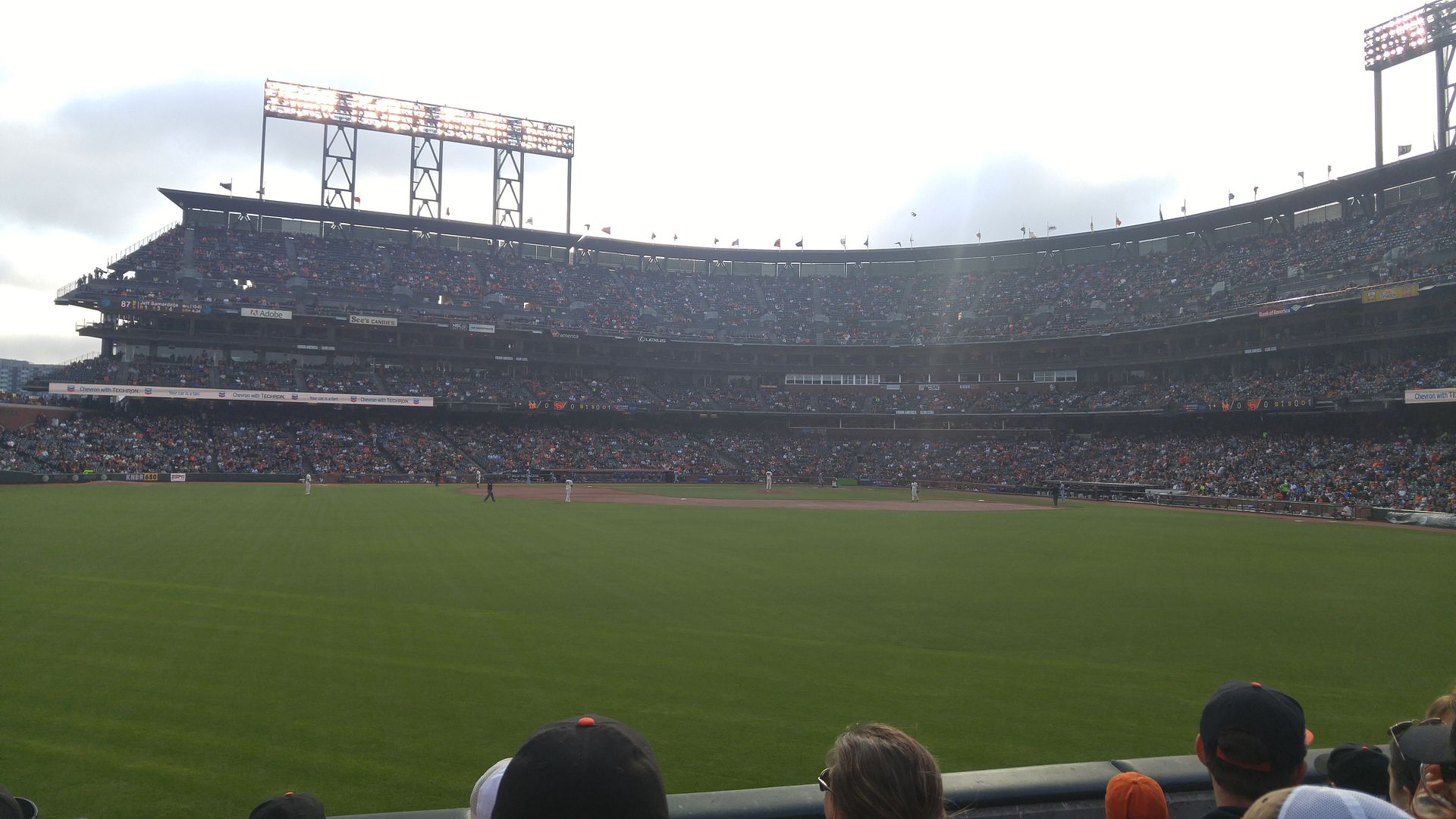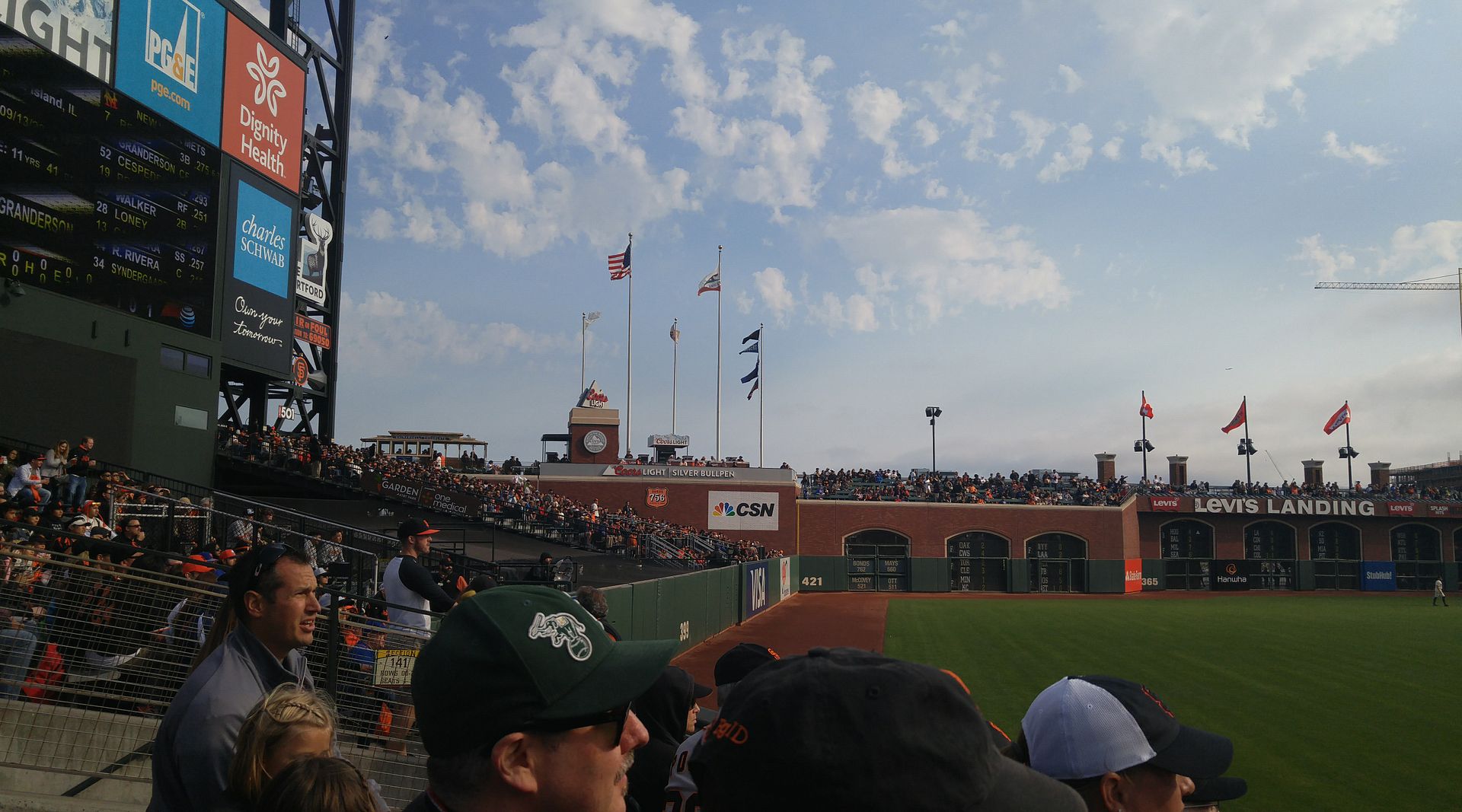 It's much colder out there. It was weird in to be at a game--in AUGUST-- and eating clam chower and drinking hot coca to stay warm.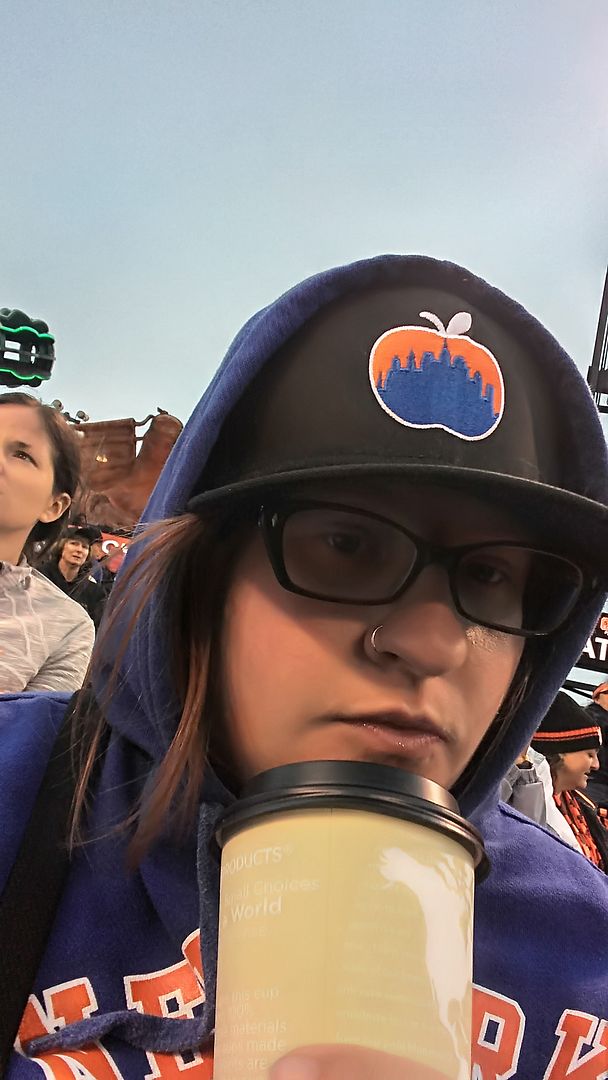 But what hot chocolate! Gheradeli, baby! I haven't looked this cold and Mets-y
since the World Series
.
This game
was more of a pitching battle and went by super quick, w
ith the Mets coming out on top
. I'm glad it all worked out well. Tiff was happy with Friday's win, Andy was happy with Sunday's win. I'm happy everyone gets a win. After the game, we took the San Mateo bridge back to Fremont for me to get to see a bit more of the Bay Area. We stopped by the house and visited a little while longer, saying goodbye to the kids who were going back to Oakland. We talked for a while, then said our goodbyes as we were headed out in the morning.
On Monday morning, on our way out of the Bay Area we took the 680 north and made a stop in Concord to have one more visit while there. We met up with Anneke at a little doughnut shop and caught up with her for about an hour or so. It was so nice to see her and we got to meet Deklan and Eoghan (Grayson was at his first day of kindergarten). Oni and I interact fairly regularly on Facebook but it's different actually seeing friends face to face and just having a conversation. It was nice. Certainly wasn't able to have that the last time I saw her because I was busy gettin' married. (Grayson apparently still remembers me as "the princess" and I'll still take it!)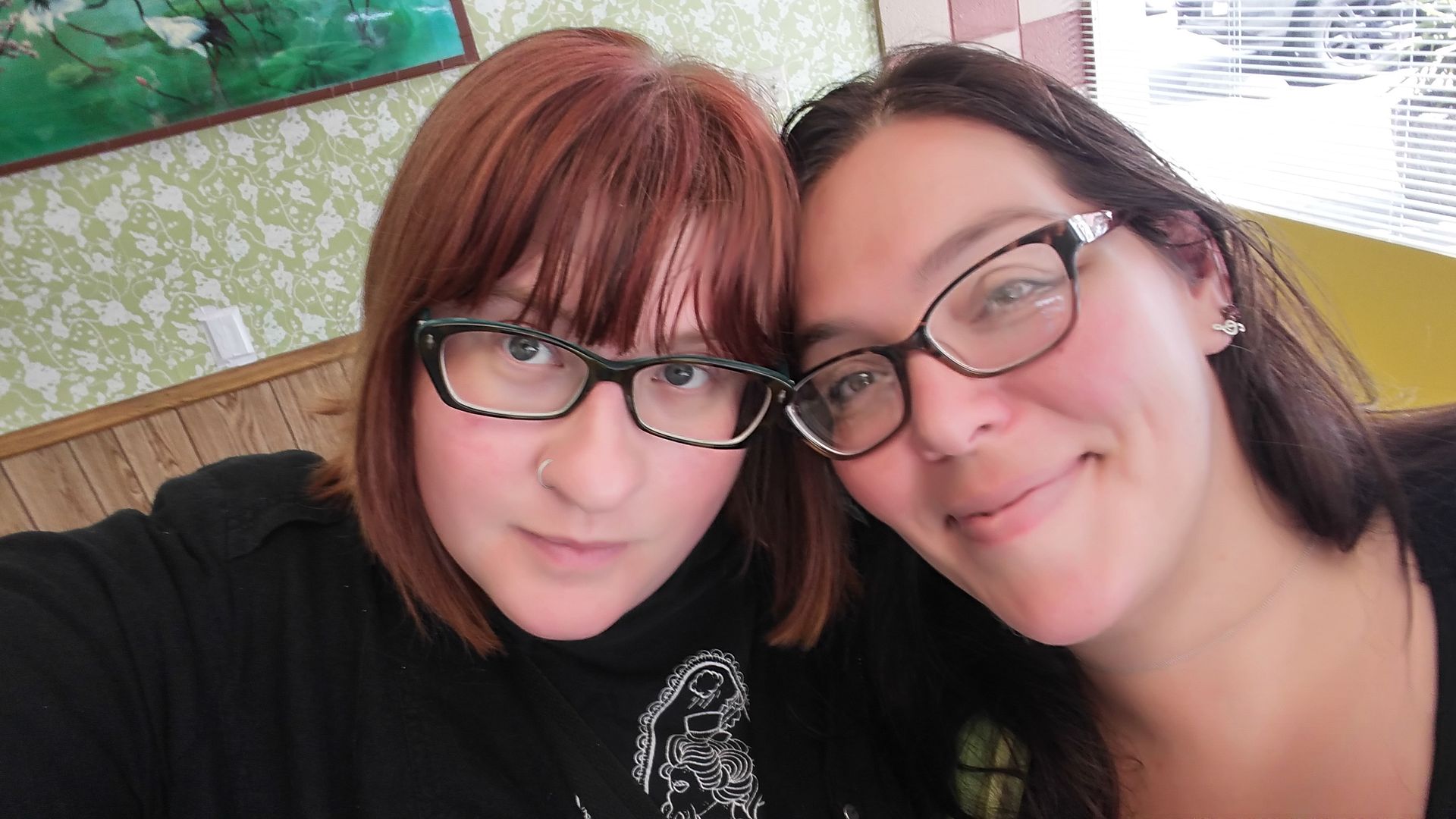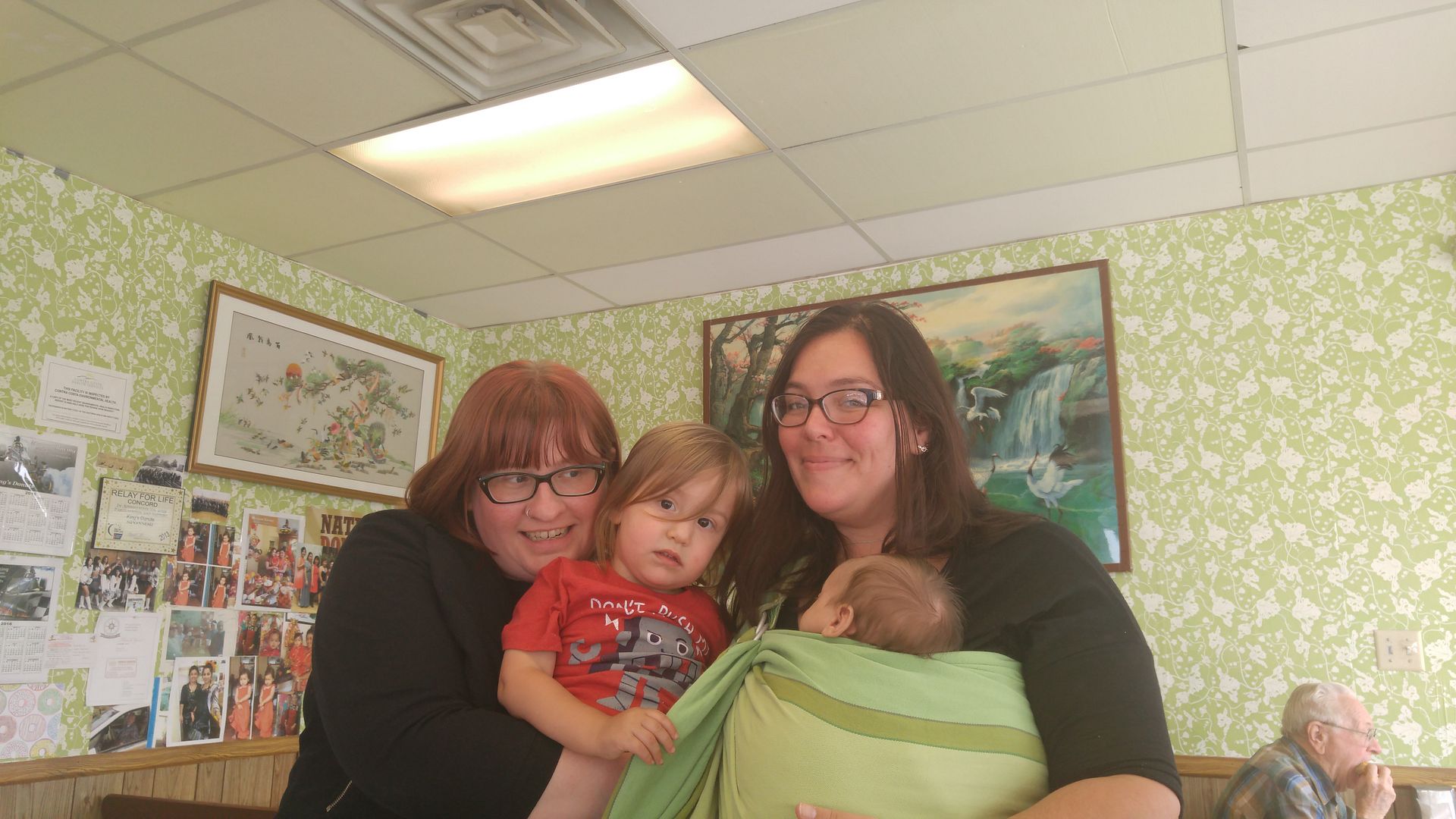 Speaking of facebook Raye was taken aback by how many pics there were of me with children.
The ride home went smoothly for the most part. Finding a place to crash was stressful for a minute but we ended up in a Super 8 in Springfield (a suburb of Eugene) that was actually the nicest room we stayed in the whole trip. By this time I was already focused on the oncoming installment of QC so I started working on that and was starting to stress about the show.
We got home on Tuesday afternoon and relieved my mum of her pet-sitting duties and I dove head first into putting the show togeher. Vacation was over and i had so much shit to do...
Andy and I took a road trip to California 8/18-8/23. We took a day and a half to drive down there. were there for the weekend and then took the day and a half or so to drive back up. Andy was looking forward to the drive as part of the adventure and so was I as I've only flown to SF and haven't been further south than Portland on i-5 (except way down in LA). So some more of this country I haven't before seen. Plus, I've also only been to