Man, how come I fell like I have nothing to write about and yet I've been quite busy. Or have i? I don't know. Mostly just feel like writing a propper LJ entry instead of another fucking survey or meme. SO here it goes. It's been so long since I've made a proper journal entry, with the exception of the Thanksgiving weekend post.
Let me start off by letting you know that the midget count is up to 11. Yes, thats 11 midgets I've seen just on my walks since September. I can't belive the numbers are still going up.

I finally put my pictures from Sydney in a photo album last week (I went in MARCH) and looking at them totally gave me the travel itch again. Man, I want to just get on a plane and go someplace I haven't been before and wader around. I want to find a new favorite bar in a different city. Well, after the holidays I plan to start saving up. Destination 2007: San Fransisco. Never been (short of my layover on the way to Sydney but that doesn't count)
ANyway while I'm rambling, here is a silly picture from Sydney me at the Botanical Gardens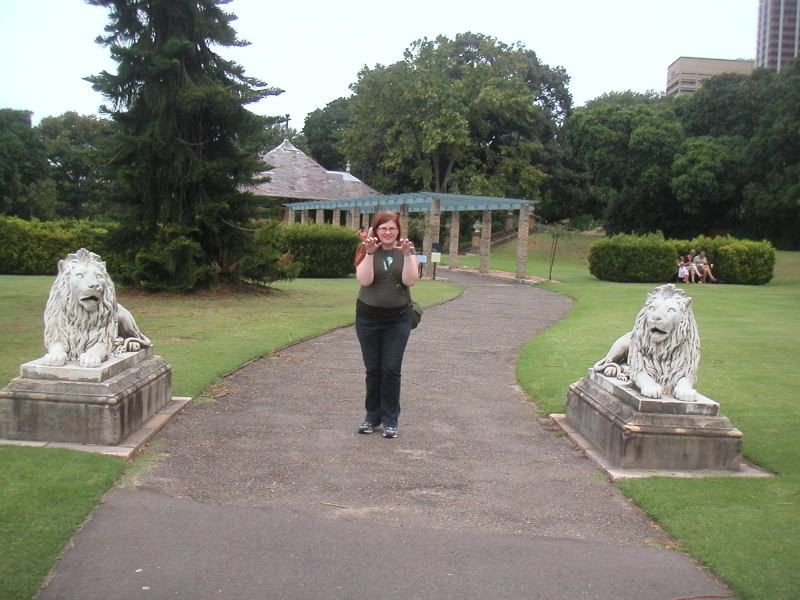 I am so the queen of dorky poses.
Friday I got some christmas shopping out of the way at Tower, it was really picked over but i managed to get a little something for my dad and Samuel, not to mention a few CDs for myself as well. ;) Everything is 40 -75% off so I suggest swinging over there when you can. The sooner the better.
My parents are going to Colorado (which I thankfully don't have to do) the weekend of the 15th, so this weekend my mum and I are doing our traditional christmas cookie baking. It feels too early for me to get into a holiday spirit. I really don't get into Christmas untill AFTER my birthday. I'ts all build up to me and my day before about x-mas, that still leave me nine days of Christmas, which is perfect, I think. So, yeah, anyway COOKIES, I'll be pawning them off as much as possible to keep myself from eating them so let me know if you want a cookie care pakage. :)
So I got out of going to colorado the weekend of my birthday (thank god) and CATHY is going to be in town. I'm ever so delighted. SO if ya'll want to see Cathy, she'll be with me on the 14th and the 15th and if you want to swing by and wish MIr a happy birthday as well, that would make me smile. Here's the big plans for the weekend.
Thursday Dec 14th - Cathy gets into town (!!!) and we're having a big pre-b-day party at Chopstix in lower queen anne. It's ladies night so three dollar drinks for anyone with a vagina. that' 3 dollar makers mark manhattans or grey goose martinies, comon! We made reservations for about 7:30 but at $3 drinks we'll be there all night, until it's time to pour the birthday girl into a cab and send her home. ALL ARE WELCOME! It's kinda cheezy, dueling pianos, but it's a hell of a lot of fun, believe me.

Friday Dec 15th (MIR DAY!) Mir is sleeping off the night before taking the day off work and eventually going to Happy Hour at the Rendezvous to share Happy Hour Hummus with Cathy (the best hummus partner in the world), Again all are welcome to come join us. The 1/2 price appitzers end at 6, though. Afterwards I plan on going to the Dunnes. I heart birthdays and I have every intention of milking mine at the bar where they already know my name, have my drink ready by the time I walk up, and pour it strong. Again, all are welcome. :) We'll probably be there around 7 or 8.
did I mention Cathy is going to be here?

WOOOOO!

I'm also kicking around the idea of getting my tatto that weekend. Though I'm not sure. It depends on if I can justify the expense. That's what sucks having a b-day in december you feel like kind of an ass when you treat yourself because you feel the money should be used on getting presents for other people. Any suggestions helpful. it would be fun ands I'b probably do it on Satuday or Sunday, when I'm not likely to be doing much drinking. Thing is I'm not sure where I want to go or how much it will cost. I'm planning on getting the painting I fell in love with in Paris at the pompidiu on the back of my neck. It's black and white, and I know that the white will have to be touched up trhoughout the years. It's a semi-visable tattoo, with my hair down it's not visible. ANy idea what this is going to set me back, anyone?



It's also my defalt LJ icon. :) I suppose I'll have to change that if I get the tattoo.

Alright. I shoudl go now. This is a satisfyingly long post. I'll leave with another picture though. Paris bathroom art. :)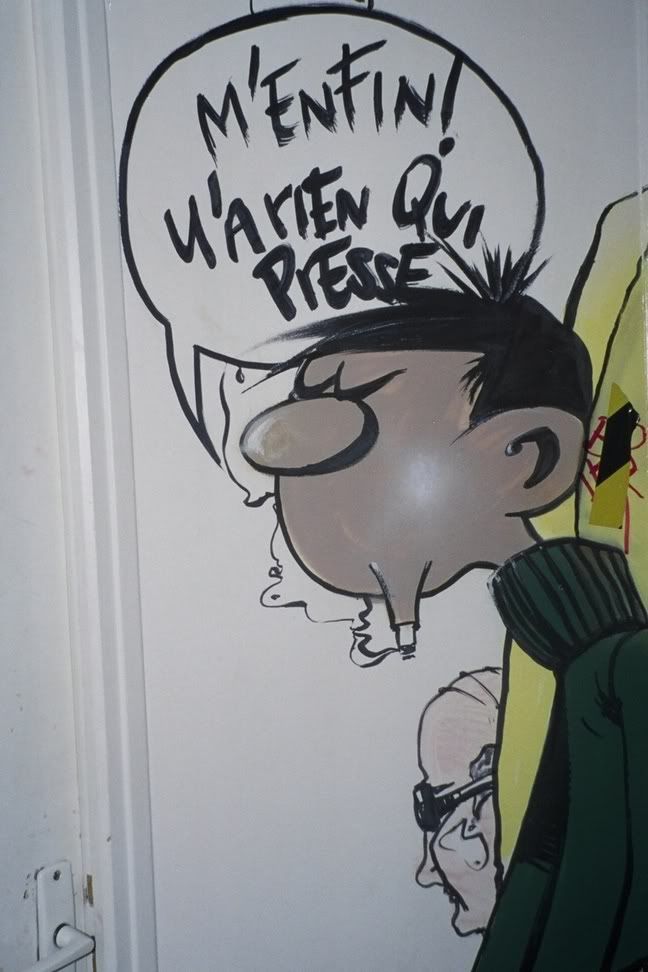 Current Mood:

thirsty