Friday night I had to bartend at the Theatre. After workin' out I went up the hill and got my little bar together and got to listen to the debate on the radio before the crowd started showing up. I had to stay and watch the door throughout the show but went out for a couple of drinks afterward at the Rosebud. When I got home, Raye was home and Cathy was over so I made a cocktail and we talked about the debate and what not.
Raye and I had a lot of work ahead of us on Saturday. We were hosting game night so we had a bunch of shopping and cleaning to do. We shopped. We cleaned. We prepared a ridiculous amount of food. Our spread was pretty awesome. We made tapenade, brochetta, a cream cheese & fetta dip that was much like "home made boursin," we also had Boursin proper, and I baked white chocolate chip cookies. Christine added to the collection with a bunch of quiche muffins that were delicious. (I'm going back on a diet after everything I ate this weekend)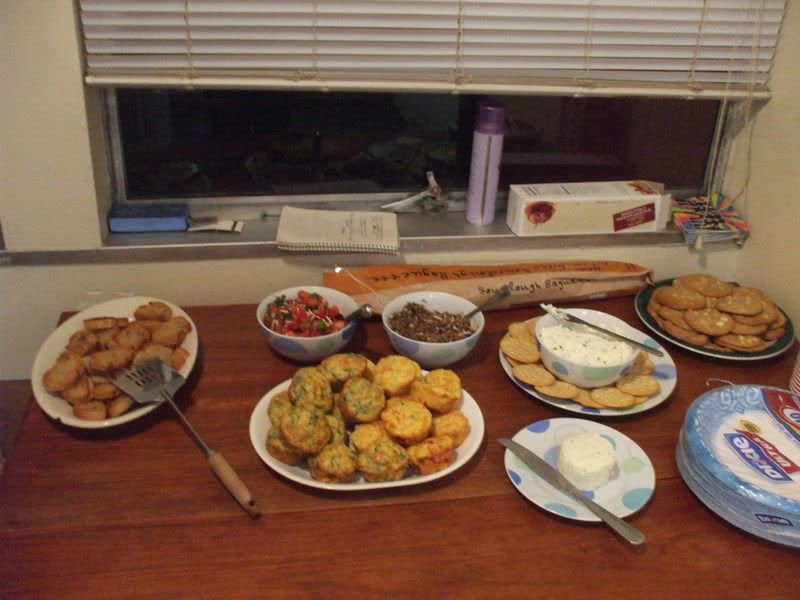 The Game Night turnout didn't seem as small as we thought, the Girls were there, Ryan, Dorothy and Samuel. Then there was this new dude, a stranger pretty much to everyone, who pretty much broke the only rules of game night 1) he didn't bring his own booze and asked other for shots of their booze (the biggest faux pas, and one already addressed, it doesn't go over well at all) and 2) he was a bigot. I was inside getting food on to platters but I guess outside on the deck he old a racist Obama joke to the wrong fucking people. Not cool. Not fucking cool, and how embarrassing that he had to say it on my deck where my neighbors can hear. So embarrassing, but I'll never see him again and that's fine with me. Apart from the racist twat, everyone seemed to have a really good time. We all drank ourselves silly and ate 'till we exploded and laughed and laughed and laughed. There were some good quotes that night too:
Dorothy: "I could do it on your face for about an hour"
Samuel: "Ew, I would never marry Amy Winehouse, I'd have to bury that some day."
Also there was the most ridiculous Polygraph card in which we all had a good laugh. "True or false: cavemen had dinosaurs as pets." We all laughed, thinking this was the stupidest question ever, and anyone with half a brain would know the answer. The answer side of the card stated "Contrary to popular belief..." WTF? I didn't think the "popular belief" was based on the Flinstones. Actually Sarah Palin belives that Dinosaurs and humans walked the earth at the same time. http://www.huffingtonpost.com/2008/09/28 /palin-claimed-dinosaurs-a_n_130012.html
So apparently I'm naïve as to how stupid people really are and how this ridiculously stupid people can get into power. It's like the society of Idocracy has come a little bit early.
Sunday, I was invited to go to the last Mariners game of the season at Safeco w/ Jaden & Arch. Christine went with me and strangely enough Samuel and David were at that game too and we met up with them in the beer garden at one point. I like going to baseball games, and Sunday was the perfect day to go, despite my overwhelming hangonver from the night before. I spent too much money on beverages, and after the M's won, Christine and I waied forever for the 18 or 15 to get to Ballard/Magnolia. While we were waiting for the bus there was this group of kids (18 year olds, college Freshman new to town, or the city, from what I got from their conversation later) that were looking at the bus schedule and the route map. This dumb bitch was looking at the map for a really long time and getting really frustraited. "Guys, it doesn't have a 'You Are Here' point on it." I overheard that and, being a helpful Seattleite, told her that she was on First and Jackson, figuring that with that information she could figure out where she was on the map. She thanked me then looked at the map again and couldn't figure it out and walked away in a huff. She didn't know how to use a map.
I tried to be helpful, but if she's too dumb, I reserve the right to tease her.
"This map is broken. I couldn't possibly use this map without it telling me exactly where I am!" I teased while she was still in earshot.
"Give her a break," Arch said, "She's never used a map outside of a mall before." (Zing!)
Current Mood:

pessimistic
Ce Weekend
Thanksgiving I spent with the rent's and their friend Kevin & Kim's. It's kind of been a tradition to see them on thanksgiving for about the past six years or so. However we were hesitant this year because they've gone kinda crazy with this whole "let's sell life insurance" madness they've been in the past 8 months or so. We still went but didn't really get pitched (I did briefly when smoking came up but I was aloof.) Really I just ate and drank all day. There was my awesome crab/spinach/artichoke dip. Nadia (Kim's sister) brought a shitton of sushi (tuna, yellow tail, squid, eel, it was lovely) Kevin made a jumbolia that was "not too spicy for the white folks." I even liked it, though I tried not to eat too much of it. The rice in the sushi was filling enough. Finally, for dinner we had salad and crab legs. Yum. Yum.
Friday was so insanely lazy. Until I had to work box office that night the farthest I had made it "out of the house" was just on the deck to smoke. Which I only bothered to do like once all day. I was far too busy being in my PJs and in my warm cozy bed in my heated little bedroom. Saturday was similar but at least I got a walk in before I had to work. Christine, Raye and Ryan were going to see Juliette and the Licks at Chop Suey and after work I had planned on drinking with them at the apartment after the show but they were all pretty exhausted after all was said and done and I stayed up on my own for a few hours. (This late night has to stop, it's really fucking up my weekend clock. When you don't get to see your friends and start drinking until 11 (and they've all been drinking since 7 or 8, you're going to end up in the same mind at the same time.) It's bollocks.
Sunday Raye joined me at my visit to the rents and we did some Hawaii research on the computer. She looked up fun stuff like the luau and snorkeling. I looked up practical shit like the bus schedules, how much the taxi will cost to get from the airport to the hotel is and how much booze we're allowed to take with us on the plane. This was when I got my convential Thanksgiving dinner; turkey, mashed potatoes & gravy, pumpkin pie. Delicious. I ate way too much food this weekend. I'm so done with food. Thankfully my being very poor this week will make fasting a bit easier. I've got a week of microwave egg rolls to look forward to. Plus. Lots of walks.
J
Current Mood:

nauseated

I don't think I like this whole Holiday in the middle of the week thing. I mean it's nice to have a two thursday and fridays but as Raye pointed out this morning, you also have two mondays. And goddamn I'm not well this thursday/monday morning. I love margaretas. I love margaretas so much. Too much.
Monday, I finally got a sundress (which I've been wanting since spring.) I found one at Target for under twenty. I love it. It's like a lindsay lohan meet petrula clark dress. :) check it out.





love it. Wore it out on Tuesday to a birthday shindig. Andrew's BFF, Mia, turned thirty and had big birthday gathering. She wore a tiara, sash and staff (I think we girls need to kick it up a notch for birthday weekends.) Andrew piced me up and we took a cab down to the Wild Ginger. I had never been before but I wasn't really all that impressed with the food. Now maybe it's becasue I'm a cheep-ass and bought the second cheapest item on the menu (went for manderin chicken over th dollar cheaper kung-pow chicken) instead of something fabulous like scallops or calamari, but I just wasn't all that impressed. Afterward we headed over to the Noc Noc they were supposidily having 80's night though the music was kind of all over the place. I was not dressed in proper black attire but I still got compliments on my fabulous dress every time I went out for a cigarette, it seemed. I danced, I drank and had a jolly good time. untill I got really tired at the afterparty
For the 4th I went to my parents BBQ where I made a fabulous dip, two actually, ate ribs and drank too many margaretas. Following the excessive margareta drinking I called Andrew during the fireworks, then had a little drunken heart to hear t with my dad while smoking (that's right smoking in front of him) on the deck. Today I got to work and found a very sweet e-mail from him in my in-box. awww. It was a good time. i just drank too many margaretas which really really kicked my ass this morning. I still have heart-burn, it's killin' me. Allright I was going to write more random crap but i'll stop here.
Current Mood:

need coffee

Current Music:

"Don't Sleep in the Subway" Petula Clark (stuck in my head now)
I'm really big on this bulleted entry thing it's really great for short attention spans.
I think I've said this before but I've officially become one of those Capitol Hill kids. I'm better than most, I don't mind walking anywhere downtown or to lower Queen Anne. (For example I have no problems with drinkin' at the Rendezvous or even the Funhouse becasue i can totally walk there and can either stuble home or a cab isn't too expensive.) However when I'm asked to go out drinkin' in Ballard...that seems SO FAR. I have to take a bus? I have to cross a bridge? WTF?
Speaking of which I got stuck by the bridge too btw and had to listen to this homless guy and a hockey fan talk about how the city should just sell the land of the Seattle Center to 6 flags or soomething and make it a private amusement park. This seemed an odd suggestion from a homeless man who you with think would be for a public park. I was a little offended too becasue the stuff that is in the center house is the Opera and theatres and Bumbershoot and these things I would miss if the Seattle center was turned into a private park. Sure I can't afford to go to the Opera but I'd be pissed if it wasn't an option.
ANyway the reason I was on my way to Ballard was to see Shanny-cakes for her birthday. Shannon is one of my oldest friends, we were all BFF from 7th grade through highschool but started seeing eachother only every few months or so once college time came and this weeked was the first time I've seen her in either a year and a half or two and a half years. So yeah. Once I got my already hungerover ass out of the house and to Ballard, AND eventually found Shannon at the bar, I had a really great time. I got a little trashed and ran my mouth off a little bit too much and when I think about it I get embarassed but that really is any time I drink anymore so I should just get over it. Seeing Shannon was awesome. She seems a little bit more laid back (not drinking nearly as much as mir) but she's still a little fire-cracker smart-ass, which is what I missed.
Talking to old friends though reminds me to get my shit back together. I mean I've done well for my self. I graduated from SU, I worked at a kick-ass independent magazine for three years, I've done a bit of world traveling. But when it comes to the "what are you doing now?" question or the "are you writing?" question I honestly have to answer "I've been drinking." I don't have a problem with that for the most part I've worked so hard for the past four years that just taking time for myself and being young and obnoxious, drinking, taking walks, wandering to the Dunnes, going to happy hour with the girls, etc is all very fine and good, but can't last forever. I feel like a dissapointment when I answer those questions.
This is kinda gross. I noticed yesterday that my right index and middle finger are stained kinda yellowish from cigarettes. It kinda disturbs me, not enough to quit but, I've always liked my hands. I have renessance hands godamnit! Even if no one else notices I notice and it's not pretty.
Feel really disgusting today. Stupid superbowl food. I don't even (woah I just heard a horse neigh. you don't hear that too often in the city) anyway I don't even like footbal but I spet Sunday with the 'rents and they went to a superbowl party. Couldn't smoke in front of my parents and some BASTARD put spinich dip, nachos and shrimp in front of me. feel so ill (dude the horse is still neighing like crazy! wtf?) Not sure how I feel about Dragonfish with the girls tonight, I love me some calimari but everything seems nausiating to me today. However, I don't want to pass up the opportunity of grossing Cathy out again with my little fried squids, it just never gets old!
I'm going on holiday in March! I'm going to visit oniglass in San Fransisco and it's going to be fabulous! I'm ever so excited. It's time for me to hop on a plane and check out someplace new. I've gotten more reccomendations from more poeple of more places to go in SF than I have for any other place, probably becasue about half the people I know are from Cali or at least have been there. Yeay!
Ramble, Ramble ,reamble
Current Mood:

nauseated

Current Music:

horse neighing outside
Remember the spinich artichoke crab dip Raye and I made for Thanksgiving...well yeah I didn't really expect anybody to but we took a picture and I kept saying "I'm so bloggin about this shit!"
So I'm a woman of my word it just took me three weeks to get around to uploading the picutre. SO yeah. Tasty artichoke dip (before the cheese on top was melted).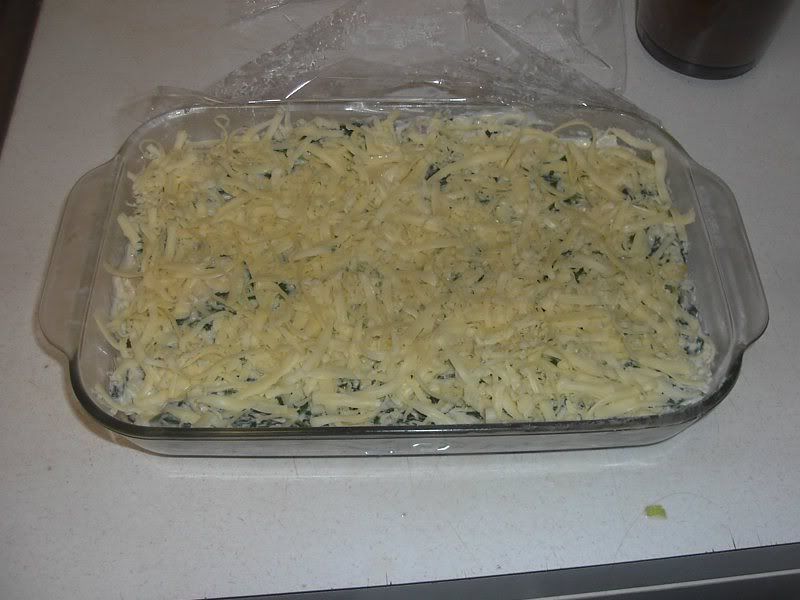 Damn good. I'm gonna make it again
It took me forever but here it is....
Current Location:

the 'rents

Current Mood:

good

Current Music:

Family Guy